Sapa attracts visitors not only by its imposing mountain scenery, unique foods but also by a large concentration of many different ethnic groups. When tourists come there, it is a regret if they can not experience to visit five ethnic villages: Cat Cat village, Ta Phin village , Ta Van village, Ho village and Sin Chai village.
Cat Cat village
Stretch of road from Sapa town center to Cat Cat village is only 2 km. Cat Cat is the oldest village of Mongolia which retains many traditional crafts such as floriculture, linen weaving and crafted jewelry. In particular, it retains many unique customs that other regions do not have, or are no longer exist in the original.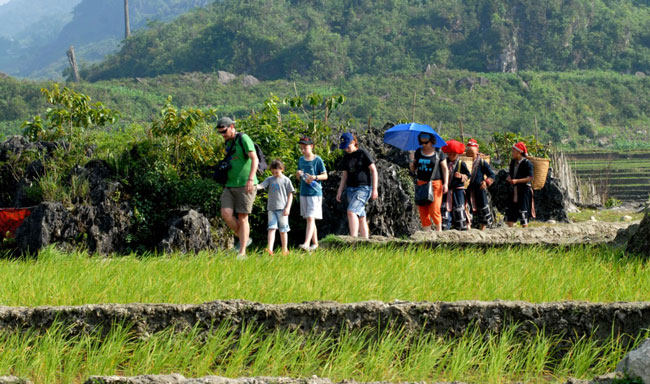 Through these looms, Hmong people make up brocades which are colorful and have unique patterns simulated grass, flowers, birds and so on. Attached to the cotton and linen knitting stage is dyeing, embroidering and printing patterns step. In this step, it is common that indigo dyeing, herbal and forest trees ash water dyeing techniques are applied. After that, dyed fabrics are polished by rolling fabric with round logs on flat stones with bees wax.
Ta Phin village
The first stop of travelers to Ta Phin is the monastery – a unique ancient architecture based on western-style architecture was built in the late 19th century and remains its ancient look. Continuing the journey, on the paved road, tourists will visit the Brocade club of Hmong and Dao people. In there, visitors will have chance to contemplate vibrant colors on traditional costumes of Hmong, Red Dao people.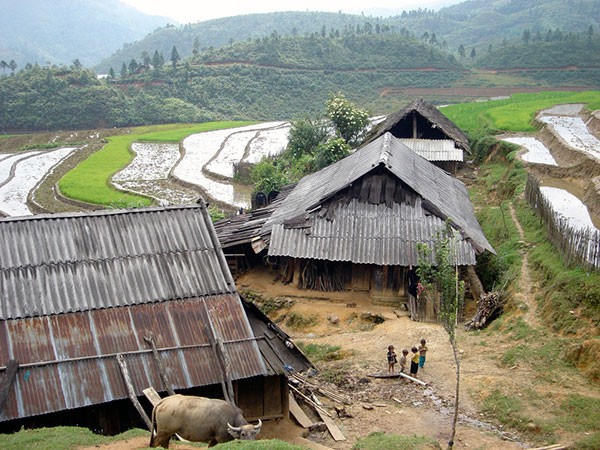 Beside Brocade club, indigenous bath medicinal products are also being restored and developed. Currently, Ta Phin village has 18 households of Dao people contributing capital to establish a joint stock company which specializes in manufacturing and trading indigenous bath medicinal products. In addition, they also built bathrooms to accommodate tourists with bathing in barrel.
Ta Van village
Along the National Highway 4D toward the Southeast, it takes about 8 km from Sapa town to Ta Van village. In there, visitors will have the opportunity to learn more about style and lifestyle of the Giay. Road going to Ta Van village is small, narrow and it is a cat-track. The two sides are the fertile terraced fields dotted with green of young corn and rice.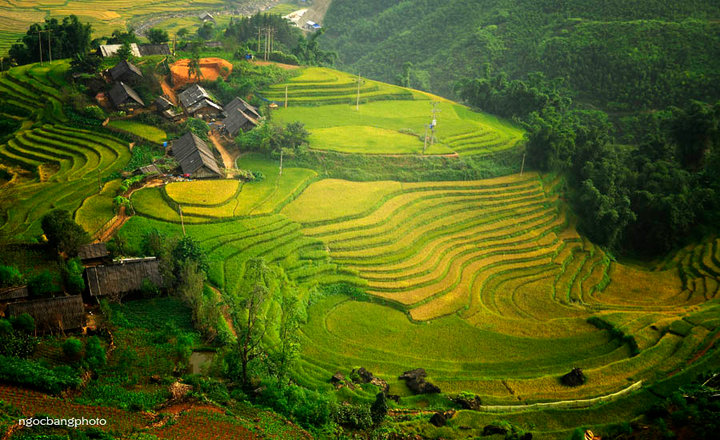 Giay people live by growing wet rice. Moreover, they also can forge instruments and carve silver by themself. They live in both house on stilts and soil house with middle compartment is a place which is solemn and sets the ancestral altar and entertains. Giay people have a very rich culture with these tales, poetry, proverbs, riddles and so on. Costume of the Giay is quite simple. Women wear ankle-length indigo pants having wide tube, roll hair and wear canvas bags with embroidery pattern while men wear sawn-chest blouses, round neck, buttoned fabric, stand trousers and roll towel in head.
Ho village
Not too cold as in Ta Phin and Ta Van … weather becomes warmer. Vehicles run on the road on a winding serpentine, with a towering mountain in a deep abyss in another until immediate burst a yellow color tinged with reddish brown of the leaves in Hoang Lien national forest and high and low terraced fields. Just go a little further away,if tourists meet a stone-built house deserted in roadside and next is a house on stilts selling brocade, drinks … and foreign tourists sitting down, they will know that they come to Ho village.
In Ho village, visitors will have chance to live in a cozy and friendly atmosphere with native families. In the morning, visitors will be guided to visit the Hoang Lien National Park, where plant and animals species are plentiful. Because the climate in Ho village is warmer than other areas (an average of 18 – 25 degrees Celsius), in the afternoon, after coming back from the woods ,travelers can enjoy themself in Lave stream, look at majestic Da Nhay waterfall with rolling white foam.
Sin Chai village
Sin Chai village in San Sa Ho Commune is distant about 4km long road from there to the center of Sapa town. It is a village not being commercialization and still retains original features. This is village of black Mongolia with a population of about 1400 people. Beside planting upland rice and maize, people in Sin Chai village choose the gentle ridges to grow cardamom which is a significant source of income in this ancient valley.
Sin Chai is one of seven villages of Ta Giang Phinh, situated in the northernmost region of Sapa district. In 127 Mongolia families with 624 inhabitants, there is a plenty of elderly people, especially women. Coming there, tourists are curious about the secret of the longevity of the population, especially the reason why women there live longer than men. However, the local only know to explain that the secret may be by the genetics, the fresh air, pure water, contamination-free fruits and vegetables which grow in nature all the time.
Read more: Things to do in Sapa