Saigon, also known as Ho Chi Minh city is a multi-cultural city, where the country's French heritage sits alongside Chinese shophouses and Indian temples, Chinese temples stand next catholic churchs. These buildings are symbol not only for the culture diversity but also for the architecture art. Follow Travel Sense Asia's guide about 6 most beautiful churchs in Saigon that you should visit.
Tan Dinh Church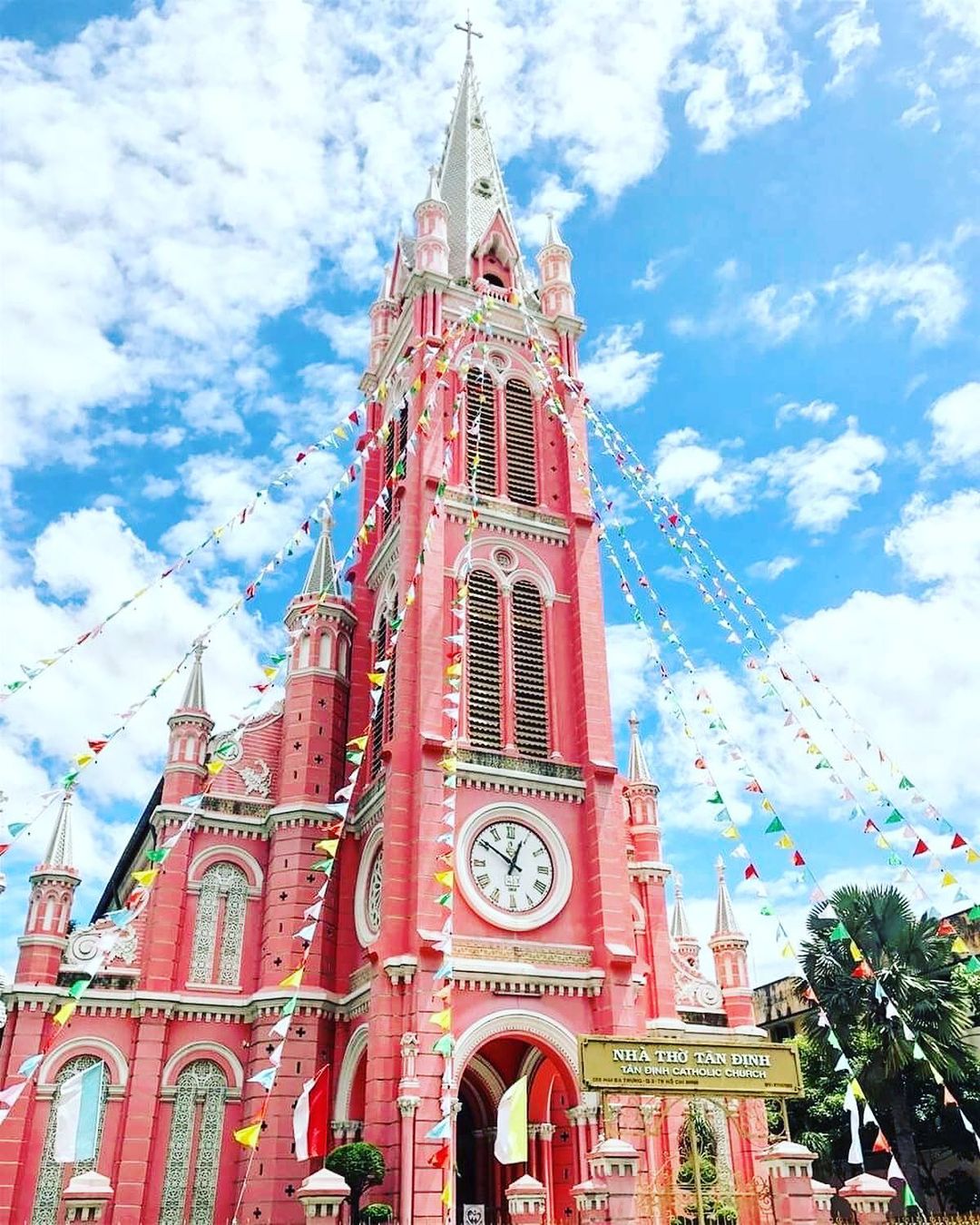 Add: 289 Hai Ba Trung, Ward 8, District 3
One of the oldest churchs in Saigon is Tan Dinh church. It was built in 1870. Until 1929 it was expanded with a new 52.60m high tower. The church is crafted in a Romanian architectural style and has vibrantly pink which makes it remarkable.
Tan Dinh Church is made of Italian marbles. Main highlight of the church is a about 3m high bronze cross at the top of the tower, symbolizing the followers of Christianity. The interior is decorated in Gothic architectural style. That makes visitors feel like they are in Italia.
Cha Tam Church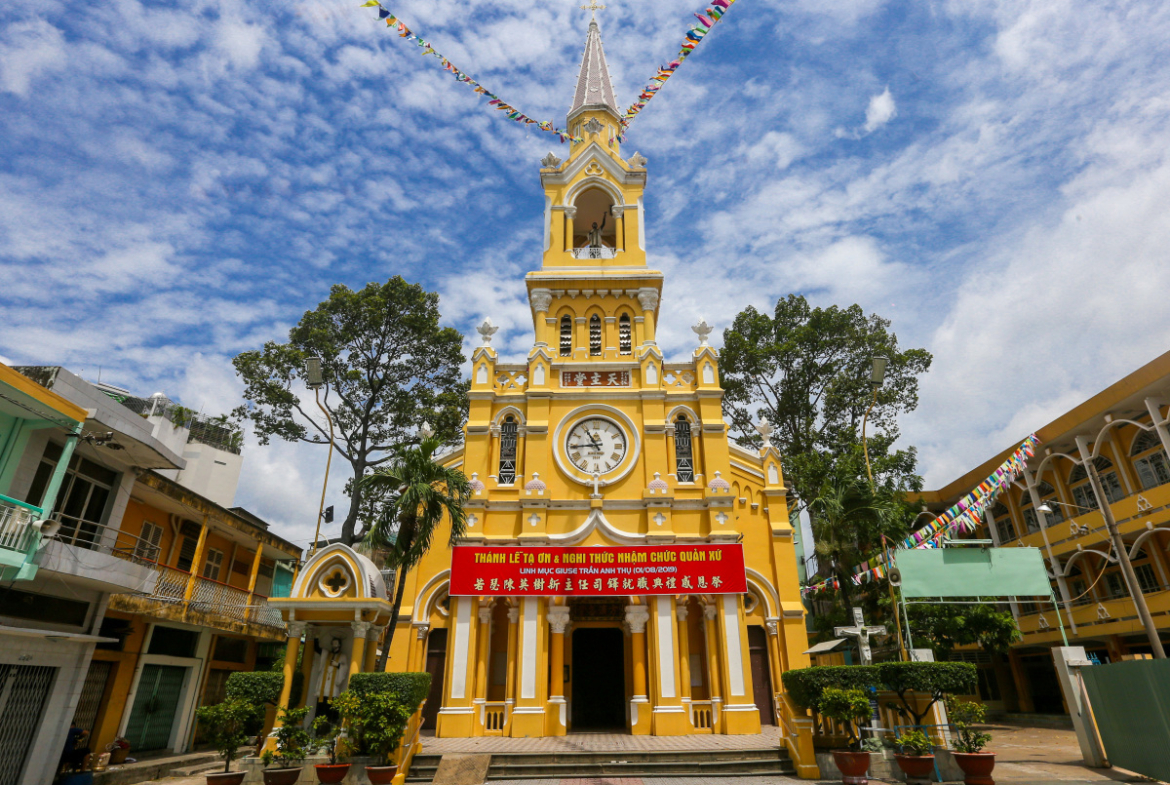 Add: 25 Hoc Lac, Ward 14, District 5
In 1900 Cha Tam church was built and completed after two years. This is a temple built for the Chinese. Father Pierre d'Assou, whose has Chinese name Dam A To, was the one who built and also the first pastor of the church.
Cha Tam Church is a combination between Chinese and European Gothic architectural style. The 100 years old church has became a tourist attraction for visitors in Saigon.
Looking from the outside, many visitors think it is a Chinese temple. Because the gate is designed in the Chinese style with three-way gate, the tiles covered roof and the columns are painted in Asian red.
Huyen Sy Church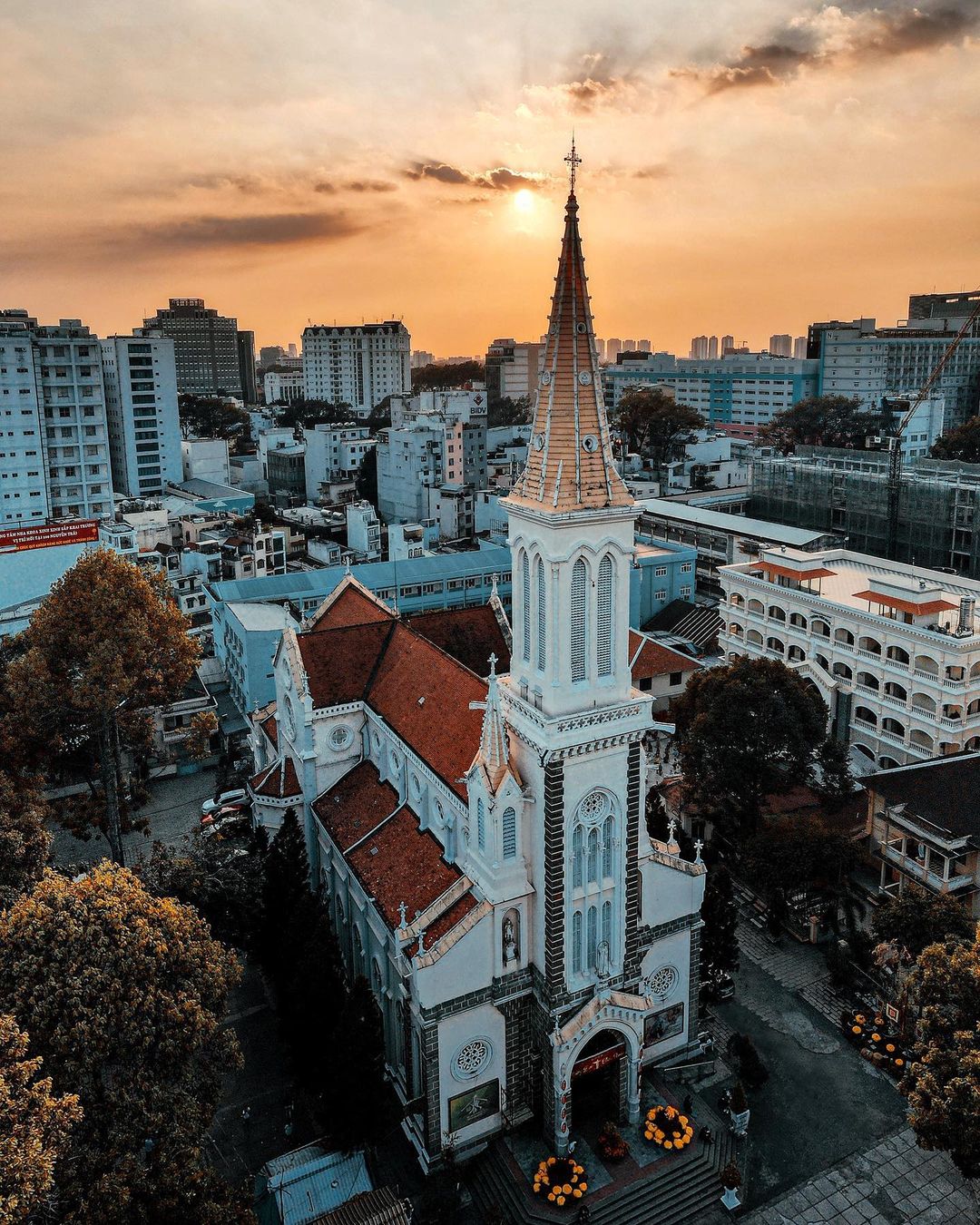 Add: 01 Ton That Tung, Pham Ngu Lao Ward, District 1
This is a private church, built in 1902 and finished after 3 years. The church was built in the Gothic style. On the roof is a 57m high bell tower, inside the tower there are four bells cast in France in 1905.
The church has the grave of Mr. Huyen Sy, one of the four wealthiest civils in Saigon and Indochina in the 19th century and the grandfather of Nam Phuong, the last queen of Vietnam.
Cho Quan Church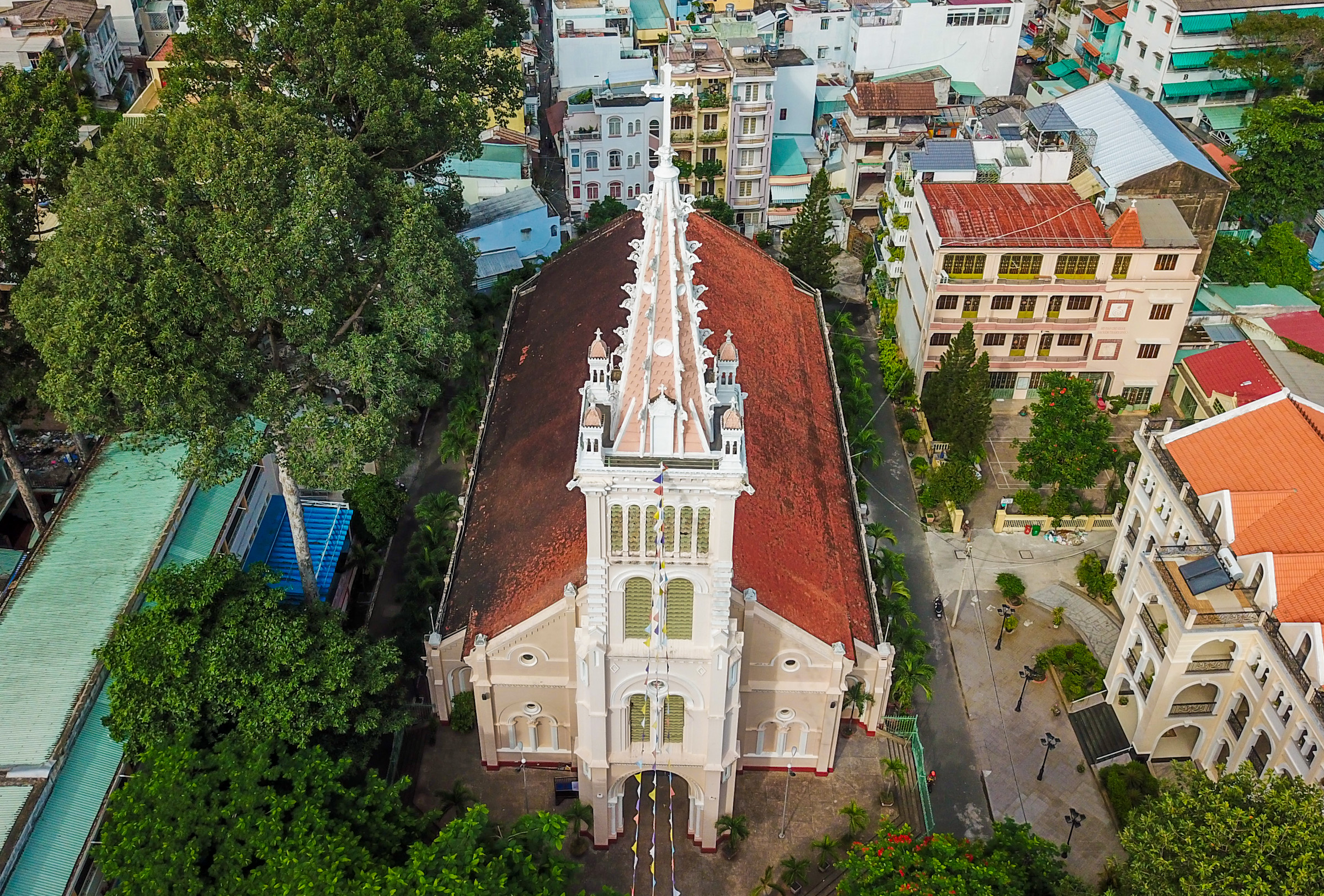 Add: 120 Tran Binh Trong, Ward 2, District 5
Cho Quan Church since beginning was a small church, consisting of only a small chapel and an altar inside. Within a century, it was destroyed by wars, chaos, and had to be rebuilt many times. 1882, on the old ground, priest Nicola Hamm decided to build a new, spacious and solid church that has survived until now. It took 14 years to finish the work.
Saint Joseph Seminary of Saigon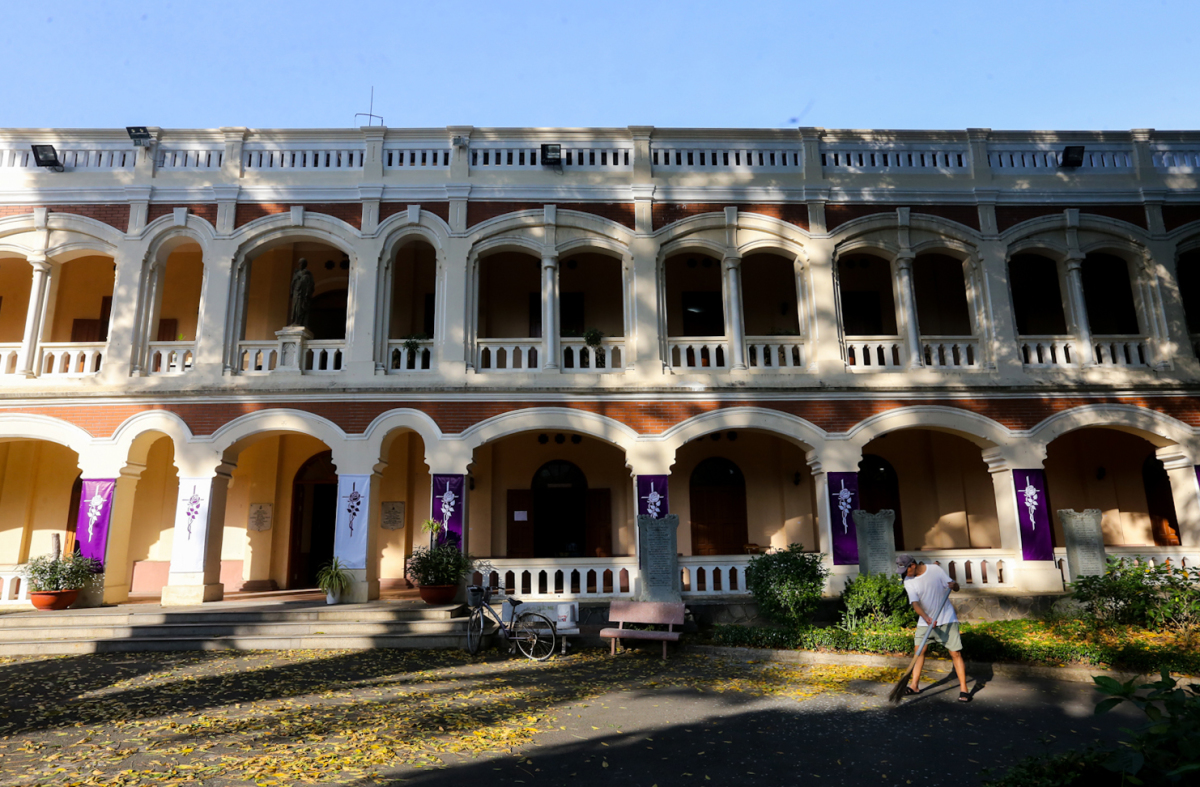 Add: 06 Ton Duc Thang, Ben Nghe Ward, District 1
Saint Joseph Seminary of Saigon is one of the first French architectural works in Ho Chi Minh City. It was built by priest Wibaux and the Paris Foreign Missions Society in 1863, and the major parts of the seminary still remain over 150 years. The Seminary has a large campus, and there 2 main works in the campus: a chapel and lecture hall.
Besides, the church has a spacious yard with green old trees, stone carvings, statues and busts, a fountain, which is a great place to walk, relax and escape from the hustle and bustle of Ho Chi Minh City.
Notre Dame Cathedral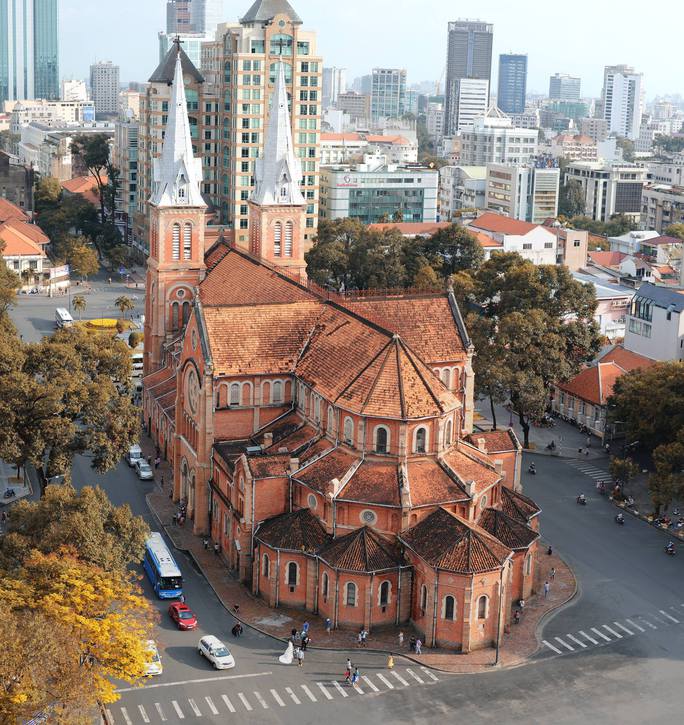 Add: 1 Cong Xa Paris, District 1
Notre Dame Cathedral is one of the earliest churches in Vietnam and nowadays one of the most important city landmarks. The Cathedral was designed by a French engineer named J. Bourar and finished in 1880. All construction materials including bricks and stones were imported from France. Its structure is a combination between Roman and Gothic architecture styles and has the biggest pair of bells in Vietnam.