Traveling is not all about sightseeing in top tourist attractions. It's a chance for you to broaden your horizons, becoming more open-minded and more aware of the cultural differences.
So, one thing you should bear in mind before hitting the road is the dos and don'ts in your upcoming destination in order to avoid being impolite and causing any possible conflict.
Today, we will help you prepare for your trip to Laos, the only landlocked country in Southeast Asia, according to our own experiences. Despite being overshadowed by the two neighboring nations in Indochina Penisula, Laos is a mind-blowing experience for archaeology enthusiasts. Here are the top 7 mistakes we see that foreigners often make during their stay in Laos.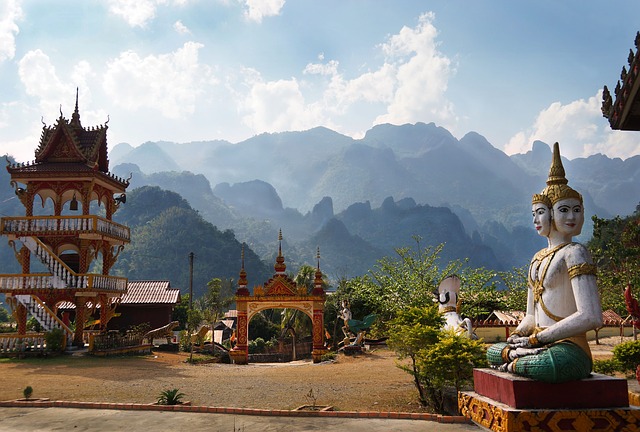 A temple on the moutain in Vang Vieng, Laos
#1. Wear Shoes Or Sandals Inside Temples And Local Houses
In the Western world, people rarely take off their shoes in houses, but things are entirely different in the other half of the globe. Laotians and the Asians, in general, have barefoot inside.
No one really knows the root of this tradition, although some people attribute it to hygienic reasons. Still, why a country which is regarded as a Third World country can be caring more about hygiene than some of the most developed nations?
It's hard to explain, but a rule is a rule. Next time you are invited to a local house, remember to keep your shoes at the front door or in the shoe case before entering if you don't want to be considered rude.
The same rule is applied when you visit temples or religious monuments in Laos. You can, of course, wander around the temple with your shoes. But when you get inside the chapel, take the boots off first.
#2. Touch The Head Of The Monks
As a matter of fact, three-fifth of the Laos population is Theravada Buddhist, so you will see a lot of monks when taking a tour to Laos. Even young people and small children can shave their hair, put on the unique robe and becoming a monk at a very early age.
Like in other Buddism countries, monks are highly respected in Laos, so they have good reason to expect foreigners like you to appreciate the monks too. 
Moreover, Theravada is the most ancient Buddhism school in the world, so there are a lot of strict traditions. The first one you should know is never touching the head of the monks. Even though he or she may be just a kid, once he becomes a novice, he is in a higher position than you.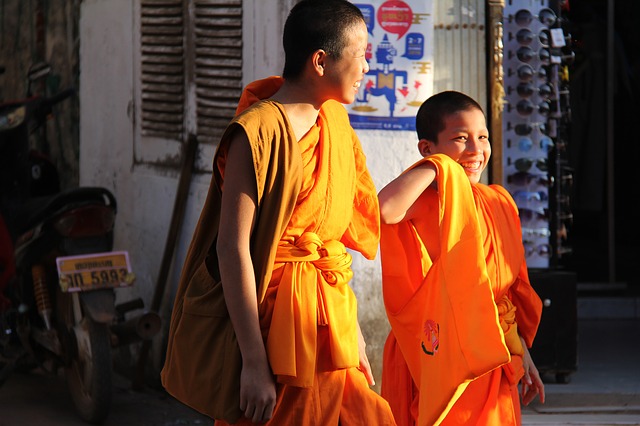 Monks are highly respected in Laos
 #3. Do Other Things With Your Foot Rather Than Walking
It sounds scary, doesn't it?
But Laotians tend to keep their feet low for walking and playing sports only. Although it's such an ordinary thing for us to kick our friends with our foot for fun, that kind of action is extremely impolite in Laos.
"Hig head and low leg" is a rule of thumb in Laos that all foreign visitors should be aware of. It means when you are traveling in this country, you should keep your legs in low profile. In restaurants or public places, never place the lower parts of your body on furniture. Your legs are supposed to be on the ground in all situations except for playing sports.
#4. Show Affection In Public Places
This is a familiar concept in Asian countries. As they are quite preserved, you shouldn't hug or kiss your partners publicly. Of course, as you are tourists, the chances are that the local people will not say anything to you in person, but behind your back, you may receive a cynical glance.
Also, the national law prohibits any sexual engagement with Laos nationality holders without an official marriage certificate. So, be careful with public affection.
#5. Take Photos Without Asking
It's not that they are unfriendly. We think they are just shy or uncomfortable with strangers taking photos. Moreover, Laos has a large number of worshippers; there are a lot of myths within shooting like you could capture one's soul by taking a photo. That's why Laotians don't welcome appearing in a photograph.
Still, myths are myths; many people won't believe in it though. The best option is to ask for permission if you want to save a moment with your new Laos friends.
Another thing to notice is in some holy places; photo taking is considered disrespect to the God above. There will be some signs to tell visitors that they are not allowed to take photos, so watch out for the warning.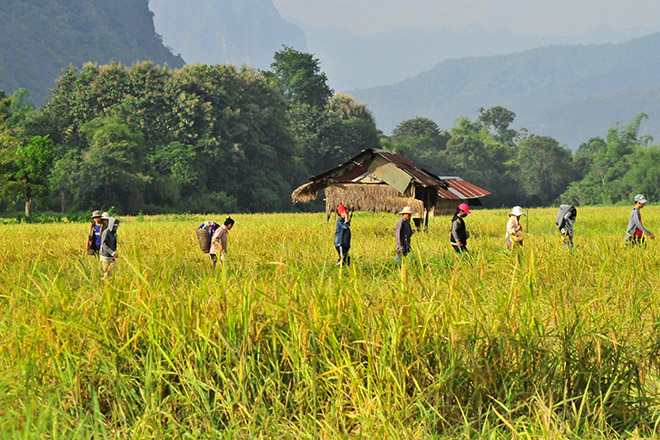 West of Vang Vieng, Laos. Photo by Boudewijn Huysmans
#6. Make A Lot Of Noise On The Road
One striking feature of Laos is the tranquil atmosphere. People are living in harmony with each other and with nature, and you hardly see the locals arguing or shouting on the street. Even in local markets, you won't find plenty of big months. 
So, if you are accustomed to speaking at a high pitch, adjust volume when in Laos. Or else, Laotians will pin your face on their blacklist.
#7. Bikini And Short Clothes Are Not Welcomed
It is a bit unusual to go to the beach or a swimming pool with full clothes, but that how Laotians do it. The local people don't prefer a bikini or any kind of tops and bottoms that show much of the skin. This tradition is strictly applied to women.
Laotians females usually wear a long skirt or sarong to cover their full legs despite the boiling heat. There is no need for you to put on traditional customs like the locals but if you go sightseeing in Angkor temples or other holy monuments, remember to have your arms and legs covered.