Stretching an extensive area, containing around 50 Buddhist and Hindu temples listed as a UNESCO World Heritage sites, it's easy to feel overwhelmed when you first visit Angkor Archaeological Park. While Angkor Wat is known as the first and the most popular stop, there are multitude of mysterious buildings waiting for your exploration. Of course, no way can you go to all other 49 temples, but you should definitely check out the following 7 places. Keep scrolling down to find the reasons.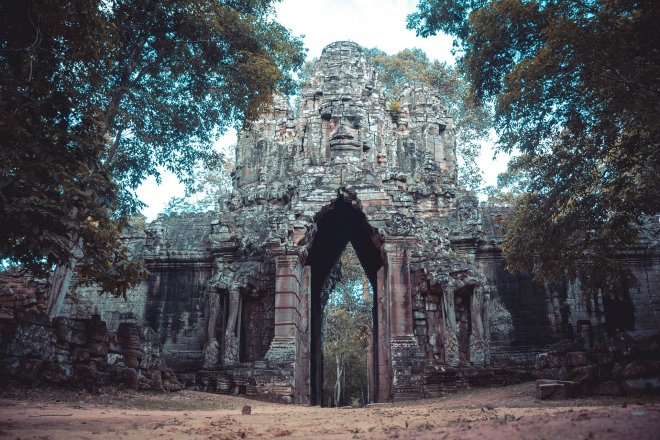 Angkor Thom
Not very far from Angkor Wat is the most long-lasting capital state of Khmer Empire, Angkor Thom. When it comes to significance, Angkor Thom covers a far greater area than Angkor Wat. The fortified city spreads about 9 km2, featuring a massive moat with 8 meter high walls.
Inside the citadel is the display of large-scale constructions including the temple of Baphuon, which is a pyramidal manifestation of mystic Mt. Meru, the Royal Enclosure, Phimeanakas – a three-tiered temple used to have a golden spire on tip, and the Terrace of Elephants – a giant animal sculpture line with five piers towards the Central Square… And many more magnificent rustic structures of the last capital of the Khmer Empire.
Bayon
Right the heart of Angkor Thom can you find Bayon, the last temple to be constructed in the Angkor Archaeological Park. It is said to epitomise the  and strong ego and creative genius of Cambodia's most celebrated king, Jayavarman VII. Visiting Bayon, you will be standing in awe when facing 216 gargantuan smiling faces gulfed out of 54 Gothic towers, adorning 1.2 km of incredible bas-reliefs with more than 11,000 figures.
As you ascend the three panels of Bayon, you will come across similar stone faces opposed each other at the same level. It feels like wandering around a magnanimous matrix though you will always find the way out easily.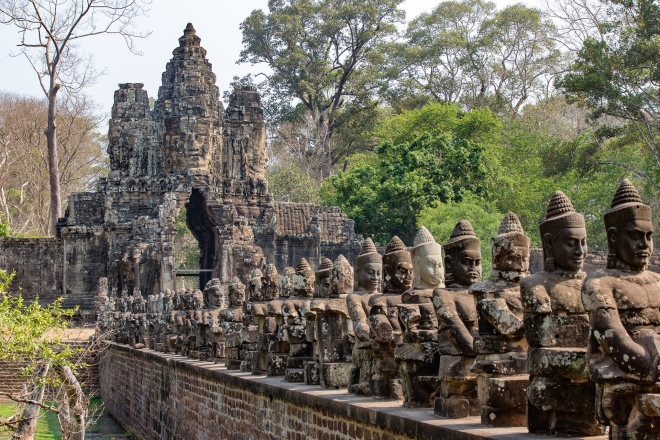 Ta Prohm
If you want to know how cooperative the Mother Nature and the human hands are, Ta Prohm can show you the answer. The temple contains crumbling towers and terraces disguised in the half passionate half loose embrace of expansive root systems. No one can be sure which was formed first, the temple or the great root formation. That may be the reason for the name "Tomb Raider Temple" as many travelers call Ta Prohm.
Though the temple is cloaked in dappled shadow due to the dominance of vegetation, unknown trees of hundred years old use their leaves and branches to filter the sunlight, casting a lush pall over the whole site. The narrow corridors and closed courtyards combine to create the most atmospheric scene of Angkor.

Preah Khan
A less popular stop at Angkor is Preah Khan, situating northeast of Angkor Thom, nearby Ta Prohm. The temple is a flat maze with a basic plan of successive vaulted corridors and rectangular galleries. There are lichen-clad stoneworks and fine carings around a Buddhist sanctuary. Don't get surprised if you pass by Hindu satellite temples because the ruling kingdom had added other religious symbols to Preah Khan later on.
You can approach this monuments from four processional walkways. Excitingly, all of them are bordered with a gorgeous depiction of the Churning of the Ocean of Milk, a traditional wall decoration with plenty of details.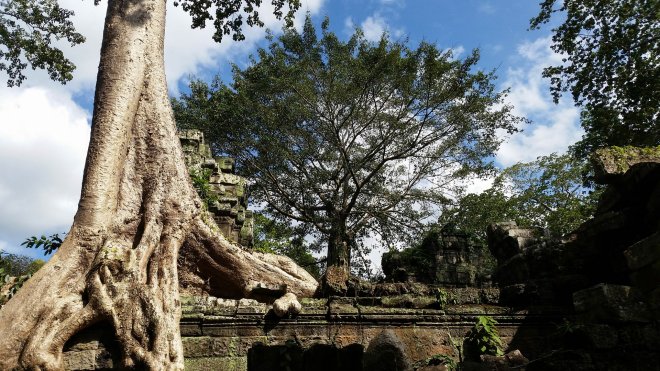 Banteay Kdei
Also very close to Ta Prohm is the grand Buddhist monastery of Banteay Kdei dated back to the 12th century. The main theme conformed to the construction under the reign of Jayavarman VII with two concentric walls which encircle the sanctuary at the heart. Four entrances are decorated with garudas.
Banteay Kdei literally means A Citadel of Chambers in Cambodian language. It is also known as Citadel of Monks' cells. Until 1960s, this area is still occupied by the monks. Together with Ta Prohm and Preah Khan, Banteay Kdei creates the triangle of Bayon styled design in Angkor temple complex.
Pre Rup
Often compared to a miniature Angkor Wat with its five lotus towers, the temple of Pre Rup still preserves its own charm in a certain way. This place was associated with funerary rituals, so the name itself is "to turn the body", reflecting the common cremation method of tracing a dead body's outline in ashes.
Apart from the horrific tradition, Pre Rup is a glorious building with a three-tiered pyramid shape. The extensive use of laterite, brick, and sandstone gives out a extraordinary look with a gorgeous reddish to grey tone that is highlighted by early morning and late afternoon sunlight.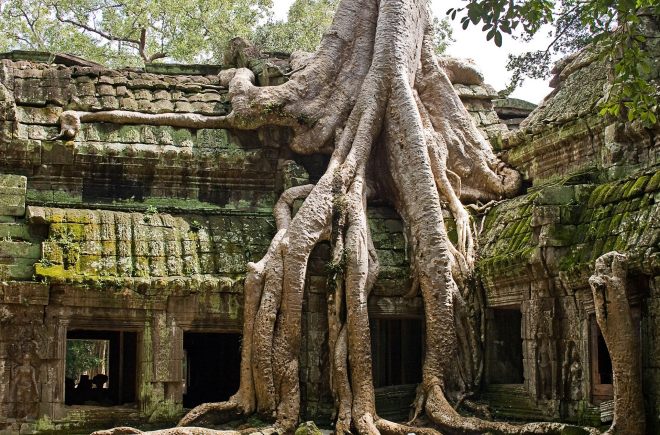 East Mebon
Aligned on a north-south axis with Pre Rup is East Mebon temple, another typical building for Khmer construction. This is also among the earliest building in Angkor Archaeological Park. To be more specific, there is some evidence to prove that East Mebon was set up during the 10th century.
East Mebon has a central tower on a square platform at the top, four smaller towers surround at the corners. What we appreciate most is detailed sculpture of animals and gods with the elephant statue of up to two meters high. All were made with great decorative details, making them lively and impressive.
Wait! That's not all…
So you have got our top 7 breathtaking stops within Angkor Temple Complex apart from the widely known Angkor Wat. As mentioned above, there are dozens of buildings in the area, making it difficult, if not impossible, to haul them all. That's why you have to shortlist the most worth to visit.
If you can lengthen your stay in Siem Reap, let say you get the 10-day pass, some other destinations can be Banteay Samre, Banteay Srei, Phnom Bakheng, Neak Pean, Prasat Kravan, Chau Say Tevoda & Thommanon, Ta Keo, Beng Mealea…
More about Cambodia travel:
– Things Tourist Must Know Before Go to Cambodia.
– Best Time To Visit Cambodia.
– Things to do in Seam Reap, Cambodia.