Before every trip, I would find myself standing in the middle of my room wondering what to bring and what not to bring. This could take hours and even after that, I would be missing something or end up carrying a huge luggage. 
Here is a list of 10 essential questions I ask myself before packing. It works perfectly as from answering those I know exactly what I have to prepare. 
As you're planning to travel to Cambodia, this list will also provide you further information about getting a visa, finding accommodation or packing necessary stuff for a trip to Cambodia.
Did I check the documents carefully?
The 2 most important documents for international trips are:
Holders of diplomatic and official/service passports of Brunei, Brazil, Belarus, Bulgaria, Cuba, China, Ecuador, Hungary, India, Iran, Indonesia, Japan, Laos, Malaysia, Mongolia, Myanmar, Peru, Philippines, Russia, Seychelles, Slovakia, Singapore, South Korea, Uruguay, Thailand and Vietnam do not require a visa for Cambodia. Visitors or travellers to Cambodia can obtain a visa on arrival for tourism (US$30) or business purposes (US$35), for a maximum stay of 30 days. Extensions are possible.
Note: For convenience, I suggest you should apply for an eVisa online for US$36 before arrival. EVisa allows a single entry together with a maximum stay of 30 days for tourism purposes. Make sure to carefully take care of these 2 documents. You may have a few copies of each for safety, take a few pictures and check  for passport and visa right before you get to the airport.
Is the weather suitable? Are there any storms? 
Prior to any trip, it is highly suggested that you should do some research on the place you visit, especially how the weather will be during your trip.
Cambodia has 2 main seasons. Dry season is from November to April on the back of the northeast monsoon. The weather from November to January is cooler. The weather from February to April is hot and dusty. The coolest is November and the hottest is April.
Wet season is from May to October courtesy of the southwest monsoon. About three-quarters of Cambodia's annual rainfall is on wet season. The wettest months last from July to September.
I think that the best time to visit Cambodia will be during Cambodia's rainfall or wet season. Don't mistake wet for humid and sticky and mud-water.  The rain will be a pleasant surprise as it cools down the hot temperature before and bring new cool breeze. During wet season, nature seems to be much more magnificent with greens coming out. 
You could also ask your travel agency or look up the weather forecast of your destination. Avoid booking trips when the weather is extreme. If you know these information before hand, packing clothes will be more efficient.
>> Read More: Best Time To Visit Cambodia
How many clothes are enough? Do I forget anything?
This seems to be the easiest part of preparing but in reality, we would spend hours trying to figure out what to bring and what not to bring. So to do us a favor, I suggest we should follow this rule:
Pack LIGHTEST – Travel LIGHTER – Come back LIGHT
Along the trip, as you immerse yourself in the exploration of Cambodian rich culture, new things would you discover. It could be the unique Krama – traditional Cambodia's garment or the refined work of Cambodia's silverware. We would want to purchase those not only for their beauty and cultural values it carries but also because they can be gifts for our family and friends. Packing the lightest as possible will eventually leave you some space for souvenirs or other pop-up specialty.
Here's my list of essential items: 
(remember to make changes to adapt to the weather and geography of the place you're travelling to)
BASICS:
Long-sleeved shirts
Sweaters or fleece jacket
T-shirts and tank tops (but remember to be respectful of the culture you are visiting)
Pants and/or shorts
Socks (wool socks are best for hiking and camping)
Comfortable walking shoes
Rain jacket, windbreaker or umbrella
Pajamas/sleepwear
Underwear
Sunglasses and glasses case
Swimsuit or swim trunks (maybe bring an extra water-proof bag to put these in)
Cell phone and charger
Electric converters and adapters
Travel apps to translate among languages, online map, navigation, money conversion and checklist
THE TOILETRY BAG BASICS:
Toothbrush, toothpaste, floss, mouthwash
Hair brush or comb, hair ties, barrettes/bobby pins
Deodorant
Sunscreen and face lotion with SPF
Make up packed in a wipeable wristlet
Lip balm with SPF and lipstick or lip gloss (in Vietnam, it could get very dry.)
Feminine hygiene products
MEDICATION
Prescription medication with the label/script to refill if neccessary and not be questioned by TSA.
Make sure to bring your allergy medication and notice if Cambodian food contains things that can make your allergies worse.
Is the accommodation convenient? 
Finding accommodation in Cambodia is not a problem. In big cities like Phnom Penh, Siem Reap and Sihanoukville, there are accommodations of all kinds: hotel, homestay, dorm, guesthouse,… In smaller towns, you could also find a reasonable choice of guesthouses and a couple of modest hotels.
In most cities, tuk-tuk and moto drivers sometimes get an amount of commission of dropping you off at a particular guesthouse – this fee will be added later to your room rate. In Sihanoukville, some drivers may say that your accommodation has closed or is full of prostitutes or some excuses in the hope of being able to take you to a place that pays them a nice commission. Mostly, however, they're just keen to introduce themselves and to ensure your security while driving you. If you've booked accommodation in advance, some hotels and guesthouses will send someone to pick you up from the bus, boat or plane for no extra charge.
Therefore, to reduce the possibility of ending up at accommodations that do not at all fit your expectations, do your research online or contact a travel agency beforehand. Make sure you choose the accommodation closest to your expectation and be informed well of the facility or the checking-in and checking-out.
Also, note that camping in Cambodia is technically illegal and also potentially dangerous due to the risk of land mines.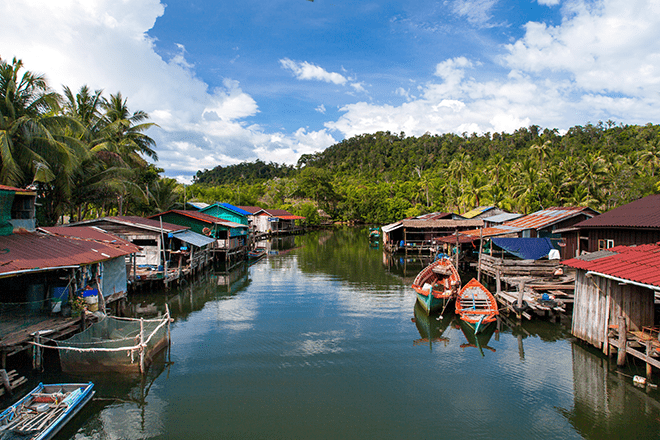 Am I financially prepared?
Are credit cards accepted in Cambodia?
Not commonly, but most high-range hotels, some middle range and very few lower range hotels will accept them. Very few restaurants and bars accept them. Cash is more preferred. If you use credit card, 3% surcharge is expected.
You could exchange your country's currency to Cambodia Riel at the airport or banks or hotels or gold and jewelry shops. ATMs can be found nearly everywhere. Normally those with international choices are in:
Siem Reap

Sihanoukville

Battambang

Phnom Penh

Kampot
But besides that, there's a 90 percent level of dollarization in the country. What this means is that you don't need to be concerned about getting riel when you arrive in Cambodia. In reality, the visa which you get on arrival must be paid in US dollars. Most tourist-oriented businesses quote prices in dollars, so do most grocery in larger cities. Small stores may quote prices in riel, but they will all accept dollars as payment.
How can I stay in touch?
Register with your country. If there's an unpredicted issue in the country, this will alert your government where you are and get you to safety. It's wise to note down information of the local embassy.
You can also purchase a local SIM card if you're staying for a long time or have to travel to the highlands. Otherwise, the wifi is everywhere in Cambodia so you could use online messenger like Viber or Skype.
Before going, inform your family and friends of your travel plan so they can contact you in case something unlikely happens near where you stay.
How can I preserve my important documents?
If your passport or wallet are nowhere to be found, you'll need all of your identifying information. Use your phone's camera to take a photo of the important passport pages (personal information and visa) and photo ID so you will have it on hand in an emergency.
For extra reassurance, pack color photocopies of all your important documents in your suitcase.
Are there any scams? How can I avoid those?
The answer is take advice or guidance from the locals. No matter which you choose: could be a private walking tour or a multi-day group tour, all guides have one thing in common: your safety is their priority. If nothing else, they have a reputation to uphold.
As a traveler, you may not be aware of common local scams, speak the country's language, or know which neighborhoods are safe after dark. A local will know that and more.
Working with a local guide can ensure your "memorable experience" is a good one.
Is there any notes on the etiquette? How do I avoid showing disrespect toward Cambodia's cultures?
As visitors to Cambodia, you will definitely be welcomed here. Cambodians will of course understand that you may not be familiar with the etiquette here, but showing a dearing effort will gain you trust, friendship and guarantee memorable experience during this trip.
Here are some DON'Ts you need to be careful of:
Avoid handing people things with your left hand. Use only your right hand when eating. (With Cambodians, the left hand is for dirty duties in the toilet)

Never touch on people's heads, even children. (Head is the most sacred place.)

Remove your shoes before entering one's house or especially religious sites.

Do not touch a Buddha statue, and only take photos if allowed.

Don't turn your back to statues of Buddha to take a selfie!

Dress properly (Long sleeves and long pants) when visiting religious sites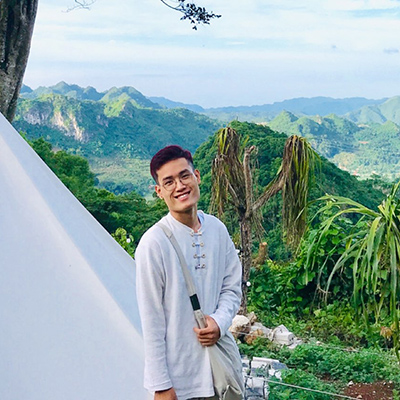 Anthony Icarus
I have always been an adventurous one since I was a little kid. My mom must have had a hard time making me sit still or just stay at home. Every travel to me, no matter long or short, low or high budget, always make me fall in love again and again with the magnificent nature, unique culture and endearing locals.
Travel Cambodia With Us: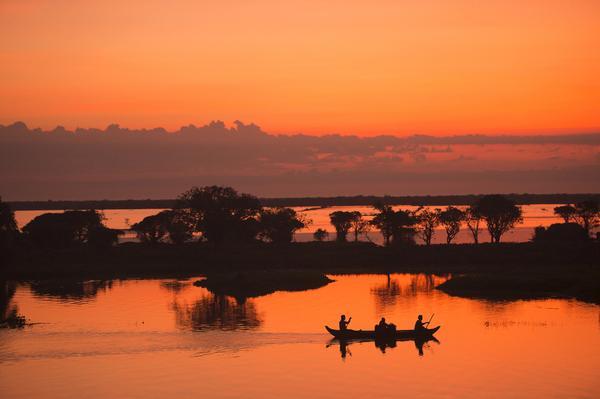 A glance of Vietnam and Cambodia 11 days 10 nights
It's not an overstatement that this package gives you a complete grasp of the South East Asia spirit within just 1 trip. The spectacular nature that will definitely make you hold your breath comes from Ha Long Bay – One of 7 Natural Wonders of the World while the cultural value is highlighted in Angkor Wat (Siem Reap). With various local activities like farming, float shopping, traditional cooking,… you will have enough diverse experience to gain a true insight into the 2 countries.
 Vietnam and Cambodia Package 15 Days 14 Nights
If you can give us 15 days of your time, we would love to turn your valued time to an amazing vacation of Vietnam and Cambodia that you can enjoy the local culture, historical sites, beautiful landscapes, wild beach and impressive temples. This package offers you various experiences from the North to Centre and the South of Vietnam as well as Phnompenh, Siem Reap in Cambodia. Not only have glimpse of Vietnam and Cambodia, but you also "taste" and "feel" the real life through different activities, stories and knowledge that we provide you from day to day of this tour.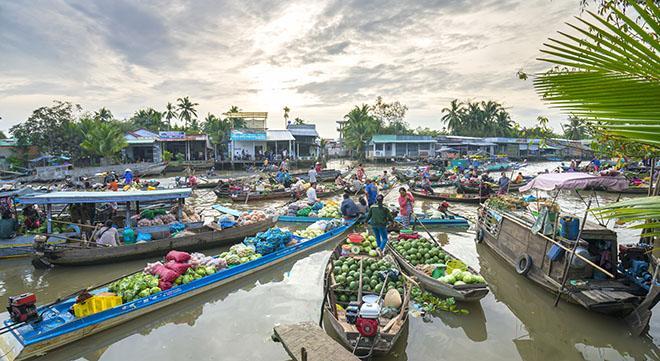 The Best South of Vietnam and Cambodia 7 Days 6 Nights
This 7-day package tour will offer you the sightseeing the best highlight of Vietnam and Cambodia. Specifically, you will discover the symbols of the biggest and busiest city of Ho Chi Minh. You also learn more about our Vietnam war by discovering the most complicated tunnels system in Cu Chi to know how we flight the invader. Adidtionally, a quick sightseeing to Mekong delta to enjoy the local atmosphere and know more about heir culture will be a highlight of this package. Coming to Cambodia, it offers you the visiting to Angkor complex, which cannot be missed while travelling to this small country.
Or more Cambodia Tours.