Cultural activities and art performances will show the beauty and quintessence of Hoi An ancient town. Therefore,  they are favored by domestic and foreign tourists. "Hoi An Memories" is renown as one of the top world-class shows that visitors to Hoi An should experience!
"Hoi An Memories"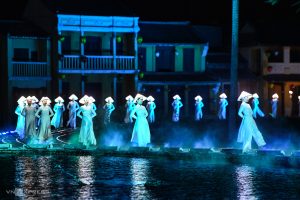 The "Hoi An Memories" show is performed on an outdoor stage in Hoi An Impression Cultural Theme Park, was built with an area of 25,000 square meters nearby Hoai River. The theater can accommodate up to 3,300 seats. The stage is reflects Hoi An port town back to more than 400 years ago.
It is a performance of modern staging techniques, lighting technology and elegant audio effects. Through the show the 400-year history of Hoi An from its early days as a small village to its golden era of a busy trading port is represented.
"Hoi An Memories" is staged every day of the week except Tuesday from 8 p.m. to 9 p.m. Ticket prices range from VND480,000-1.2 million ($20.58-51.45).
The show has become an creative tourism product, contributing to the growth in the number of tourists visiting Hoi An. In July 2018, 12 ambassadors have saw the performance and said that this is one of the most beautiful and exceptional cultural shows in the world with more than 500 actors and actresses. The show was even chosen to be performed on at Times Square, New York in the United States in March 2019 and get a lot of attention from the world.
Hoi An Impression Cultural Theme Park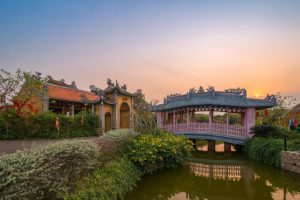 In addition to watching the show, tourists can also visit Hoi An Impression Park Cultural Theme Park. Different areas in the park offer different themes. A commercial trading port complete with shops and stalls and bustling merchants represents the international trade of the 17th and 18th centuries. A Japanese village pays homage to the demographics of the time, when a Japanese community left their mark on Hoi An's culture in the form of architecturally distinct buildings and bridges. All of these has created a beautiful combination between of Vietnamese, Japanese, and European architectural styles.