Ban Gioc fall, located in Dam Thuy commune, Trung Khanh district, Cao Bang province, are the highest, most majestic and beautiful waterfall in Vietnam. With over 200 meters (656 ft.) wide and a drop of more than 70 meters (229 ft.), it is considered to be the largest waterfall in Asia and the fourth largest waterfall along a national border in the world.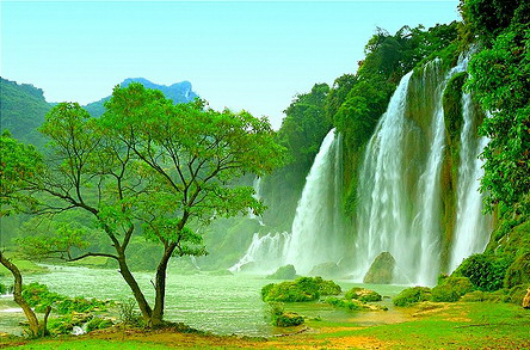 From the height of 30 meters, giant volumes of water pour down on three limestone steps. The fall hits its cliffs and roars so strongly that visitors can hear it even from a very long distance. In the middle of the water fall stands a large rock covered with wild plants, which separates the water flow into three branches like three dazzling white silk bands descending softly and blending with the green of the mountain and forest. The torrential water flow rushes down the three-tiered cliff and creates a multitude of tiny spotless white water drops which wrap a vast region and are partially absorbed by the atmosphere. Therefore the air here is always remarkably cool and fresh; the scenery becomes extremely fanciful. On sunny days, the sunshine gets through water drops and generates a glistening rainbow.
At the foot of the waterfall is a large river, as calm as glass, surrounded by many precious kinds of flowers. NguomNgao cave next to the falls is known as one of the wonderful caves in Vietnam. Ban Gioc Fall is famous for a famous fish named "tram huong" and Trung Khanh chesnuts, travelers often go fishing for "tram huong", taste some chesnuts and relax below it.
The scenery changes according to the seasons through the year. In spring, the flame-red blossoms are in full bloom. In autumn, the waterfall surroundings turn golden-yellow.
In the summer, the waters become stronger and violent and during winter the fall's clear waters drop slowly and some times there is a little snow. The average temperature in the summer is from 25°C to 28°C, and this in the winter is from 16°C to 17°C.
Ban Gioc waterfall is in a lone area away from Trung Khanh chief town. As a result, to get there, the best option is driving a car. As there is no hotel but some houses on stilts for rent, tourists usually choose to travel in the course of the day then return to stay in Cao Bang township in order to visit Pac Bo cave the next day.
Recommended tours