Cambodia is a great experience for the Buddhists who are interested in exploring the ruins of the past as well as fascinated tourists by the wild beauty of creation. Therefore, traveling to Cambodia and checking out the sights in Siem Riep. This guide will give you everything you need to know about visiting Cambodia, from getting to and from the airport, transport, good accommodation address, where to see and eat and other helpful hints you should check out.
Transport: how to get there from Vietnam?
Airport: there are many direct flights from Vietnam to Cambodia operated by Vietnam Airlines and the Cambodia carrier, Angkor Air with the range in price as follows:
Hanoi – Phnom Penh: VND 7 million to 12 million
Hanoi – Siem Reap: VND 9 million to 12 million
Saigon/HCMC – Phnompenh: VND 5.5 million to 9.5 million
Saigon/HCMC – Siem Reap: VND 8 million to 10 million
Open bus: some famous open buses to Cambodia transporting customers from Ho Chi Minh City to Phnom Penh and Siem Reap are Mai Linh, Sapaco, Kumho or Mekong Express. Almost these buses have their offices and agents at Pham Ngu Lao, Bui Vien street in Saigon.
HCMC – Phnom Penh: VND 200,000 – 300, 000 for one way, and VND 400,000 – 600,000 for two – way. Departure time can range from 6 to 10 hours (if you plan to get there at nights)
HCMC – Siem Riep: VND 400,000 – 500,000 for one way, and VND 800,000 – 900,000 for two-way. Departure time can range from 11 to 15 hours (if you travel at nights)
Traveling in Cambodia: bus and car are among the most affordable vehicles to travel between and among big cities in Cambodia. For example, it costs about $6.5 to $7 to travel from Phnom Penh to Siem Riep. Otherwise, you can choose to hire a motorbike at the rate of $6 per day. Tuk tuk is also a favorite vehicle. However, tuk tuk and taxi are the safe choices for you as transport in such big cities is quite dangerous and busy.
Accommodation
Hotels in Phnom Penh locate in 2 areas: Sisowath Quay and Sorya Center Market. Depending on your budget, you can select suitable accommodation for your demand.
Affordable hotels: Number 9 Guest House, Grand View Guest House, Floating Island, Simon's II Guest House, Royal Guesthouse and Hotel Indochine. These hotels charge room rates from $3 to $15 per night, varying between each hotel/ guest house.
More luxury hotels including Angkor Mithona GH, Asia Hotel and FCC Phnom Penh Boutique hotel with the room price ranging $15 – $140 per night, varying between each hotel.
Where to see and eat?
See: sightseeing to consider here besides Angkor and Battambang.
Royal Palace
The palace is a complex of several buildings in the center of Phnom Penh on the banks of Mekong River. To reach this place, you come from the other side of the city and also is well known by tuk tuk drivers. The palace has beautiful tropical gardens and impressive architecture. The silver pagoda is filled with a lot of golden Buddhas. The fee entrance to get inside is $3 for adults plus $2 for taking photos. It's opened everyday from 7:30 am to 5:00 pm.
Killing fields and the Mass Graves
This place is quite away from the city center, no public transport gets there. You can hire a tuk tuk with the cost starting from $15 – 20 back and forth and it takes about 30 to 45 minutes to get there. Visiting here you will understand the story behind it. It's hard to imagine how can someone do this terrible thing to people. The Khmer Rouge regime of Pol Pot is known as the most criminal ever. 2 million people found death in 4 years. The execution sites, the Killing Fields are now monuments and a MUST see sightseeing to visit if you come to the capital Phnom Penh.
Tonle Sap River
You can get there by walking along the boulevard of Sisowath Quay, at the riverside and negotiate to have a boat for a half hour or an hour of touring around the river. The price is about $10/people if you travel in group, negotiate to have better discounted price. The tour helps you get excellent views on the Phnom Penh city as a whole, the fisherman life, and the nomads living on the over side of the river and try the local water transport.
Eat
If you wonder where to eat out in Phnom Penh, just remember the following names: Phsa Reatrey and Kanda market, both are close to Sisowath Quay. You can taste real Cambodian dishes at these places. Other street foods can be found easily if you walk around Naga world. Tourists can sit down to taste simple dishes here. Some must-try dishes here you can consider:
Kampot pepper crab: This dish is originated in the small riverside town of Kampot in the south-east province of Cambodia, which made its name. The seafood delicacy has become somewhat of a national dish with a whole fried or baked crab, smothered in a sweet yet spicy peppercorn sauce. Now is it enough to tempt even the most budget-conscious backpacker away from street food? Perfect! Bai sach chrouk (Pork and rice): This dish can be considered as one of the simplest and most delicious dishes that Cambodia offers to foreign tourists. The dish is cooked by slicing pork very thinly and then slowly grilled over warm coals to bring out its natural sweetness. Sometimes the pork will be marinated in coconut milk or garlic. The grilled pork is served with a hearty portion of broken rice, with a helping of freshly pickled cucumbers and daikon radish with plenty of ginger.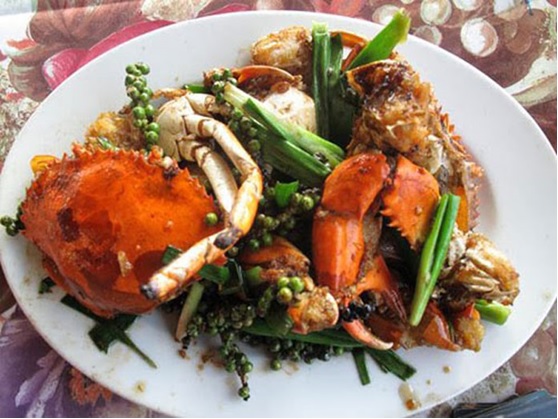 Kdam chaa (fried crab): This type of dish is a specialty of the Cambodian seaside town of Kep. The lively crab market here is very well known for fried crab which is prepared with locally grown Kampot pepper. This type of pepper is very famous among gourmands internationally; you're still be able to taste the distinctively flavored immature green peppercorns in this Southeast Asian country. Well, it's worth visiting Kep and Kampot since you will have the chance to taste dishes prepared with Kampot pepper and flavorful garlic chives over there.