If you've ever traveled to the Mekong Delta, sat on the boat rowed by the local people, or visited floating markets in Southern  Vietnam, you've probably heard the Southern people humming folk songs with high notes and soothing melody while they were working, that's Đờn ca tài tử, the music of the plain and diligent people in Mekong Delta area.
 "Don ca tai tu" was officially recognized as the masterpiece of the Oral and Intangible Cultural Heritage of Humanity in 2013.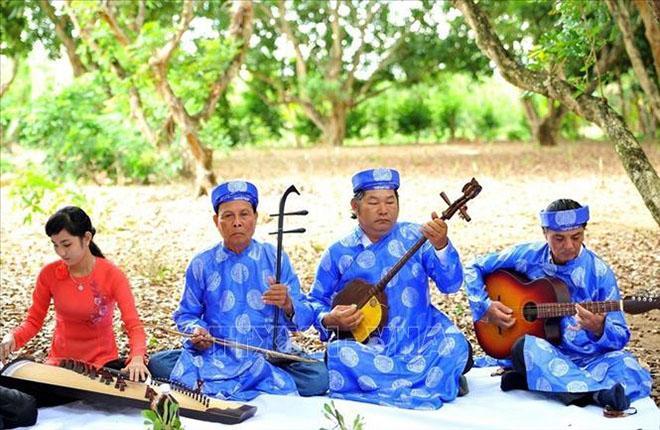 The origin
Appeared in the late 19th century, which is much younger than other traditional music, Don ca tai tu is still a popular art form in Mekong Delta areas.  Unlike the others forms performing arts, Don ca tai tu originated from the Southern famers' daily life only for the entertainment purpose. In the delta area, people mostly live as small villages with gardens, fields and fishponds, so the relationship between the neighbors is very close. After hard working hours, the neighbors usually gathered together to sing and relax. Although most of the musicians and singers are amateur,  Don ca tai tu has gradually shown its vitality and asserted its value in the national art.
The performance
Typically, the men in the group usually play the instrument while the women sing. Don ca tai tu orchestra mainly comprises 5 types of instruments: zither, ty ba lute , moon-shaped lute, two-stringed fiddle, thee-stringed lute, and sometimes bamboo flute. Later, the musiciasn changed or added some modern instruments (like guitar) so the music become more complete.  Neithor musicians nor singers were professionally trained, they are just the music lovers and perform with all their heart. They usually perform at traditional parties, weddings, festivals… so the melodies are often cheerful and generous.
A video of "Don ca tai tu" by UNESCO. You can start watching the perfomance at 1:50
Each song has its own particular color. There are some cheerful songs about people's optimism, some songs express the sadness of a woman missing her husband, some songs have leisurly rhythm to describe peaceful life in rural area. Each song is a story about Southern people whose life intimately connects to the land and rivers of Mekong Delta.
Where can we find it?
Today, it is not difficult to find Don ca tai tu performances in Southern area, Tourists can buy tickets to folk music performances, which is a really good choice, you will have the opportunity to enjoy one of the specialities of Southern Vietnam: Don ca tai tu performance on boat.
Besides, there is another interesting way to enjoy this form of art , it is to take a day trip to the countryside. While strolling on the roads of the old villages, if you're lucky enough, you may come across a local wedding, birthday party or festival, and you'll be able to enjoy the music in the most natural and authentic way. Don't be shy to join with them, the people here are really hospitable and always happily welcome you to join even when they don't understand your language. So if you come to this place, definitely don't miss the chance to enjoy this delightful kind of music.