If you are an explorer, wishing to discover destinations which are kept off the radar of mass tourism, Pu Luong will be the most excellent option. You may have heard of Sa Pa as one of the best rice terraces in Northern Vietnam, but rice paddy fields in Pu Luong ain't less magnificent either. Rather, this place brings an exceptional feeling of an exclusive mountainous region, far away from the hustle and bustle of commercial life.
Reasons For Heading To Pu Luong In Your Next Trip
Though Pu Luong is quite a new name among wanderlust souls, its popularity is increasing rapidly. Do you wonder why?
As for me, this is a completely untouched attraction. The main area is Pu Luong National Park with evergreen rainforests with villages of ethnic minorities and their farming areas nestled in between. Therefore, set your foot in Pu Luong, you will feel like escaping from your busy daily routines. This is not exactly the emotional state you can have in Sa Pa because this place is now full of hotels and resorts for tourists.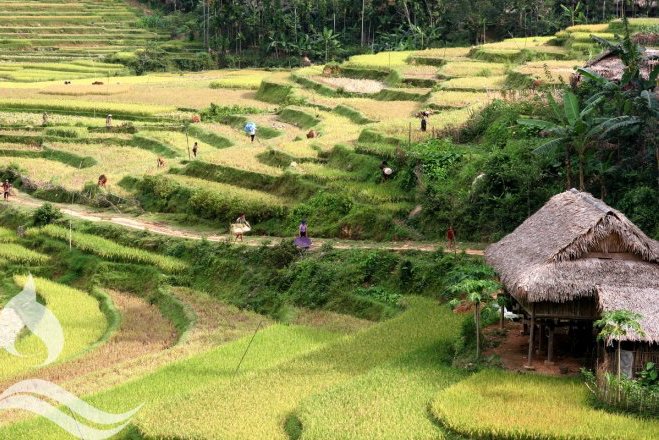 Plus, Pu Luong is actually more accessible than Sa Pa from Hanoi. Sa Pa locates in the northernmost of Vietnam, the road is rugged and can be dangerous during the rainy season. It is, on the other hand, more than 5 hours to drive from Hanoi to Pu Luong, so this site is super convenient for a short break in the weekend. If you just have a few days to get to know Vietnam, this is also an ideal stop because you will have a chance to experience the life of hill tribes deep in the woods.
Blooming Season Of Pu Luong
Thanks to the blessing nature, the weather in Pu Luong is lovely all year round. Even during the hottest days of the summer, you still feel comfortable in a stilt house, a signature accommodation in Pu Luong.
Still, to enjoy the utmost beauty of Pu Luong, you should plan your trip in May and June, when the new crop just begins. Different shades of green, from the chartreuse of newly planted seeds to the dark moss of the old jungles, create a magical water-color painting that will breathe a new life to your mind.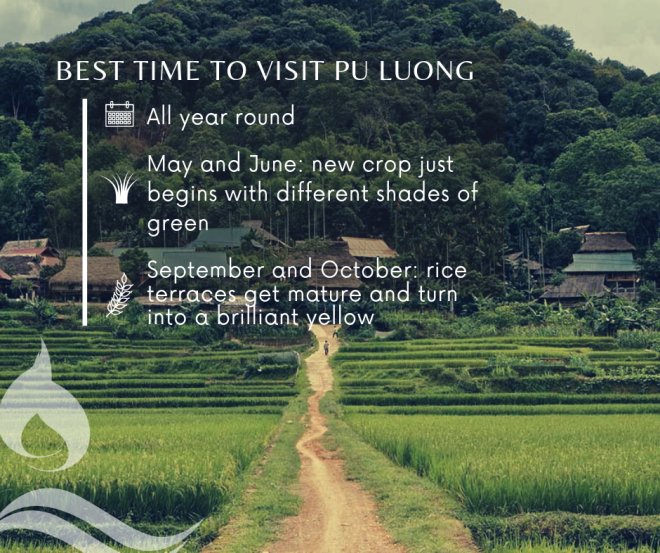 Another blooming season of Pu Luong is between September and October. This is when the rice terraces get mature and turn into a brilliant yellow, lightening up a large area of the valley. The whole village becomes lively and poetic. Local people are also more dynamic because of the harvesting festival.
Easy Ways To Get To Pu Luong
Pu Luong is in the midway between Ba Thuoc and Quan Hoa, on the northwest of Thanh Hoa Province. The distance from Hanoi to Pu Luong is around 150 kilometers, but unfortunately, there is no direct bus from the city center. As a result, you have to catch a bus to Ba Thuoc bus station, about 20 kilometers away from Pu Luong, then transfer to a motorbike. If your Vietnamese is limited, it will be very challenging and you have high chances of getting ripped off.
In this case, some group visitors may want to hire own car, with or without local driver. If you follow this way of transportation, we advise you 2 tracks. The shortest way is 160 km and a 4 hour drive from Hanoi. This road takes you up to high undiscovered areas in Pu Luong, passes through two provinces: Hoa Binh and Thanh Hoa. Another way from Hanoi is 180 km and a 4 hour drive. The first 120 km you follow the legend Ho Chi Minh Trail. The next 50 km takes you along the famous Ma (horse river) and through beautiful rice fields.
But according to our experience, you should not choose this way in you first time to Vietnam, because you are more likely to become a victim of a scam.
Exploring Pu Luong, visitors will have to cross the old old dark forest. From these treks, visitors can take their eyes to the high mountains, drop their soul to the village with the unique stilt houses hidden in the midst of green forests, sinking in the mountain dew and cloudy sky.
It is advisable to find a trustworthy tour operator to arrange a minibus to your hotel in Pu Luong. The mountain roads bounding green valleys shouldn't be your hassle but a relaxing journey to the hidden paradise in Pu Luong
Top Activities In Pu Luong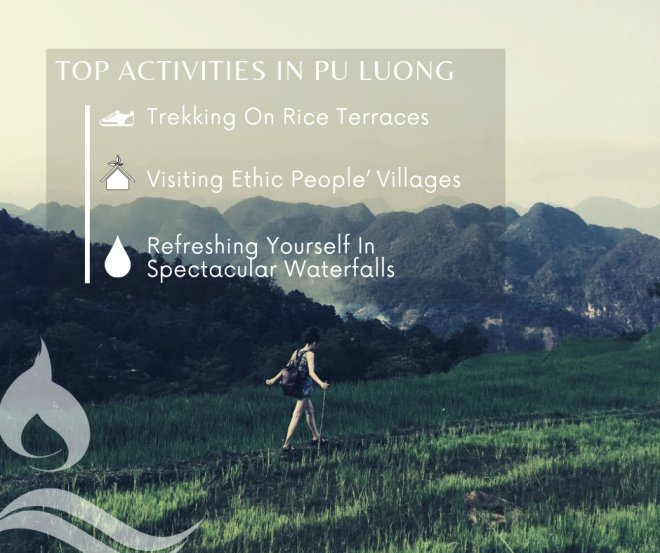 Trekking On Rice Terraces
A trip to Pu Luong will not be complete without a leisurely walk alongside the stunning nature. There are various routes for you to choose, depending on your time and your endurance.
Our recommended schedule will pass over several highlights, including Pu Luong Nature Reserve, a vast area of limestone mountain ranges, glorious rice terraced fields. At the peak of the reserve is Pu Luong mountain top, 1700 kilometers from the sea level. This is a crossline between the sky and the ground. Abundant clouds surround you, drawing an ambiguous but poetic picture. Next stop will be Hieu commute famous for giant waterwheels and breathtaking waterfalls. Finally, you will be led to a hill tribe's village to admire their traditional lifestyles in stilt houses.
Visiting Ethic People' Villages
Local residents in Pu Luong are all ethnic people from Thai, Muong, Dao groups. Their way of living is exotic and will certainly arouse your curiosity.
Kho Muong village is hosted by Muong people. It is quite excluded from the rest of Pu Luong, but the locals are simple, modest, warm-hearted and very friendly. You can also pay a visit to Kho Muong limestone cave with stalactites dated back to 250 million years ago.
Coming to Don village, you will enter the area of Thai people. Thai cuisine is worth to try with a wide selection of exotic ingredients such as chayote leaves.
Refreshing Yourself In Spectacular Waterfalls
Hieu waterfall is situated with Pu Luong National Reserve. It originates from a limestone cave inside the Cuc Phuong National Park. When the flow reaches Pu Luong, it falls from a height of 800 meters. The water is translucent with no sign of dust.
Another must-visit spot in Pu Luong is Muon falls. It is about 500 meters high, but the unique water flow of Muon waterfall creates a kind of structure similar to a stair with about 43 floors. So you can easily conquer the top of the fall
Pu Luong Specialties
A great way to really understand the local life is to try local delicacies. Though the food may be super strange to you, you will probably love it at first "taste".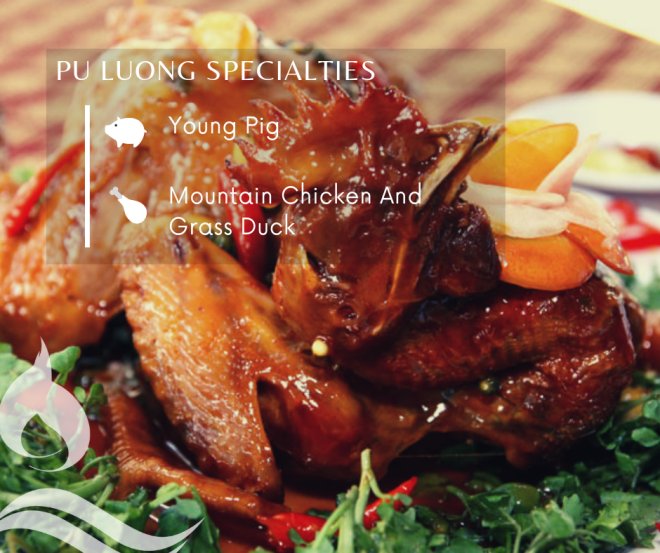 Young Pig
Young pigs are immature so their meat is tender, juicy and super tasty. The best culinary technique is roasting the whole pig above a coal fire until the skin turns into golden yellow. The grilled pig is, then, cut into small pieces and served with special herbs.
Mountain Chicken And Grass Duck
Ethnic people don't raise poultries in standardized farms but let them live freely in nature. That's why the size of the animals is far smaller than usual. The taste, however, is better than ever. Because poultries are pretty active, their meat is firm, less in fat content. Combined with the secret seasonings of local residents, all the dishes here will make your mouth watering.