The imposing town of Sapa, its picturesque scenery, and a lot of joyful activities here do attract thousands of tourists, adventure lovers, and even honeymoon couples every year. That's why Sapa Original Trek Tour is often overloaded as thousands of travelers are fond of booking it day after day. People are able to enjoy trekking experiences through this town all year round and save the best photos ever since Sapa has its own beauty and glamour in each season. While the town is in blossom with colorful flowers and green pastures in spring and summer, you can even feast your eyes on the snow falling in winter. Furthermore, the autumn also wins your interest with the golden hue of terraced fields. What's more? It is worth realizing that Sapa is the place where you can feel the cool and airy atmosphere that is quite different from any other destinations in Vietnam.
So, if you are going to plan for a trekking trip in this spot, then let us give you a hand. Today, we're happy to introduce the most useful Sapa trekking itinerary so that you can immerse in the breathtaking vistas of mountain scenery, gain an opportunity to hike out to the local hill-tribe villages, as well as understanding the traditional life of the locals. Let's enjoy!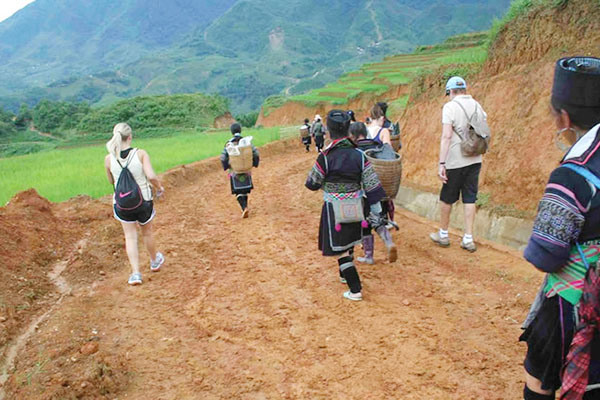 What does Sapa Original Trek Tour offer in the 3-day journey?
Located in Northwest of Ha Noi, Sapa is famous as the premier destination for trekking and adventure in Vietnam. What make the area ideal for hiking experiences are its mountainous region, eye-catching scenery, verdant rice fields, diversity of hill-tribe and minority villages, as well as the chance to interact with the isolated communities and try local homestay. As a result, missing this tour seems to be a big pity in your lifetime!
In general, you'll start this memorable trip with an overnight train to the mountainous Lao Cai province. Then, after waking up in Lao Cai, you will be led to Sapa by our attentive guide and driver. Next, the group of tourists will freshen up from their long overnight ride, take short time to relax, and have breakfast before continuing their discovery within the next 3 days.
The first stopover in the morning is the Matra village. This small village is likely to be hidden away from the civilization although it is just a few kilometers from Sapa town. Tourists will depart for the village and begin their trekking trip through following small trails. During the route, it is quite possible to enjoy a spectacular view over gorgeous rice terrace fields. Our guide will tell you about the daily life of minorities along the trek so that you can enhance your understanding of their culture and traditions.
After having lunch and taking a short rest, you will head toward the Taphin village in the afternoon. Taphin is a 4-hour hike from Sapa. While Red Dao minorities make up the majority, there is still a small commune of Black H'mong on the West area of the valley. Hence, you will be freely able to grasp the harmonious cultural life of these ethnic groups after checking in there. It is best for tourists to distinguish them through the way of their lives and their dresses.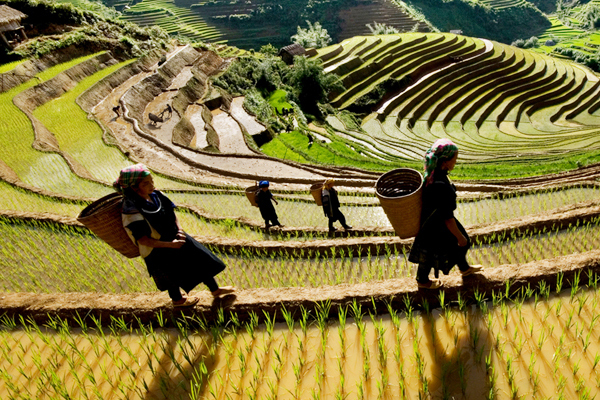 Don't be afraid of talking with them since the locals are very friendly and hospitable. During the trek, it is also a good idea to see locals working in the fields, visit traditional houses, arrive in the local caves, and go for a stroll around the rice paddies and mountain views. Try staying in the Ta Phin in the late afternoon when you may enjoy an enthralling view of sunset over the village as well as the charming spectacle of the whole surrounding areas.
After having breakfast in the next day, you continue hiking downhill toward the Lao Chai village, which is mostly inhabited by the Black H'mong ethnic minorities. Easily accessed by many convenient trekking routes, this hill-tribe village can be checked in within 3 hours by the average trekker. During the route, it is wonderful to enjoy the fresh air, feast your eyes on the marvelous panorama of the village, contemplate terrace fields, or even visit some of the ethnic families. Lots of the local homes also offer tourists homestay experiences and authentic batik workshops. This is undoubtedly a good opportunity to learn more about the H'mong culture.
Then, you will be guided to hike from Lao Chai to Tavan – another popular trekking destination in Sapa. Generally, the road to Ta Van village is often small and narrow. So, try to be careful to trek one by one. Along the two sides, there is an appealing vista of a fertile terraced field adorned by the green hue of corn and rice. After arriving in Ta Van, you will not be overly amazed at the simple beauty of the houses there. The Giay (Day) ethnic minorities mainly gather in the village. They live together with growing rice as their major earning jobs. Besides, they also produce engraved silver and instruments.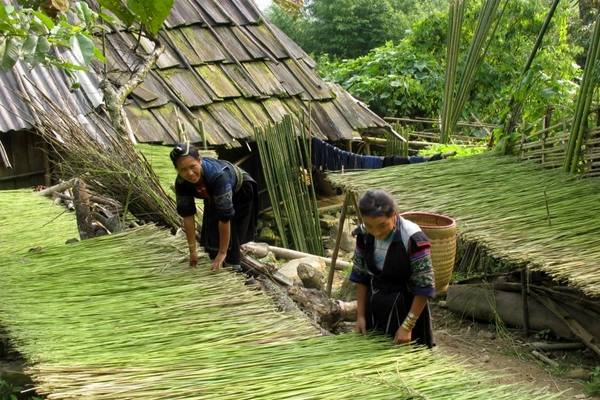 After fulfilling your stomach with a delicious meal, you should be ready for upcoming sightseeing in the afternoon. Sapa Original Trek Tour will help you continue the trek through an impressive bamboo forest to gorgeous waterfall in Giang Ta Chai – home of Red Dao, H'mong and Giay minority community. You can recognize them by their very colorful traditional costumes. Excitingly, it is possible to enjoy the genuine hospitality and friendliness of the villagers and then get a better understanding of their culture and traditions. During a brief rest, you're able to admire the peaceful scenery, along with having a swim at the waterfall if time permits. Finally, climb uphill to a road where the car is ready for the trip back to Sapa.
Just like the previous trekking days, the third one will be also divided into 2 parts. In the morning, you will be transferred to the Silver Waterfall by a private car. This is considered one of the most picturesque waterfalls in Vietnam. What steals your heart is its water pours that look like to the silver line. If standing on the Peak of Ham Rong Mountain, you are quite able to witness the silver and the obvious image of Silver Waterfall, especially during the clear and bright days.
Continuing to go over about 2 kilometers, tourists will check in Tram Ton Pass where they can spread their eyes over the stunning panoramic view from its top. At 1900 meters, it is reputable as the highest pass in Vietnam. The pass is also named the Heaven Gate, since its eye-catching landscapes and spectacular surrounding resemble a gate to the Heaven. Along with that, you may also be able to witness the bizarre climate change. For instance, there could be sometimes drizzly rain on the way up because Tram Ton Pass is located at a higher place. Nevertheless, once looking down a few hundred metes on the Lai Chau side, you may see crystal clear and shining blue sky. How wonderful the experience is!
In the afternoon, you'll have free time to walk around the Sapa town as well as experiencing the local life before coming back to Hanoi by a night train and ending the Sapa Original Trek Tour. Look for food or souvenirs? Then, Sapa will not disappoint you at all. A lot of terrific and delicious dishes are even served at restaurants and hotels around the town. Roaming along the streets, tourists may have an opportunity to try the great street food there, such as "thang co." In addition to many shops around, you should spend time discovering ethnic minority markets in the region, like Bac Ha, Can Cau, and so on. Such are perfect to hunt for and buy good and unique souvenirs for your family members and friends.
What to remember during the hiking trip?
It is best to prepare a map, track out your trekking routes as well as following what the tour offers.
Throughout the trekking journey, you are highly advised to reflect on where your money is going. Furthermore, try and buy souvenirs from a member of each ethnic minority. The reason is that this helps to create the more equitable tourism economy and makes sure that you are doing your part as a sustainable and respectful visitor.
When you are in any ethnic villages, don't forget to save some addresses and emails to your smartphone, or connect with someone through Facebook. If opening messages box in the mail or surfing Facebook by chance, you can even see many photo albums that include your image. For the locals, it is considered a meaningful memory of the great time that you both shared together.