Hanoi is an enchanting city that many tourists don't want to leave. Still, it's not a brilliant idea to spend your entire trip in the city centre or the Old Quarter. There are a lot more to discover outside Hanoi though you only have one day.
Ba Vi National Park
Less than 48km from the centre of Hanoi to the west, Ba Vi is famous as an ideal destination for those who love a refresh in the majestic, unspoiled scenery of the mountain forests. Standing out among the immense mountain forests, Ba Vi National Park appears like a mysterious beauty, immersed in the fanciful mist. Thanks to the convenient location, it will definitely be a not-to-miss destination for a one-day trip from Hanoi.
Covering an area of 26,720 acres, the ecosystem here is rich and diverse tropical. There are up to 342 species of flora and 1201 species of fauna. Most of them are tropical and subtropical.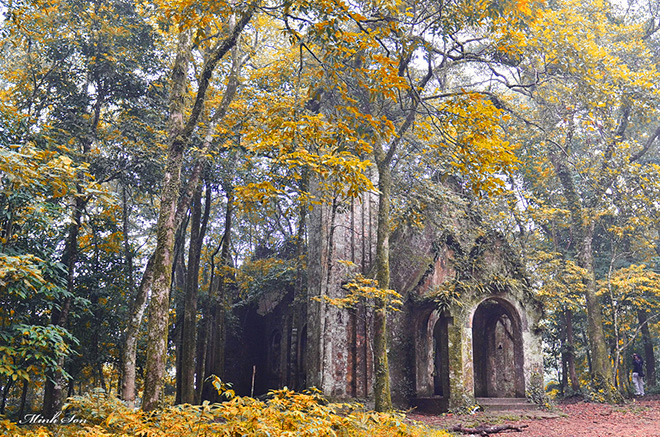 Stepping into Ba Vi National Park, you will first explore the magical tropical forest. Because of the mountain height, the park is usually hidden behind a curtain of mist. The whole pine forest towering with lush greenery makes you feel like taking an adventure in Alice's Wonderland.
From Hanoi, you can hire a motorbike to travel to Ba Vi National Park enjoy the landscape on the way. Still, beware of the mountain bends. Or else, you can enjoy a two-way transfer to Ba Vì on a private car.
Ninh Binh Exploration
In recent years, Ninh Binh is rising in Vietnam's tourism map as a stop for the Northern Delta countryside. Around 2 hour driving from Hanoi, this is an ideal place when you want to escape the bustling city life and explore the peace in the rural area for one day.
There is a bunch of attractions in Ninh Binh, but for a day tour from Hanoi, we highly recommend you check out the following destinations.
Hoa Lu is the ancient capital of Vietnam. With a history of over 1000 years, it has been recognized by UNESCO as one of the four core areas of Trang An World Heritage site. Despite many ups and downs, Hoa Lu still keeps its historical traces in the architecture of antique walls, religious temples to worship King Dinh Tien Hoang and King Le Dai Hanh.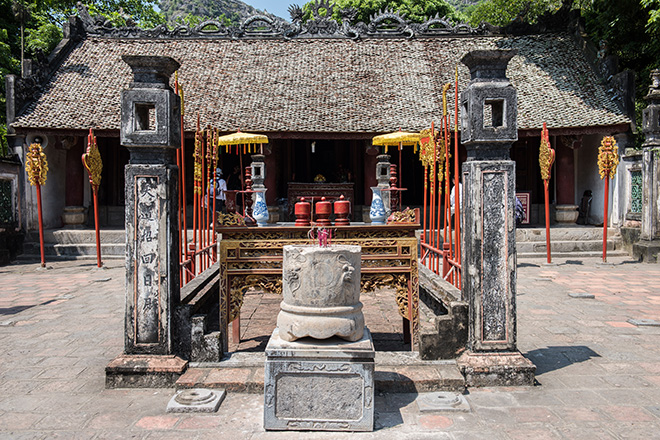 About 15 km from Hoa Lu, you can reach Tam Coc. Dubbed as "Ha Long Bay on land", Tam Coc leads you to a land of stone and water. The area includes three caves, Ca cave, Hai cave and Ba cave. To visit Tam Coc, you have to go by boat, afloat on the poetic Ngo Dong river. If you visit here during the harvest season, the boundless paddy fields on the riverside turn brilliantly yellow. Very impressive!
An alternative to Tam Coc is Bai Dinh Pagoda. It is located in the West of Hoa Lu ancient capital. The pagoda is famous for a multitude of records like the largest temple in Vietnam, the largest bronze Buddha image in Southeast Asia, the largest bronze bell in Southeast Asia, the corridor with the most Buddha statues.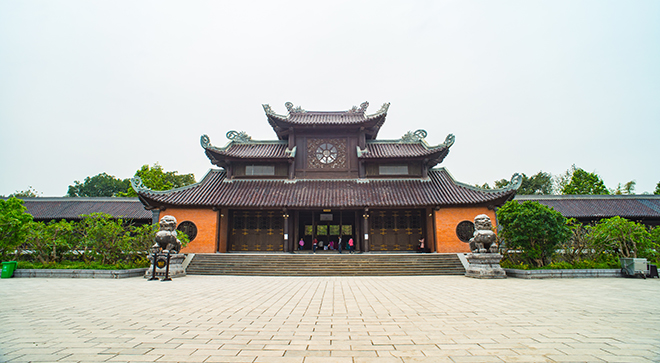 After that, let's explore Trang An. This is one of the most famous tourist areas of Ninh Binh. Trang An's pristine and beautiful natural landscape has been claimed by UNESCO as a natural and cultural world heritage. The scenery here is formed with the river running through the limestone mountains, creating countless natural mysterious and mysterious grottos.
Not only a natural reserve, but Van Long is also home to fascinating landscapes. When enjoying a boat trip on the lagoon, you are enchanted by the calm and transparent water, reflecting unusual shapes of the limestone mountains.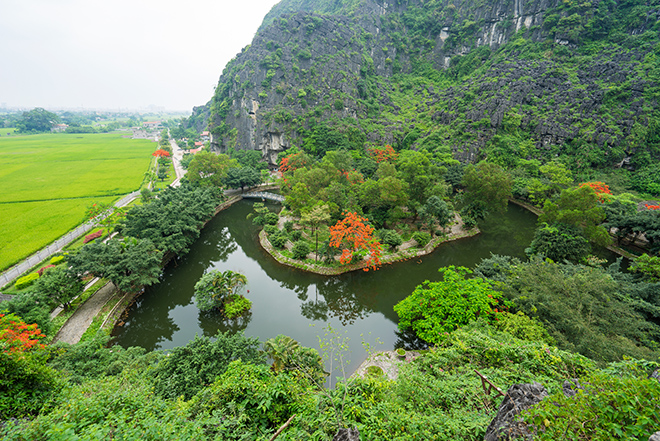 After a full day of travelling, there's nothing more enjoyable than diving yourself in the hot mineral spring of Ke Ga. The temperature of the spring is around 40 to 50 degree Celsius, which is suitable for a hot tub. The water here also contains some minerals and they have been proved to enhance your health, reduce stress.
Perfume Pagoda (Huong Pagoda)
Huong Pagoda is one of the largest pagodas in Vietnam, about 80 km to the south of Hanoi. The annual festive season occurring on the third month of the lunar calendar attracts thousands of visitors. Besides a religious monument, Perfume Pagoda is a breathtaking complex of mountains, caves, rivers, Buddhist temples and shrines.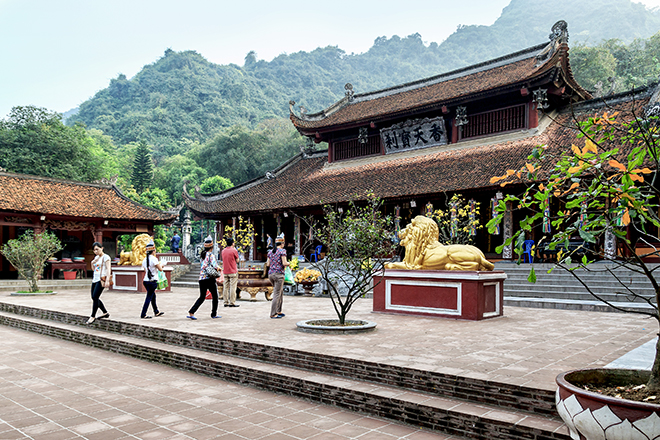 To explore Huong Pagoda, you need to take a boat trip on Yen spring. The poetic beauty of the landscape makes your heart flutter while you'll be amazed by the spectacle of a pagoda on the mountain after the boat trip. In the past, visitors had to climb the rocky mountain of Huong Tich to admire Huong Pagoda. But things get easier now with the help of a cable car system.
>> Read more: Huong Pagoda day trip
Song Phuong Village
Not a well-known name for Hanoi tourists but Song Phuong Village is gaining popularity for ecotourism. The village is approximately 15 km outside of Hanoi. It is an area to grow organic vegetables for consumers all around Vietnam.
Song Phuong village covers a massive area of up to 20,000 m2, most of which is farmland. A visit to Song Phuong gives you the opportunity to watch an advanced method of vegetable cultivation, also join the local farmers to grow some cabbage, cauliflower, green beans.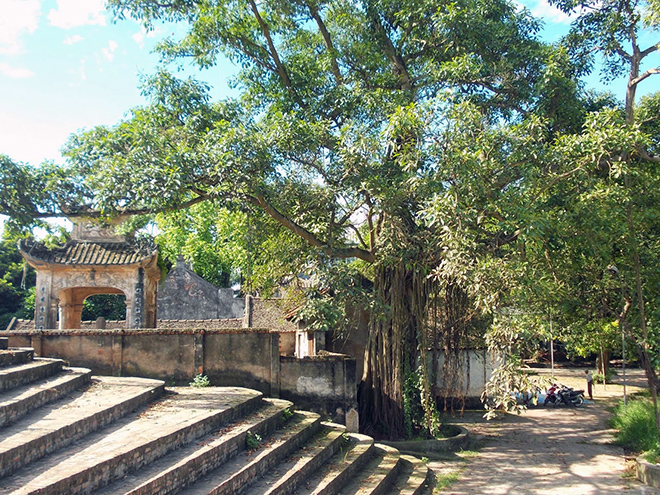 At lunch, you can pick your favourite vegetables, the villagers will help you prepare a clean and green meal. There are also some cooking class for you to make your own dishes from organic ingredients planted in Song Phuong.
In the afternoon, it's time for a bike ride around the village. Cycling enables you to go deep into narrow village streets and pull over whenever you want.
Duong Lam Village combined with Thay Pagoda
Located more than 50km from Hanoi, Duong Lam Ancient Village is a convenient destination right in the suburban of Hanoi. Duong Lam with 956 old houses was the first ancient village in Vietnam to be recognized as a National Cultural and Historical Site.
The place was also the hometown of two famous individuals in Vietnamese history, Phung Hung and Ngo Quyen. So it is associated with historical and cultural relics like village gates, banyan trees, water wharves, communal yards, wells, rice fields, temples, shrines.
Thanks to the architectural and artistic features of an ancient Vietnamese village in the Red River Delta, many said that Duong Lam is second only to Hoi An ancient town and Hanoi old quarters in terms of scale. It takes around half a day for a full exploration of Duong Lam. So, the remaining time can be spent in Thay Pagoda.
From Duong Lam, it only takes half an hour to get to Thay Pagoda, one of the most sacred sites in Vietnam. It has the original name as Thien Phuc and is located at the foot of Sai mountain.
The pagoda was built during the reign of King Ly Nhan Tong (1072-1127). It was said the King wanted to store a high-class monk's imprint, also a Zen master, Tu Dao Hanh in Thay Pagoda.
The place has three buildings located parallel to each other, the outer court is called the sacrifice house or Ha Pagoda (Lower Pagoda). The middle is Trung Pagoda. The inner court is Thuong Pagoda (Upper Pagoda), worshipping the incarnations of Zen master Tu Dao Hanh, describing the three "lives" of Tu Dao Hanh: Sangha, Buddha and Emperor.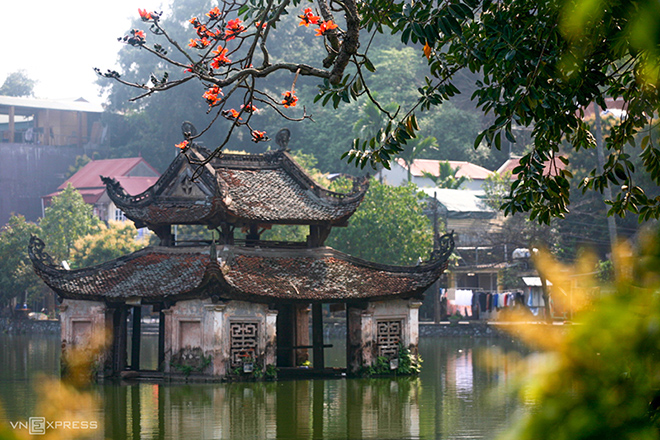 Behind the pagoda is a bell floor and an empty floor. In front of the pagoda is an enormous yard overlooking Long Chieu lake. From this yard, there are two bridges Nhat Tien (Sun Fairy) and Nguyet Tien (Moon Fairy), forming two dragon antennae.
Halong Bay
I know you will be surprised to see Halong Bay in the list for one-day tours from Hanoi. But let me explain.
Thanks to the alternative highway system, the 173 km distance between Hanoi and Halong now takes around 2 hours and a half. This means you might go to Halong in the early morning and spend your day there, then back in Hanoi in the evening. It is a lengthy road trip. But with the wanderlust spirit, why not?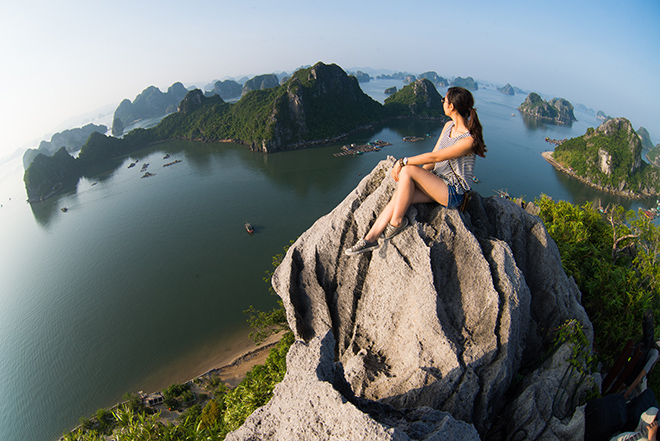 As for the incredible beauty of Halong Bay, I don't think I have to say much. The limestone mountains rising from the emerald sea form strangely sculpted karsts, which hide caves, lagoons, and beaches.
A day tour in Halong takes you around the best tourist attractions like Dau Go cave, Thien Son Cave, Titop Island… You should have lunch on board to enjoy the salty breeze of the ocean.
Bat Trang Village and Dong Ho Village
Bat Trang is a familiar stop for people who love the traditional culture of Vietnamese ceramics village. Only less than 15km from the centre of Hanoi, this is an ideal place for a one-day get-away.
Visiting Bat Trang ceramics village, you have a chance to observe the production of earthenware. The tradition has existed for hundreds of years. If you are interested, you can join the process too. The artisans are willing to have you build your very first pottery.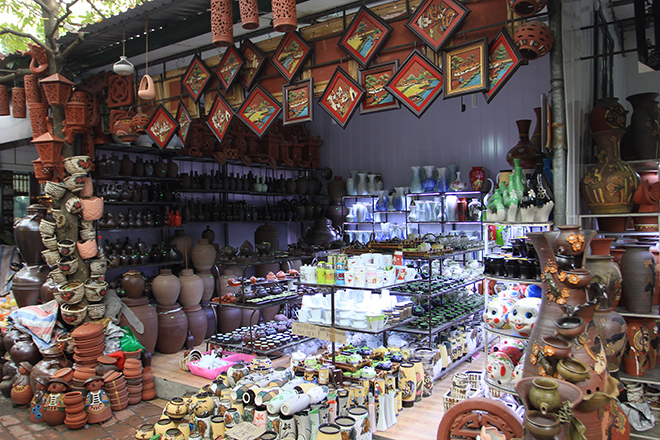 After making your own cup or bowl, let's transfer to another traditional village, only 25 km from Bat Trang.
Dong Ho painting village lies on the side of peaceful Duong river. This is a place famous for folk woodcut paintings on "diep" paper.
The special paper materials are made by soaking the bark of "do" trees for months, then adding the powder ground from seashells and glutinous rice. The finished sheets of paper have an exotic sparkling hard background. The colours used in Dong Ho paintings are also made from natural ingredients. So, they have a bright and natural shade.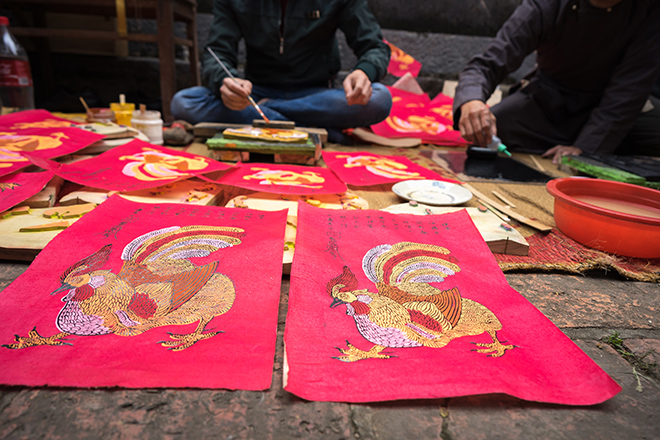 Like in Bat Trang village, you can try to make a folk painting in Dong Ho village too. The craftsmen will also show you how they make the paper and the colours. Finally, you should buy yourself a Dong Ho painting.
Most of the artwork takes inspiration from daily Vietnamese life, expressing the mindset of traditional locals in luck signs, folk allegories, and social commentaries. It is a fine reflection of traditional aesthetic value, social philosophies, and humanitarian desires.

Ellie
I didn't have many opportunities for travel during my early childhood, so I decide to dedicate my young adult years to exploring the world. "Set off with a pure heart". That's my motto for any adventure in my life. And as sharing is caring, I love writing about my journeys so that the audience can gain an objective view of the destination. That's what I do before travelling, set the right, open mind to welcome both obstacles and blessings. So stay tuned for my new stories.