Known as a top tropical tourist paradise, in recent years, Vietnam tourism has become the trend of many wanderlust souls. To help the trip become smooth, avoid overspending, today Travel Sense Asia will guide you through the detailed expenses for a Vietnam journey. Keep reading till the end to find out useful budget-saving tips.
The Exact Cost For Travelling Vietnam
Passport And Visa Fee For Vietnam Travel
When traveling internationally, passport and visa issues should be taken into account. The cost of issuing a passport varies according to the policy of each nation. Tourist visa to Vietnam costs around $41 to $105, including service fee and stamping fee. 
If you are from Southeast Asian nations, a Vietnamese visa will be exempted. You don't need to apply for a Vietnamese visa if you visit Phu Quoc Island and stay there for less than 30 days.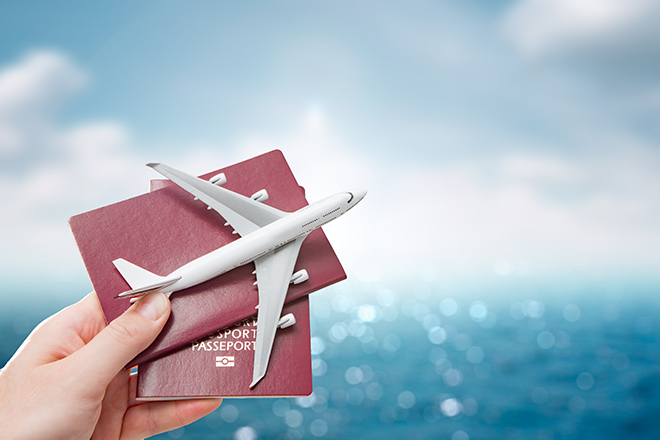 Tourist visa to Vietnam costs around $41 to $105
Transportation Fare While Visiting Vietnam
Airplane tickets will make up a large proportion of your Vietnam travel expenses. The actual cost depends much on the distance and the airline that you choose. The cheapest amount is around 70 bucks for a round trip if you depart from a Southeast Asian airport. If you go from the other side of the globe, the US for example, the airfare is around $400 return.
Getting around Vietnam is pretty cost saving compared to other countries in the region. Although you don't have many options for public transports (only bus and train), the conditions and the charges are quite good. A ticket on city buses in Hanoi costs around 3 cents. Charges for trans provincial buses are much higher, around 35-80 USD. Vietnam railway system goes to most of the country except the Central Highlands and the Mekong Delta. Some routes might be time-consuming, but you'll get some amazing views of the Vietnamese countryside. A train journey between Ho Chi Minh and Hanoi costs from 837,000 VND (35 USD).
You can find metered taxis in most of the provinces. The expense per kilometers is around 12,000 VND, which is super affordable. Still, be careful about common travel scams while getting a random taxi. For example, the driver may go a long way to charge you more.
Accommodation Cost In Touring Around Vietnam
Depending on your choice of accommodation, the cost can have a great difference. There is a wide range of famous five-star hotels and resorts in Vietnam, namely J.W Marriott, Intercontinental… It can cost you more than 50 bucks for a luxurious experience with full service. However, you can also choose hostels, homestays within your budget. The average price starts around 100,000 VND (4 USD) per night for the most basic accommodation. Most hostels will offer free WiFi, and many will also include free breakfast or free beer during certain hours of the day.
Average Price For Vietnamese Food
Vietnam is a heaven for food, so this can be the cheapest cost in your Vietnam expedition. Local dishes such as Pho, Banh cuon, Bun Cha start from 25,000 VND (approximately 1 USD). Vietnamese desserts like Che, Donuts is even cheaper, at around 5 cents only. You can have a full meal in most sit-down restaurants at around 45,000-95,000 VND (2-4 USD). The fancier the restaurant, the more expensive.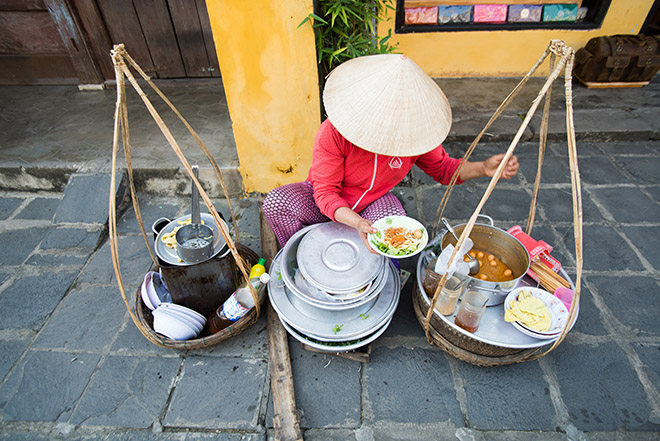 Handy Tips To Save Your Travel Cost In Vietnam
Make A Specific Spending Plan
During the trip, you have a lot of places to go, lots of things to enjoy and also lots of souvenirs to buy as gifts. Therefore, the amount of money you pay will also increase with the amount you go, play, eat, shop and at some point. Vietnam is a charming country, everything seem like very cheap that may lure you into loosening your budget if you do not pay attention to your spending plan.
Keeping a record of your expenses will help you balance and control your money. Planning specific expenses is a useful tip. Before you go, prepare yourself a notebook and a pen. For what? At the end of each day, take it out and record what you have spent today, for example: Renting, transportation, food, shopping, etc.
Departure At Night
Night Departure can save you a lot of money when traveling extremely well. Because the majority of tourists don't prefer traveling at night, so the ticket will be a bit cheaper. Moreover, when you get on a night bus or night train, you won't have to pay for the accommodation. Get in the car and take a rest, and the next morning, you will be at the tourist site. So why not give it a try?
Look For Promotions
Also, there are quite a lot of reasonable airlines in Vietnam such as Air Asia, Qatar Airlines, Emirates. To save your Vietnamese travel cost, you should book the tickets for about 3 to 4 months in advance. Don't forget to watch out for the sales period. If you travel by plane for domestic routes, look for cheap tickets from Vietjet Air or Jetstar Pacific.
Taxi booking online app is very popular in Vietnam. You not only know the price of your travel in advance but also get a lot of promotion. So, download Grab, Be or Fastgo to make your Vietnam journey at ease.
Use Public Transport
In domestic tourist destinations such as Hanoi, Saigon, … public transport is very developed, popular and extremely cheap. There are numerous bus lines, so it can take you to any tourist destination you want.
Rent A Motorcycle 
In addition to public transport, you can also save on travel costs by renting a motorbike or bicycle. This also helps you be proactive in moving to tourist destinations and visiting delicious restaurants.
Stay In Dorm Room
Dorm Room is the cheapest accommodation in all countries. In Vietnam, dorm hotels have just gained popularity during recent years. They often have both separate and mixed dorm rooms. You will have most of the basic facilities like a bunk bed, a locker, towels, shared shower booths, and toilets and so on. If you don't mind privacy, the dorm room is the most cost-efficient option for Vietnam travel.
Always Bargain
If you go to the market, you will be offered the same type of product or service from many different suppliers. Ask for prices and compare a few suppliers, before you decide to buy. The widely accepted bargaining rule is to start by paying half the listed price. With this method, you will have space for increasing the price within an acceptable range.


Ellie

I didn't have many opportunities for travel during my early childhood, so I decide to dedicate my young adult years to exploring the world. "Set off with a pure heart". That's my motto for any adventure in my life. And as sharing is caring, I love writing about my journeys so that the audience can gain an objective view of the destination. That's what I do before travelling, set the right, open mind to welcome both obstacles and blessings. So stay tuned for my new stories.