Before arriving in Hanoi, certainly you would search things to do in Hanoi or what are unforgettable things in Hanoi tour. Traditional coffee, characteristic of the old town or pho, bun cha – all of them are excellent, creating a very charming Hanoi.
Today, we'll introduce you to a program to discover to an authentic experience in Hanoi. It is Hanoi Home Hosted Dinner. In this experience, you will be taken to a family with a tradition in Hanoi, joining in the process of cooking and cook typical dishes with home owners
Stay and live like Hanoian
It only takes about 30 minutes departing from Hanoi Old quarter, our guide will take you to a traditional family of Hanoi with three generations in the house. All family members will greet you like friends who come from afar. You and the members of the home will be the protagonists of the dinner. You can ask anything about life, culture, habits, … of a traditional family so that you can see the difference between Vietnam and your country.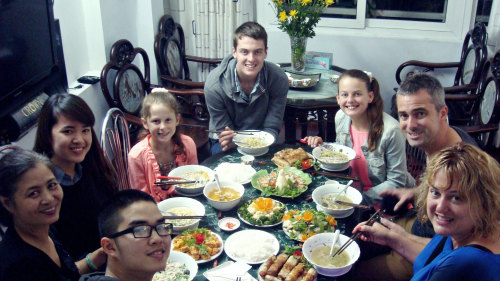 In Vietnam, a family meal has always been an intangible string to connect family members, a time to talk to create the bond among generations. A shared meal is a vivid illustration of affection among family members. During the meal, the elderly teach the younger customs, table manners and traditional values. The children show their caring and respect of the elderly through preparing meals and expressing etiquettes. The meal is simple, but it implies a profound love. Vietnam is famous for its long-standing history; Vietnamese also have a very dissimilar eating style. There are some features in Vietnamese way of eating.
Not only that, you'll be in the home kitchens to cook dishes like Pho Hanoi, spring rolls, bun cha, … – what amazing to you when cooking some dishes which you read on Internet.
Some tourists ask me: "Where's your tour guide? What will they do when you're in the kitchen?" You know, the difference between Travel Sense Asia's authentic tour with another tourism company's that we will hide the role of tour guide. They will only be charged as a translator during your talk, even, as many delegations said to me that: they had communicated with body language or by Google Translate
Some reminds that may help maximize your experience with Vietnamese hosts:
Be respectful to the host and the behavioral culture of Vietnam. Your respect is always highly appreciated.
Be social. Feel free to ask about health, life, work of the host, especially Vietnam cuisine, and traditional way of communication.
Be curious. Find out about Vietnamese house style, furniture arrangement, family albums and mementos
Be eager: to learn basic Vietnamese, to teach host children some English, or to play some games
Share your stories about social life, cultural differences, your experience in Vietnam
Don't touch personal belongings without permission
Don't ask questions about sensitive issues (Such as divorce, political views)
Don't make noise and express disrespectful attitude to the host
(Hanoi home hosted dinner is belong to Travel Sense Asia authentic experience packet travel. Besides Hanoi home hosted dinner, we bring the special experience: Dinner in cave in Halong Bay, colorful and lovely authentic in Sapa, peaceful Centre in Vietnam and Stay like local people in Southern.  Click here for more tours)