Halong Bay is one of the famous world places located in North area, where anyone shouldn't miss during an awesome trip. Have just come there once time to gain more experience in your life because Halong Bay is one of the world's natural wonders recognized by UNESCO. Today, we will provide the information about Halong Bay itinerary by classic way during three days and two nights for foreigners to get the perfect journey.
Besides transferring to Halong Bay by car, nowadays, one more method is by plane, which spends for businessman saving time. As a result, that method is estimated the high cost than other.
On the first day
7.00 a.m: You will be picked up from the hotel in Ha Noi by the air-conditioned bus to Ha Long city through 4 hours.
11.00 a.m: Travellers come to Ha Long Bay. You should take 25 minutes to visit Halong Bay from above. However you want to grace Halong Bay from above need to apply in group over two people. The price ticket for one person is $92.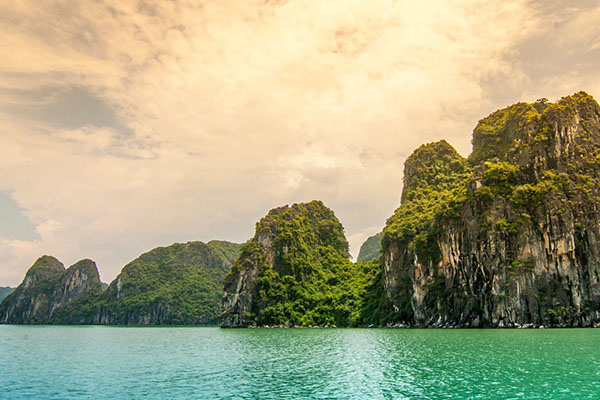 11.30 a.m: The tour guide leads you to a yacht and check in the room. After that, you will enjoy the lunch in the restaurant; you can be free to call your favorite foods which we suggest above. This is time for visiting the most beautiful place of Halong Bay through the unique islets. For example, have you listened some funny names like Dog, fighting chickens, and incense burner? Let's practice. Besides, there are two destinations such as "Hidden Wooden" cave and "Heaven" cave, which usually attract more foreigners by amazing. Continuing the journey in Halong Bay, you will discover a number of famous landmarks such as Sung Sot cave which is one of the largest caves and the most beautiful of Halong Bay. Then groups move to Kayak boat to explore freely the immense view of water and mountains. The cruise takes you to the fishing villages where you can see no busy traffic or high rise building. Instead, the local people amaze you with their traditional cultures and daily activities, carrying out mostly on herds of boats and rafts. You can have two options either cooking class on the board or discovering Bat Cave by kayaking to gain more experience when traveling in Halong.
6 p.m: In the first evening, you should join to some activities on the ship such as squid fishing, watching movies, or karaoke.
On the second day
7.00 a.m: Tourist wakes up, has breakfast on the boat and takes photo to save some awesome moments with your partners. On the way, tourist can enjoy the drink and grace overview of Halong Bay one more time.
9:00 a.m:  You participate in some outdoor activities. One of the most satisfying things to do in Ha Long Bay is sunbathing or swimming which brings the benefit for your skin. Besides, the other special water sports are diving and kayaking that you can indulge in. To deeply experience quiet atmosphere as well as scenic setting on the beaches, trekking the Peak of Limestone Island and cycling will become great things to do for tourists. Many private operators close to the bay offer equipment on rent for these adventure activities.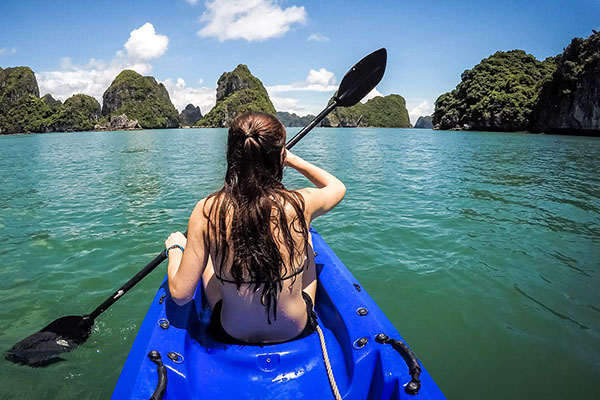 11.30 a.m: Following the tour guide, everybody comes back to Tuan Chau to have a lunch in the restaurant
02:00 p.m: You can visit Sun World Halong Park, Queen Cable car system and Sun Wheel. SunWorld Halong Park is a tourism and entertainment Complex with Vietnam's largest theme park, which offers a huge variety of modern and unique entertainment at a world-class level. When visiting Sun World Halong Park, travelers can enjoy immersing themselves in the "dragon land" with plenty of hidden and interesting decorations to have the strange feeling. After 5 minutes in the cable car, you will overcome to the destination is Ba Deo (Hon Gai – Halong city). At the peak of the hill is Sun Wheel with the height of 215m (from sea level) and 64 cabins. There are many interesting activities in Halong Park, let's experience as soon as.
Ticket price for consumers divided into 300.000 VND for adult, 200.000 VND for children (1m – 1,3m) and children which are under 1m are free (the ticket includes among Cable Car ticket, Sun Wheel ticket and Ba Doi amusement center ticket), update from 02/2017.
7.30 p.m: In Tuan Chau, you can grace musical performances, slideshows, sea lions, and watching 3D film and so on.
On the third day
4.30 a.m: You should wake up early and grace sunrise, visit the soon market with floating coming back after one night. Moreover, floating villages are among the most special attractions of Halong Bay. The fisherman lives on boats and floating wooden houses in the zone of Halong Bay, which is the distance of kilometers away from the mainland. The floating market usually starts at 4a.m or 5a.m in the morning before dawn and ends when the sun rises high at 9a.m or 11a.m. Seafood, fresh fruits and vegetables are the dominant goods at these floating market. Therefore, you will enjoy seafood to be made by local villagers as they are very fresh. Besides, you can buy drying product and hand-made of local people for friends and family.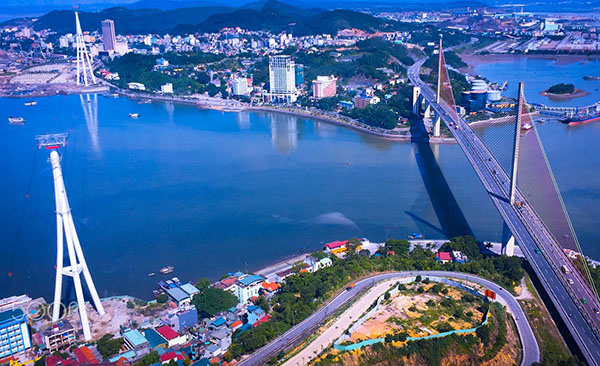 8:00 a.m: Visiting Halong market which is the largest market in Quang Ninh province to buy souvenirs. Halong local shopping center is the first choice as it has various type of special high-quality product such as Halong Pearl shop; crocodile leather shop, wooden souvenir shop, clothes shop, coal souvenir shop… to own necklaces, wooden products, T-shirt… They come here not only to buy souvenir, but also for taking photos about the interesting activities in the local market. However, let's bargain before buying something.
12 a.m: Tourist has a lunch in the restaurant then get ready for bus pick up at 13.30 a.m.
6.00 p.m: You will come to Hanoi capital.
"Must try" food in Halong Bay itinerary
Sea snails
Halong has a variety of sea snails so that you shouldn't be missed because they are very delicious. Let's note the Vietnamese name of sea snails as they are hard for you to remember such as Đĩa Snail (Plate), Hương Snail (Flavor), Gai Snail (Prickle), Vặn Snail (Twisted),… Served with snail are the special sauces to make that dish tastier.
Squid-sausages
We cannot fail to mention Squid Sausages. The food is a fusion of hashed squid and mysterious spices that only the chefs know, molded into round pieces and then fried in boiling oil. It makes the squid sausage more crunchy and charming. To many local people, a dish of streamed shrimps, served with lemonade salt and a dish of freshly spicy vegetables, is an ideal meal for a joyful friendly union.
Ngán
Visitors must be excited when served special liquor named "Ngán – Arca Wine" ("Ngán" is a species of Veneridae). This special drink is actually a mixture of traditional rice wine and "Ngán" blood, which is supposed to benefit men's sexual ability. After the mixture of wine and Ngán, you will enjoy the strange feeling as the wine which is processed by ¨Ngán¨ has its own scent from the sea.
Tu Hài
Other local food in Halong Bay which we can't forget is Tu Hai. If you have once tried, make sure that you would remember forever the typical taste of this seafood. Tu Hai can be steamed, make salad, cooked soup, grilled….. The appetizer with steamed Tu Hai has cool and sweet taste and it can be said that this is the most delicious, nutritious dish.
Are you clear all information to respond the question how to get Halong Bay itinerary by classic way? If you have any troubles, let's send me the request to have a great trip in one of seven wonders in the world.