Sapa Vietnam is one of the most breathtaking hill stations  which owns the stunning scenery of Northern Vietnam. To respond the trouble of almost tourists how to get the best Sapa trekking in Vietnam, you can read this article to expand your knowledge about Sapa.
Highlights of trip:
Gracing the Awesome scenery in Sapa
Immersing Rice terraces (from September every year)
Observing life of colorful minority groups
Experiencing the life of local people by staying at homestays in minority villages
Enjoying the atmosphere and breathtaking beauty of tons of hills and valleys
Depending on their trekking skills and ability, tourists can choose the trekking route which is most suitable, as Sapa offers a wide range of trekking spots from easy to hard level.
Easy trekking in Sapa Vietnam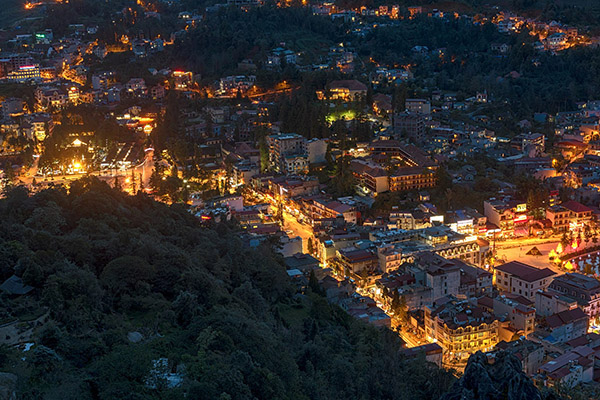 From Sapa town, tourists will depart for a walk to Muong Hoa Valley by following the main road for about an hour before turning right to a path downhill. Muong Hoa is one of the most famous destinations for breathtaking scenery and is the largest farmland for rice growing in SaPa. It is a place, along through the mountains is a strange carved stones. Spread over 4 kilometers length, 2 kilometers width with at least 159 stones, Sapa's Muong Hoa Valley has mysterious graphics. Exploring the magnificent Muong Hoa Valley to enjoy its breathtaking landscapes, you will visit small and isolated hamlets and villages in order to meet the Black H'mong, Zay and Red Zao at home. Muong Hoa River peacefully flows through the valley, weaving itself along foot mountains, nourishing the earth and the people. On rice season, the rice farmland valley is mixed different shades of green and yellow. Therefore, you will grace the overview from above. For example, patches of colors lining are arranged together, which creates amazing sensual patterns and a sublime and majestic landscape.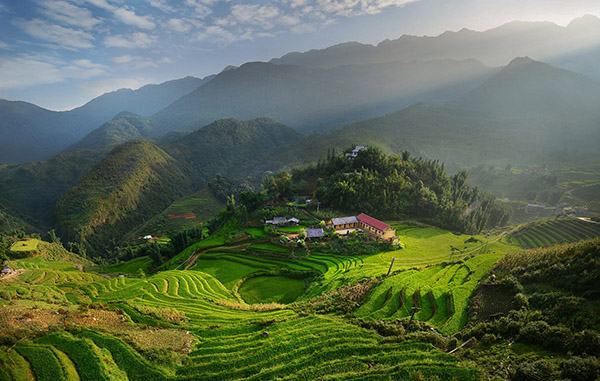 Next, a half of hour hike will lead to Giang Ta Chai- Red Dao people's village which is on the top of the hill looking down Muong Hoa River, and if you pass through another suspension bridge and walk uphill, they will reach Hau Thao Village. Giang Ta Chai village in Sapa in Vietnam offers gorgeous view of mountain and rice paddy fields at the other side of Muong Hoa Valley in Sapa Vietnam.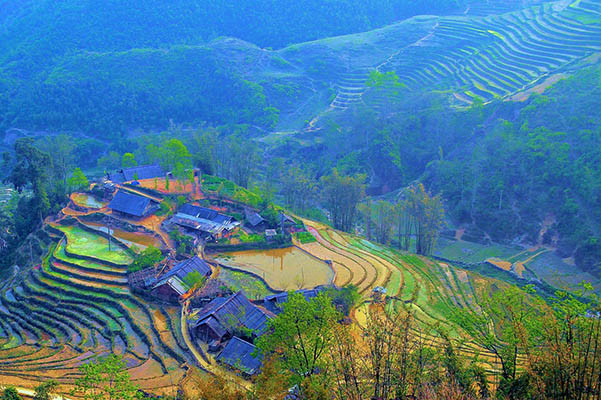 A suspension bridge will lead you uphill to Y Linh Ho village, where you can visit H'mong people's house and know a closer view on their daily activities. After two hours of climbing up and down the hills, you will approach to Lao Chai which is one large village of H'mong people, and then Ta Van village is the area where Zay communities gather. You will enjoy the fresh air in the highland of Vietnam because of its really great for taking a walk. Y Linh Ho is a small commune composed by many small hamlets scattering on the very tough mountain terrain with high and steep mountains. This village is home to the Black Mong who wear the dark clothing in blacks and navy dyed with indigo which often seen in the hands of older Mong women. They built their rudimentary houses on their farmland and mainly cultivate corn and dry rice on the steep hillsides. As a result, the only way to get to the commune is on foot on the road.
Medium Sapa trekking
The medium level Sapa trekking is quite similar to the easy level but lasts longer as before heading to Muong Hoa valley, you will need two hours to walk through Cat Cat Village locating near the bottom of the deep valley right at the foot of Fansipan Peak. Located in a beautiful valley about three kilometers from Sapa Town, Cat Cat is the old village of ethnic groups- attracts tourists from all over the world for its distinctive customs and practices which have been lost in almost ethnic villages. This is a village of Black H'mong people where you can discover many interesting facts about their daily life as well as culture and architecture. In fact, it is also a good opportunity to purchase some traditional souvenirs and handicrafts right from the craftsmen such as twisting flax and weaving fabric.Their prices are not cheap for your demand.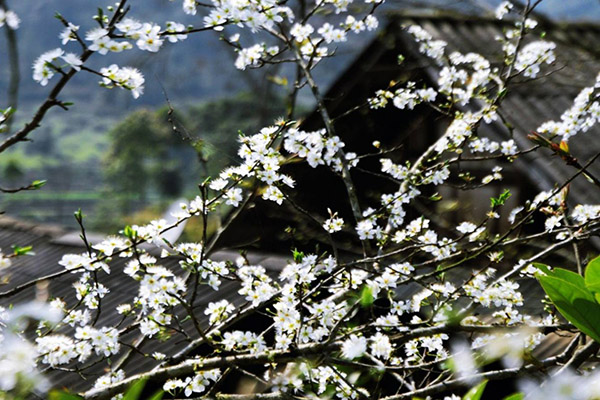 Hard Sapa trekking
Trekking to the top of Fansipan Peak called the Roof of Indochina is the most challenging level for tourists. Thus, you will need to spend two days and one night finishing the hike. You should not trek by yourself so you need a local experienced guide and porter who brings your luggage as well as understand the route deeply. To reach the first campsite at a height of 2300 meters, you will follow the itinerary of passing Cat Cat Village, crossing Muong Hoa River and trekking upward for nearly 7 hours.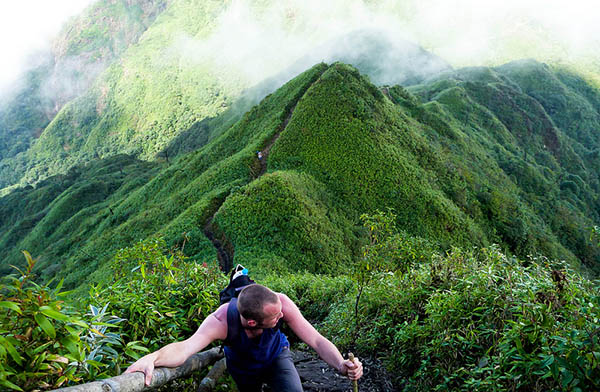 The terrain from the first camping area will become steeper and make it difficult to hike since you trek through the arrowroot plantations and bamboo forests. Continuously, Sapa trekking to the campsite crossing the primary forest where people can see giant old pine trees and more bamboo. One suggestion for you is spending their night sleeping in the tent in the mountain slope facing west, near a mountain stream. On the second day, you will climb to the peak of Fansipan Peak, with the height of 3143 meters. The final part will extend three hours due to the dense bamboo forest, but it is worthy as from the peak, you can grace the best panorama of Vietnam.
The most suitable season to discover Fansipan is from October to May. When trekking in Fansipan Peak, you should prepare some necessary items. The one can hold about 3-4,5 kg and has straps on chest and abdomen, which should be strong and fixed. Tourists had better choose the dedicated hiking shoes, if not, The shoes should be soft, thick, waterproof and have good friction, high neck and sweat absorbing. If you travel in the months from March to May, bring the summer clothes. If you visit Sapa in three months from  October – December, the clothes had better be sweat wicking, good elasticity and ventilation. Besides, you should carry another belonging such as phone, backup charger,  medicine, notebook sleeping bag and so on.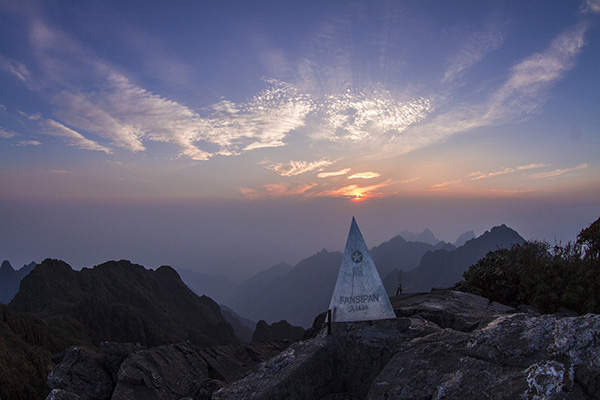 Some notes
You have plan trekking some destinations in Sapa so you should decide what need to prepare for trekking each of level.  About transportation, there are two methods to transfer from Hanoi to Sapa like bus and train. However, if you want to gain more experience, you are getting to Sapa by train. About homestay, you can choose two options either luxury homestays or popular homestay which are convenient for your trip and your budget.