If you have chance to visit Vietnam, shouldn't miss discovering a Sapa hiking tours. This is, after all, Sapa is one of the most scenic highland regions of Northern Vietnam, and if there is one thing which makes the frontier town of Sapa is known for, it's rice terraces fields with sweeping mountain vistas. Moreover, Sapa also becomes the most attractive destination of Vietnam what a way to enjoy an incredible journey in Asian beautiful country. To discover incredibly picturesque, the cool mountain air was refreshing, and it is just great to be out exploring nature, the article below will tell you about the wonderful hiking tours in Sapa as well as its necessary tips.
What is the suitable hiking route in Sapa?
Depend on tourist's timing, they usually chose different route for your journey, so now you can discover some highlight villages of Sapa.
5-hour hiking for the route of Sapa – Cat Cat – Y Linh Ho – Ta Van
In the beginning, you have a light hiking from Sapa town to Cat Cat village about 1 kilometer. Contemplate all the beauty of nature in waterfall, rice terraces fields and narrow blue river while you are on the route. Moreover, you can easily catch sight of local women sitting in front of the loom with colorful pieces of brocade, while as their children playing around with pets or even livestock. All of those makes the peacefully picturesque sceneries. After a while, you can visit the first ethnic village of Black Hmong minority, which is located at the foot of Hoang Lien mountain range. In Cat Cat village, you should have a rest, communicate with ethnic people, join in their activities and prepare for the afternoon journey.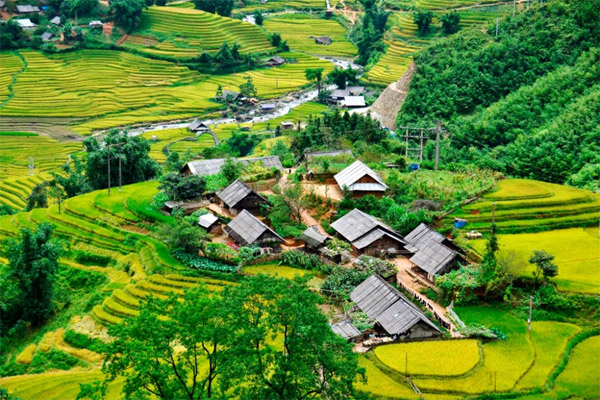 Say goodbye Cat Cat village, continue to hike to the next destination – Y Linh Ho where is the village of another Black Hmong communication and far from 7km distance of Sapa town. Y Linh Ho village is famous for the dreamy and facinating Muong Hoa stream, beautiful house of the Mong and the hospiatlity, friendliless of the resident. Coming to the ethnic village, you can have chance to explore their custom which is very dark clothing in blacks and navy dyed with indigo. Tourists can visit Hmong people's house and have a closer view on their daily activities. Y Linh Ho is one of the most attractive destination for tourist, in particular for whom love Sapa hiking tours or adventuring tours. If you are lucky, you can see the terraces fields in green covering in summer, or in late autumn, at which the rice fields are all silky golden like an arty picture.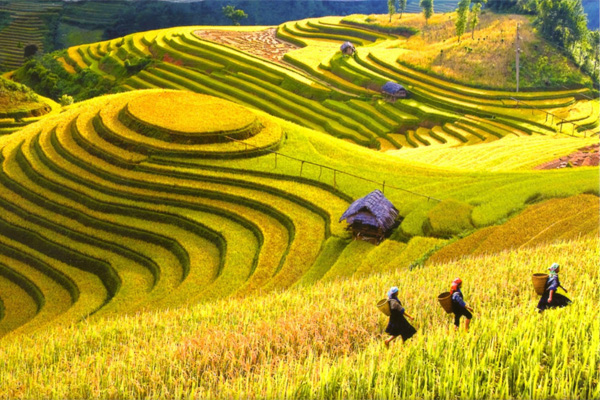 After two hours of climbing up and down the hills, you will reach Ta Van- the area where Zay communities gather and about 8km distance from the town. Though the pass path is quite creep and winding, it will be your best experience, especially you are adventurous travellers. However, discovering the ethnic life, long-standing culture and unique custom here are indeed must – do things in Ta Van for the most memorable trip to Sapa. That is why homestay in this ethnic village is definitely highly recommended by the experienced people and guides. Finish the first hiking day, tourists can choose to stay at Ta Van for a night at a homestay, that will be always convenient and efficient for you taking a relaxation after a long day trip. Moreover, you have a chance to find out more about the culture of ethnics people by joining their meals or visiting local homes as well as schools.
Hiking Ta Van – Giang Ta Chai – Su Pan in 3 hours
The next morning, in order to prepare for a new traveling day, you should enjoy more famous cuisine of local people as a breakfast.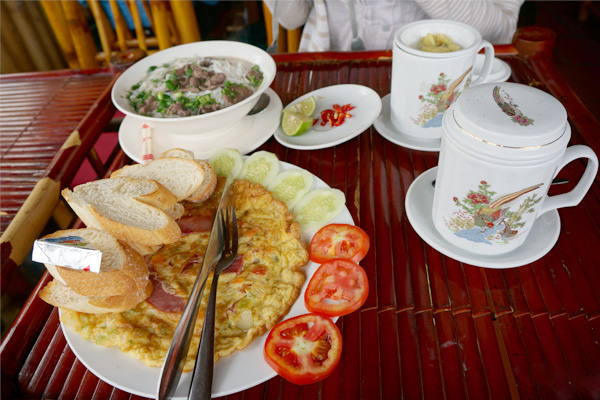 You can take the trail uphill, passing through picturesque terraced fields before getting to a bamboo forest and a waterfall. After a half hour, you will be led to Giang Ta Chai- Red Dao people's village which is on the top of the hill and look down the beauty of Muong Hoa River. Then you pass another suspension bridge and walk uphill before reaching Hau Thao Village. Visitors can see lots of H'mong and Dao women gathering here for trading and exchanging handicrafts. This is the best way to make friends and feel the hospitality of local people.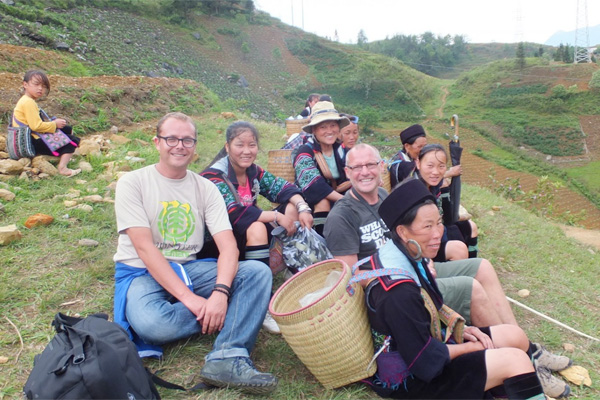 Continue toward Su Pan – the last destination, located along Muong Hoa Valley like Lao Chai and Ta Van but Su Pan village can be referred to as "mountainous commune". Occupying the highland on the east side of the main road about 17 Km from Sapa town, Su Pan with its 4 small hamlets which is home of Black H'mong and Red Zao. Su Pan village looks down to the Muong Hoa valley where is one of the poorest communes in Sapa because of the thin and poor soil (accounting for 2/3 of mountainous land).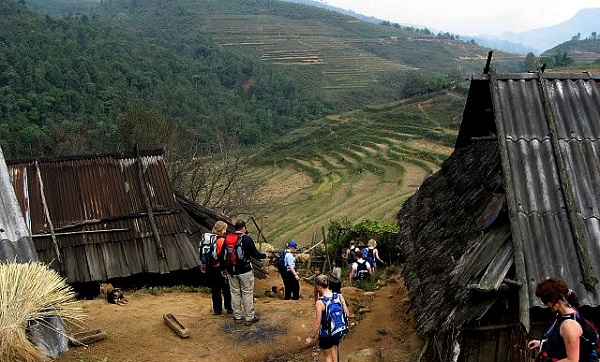 Walking down uphill from the main road, you can catch many images of rudimentary house built on the rocky land in which the locals grow corn and cassava as their main food. Through the winding and slope path, you will reach Su Pan and have chance to communicate with the local here to explore their culture and lifestyle. In addition, the simplicity of the ethnic and ít naturally charming sights are still remained and seduce you with the fresh and comfortable hiking. You can get the sight of villagers who are in their simple brocade clothes and are working on their rice terraced fields but always with their optimistic and friendly smiles.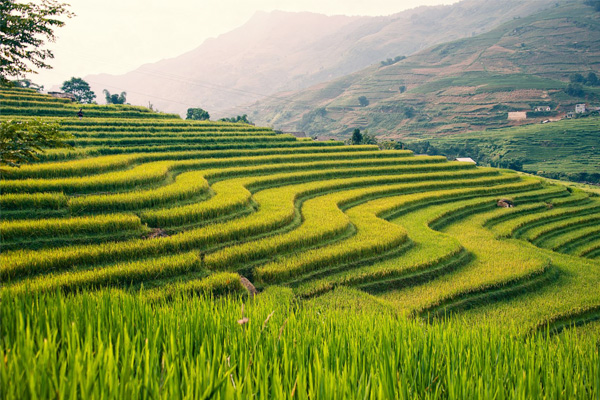 Finish 2-day hiking to the most attractive ethnic village in Sapa, you should have a relaxation in Sapa town before starting a new travel.
What to prepare for traveler during hiking
To have good journey, you can pay attention to some necessary tips
– Hire a local guide for your journey
Especially for the first timer hiking, you can choose a local guide who is familiar with the terrain, the changes in Sapa's weather and the best lookout spots. Besides, they can help you choose the best destinations for your route. You should book in advance at your hotel or tourism office in town because the renting price is reasonable, cheaper. Most of the local guides are friendly, speak great English and arrange anything you need during the hike.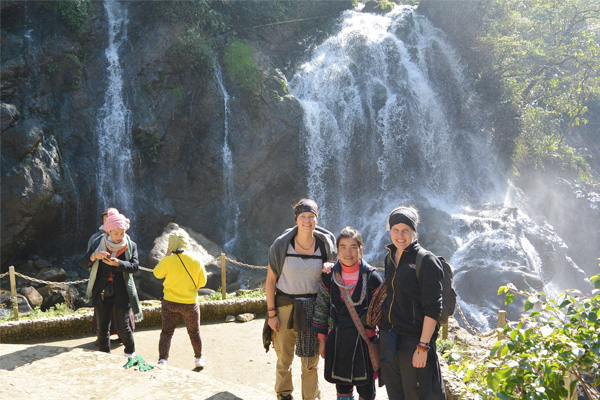 – Bring your light pack
Depend on the length of Sapa hiking tours you choose, you can be considerable what you bring but it is as light as possible. For example, towels and bedding were not necessary because of almost villages you visit have homestay, you can get a rest here after long day hiking. Remember, you should try your brought-luggage in your room and make sure it is not heavy for you to bring all day.
– Wear sturdy shoes during your Sapa hiking tours
As local experience, there are several times when they are scrambling up the mountainous region on all fours. You may hop across ditches and having your bodies whipped by branches as you cut across a bamboo forest on your way. It is demanding and you'll want to bring good footwear.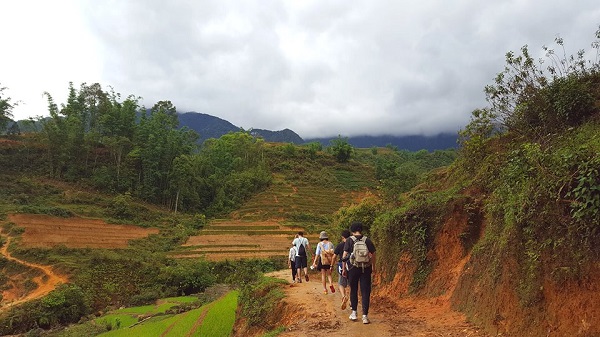 – Pack snacks.
Certainly, during the long hiking, you should bring some snacks and save yourself the suffering. There will stop for main meals, but you have no control over those times. Actually, you should take time to enjoy local cuisines, they are quite special and tasty.
– Bring double the water you think you'll need
You need much water when hiking, especially in summer, so you can bring double or more if you don't want to be thirsty during the rest of your route. In fact, a few makeshift stands selling water which are closer to the town, so you can prepare in advance. Don't think it is simple.
– And lastly, don't forget to bring your camera with the full charged battery.
Whenever you explore a Sapa hiking tours, you can catch the stunning scenery every time. Let's discover….