Mui Ne is favored with blue sea, white sand, golden light year-round, together with temperature climate of the tropic. Thanks to Mui Ne's wonderful landscapes, it becomes more fascinated with visitors from Vietnam and all over the world. Also, Mui Ne is well-known to be the capital of resort with a series of coastal resorts.
The best time to travel to Mui Ne Vietnam
Actually, Mui Ne ( Phan Thiet) weather is dry and hot all-year-round with average temperature about 27 degree C. You can go to Phan Thien in any season during the year. Nevertheless, if you wish to sightsee waves, you should go to from August to December. The great time to enjoy cool air is from November to April. The hottest weather is truly between July and August, you are recommended not to visit here during this time if you are usually unfamiliar with tropical climate.
Things to do in Mui Ne Vietnam (Phan Thiet)
Sightseeing and bathing in Mui Ne spring
Mui Ne stretches about 10 kilometers of coastal line, lies between Hon Rom and Hon Nghe- two tourist attractions of Phan Thiet. Mui Ne has been outstanding by its pristine beauty, flooded brackish indigo forests, high and long sand dunes sloping gently to the sea, little springs flowing through sand dunes. Because of being far from residential district, Mui Ne beach is extremely clean with smooth- white sands. When coming to Mui Ne, you will freely indulge in exciting activities like bathing, learning to steer sailing boat, playing water-skiing or exploring the charming beauty of indigo forests. Besides, you can also admire the entire scenery of Mui Ne spring from Hon Rom hill and go down to catch sea fish at the hill base.
Viewing Mui Ne sand dunes
For travellers visited sand dunes in Mui Ne, it is definitely memorable trip. For those have not travelled to, it is surely an attractive and promising destination. There are two distinct kinds of sand dunes in Mui Ne. The red sand dunes because of its features reddish-brown sand that makes them become more popular place for photography while the white sand dunes are smaller but beautiful and charming, too. The white sand dunes are extremely impressive and near-constant oceanic winds sculpting the sands into wonderful Saharaesque formations. In sand dunes, you might participate perfectly in sand-sledding which is a common activity here. However, you should notice time to go to sand dunes because of hot sands during the day, so the most suitable time for you to visit is in the early morning or late afternoon. At this time, you can also fly kitesand catch the beautiful sunset that are so fascinating activities in Mui Ne sand dunes.
Promenading on the Fairy Spring (Suoi Tien)
Located 18 kilometers from Phan Thiet city to the northeast, the Fairy Spring is really a little stream flows through a patch of dunes with interesting sand and rock formations. From the past, the fairy spring was named "Suoi Tre" and known by a few people because it is hidden behind sunburned sand dunes. The Fairy Spring covered with blazing red of sand color blends with thousands of heaving stalactites pointing to the sky as the top of  tower that makes a spectacular scenery. To view from above, this area looks like a forgotten castle when sunset falls down. Between the spikes have the gaps or small alley that adventurers can be interested in exploring or climbing. To visit Suoi Tien, you are advised to ask to Hung Thuc Khang road and then, it is better if you ask local people for direction branching road to reach the Fairy Spring. You may ask permission to let your car and footwear in local people's house at the edge of the stream so as that you wade barefoot and comfortably discover this beautiful place. Interestingly, tourists often wade barefoot along the stream to its upper.  From the beginning point, you will go about 300 meters to see the most beautiful part of Fairy Spring. You might be so surprised when seeing blazing orange-red sands. We suggest you climbing into the top of hill to sightsee the entire beauty of the Fairy Spring. You will see alternate red sand and white sand dunes in one side and shady coconut tree ranges with luxuriant bushes in the other side. In addition, the winding stream through multi-colored sand dunes looks like Elysium on earth.
Dropping in Mui Ne fishing village
It is situated on 3km far from Mui Ne town to the north. In entrance of the village, you can see hundreds of brightly colored fishing boats moored on the water. A not far from fishing harbor site, there is a small colorful market surrounded coconut tree ranges will bring peaceful feeling to you. In fishing village, you may catch fishers working very hard and ardently when walking along the beach covered with full of sea shells. Visiting in fishing village, you can not only enjoy pristine and peaceful landscape, clean air but you also taste so fresh seafood in local restaurants or buy to take away. Above all, local people in fishing village are so warm, friendly, simple-hearted and hospitable will certainly leave memorable impression about Mui Ne's people and land in your mind.
Contemplating Ke Ga lighthouse
Situated in Mui Ke Ga very close to the mainland, Ke Ga Lighthouse is familiarly present in local people's life as breathing. It was built in 1897 and completed in 1899 and plays an important role in guarantee safety of boats in this area. From Mui Ke Ga, you will take a boat to Hon Ba, at the foot of the lighthouse, you will see two hedges of old verdant luxuriant frangipani flowers leading you to the entrance to conquer the a 35m- high lighthouse. You have to pass 183 constant stair to reach the top of lighthouse. From here, you can admire very blue sea to horizon, get so cool winds from the sea and enjoy extraordinary colorful rock ranges. For who love the sea or have experience of Phan Thiet travel, most of them  are impressed by the great and unforgettable moments when standing on Ke Ga lighthouse. The space is likely to be larger, the sea and sky seem to be more immense and the landscape looks like more charming as viewing from the towering lighthouse. Ke Ga lighthouse is the favourite destination for visitors who once went to and awaiting destination for tourists from everywhere.
Enjoying seafood and buying souvenirs in Mui Ne, Vietnam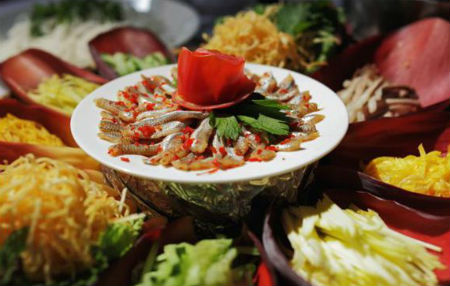 After moments of wallowing in clean and cool water in Mui Ne beach or wandering in sunny and windy sand dunes, you are advised to drop in restaurants to enjoy Mui Ne's specialties. Mui Ne is famous for the freshest seafood beside delicious local food that other areas are often different. If you go to Mui Ne, you are advised to try the large scallops with garlic sauce dish to have feeling of fresh and tasty seafood.  You should also try rice paper with shrimp paste, dish of raw fish and vegetables, Quang's noddle in Mui Ne or rice pancake folded in half  and filled with a shrimp, meat, soya bean sprouts that will certainly give unforgettable flavors. Spending time in Mui Ne, you have chance to choose interesting gifts for family and friends. Souvenirs are sold in many where from city to tourism areas, you may buy unique and affordable things such as wind chime, necklace made of sea shells or a little beautiful vase of sand drawing.