Sapa street food is something that many tourists want to find out when they come to this wonderful land. Because Sapa is not only had the majestic landscape, the typical culture but also own worth-try cuisine, especially the street food. Take a look at the list below and note the food that should not be missed in Sapa!
1. Grilled Dishes – most favorite Sapa Street food
This is the most famous Sapa street food. In the typical cold weather of Sapa, people especially like the hot and tasty barbecue with many different local ingredients.
There is a rich collection of ingredients of barbecued dishes here such as pork, beef, pork, fish, bird, quail, sausage, corn, potato, root vegetable, many types of grilled mushroom etc. Everything seems to blend in perfectly that create a unique taste of Sapa. Grilled pork is a must-try dish when you visit Sapa. People marinate the pork with Indian pepper and grill it on the hot stove. So the diners will feel the softness and feature taste of this dish.
Grilled fish is also irresistible to any diners. Sapa has many kinds of fishes, and each has the different flavors. You just need to make a fire to grill the fishes or cook them with some kinds of species to have an excellent dish. With special local marinated spices & ingredients, Sapa BBQ has a unique taste that different from any other BBQ. These grilled dishes also go very well with the local San Lung liquor since it helps to balance the taste and will keep you warm.
The prices for the stick of food depends on the ingredients you want. Just wait a bit, and you receive the hot, succulent, and fragrant barbecued pieces.
You can find barbeque stalls everywhere in the Sapa city, from sidewalks, alleys to local markets with some of the grilling equipment chairs for the customer. These stalls are considered mini roadside BBQ restaurants.
2. Bamboo-tube Rice (Com Lam)
What a pity if you come to Sapa but don't enjoy this delicious Sapa street food – a special dish with cheap price.Bamboo-tube Rice or Com Lam is a familiar dish of the ethnic minorities in the mountainous area of Northwest Vietnam. By the time passed, "Com lam" has become more and more popular. It is favorite thanks to its impressive blend of rice, stream water and the slight scent of bamboo.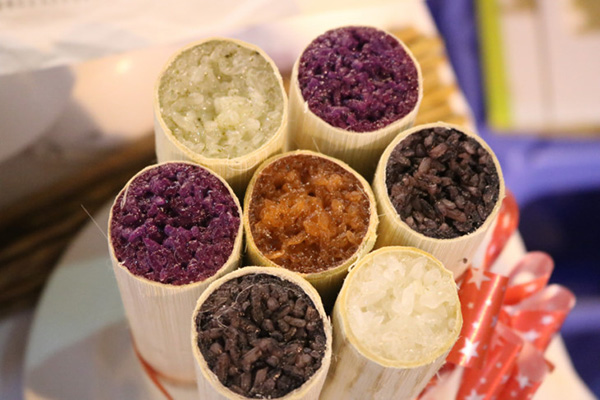 The local people put the cleaned sticky rice in a bamboo tube with some water. For the better taste, they can use stream water with some salt in the bamboo tube, cover it up with tissue paper or banana leaves, then roast above the hot fire or red coals.
"Com Lam" taste best when it's served with grilled pork or grilled chicken. When you have an opportunity to come here, don't forget to eat them with some local wine.
3. Seven-color Sticky Rice
Seven-color sticky rice is a traditional dish of Nung people – an ethnic group that lives in Muong Khuong district, Lao Cai province. In the past, it was cooked on traditional days of Sapa's people. But nowadays, it can be sold in many places to serve tourists and become a delicious Sapa street food.
The most specialty of this dish is the combination of seven colors without using any kind of chemical color. This type of sticky rice has 7 different colors: indigo, yellow, green, yellow-green, pink, dark red, light red,… They are all extracted naturally from leaves in the forests here.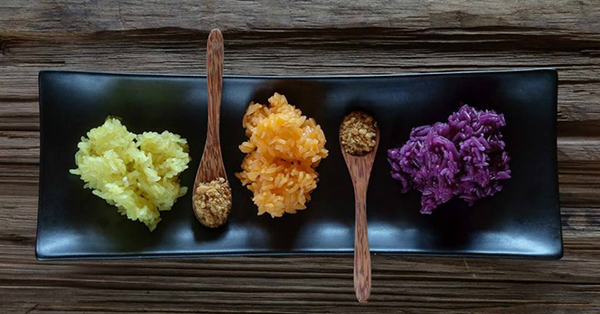 The local people believe that eating the seven-color sticky rice will bring lots of health and luck. This dish is not only famous for the attracting appearance but also its special taste. If you had enjoyed it, I must sure that you will want to come back here to enjoy more.  
4. Black Chicken
Sapa black chicken is also a must-try Sapa street food. It's smaller than other types of chicken. Each one is just about 1.2 kg. Its black skin can make people those who have seen this chicken for the first time get a little scared. But once you enjoy it, its taste will convince you.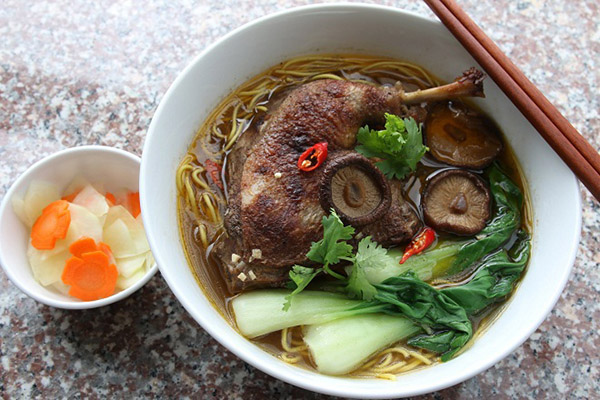 With this sapa food, people can make many dishes but the most delicious one is grilled chicken with honey, lime, mint leaves and some pepper salt. The scientists have proven that eating black chicken is very good for health and treat heart diseases effectively.
If you ever visit Sapa, let's try the black chicken to have a complete Sapa trip. The delicious and excellent taste of this dish will surely meet your need.
5. Hmong's Horse Beef (Thang Co)
"Thang co'' has been known for the most featured of the H'Mong people in North Vietnam. "Thang co" was usually used for a festival or special day. On the weekend, it was sold at the fair. But today, "Thang co" is cooked to serve all people in Sapa, especially to serve tourists.
When you visit Sapa, just need enter a stall in Sapa Markets, you can enjoy this favorite Sapa street food.
Its name means a pot of soup which includes meat, organs of the horse, vegetables and special kinds of spices.  The technique of making this dish is quite simple. After killing and washing the horse, they remove its internal parts, which are later cut up. They put these parts in a big pan and fry them in their own grease. Wait a few minutes and then add water to the pan and the meat is simmered for hours. ''Thang Co'' taste best when being served with some vegetable like "Cai meo", ''Cai lau'', etc.
Now, the Dao, Tay know how to cook "Thang co". However, the special flavors that tourists cannot forget are only made by the H'Mong. With the H'mong people, this dish is not only delicious but also shows the ingenuity and cultural beauty of this ethnic group.
6. Smoked Water-Buffalo's Flesh
This is the specialty of the hill tribes – a favorite Sapa street food.  Many tourists also buy it as gifts for their relatives.
The dried buffalo meat (also called buffalo meat bacon) is very attractive. Buffalo meat is specialty food of the Black Thai ethnic, they preserve the buffalo meat by storing at cool temperatures and also dehydrate the meat, they enjoy during holidays, at festivals or important occasions.
In fact, the smoked food is on display for sales in many places of the town, but to get the best buffalo's flesh, you're advised to buy it at the tribal villages during the visit.
Eating the smoked water-buffalo's flesh and drink the local stem wine, you will experience the real lifestyle of the hill tribes in Sapa to compliment the smoky flavor and the sweet, spicy, fragrant smell. In particular, San Lung Wine is best partnered with the smoked food.
7. Grilled or Roasted Pork
Another worth-try Sapa street food, that is Grilled or Roasted Pork. It's also known as ''Thit Lon Cap Nach'' in Vietnamese.
The Vietnamese name of this food means the putting the pig in the armpit, ignites the spark of curiosity in both local and international guests. This refers to a kind of pig in the local Hmong group who feeds the pigs on the free and extensive farms. Sometimes, the villager will catch a pig and put it in their armpit to bring it to the market for sales because the pit is quite small just 4-5 kilograms.
The ways to make this dish is diverse. The locals usually roast a whole pig directly on charcoal so that the skin covering the pork is very brittle while the pork inside is very delicious and fleshy.
This kind of grilled/roasted pork is very delicious, less fatty, and has the crunchy skin. And the best partner of this dish is the Tao Meo wine – another specialty of this mountainous area.
8. Wild Chestnut
On the journey to explore Sapa, you should not miss eating some wild Chestnut of this land. What is more interesting than tasting some grilled chestnuts in the cold weather.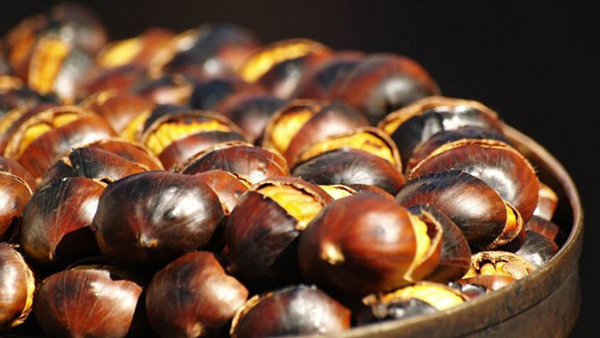 The quality and taste of the Sapa's wild chestnut are different and more outstanding than the ones elsewhere. The Sapa Chestnuts are roasted with salt and cheese in the high temperature so that the delectable snacks come to life. The visitors tend to buy kilograms of the local well-spiced wild chestnuts as the souvenir of the land. Also, some people prefer chewing this food on their journey.
Not only that, Sapa chestnuts also have many great effects on health that not everyone knows. It's good for the heart and provides vitamin E to the body.
Try some reddish-brown chestnuts, and you will feel the characteristic flavor of the mountain sapa through this food.
With these unique and fancy dishes, Sapa is competent for an interesting and memorable Vietnam trip. Come to see the beautiful scenery as well as try the excellent Sapa street food in Northwestern Vietnam! Lots of delightful surprises await you.