Widely known as the city of light in Viet Nam, Da Nang is a dynamic and worth visiting place not only in daylight but also in the evening. Thanks to many famous tourist attractions such as the collection of famous bridges, Han River, beautiful sandy beaches, etc Da Nang is becoming an ideal and impressive destination for travelers who wish to experience the nightlife in one of the most popular cities of Viet Nam.
Enjoying the night on Tran Thi Ly Bridge and Rong Bridge
Han River is considered a symbolic image of Da Nang. Only by means of arriving here, can you witness the magic of light at night. One of the unique attributes of Tran Thi Ly Bridge is the modern light system which is able to change colors according to seasons. In dry season, the light on the bridge varies within four colors: yellow, purple, blue and green. In wet season they are yellow, orange blended with red, and hot pink. Tran Thi Ly Bridge has two three-meter wide traffic lanes only for pedestrians. Therefore, right after being completed, this bridge becomes a perfect place to stroll along, breathe fresh air and feel the light breeze.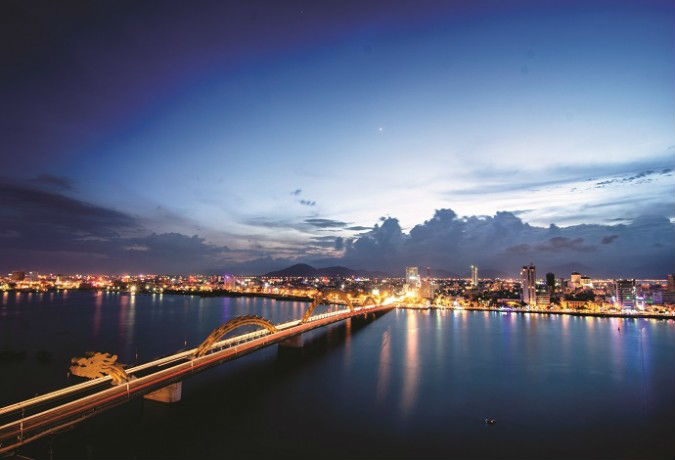 Heading to the downstream area, appears the world's biggest iron dragon – the honored Guinness record of Rong Bridge. According to the East concept, dragon is the leader of the four mascots. Hence, the bridge was built in the hope that this sacred animal will bring luck and strength to the city. Should you have a chance to come here on Saturday or Sunday, you will be able to see the most breathtaking scene that can never be found in anywhere on earth: the 1000 tons iron dragon sends out streams of burning flame and water. The best place to observe this scene is the eastern side of the bridge. Right at 9pm, the dragon will magically wake up. Do not forget to take some photos to capture this memorable moment.
Visiting Bach Dang Road
Back to the Western Da Nang, you may spend time going along Bach Dang Street. Come into use in 2004 with the starting capital of over 100 billion VND, this is one of the most beautiful streets in Da Nang. It is not just only a road but also an area for exercising, practicing sport and other public activities with a 12-metre wide pavement designed as a riverside green park. What on earth can be more wonderful than a night walking trip in this mini-park. There are various activities for you to join. If you are an art lover, you can admire the rocky sculptures demonstrated outdoor, the street musicians playing catchy melodies, and art students painting portraits for tourists.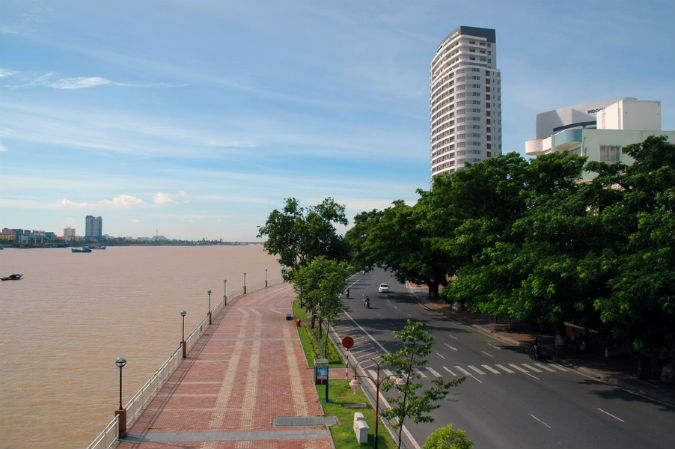 Feeling the atmosphere in Bien Dong Park
Go over Han River Bridge, heading the sea, just stop at Bien Dong Park of Da Nang. The very first impressions may be a straight line of coconut trees and flocks of doves which are the symbols of peace in this city. In addition, the sea at night also emotionally inspires you. Off the coast are the tiny lights of hundreds of boats catching different seafood. Specially, from this spot, tourist can have a magnificent view of the famous sculpture "Quan Am Bo Tat" lighted up on Son Tra Peninsula. This is the biggest sculpture of this god in Viet Nam and it plays a meaningful, important role in the spiritual life of the local resident.
Trying local food
Night time in Da Nang is the gold time to visit street restaurants near Han River. A great number of local people come here every night to have late meal with their family, friends and colleagues. The menu is variety and abundant in choices: screw, oyster gruel, cuttlefish, arca and so on. They are all really tasty and served in excellent cuisine, which will make you fall in love with seafood in Da Nang immediately.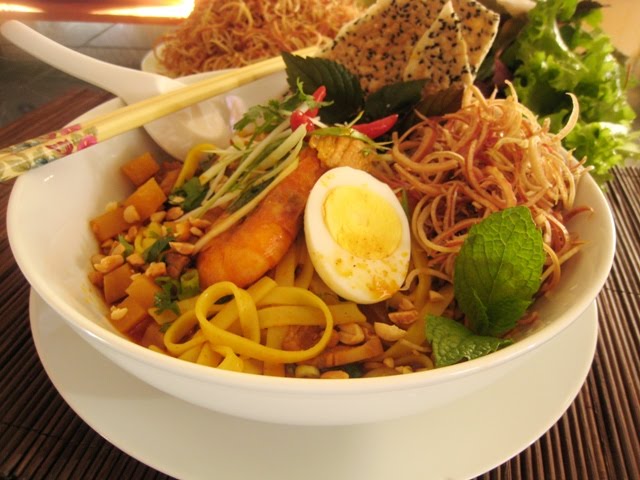 With an approximately five-kilometer trip, tourists partly take part in the night life in Da Nang. Hailing the fresh air, admiring the dreamlike scenery and feeling the wind blowing is an experience you should not ever miss in Da Nang.