Quan ho Bac Ninh folk music is a part of Vietnam's cultural heritage and quintessence has been recognized by the international community in 2009.
Quan ho folk music is well-known in Northern Vietnam including 2 provinces: Bac Ninh and Bac Giang. The songs are performed as alternating verses between couples of men and women. Since Quan ho folk songs' main theme is usually about friendship or love, especially the pure love between young people in the countryside before, along with the soothing and sweet melodies, these songs can be considered as traditional "love songs" in Northern Vietnam's culture.
In the old days, Northern Vietnamese girls had a very clever way to test the boys' knowledge and intelligence so that they can find their true half: a poetry contest. A girl made a verse, and to impress her, the boy needed to quickly response with similar rhyme, but different words. That was also known as the making-friend custom in Bac Ninh and Bac Giang provinces. Gradually, they added melody to the verses and turn them into songs, which later became Quan Ho Bac Ninh folk songs.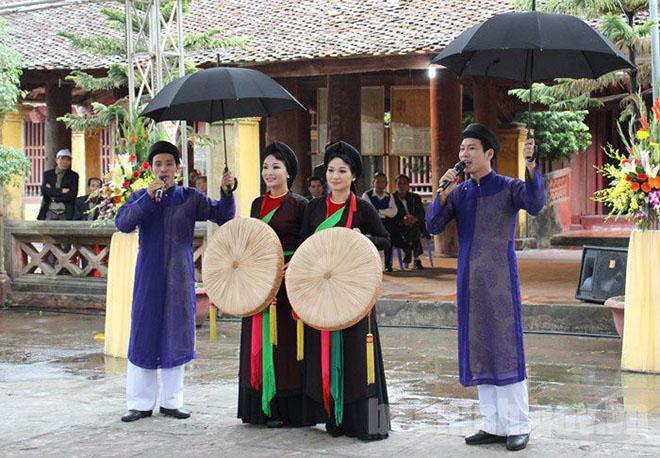 In a Quan ho performance, there are usually one or two couples, or a group of male singers (lien anh) with a group of female singers (lien chi) from different villages, both groups will sing the alternating verses in harmony. During the performance, singers wear traditional costumes of people from Northern Vietnam: women wear silk camisole (yem), five-part dress (ao ngu than), scarf to cover the hair (khan mo qua), a big round hat (non quai thao), while men wear tunics (ao the), turbans (khan xep) and bring black umbrellas. According to Vietnam's tradition, a man is the one to cover up for his sweetheart, so he always brings an umbrella to shelter the one he loves from the rain, in this case the umbrella is the symbol of a shelter, and the woman is often so discreet and shy when she's in love, that's why she carries a big hat to cover her face.
Quan ho folk music owns more than 200 melodies and 400 song lyrics, express people's true feelings when they fall in love, happiness, sadness, nostalgia, sulk, embarrassment… When listening to the Quan Ho Bac Ninh songs, you'll feel the pure love which is totally different from the one we have today, no phones, no computer, no email… it'was so simple and sweet. The stories told by a traditional melodies are uncommon but as sweet and romantic as any classic love stories in the world. 
Quan ho folk songs are now performed regularly in Bac Ninh province according to government's policy of preserving  cultural heritages. There are many Quan ho villages here, and it's not difficult to find some romantic Quan Ho shows on boat all year, especially at festivals. However, that's not the only way you can enjoy these beautiful love songs, as the homeland of Quan ho folk songs, this place still has plenty of traditional Quan Ho villages. Although it located not so far from Hanoi city, Bac Ninh province still retain the simplicity and quiet of Vietnamese villages. Come here and visit one of those, you will have many interesting surprises: a 90-year-old woman drone out a Quan Ho song, or some 5-year-old chidren sings while they are playing…, and the wonderful thing is, don't be shy to ask them to teach you a few verses, they will agree for sure, because people here are really hospitable and gentle.
Quan ho is recognised as the Intangible Cultural Heritage by the UNESCO in 2009.
If you want to learn more about Quan ho Bac Ninh folk songs, here are some most popular songs that you can easily find on the Internet.
Giăng bao nhiêu tuổi giăng già? (How old is the Moon?)

Lòng vẫn đợi chờ (My heart's still waiting)

Nguyệt gác mái đình ( The Moon on the roof of communal house)

Tìm người (Looking for you)

Năm liệu bảy lo (Can't stop worrying)