When you travel to a country, of course you will want to buy some gifts for family, friends and even yourself. But it seems difficult for a foreigner to buy something in a strange country. If you're gonna travel to Vietnam itinerary 10 days, you should read this blog to know where you can buy gifts and something "Vietnam", what you should buy, I will recommend you special presents in some places of Vietnam and some tips for you to have a good deal.
Hanoi
Street Night market
Night Market in Old Quarter of Hanoi is held from 6 pm to 11 pm on three days Friday, Saturday and Sunday every week, on the pedestrian streets: Hang Ngang, Hang Dao, Hang Duong in Hoan Kiem district, Hanoi. Pedestrian streets are about 3 km, starting from Hang Dao Street next to Dong Kinh Nghia Thuc Square and end at the port of Dong Xuan Market.
In the evening of Saturdays, two top of streets organizes cultural performances of traditional folk arts such as cheo, quan ho, xam, ca tru … This is a unique character of the night market in Hanoi Old Quarter, attracts tourists, especially foreigners.
Old Quarter Night Market is a bustling place of trading, with the participation of nearly 4,000 stores. The goods here are very diverse, not only clothing, footwear, household appliances but also the arts and crafts items, souvenirs … with affordable prices. You can have something for yourself, but be careful with your packages, they can be stolen in night market by some naughty people.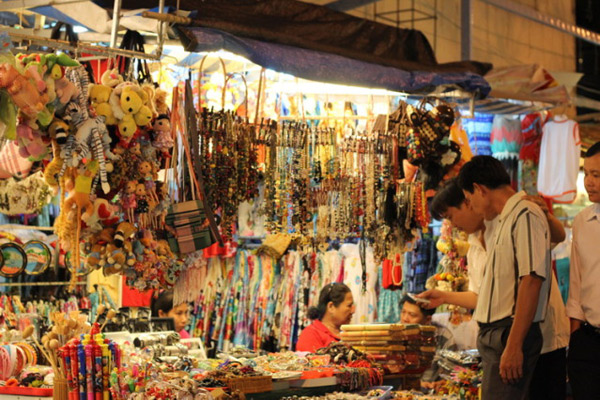 Quang Ba Flower Night market
Quang Ba flower market is located on Nghi Tam Street, Tay Ho, Hanoi. Different from other flower markets, Flower Market Quang Ba is opened only at night. The market is opened through the whole year, normally about 12am at midnight, people start opening market, but until 3-4 am the market becomes bustling, this also is the most appropriate time to visit Quang Ba flower night market. Many buyers and sellers come in and out continuously. A lot of large and small floats bring daisies, roses, lilies, dahlias… all kinds of colorable flowers flock to the market. Visiting flower market becomes one of many pleasures, especially the youth. There are many people who stayed up all night to wander in the market, not necessarily to buy flowers, just simply come here to feel a part of the nightlife of Hanoi. Once you come to Quang Ba flower market, I'm sure you will buy beautiful bouquets with affordable prices, either weekdays or holidays the prices of flowers still remain stable.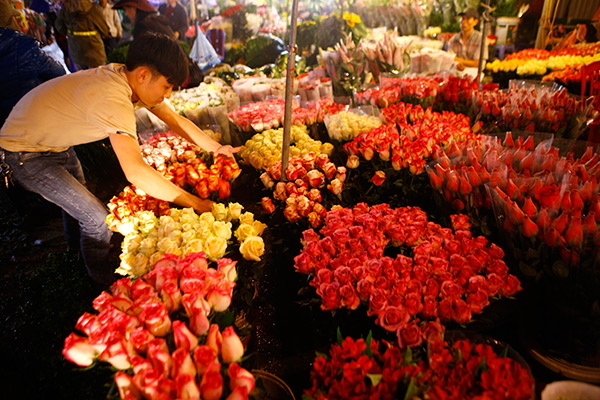 Hang Gai Street
Located in a wonderful location, Hang Gai street is considered not to be missed for any traveler who wants to find their own soft silk bring in it the soul of Hanoi. Hang Gai is called "Silk Road" of Hanoi because most of the families here are silk businesses. Famous Van Phuc silk is exhibited around the shops on Hang Gai, make up the exclusivity of Hanoi 36 streets. At the first, you will see the pure Vietnamese products such as tu than shirts, ao dai … There are also silk scarfs, silk wallet and many other embroidered products.
Along Hang Gai Street, you easily see the signs of traditional business families in trading silk. Tan My Shop, Cu Long, Cu Thanh Shop, Phuc Thinh Shop, Duc Loi Shop… All of them want to show a tradition business of Hanoi.
Vietnam shops on Hang Gai usually open from dawn to night. Every afternoon and evening, the stores turn all the electric lights, colorful lights make a sparkling scene. If you want to buy silk here, you should begin to pay the price of about 50% over the offer price of the seller and pay no more than 70% of the first price. Also, this is a great street to buy products which made from paper, such as paintings, books, lamps …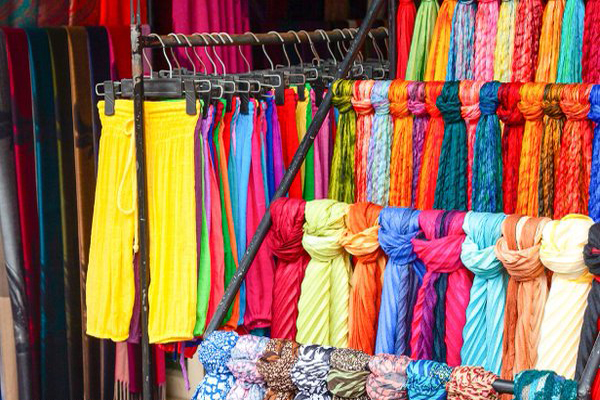 Bat Trang Pottery Village
Bat Trang pottery is the common name for the type of pottery is produced in Bat Trang Village, Gia Lam, Hanoi. Visiting Bat Trang, you can try the feeling as potters with very cheap cost, only 10,000 vnđ per person. The playground owners are always on duty at the gate to welcome guests. On the playground, you can play with the rotating ceramic table. Do not worry if you do not know how to use them, the workers here will guide you, help to create the model for you. And you are free to create and try out with clay. To take home a pottery product like that, you have to pay extra from 20.000 to 25.000 vnđ.
Bat Trang Market sells all kinds of pottery goods, from high-end dishes, decorative art items to worship items, souvenir items, cups and popular dishes. Pottery here is cheap and nice, you can buy the product commercially available or make products by yourself as gifts for relatives and friends. However you should make a bargain when shopping at the market, the price should be paid for 70% of the price sellers offer. Be careful when moving in the market cause ceramics and porcelain are very fragile.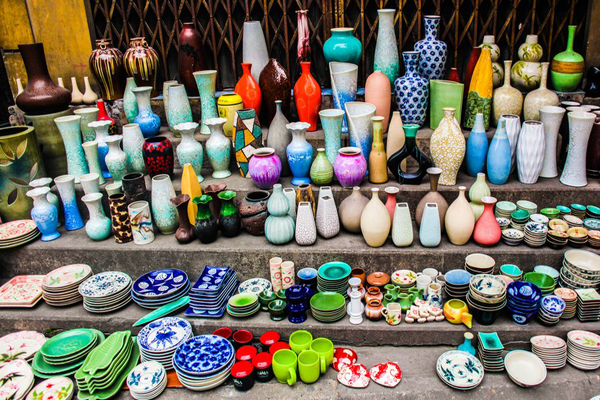 Ho Chi Minh City
Ben Thanh Market night and day
Be a bustling market in all day and night, Ben Thanh Market is seen as a symbol, a very interesting destination for tourists not only international but also local people. Walking around, shopping, exploring Ben Thanh Market has become an integral part of Saigon tours. From 7 pm til night, the shops inside the market close, give way for the appearance of other stalls. This is the time of Charming Ben Thanh night market. The food stores bring to you many choices as the type of barbecue, seafood, beer, specialty dishes … Visiting Ben Thanh night market likes visiting night market in the old quarter of Hanoi, you need to know a few rules to have a good deal, the price in Ben Thanh night market should be paid half of the price offered. You should try to enjoy the typical dishes of three regions of Vietnam, the dishes are prepared from seafood and some Chinese dishes. Prices are generally affordable, listed clearly on the table. Across from the food street is shopping area, goods here are mainly handicrafts and souvenirs.
Ben Thanh night market has become a familiar destination of local people and visitors, especially on weekends, guests visit Ben Thanh night market is quite crowded.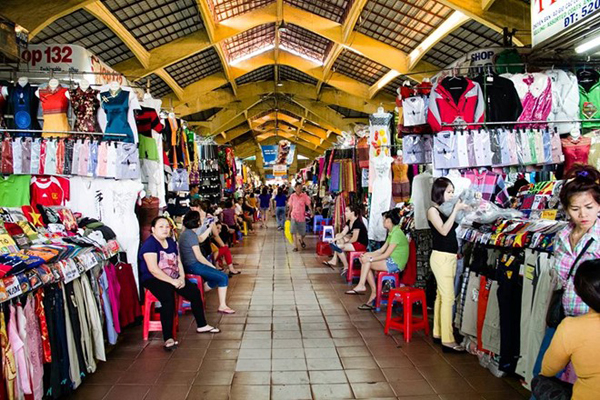 Saigon Square
With many rich and nice items with sensible prices and promotions throughout the year, Saigon Square is becoming a "shopping paradise", not only for young people but also many international visitors. With the strong point of clothes, shoes, handbags, casual and intermediate goods, Saigon Square regular is crowded, especially on weekends. Here you can find the most fashionable items or clothing for all 4 seasons in Vietnam (spring, summer, autumn and winter). As soon as you step into Saigon Square, you will feel the busy and bustling atmosphere. A special feature is the space here is bright and clean, air conditions operate during opening hours as in modern shopping centers. When shopping here, you also should be careful to pay, some stores overcharge very high.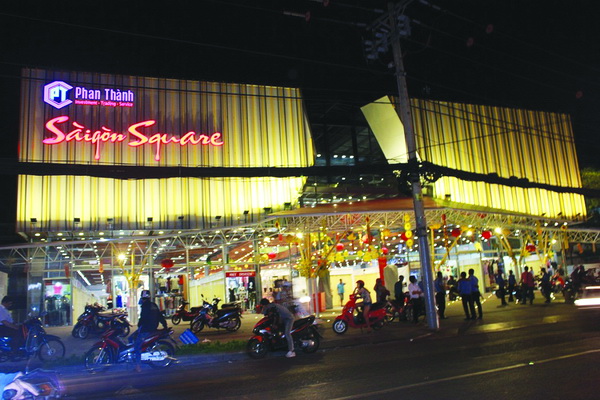 Cho Lon
Binh Tay Market, also known as Cho Lon, covers an area of 28,000m2. The market has 12 small gates through four directions and a major gate. Cho Lon is the biggest wholesale market in Vietnam.
In the market, there are about 876 stalls of food and spices, these are items account for the highest percentage, in addition the market has household furniture, clothes, food and other commodities. Goods in markets are mostly distributed in the form of wholesale for retailers from other provinces.
As a wholesale market, goods in this market is very cheap if you buy a big quantity of goods. However, the retail price is not cheap, the seller is not enthusiastic, too. Many stores in Cho Lon have price lists or don't overcharge too much (about 10-20% of the original price).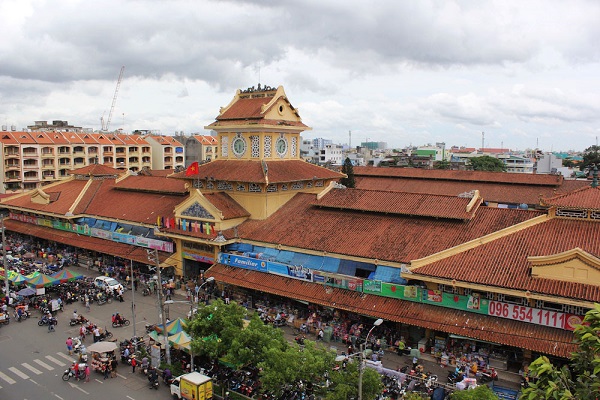 An Dong Market
An Dong Market has three main areas are business centers, restaurants and hotel services. Commercial center trade so many sectors such as jewelry, watches, eyewear, cosmetics, shoes, handbags, leather goods, information technology products, tapes , electric – electronics, clothes and fashion on the 1st floor, textile and garment accessories, toiletries, toys, sports equipment on the 2nd floor, handicrafts, souvenirs, groceries, dry and canned food on the 3rd floor… The restaurants – services area is an area of 10.546 m2 building with activities such as beauty salons, babysitting area, fast food restaurants, Chinese restaurants, cafe, bar … The basement with an area of over 4,000 m2 can contain more than 500 cars of all kinds.
An Dong Market has 56 years history. In addition to the usual items of business at the markets, here is a place that update very quickly hot trend fashion, the quality is not inferior to the big shop.
Hoi An
Hoi An lanterns
Hoi An lanterns which have become the own culture of Hoi An old town, with diverse colors show up the talent of artisans in Vietnam. Lanterns in Hoi An is made quite nicely, lightweight and collapsible so well suit for travelers to buy as souvenirs when visiting this ancient old town. You can buy lanterns in the shops on Tran Phu Street such as Tuoi Ngoc Lanterns, Ngoc Thu and in other shops on Le Loi, Nguyen Hue and Nguyen Thai Hoc Street… The price depends on sizes, colors and shapes of the lamp. It's not too expensive and very suitable to give as gifts.
Shoes
Shoes in Hoi An is also very rich in design, not only wooden shoes but also lovely slippers… Sellers are very enthusiastic and welcoming so I'm sure you will find a pleasant pair of shoes. In Hoi An, there are many shoe stores such as Funky Shop at No. 38 Bach Dang Street, Cam Tu Shop at No. 8 Hoang Van Thu Street … Especially in Hoi An, has straw sandals that look very nice. These straw sandals are sold in many shops on streets of Hoi An and in Hoi An markets.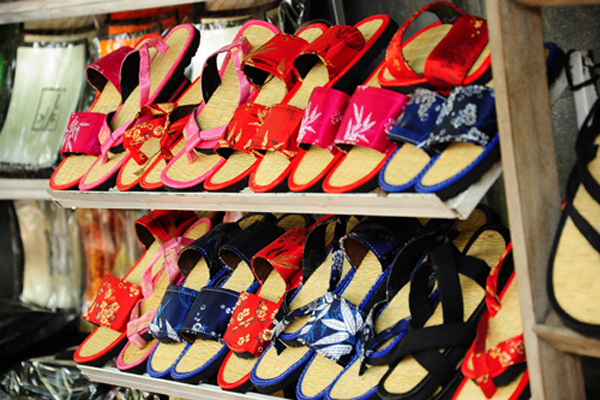 Ao dai.
Garment industry developed in Hoi An, including the service "sewing immediately" rapidly response needs of travelers while ensuring the quality and high aesthetic. The fabric is beautiful, smart and carefully sewing. Visitors come to Hoi An love to be sewed for themselves the lovely traditional Vietnamese "ao dai". Therefore, in Minh An town has 57 business households sell fabric and sewing to serve tourists. Besides is many stores such as Thu Thuy Store, Yaly Store, Phuong Huy Store, Thang Loi, A Dong Silk, Bao Khanh, Cam Nhan Store …
When you visit Vietnam, especially 3 places I mention above, you can consult some shops and stores and some Vietnamese items you can buy for yourself and gifts for relatives and friends. In addition, I also share some tips when trading with the sellers in Vietnam to have a good deal.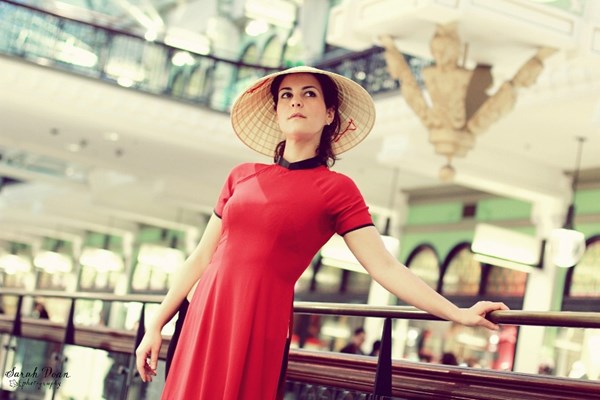 First, you need to know some basic Vietnamese words about shopping.
It will be necessary for a foreign traveler to learn some Vietnamese words when shopping in Vietnam, such as "Cai nay bao nhieu?", or "Oi gioi oi" to show the surprising in case of the seller overcharges " … And if it is not an amicable sale, you can withdraw, but try to keep a friendly attitude to the seller with a smile.
Then, you need to ready to bargain.
Except supermarkets, malls, most of the shops in the old town areas in Vietnam sell with higher prices than the reality, although the price is listed. In many cases, the shop owner tells the price based on their feelings about the customers. Who looks luxurious, especially foreign guests, they will demand higher prices than who looks popular.
Therefore, it's the best to avoid to be overcharged, you can bargain if the given price is insensible, or before buying something you should consult your friends' ideas or your tour guide.
Go shopping with local people
Go shopping with local people is a great idea when you want to shop in Vietnam. Because they speak Vietnamese, they know where to buy cheap and nice things and they won't be overcharged by the sellers. They can bargain, too. They will help you to know more about how to purchase in Vietnam without being overcharged and to be able to confidently go shopping alone for the next visit.
You should compare the prices with other stores
One time I saw on the internet, a foreigner also said "One of the secrets to help foreign visitors can purchase the most sensible prices in Vietnam is comparing prices at some stores. The same product, however, prices at many stores may be very different." That's why you should come to other stores around the street to ask about the price of the item you want to buy, and then you can choose the store that gives you the lowest price with the quality of the product is acceptable.
Turning away when it is necessary
In some cases, you should decisively turn away when it's not an amicable sale. When the seller offers a too high price and does not accept the bargain, you can go to another shop but keep a friendly attitude. Maybe then, the seller will run to you and offers a more sensible price that you can accept.