Beside Hoi An , Ho Chi Minh city, Hanoi – the capital of Vietnam is considered as one of the best places for shopping. When coming Hanoi for shopping, you may be attracted by  the unique things that can not be found anywhere else. The city provides you a range of items such as shoes, sports shoes, clothes, textile, silk, bags, accessories, crafts …
If you are in Hanoi for the first time and want to buy something as a small piece of Hanoi, you may confuse in choosing which items should buy. The article below will give some suggestions that you may find interesting.
1. Housewares and Ceramics
Take a tour within Old Quarter, visitors can buy a lot of high quality decorations with suitable price in Hanoi. Drop in Vietnamese House (192 Hang Bac) for vases and boxes or Mosaique Decoration (6 Ly Quoc Su) for home furniture. Some shops at the intersection of Hang Da and Hang Dieu are available for birdcages.
In order to buy fine ceramics, you should look to Quang's Ceramic at 95 Ba Trieu. However, if you have time, a suggestion for you is to visit Bat Trang village. Located from the outskirt of Hanoi, Bat Trang village is the most popular destination to buy ceramics. Visitors can take taxi or bus (number 47 from Long Bien Station) to get there.  The shops in Bat Trang villages offer a variety of useable goods such as vases, plates, cups, bowls, ornamental objects…with suitable prices compared to those in the city. Coming to Bat Trang, you can have chance to attend a workshop to create anything from clay or paint readymade ceramics.
2. Silk
When visiting Hanoi, silk is one of the items that visitors can not miss. Situated on the bank of Nhue river, at the distance of around 10 km from Old Quarter, Van Phuc (Ha Dong) village is well-known for silk quality with the unique features. Van Phuc is the most ancient silk village providing the best quality of silk in Vietnam. Its silk is renowned for the smooth, light weight and can be considered as the very typical gift of Hanoi.
Van Phuc silk was intrigued by the colors and exquisite patterns along with the diversity of styles and designs. Visitors can buy the draw silk, print silk or patterned silk or find these items such as the silk scarf, shirt, skirt, bag …as the gifts for friends and families. If you don't have time to visit Van Phuc village, you can also find in the tourist stores in Hang Gai such as Khai Silk (96 Hang Gai) or Duc Loi (77 Hang Gai)
3. Do Paper
"Do paper" is a special paper which is made from the bark of a wild plant- the Do tree. The kind of tree can be found around local river banks. Yen Thai village in the West- north of Hanoi capital has tradition of producing this kind of paper. Do Paper must experience many progresses with complicated techniques. It requires the craftsmen the experience and high skills. In the past, Do paper was very popular. Yen Thai village in the West- north of Hanoi capital has tradition of producing Do paper. Nowadays, this kind of paper is used for such things like postcards, notebooks and stationary sets which are available on Hang Gai, Hang Bac or Craft Link (43 -Van Mieu).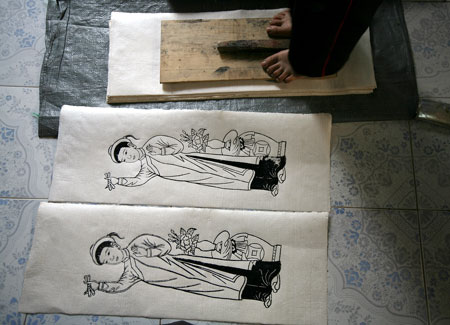 4. Jewelry and Silver
In Hanoi, Hang Bac street is well-known for silver and its name is translated from Silver. In the past, Hang Bac is the home of the skillful and sophisticated artisans in processing gold and silver. The goldsmiths in Hang Bac Street created many exquisite gold and silver products, especially jewelry. Tourists may be dazzled by the variety of shapes and forms of silver such as  plain, simple rings and necklaces, stylish teapots, beautiful décor plates…In the spiritual conception of Vietnamese people, Silver is to drive away evil spirits. Therefore, silver is a quite popular jewelry to Vietnamese. To get the high quality silver products, you can visit the shops on Hang Bac Street or shop Phuc Tin on Hang Gai Street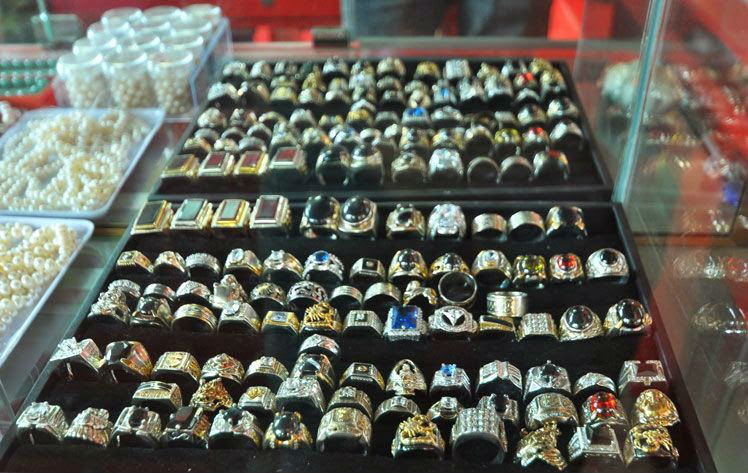 5. Snack
 If you want to bring to your friends some special Hanoian foods, snacks are good choice. However please carefully pay attention to the expiry date.
O Mai and Banh Com are the things that visitors should choose as gifts. They are specialties of hanoians to treat the guests in Tet holiday.
O Mai is also very good for health as the remedy for sore throats. O Mai is originally made from apricot. However, over the time, O Mai is processed with different fruits such as plums, ginger, lemon, peach… A complicated process is needed to produce O Mai with the best quality. Address of this popular snack is Hang Duong Street.
Another snack that must be offered here is Banh Com. It is made from glutinous rice without preservatives. Therefore, it is used within 5 days after buying. With the unique recipes, Banh Com has a special taste – a combination of a light sweetness and a hint of the trademark "cốm" fragrance. Hang Than street is famous for the best Banh Com.
We hope that these above suggestions will give you useful information and an enjoyable shopping experience during the trip in Hanoi.