Coming to Ho Chi Minh City, tourists have chances to visit many historical relics, beauty-spots as well as discovery the customs and culture of people through Ho Chi Minh city tour. However, I want to recommend several destination outside of Ho Chi Minh city that you should not overlook in your itinerary. It just takes several hours from Ho Chi Minh City; these places will bring about the unforgetable memories
1. Buu Long tourist area
Buu Long tourist area is located in Dong Nai province, 30 km from Ho Chi Minh City. It has area of 84 ha including Long An and Long Van Lakes with two mountains Buu Long and Long Son. Buu Long is recognized as the national cultural heritage by the Department of culture, sports and tourism. Visitors will be fascinated by the poetic scenery of Long An lake compared to the miniature of Ha Long bay.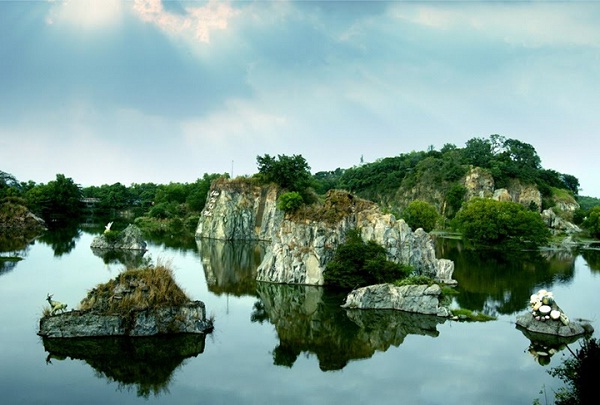 In the lake, there are some islands where is the gather of dozens of rare bird species. Visitors can join a lot of activities here such as sailing in the lakes, climbing or making the camps and enjoying a lot of specialties. And visitors may see Buu Phong Mount close to Buu Long lake. From the top of the mount, visitors can see a full view of lake and a panorama of Bien Hoa city. Buu Phong pagoda was built in 17th century under Nguyen Dynasty on the mount Buu Long. To visit Buu Phong pagoda, you have to climb 99 steps. The pagoda is in the form of a thatch-roofed hut. Escaping from noisy city, Buu Long is an ideal choice for you to relax in poetic scenery.
2. Vung Tau
It takes about 2 hours from Ho Chi Minh to Vung Tau by bus or coach.Not ancient as Hoi An, Vung Tau is considered as the harmony combination of nature with moutains, beaches and islands.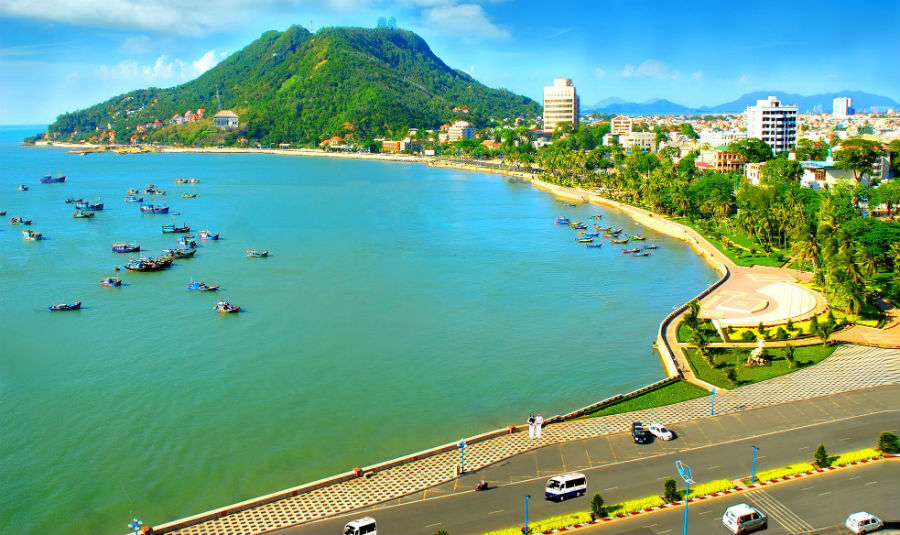 Vung Tau is also a gate of Vietnam and the world for the exchange and trade because of the convinent sea route and waterway systems. With 20 km coast length and the most beautiful beaches in Vietnam, Vung Tau is the most suitable choice for tourists to relax. The tourists are attracted by not only the blue sea but also the white sand hills- an ideal place for you and your family to enjoy the fresh and transquil atsmosphere. along the coast, there are a lot of seafood restaurants selling with the range of fresh seafoods.  Cuisine is the things that contribute to the attractiveness of Vung Tau. It is famous for Khot cake, Thay Nghiep Ky noodle, pigeon porridge…
Besides beaches, Vung Tau is a land of traditonal cultures with long history. At the present, 29 historical relics are recognized at the national level.
3. Cu Chi tunnel
Cu Chi tunnel is located in the northwest, 70 km from Sai Gon. You can go there by mortorbike, bus or hiring a car. Travel by bus is the cheapest way. Cu Chi tunnel area with 200km tunnel length was set up to house villages, kitchens, ordnance factories, hospitals, bombs shelters. People spent their life underground during the combat. Cu Chi tunnel is like a underground city. Nowadays, a few of tunnels are opened for people to visit. Tunnels are expanded to easily move and have lights up. However, the tunnel is very narrow, therefor you have to stoop and move under sitting position. Other places you can visit are tunnel hall presenting reisistance materials of Vietnamese army, Hoang Cam field stove, tunnel picture exhibit rooms…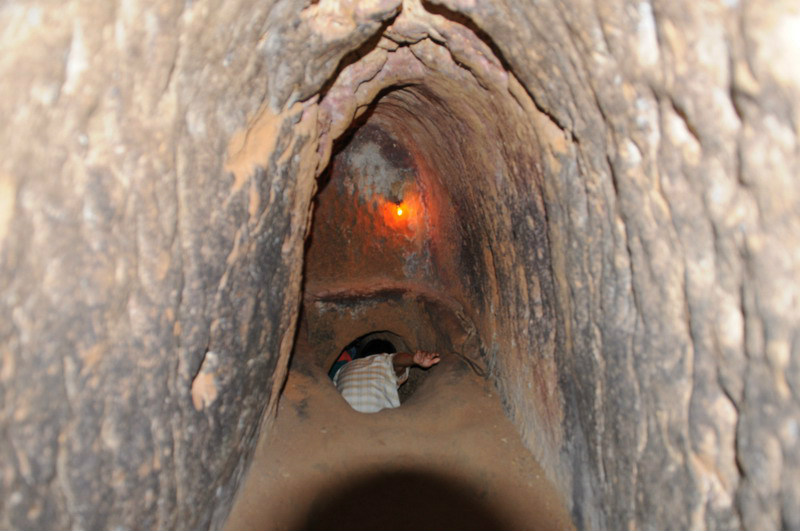 In addition, you can visit an area which reappears the war zone in the opposite side of the tunnel area. It includes a hall illustrating the entire combat in the tunnel area. Behind the hall, we can see the models of many relics and beauty-spots of Vietnam such as:Nha Rong Wharf, Hue, One Pillar Pagoda, Saigon, Long Bien Bridge and the Paracels, Spratlys …
4. Can Gio Island
Gio mangrove forest is considered to be one of the most beautiful forests in Southeast Asia and recognized by UNESCO as " the world biosphere reserve".
Located in the south, distant 7 km from Ho Chi Minh City, Can Gio is one of the most ideal eco-tourism destination for tourists. Coming here, visitors can enjoy an pure atmosphere, the beauty of unspoiled nature and seeing  the body, interlaced roots of mangroves and  a lot of crocodiles and monkeys. Visitors can relax by teasing mischievous monkeys at the Lam Vien resort- called Money Island. It is home of nearly 2000 monkeys of all types in which there are some rare and precious types. They are very comical and bold. Sometimes they make visitors feel panic because they dare to steal anything from anyone.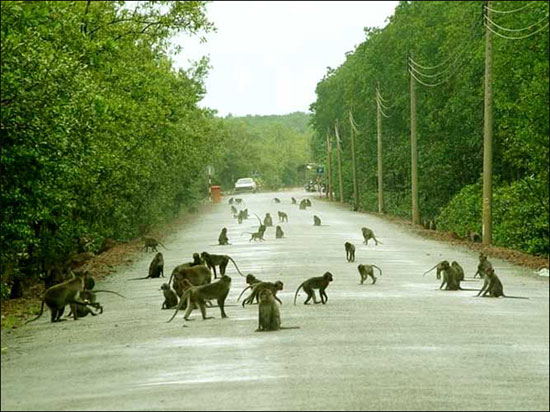 Can Gio Mangrove Forest is located in the very special geographical location with the ecosystem of coastal wetlands. Annually mangroves receive a large amount of silt from the Dong Nai River, along with the influence of the adjacent sea and the tide that makes fauna and flora here  rich and diverse. Can Gio mangrove forest is an important shelter for 157 plant species
5. Ben Tre
Ben Tre is a rich and fertile land with many interesting visiting places. It is one of the 13 provinces of Mekong Delta which is known as the land of coconut trees. Ben Tre is an attractive destination for both River- garden ecotourism and cultural, historical tourism.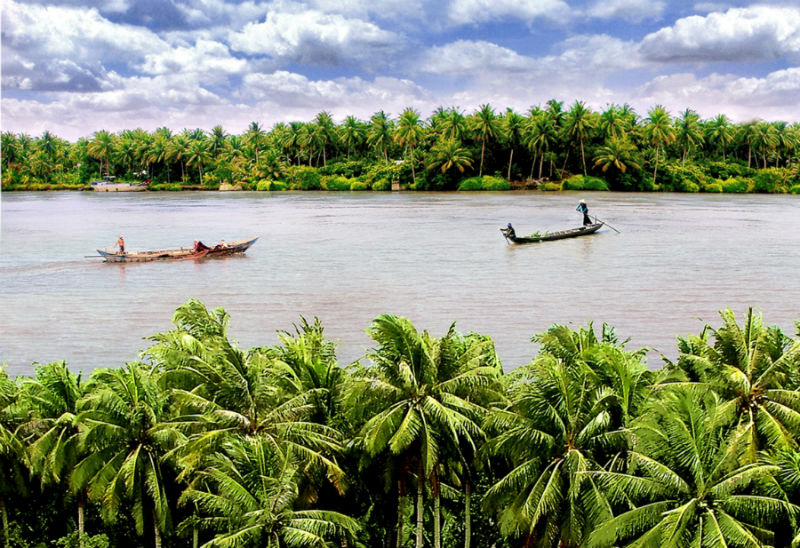 For its convenient location, it only takes about 90 minutes from Ho Chi Minh City to Ben Tre by road. With the advantage of the canals systems and the fruit isles, visitors to Ben Tre will have the opportunity to see the natural beauty of the gardens with lush fruit trees. Cai Mon fruit tree garden belonging to Vinh Thanh Commune, Cho Lach district is a center of delicious fruits and beautiful flowers which is famous over the south. Visitors will lose in the world of fruits and comfortably enjoy the most delicious fruits here.
Con Phung resort is a typical one of ecotourism with the unique architecture style attached to the name of Nguyen Thanh Nam. Visiting Con Phung, visitors can see the dragon yard, Hoa Binh tower, coconut candy production facilities…
For those who want to learn more about the traditions, cultures, historical relics… many options are offered: Tuyen Linh temple, temple and mausoleum of the poet Nguyen Dinh Chieu (An Duc Commune, Ba Tri district), the tomb of Dr.Phan Thanh Gian  (Bao Thanh Commune, Ba Tri district), or tomb of renowned teacher Vo Truong Toan (Bao Thanh commune, Ba Tri district. Furthermore, visitors may be fascinated by the folk songs named " đon ca tai tu ". Discovery this spiritual land, you'll forget the busy life in urban to enjoy the peaceful atmosphere and simple life of people.
We hope that these destinations suggested above will be the interesting choices and leave the exciting experience in your itinerary.