For wanderlust travelers in Vietnam, Da Nang- one of the biggest cities of Vietnam is not unfamiliar to them. Da Nang is a stunning city being adjacent to Han poetic river and beyond smooth and white sand beaches, this dynamic city was voted in top ten most attractive tourist destinations in Asia in 2013. Nowadays, Da Nang is more and more beautiful, modern and civilized. Thanks to both its favorable location being the central city connecting three world heritages (Hue ancient capital, Hoi An ancient town and My Son holly land) and beautiful nature being passionately loved, Da Nang is getting a friendly and striking destination.
The best time to visit Da Nang
Da Nang has two highlight seasons: dry and wet, the average temperature is not too high about 28 degree C to 30 degree C. During the rainy season, it regularly happens rains and storms. When the dry season comes, the weather is more comfortable and pleasant. Hence it would be an excellent choice to visit Da Nang through dry season from January to July each year. In this time, the weather is so cool and moderate with the light wind and beautiful sunshine will facilitate tourists to visit the most impressive places of this homeland.
Hai Van is known as the longest and craggiest pass in Vietnam, it borders on Thua Thien Hue in the north and Da Nang in the south. Standing the highest mountain peak with a height of 496m above the sea level, tourists will view "Hai Van Quan" where keeps Ming Mang King's autograph 'Thien Ha De Nhat Hung Quan' (the grandest scene in the world). From North to South of Vietnam, Hai Van is the most rugged and magnificent pass, when seeing from afar, the winding and twisty pass embracing mountains looks like a silk across the blue sky. In spite of complicated traffic, Hai Van's landscape still captivates tourists, so many of them overtake dangerous stages to conquer Hai Van Quan. Coming to Hai Van pass, tourists will live with the air of wind and cloud. Viewing from Hai Van pass, tourists will see green color of primeval forests stretching endlessly covered by vaporous clouds and slight fog like fairyland of fairytale. From here, tourists also view the blue sea, Ngu Hanh Son mountain, the bright beauty of Son Tra peninsula or the entire picture of Da Nang city.
Visiting Han river bridge
Han river bridge flows across the heart of city, plays an important role in developing Da Nang tourism. Han river is one of the most attractive destinations in Da Nang, tourists coming here are impressed by its glorious and charming beauty when the city turns on lights, Han river becomes so extraordinarily sparkling and dreamlike at night, it would be a great guide for tourists to enjoy the cool wind and fresh air in Han river bridge or take a small boat and row along Han river in order that they can contemplate the beauty of city at night. Moving Han river bridge, tourists are recommended to visit Thuan Phuoc bridge and Rong bridge. Along with Han river bridge, the two bridges do not only make good conditions for traffic, tourism and developing economy of the city, they also keep cultural values for  eternal posterity.
Dropping in Son Tra peninsula
Son Tra with the total area of 4370ha is a promising destination because of its amazing scenery. In Son Tra, tourist may visit Son Tra Nature Conservation area being the home of hundreds of rare plants and animals or explore Son Tra's natural beauty. Climbing on the peak of Son Tra mountain, looking toward the city far away, feeling the cool air of sea and mountain will be great experience to each visitor. Nowadays, a nice path is built around the peninsula, tourists might stay in roadside restaurants and hotels or come to Linh Ung pagoda so as to enjoy spiritual atmosphere.
Enjoying scenic scenery of Ba Na Hill
A visit to Ba Na Hill- an unforgettable memory, located 25km far from Da Nang city in the southwest with a height of 1487m compared to sea level, Ba Na is considered as 'green lung' of the central region. Ba Na was discovered in 1901 and built to become the largest and most famous resort in Indochina by French. In the cool weather, tourists will definitely find peace and deep of their soul while living in the beautiful nature blending with the elegant and harmonious architectures. Also,  tourists try sitting on cable car and feel halfway clouds hovering in Ba Na Hill or enjoy the large space of Da Nang city, Vung Thung bay, Son Tra peninsula, My Khe beach, Ngu Hanh Son, Thu Bon river, Cham island when steeping into Ba Na top.
Visiting beautiful beaches
Da Nang coastal line is nearly 60 kilometers in length with uninterrupted beautiful beaches stretching from the Hai Van pass's foot to Non Nuoc. These beaches are really great destinations for chilling out, relaxing and bathing. Non Nuoc is a 5-km-long, it is famous for wide sand beach, clear blue water, light waves and not affected by environment pollution that is suitable for sea breaks. Moreover, tourists could travel to artistic stone village with a lot of famous sculptures where is near Non Nuoc beach, at the foot of Ngu Hanh Son mountain. A not far from Da Nang centre, My Khe also draws tourists with nice view, airy space and clean environment. Spending time in beaches relaxing and enjoying fresh air in order that tourists have more energy and comfort after hard-working hours.
Enjoying food in Da Nang
Like other cities in Vietnam, Da Nang also has its own cuisine that tourists should not forget to taste when coming to Da Nang. Tourists can try Quang Nam's noodle to find the different flavor between it and Hue beef noodle soup or Hanoi beef noodle soup. 'Banh beo' is a delicious dish in Da Nang, it is made of  rice flour. When eating "banh beo", people use small bamboo stick, the sweetness of shrimp mixed with the flavor of garlic, chili… gives them unforgettable impressions.  Enjoying Nam O Raw Fish Salad,  Jelly-Fish Salad will bring special flavors to tourists.
Tours in Da Nang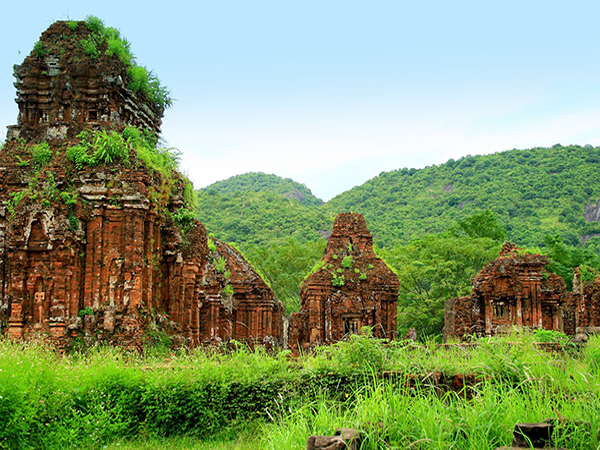 With Myson & Danang day trip, you will have a chance to visit My Son holyland – one cultural heritage site was recognized by UNESCO in 1999. In Da Nang, you will stop to see some highlight as Cham museum, Marble Mountain which are interesting to almost tourists in the Centre of Vietnam.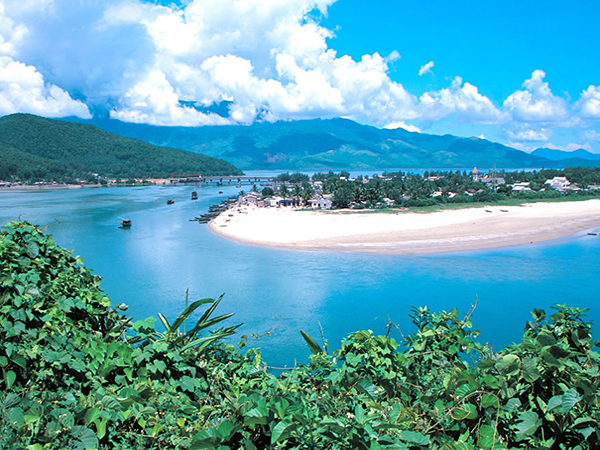 Valued package Danang – Hue – Hoi An tour will let you have glimse of the most highlights in central of Vietnam where concentrate almost Vietnam heritage sites as Hue, Hoi An and My Son hollyland.