Northern Vietnam in September is the most beautiful season with many stunning landscapes, especially Sapa town – a place of rippling mountains, cascading rice terraces and some famous villages here, they have many private majestic scenes with special cultures. Let's go with Travel Sense Asia to discover this beauty during hiking in Sapa in 2 days.
Overnight on a night train from Hanoi to Lao Cai
You and your friends will experience a night train from Hanoi to Lao Cai province with a distance about 300km – 8 hours on the train. Note that, you should sleep early in order to prepare well for the first-day hiking in Sapa. After your sleep, you will be picked up by the local guide and transferred to a hotel, have a bath, have breakfast and prepare for a hiking route. In the September, it is good for trekking and hiking in Sapa, so you do not worry about the weather.
During the driving time, your local guide will introduce some information about the first day of the route, the local people and the culture.
Hiking through 2 famous village Mong Sen – Ta Phin
You will go downhill to Mong Sen village where you will start a start a dirt trail. You will hike through many rice fields and villages. You can meet the local people with friendly smiles, they are working in their fields. Along the hiking way, it is a wonderful scenery with a full of green in the summer, but in the September, you can immerse yourself in the stunning landscape because of the golden rice season. You can take some photos in order to keep the best moments in Sapa. Our guide will lead you to a local house, have lunch and take a short rest.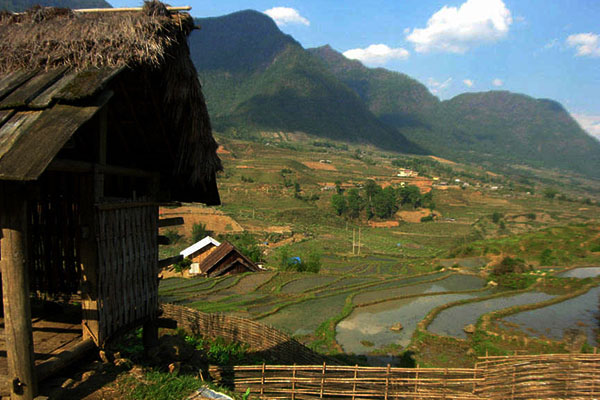 In the afternoon, you and your local guide will start to hike downhill towards Taphin village inhabited by Red Dao minorities and Black Hmong minorities. They are two largest ethnic groups living in Sapa. After that, you will stop at some local houses and interact with local people and talk with them in order to know and understand their culture, customs, and traditions. You will have a wonderful experience with them, drink a cup of green tea and say goodbye hosts. Go downhill to the main road to get on our vehicle and come back to Sapa town and prepare for the first night in Sapa.
You will have a free time to have dinner and walk around the pretty town, and you can visit some places like:
The church of Sapa is always a place where holds many traditional cultural activities of ethnic minorities. In the front of the church is tennis area which has unique cultural activities of local people on Saturday. With flute, trumpet leaves, "xòe" dance… created sparkling, magical atmosphere in Sapa.
Walk around Sapa lake, this is the small lake in the center of town, but you can see the peaceful atmosphere here.
You will enjoy the first night in your hotel.
Easy hiking in Cat Cat village, Y Linh Ho Village and visit The Silver waterfall and Heaven Gate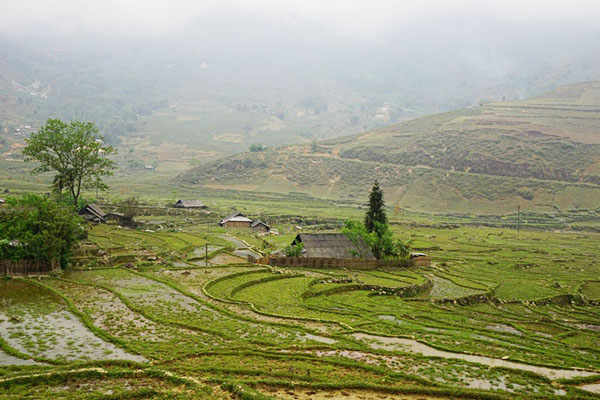 Sapa town wakes up in the light fog, you should get up early and can go for a walk in the town, it is the best experience. But you should pay attention to your warm clothes because it is too cold. Having small breakfast before starting your second-day Hiking in Sapa from Cat Cat village. You will be transferred to the first trekking point. After 15 minutes downhill to Cat Cat village, you will catch many beautiful landscapes as well as scenery along the road. Upon reaching the waterfall and the small hydroelectric station, you will take a short break before continuing your trek on a dirt trail via the rice paddy terraced fields. You will have the chance to visit the rain forest which is under the protection of Hoang Lien National Park. Then, you will arrive the village of Black Mong people – Y Linh Ho village, you will meet the local people in their traditional custom. Having a short break before climbing toward the main road where you will be picked up and drive to Sapa town.
Have lunch with your friends, you can enjoy some of the famous cuisines in Sapa like fish, meat, "Xoi Ngu Sac", "Com Lam" and then you take a small rest in order to save energy for the activities in the afternoon.
Moving to Silver Waterfall, you will spend about 30 minutes driving from the center. It will offer you many stunning landscapes, lush forests belonging to Hoang Lien National Park of Lao Cai. Take some photos here and continue to downhill to the Heaven Gate – this is the highest stretch of the road in Vietnam and it is the border of Lao Cai and Lai Chau provinces. It is the time for you to relax and enjoy the mountainous views.
After 1 hour, you will get back to your hotel and have your own spare time before transfer to the station and prepare for your night train back to Hanoi, finish your hiking in Sapa in September.