A neighbor country of Vietnam, Cambodia also has many things to see and explore. In this post Travel Sense Asia has listed Top 5 tourist attractions in Cambodia that you should not miss.
1. Angkor Complex
Angkor Complex was built in the early 12th century by King Suryavarman II. The whole area is about 400 km2 large, surrounded by deep and wide water canals. In the beginning Angkor was dedicated for Hinduism. After Buddhism became more popular in Cambodia, Angkor Wat turned into a Buddhist shrine.
The whole complex comprises more than 1000 temples with different structure and size. Three most important temples are Angkor Wat, Angkor Thom and Bayon Temple with various decorative reliefs. They are also the main tourist attractions in Cambodia.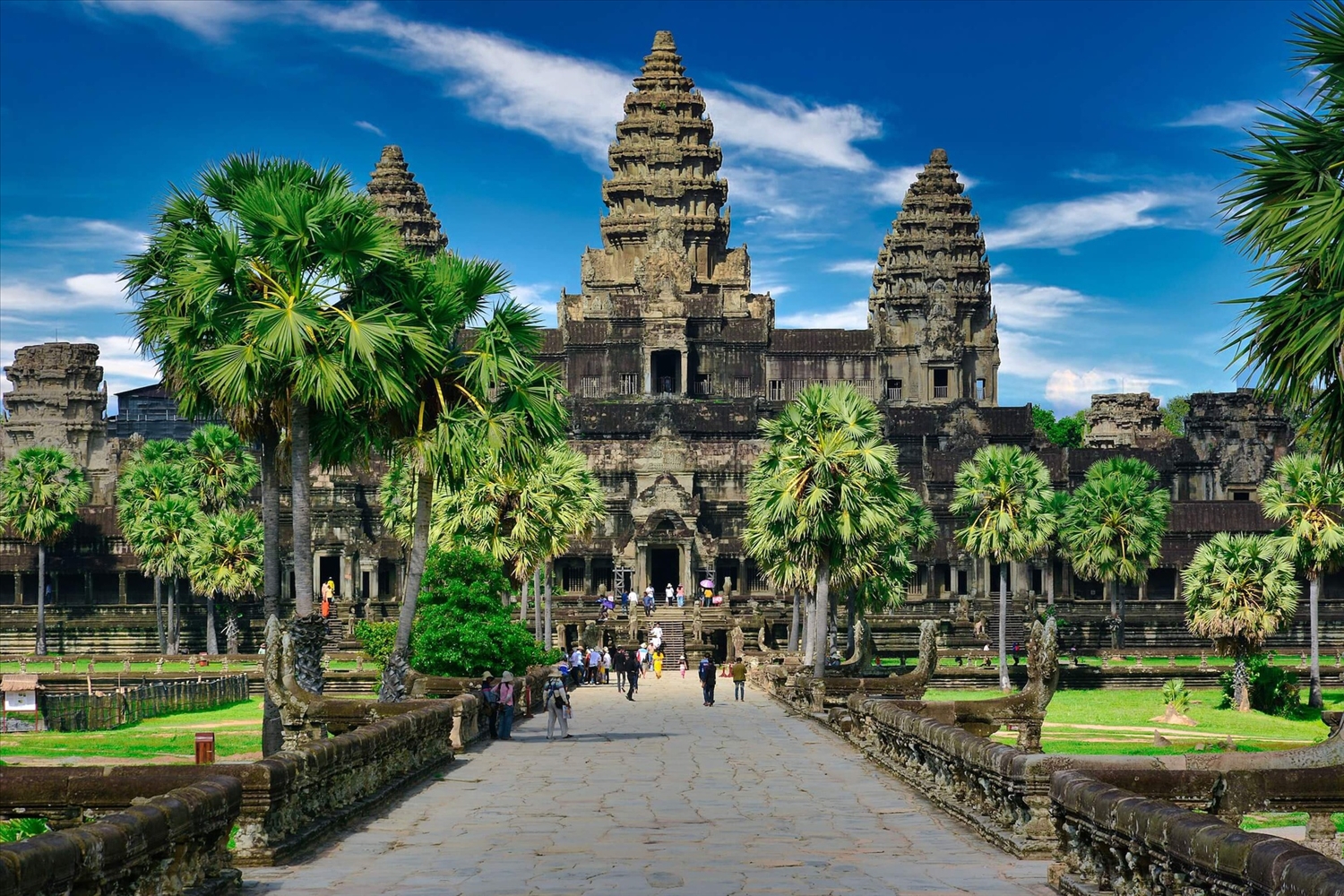 Angkor Wat is the prime example of the classical style of Khmer architecture. Its towers, temples, reliefs and corridors are all made of sandstone blocks. The walls are decorated with sculpture of Buddhas, warriors, dancers and Ramayana and Mahabharata epic's illustrations.
The complex is designed to represent Meru Mount in Indian. The highest tower is up to 65m high, 5 towers around represents 5 mountain peaks. All towers were built from sandstone and laterite without using any  glue material. Angkor complex is a must-place to visit when you travel to Cambodia.
2. Phnom Penh
Phnom Penh is the biggest most most populated city and capital of Cambodia. It was known as the Asian Pearl in the 1920s. By travelling to Cambodia you should definitely spend few days in Phnom Penh, visit city landmarks and explore local street food.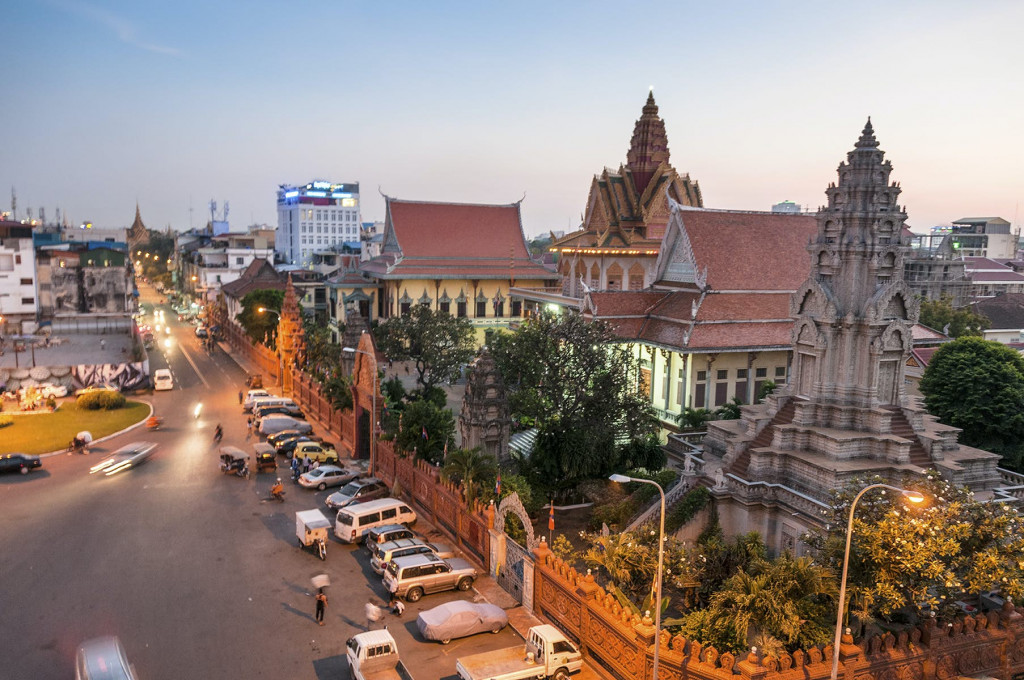 The most visited sightseeings in Phnom Penh are for example: National Museum, Independence Monument Vimean Ekareach, Choeung Ek Killing Fields, Wat Ounalom, Wat Langka Temple…
Phnom Penh is also famous for its local desserts. Something authentic you should try are Num Pang bread, Nam Banh chok noodles soup, Num Plae Ai dumplings, Bai Sach Chrouk grilled pork, Mi Char fried noodles, Num Sang Khya l'peou pumkin cake…
3. Tonle Sap Lake
Tonle Sap is the biggest lake in Southeast Asia, a combined system of lake and river. It plays an important role in the life of Cambodian people and also one of main tourist attractions in Cambodia. With special terrain and hydrological system that changes twice a year, Tonle Sap has the most diverse and rich ecosystem and a significant fisheries production in the world. The lake can feed up to 3 millions people and provide 75% of freshwater fisheries production and 60% of protein for Cambodia.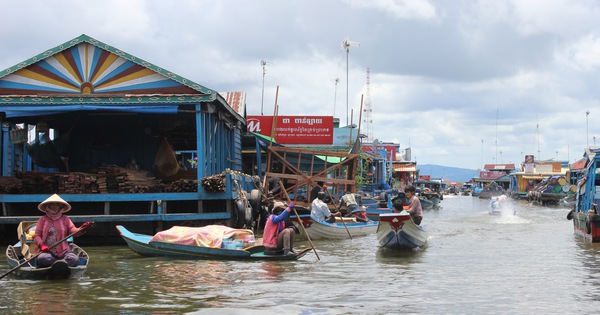 Tonle Sap stretchs over 5 provinces in Cambodia. It is also home to a big community of Cambodian fishermen who have Vietnamese origin. They live in floating villages on boats by the lake. In the last century Tonle Sap has so much fishes that you can catch the fish even with your hand. People can throw the net several times then their boat is full of fish. Therefore many Vietnamese people from the south have crossed the border and moved here to live. However in recent years the fisheries production is gradually reduced and their life becomes harder.
4. Koh Rong Island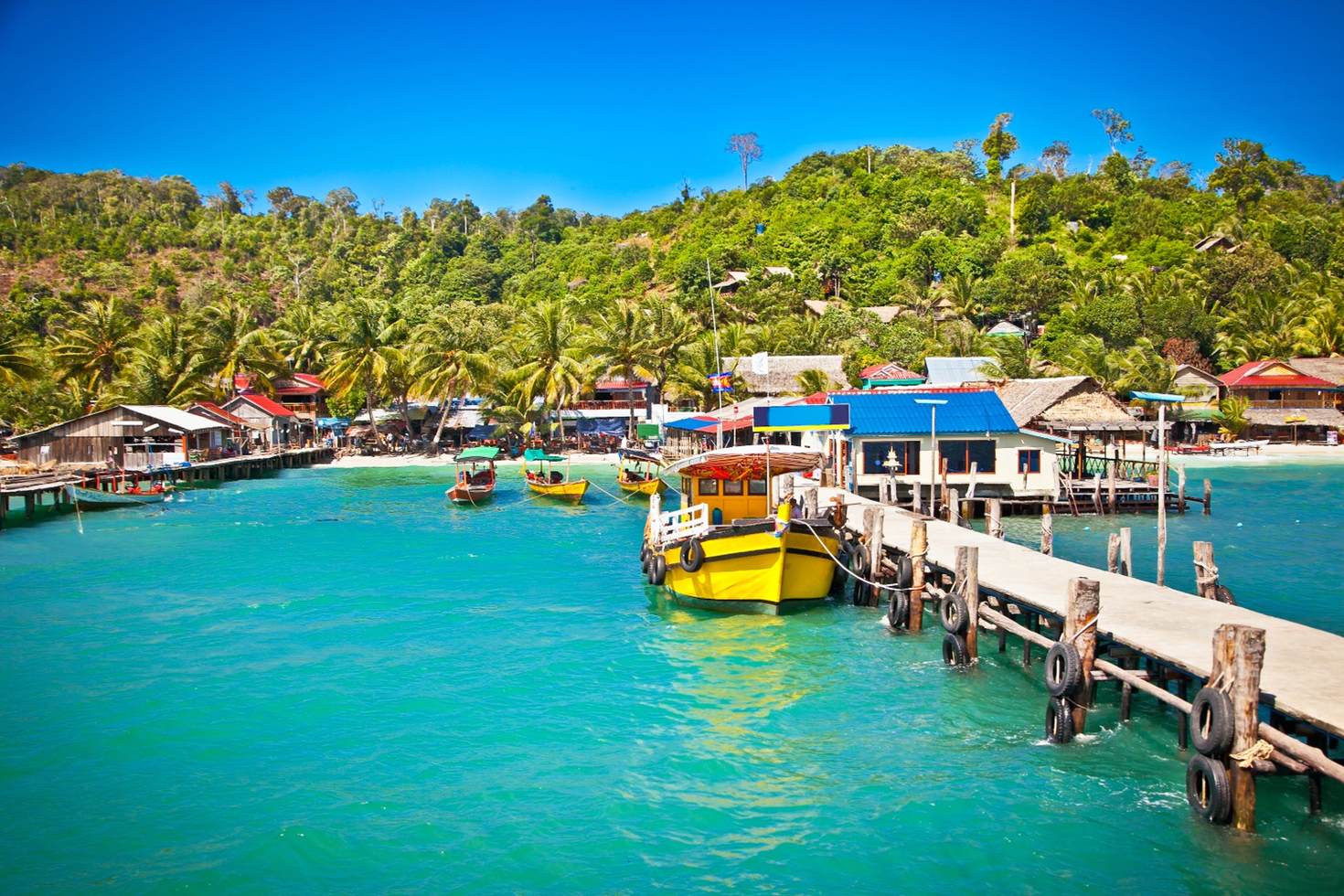 The island is the second biggest island in Cambodia with more than 78 km2. Only coastline is 43km lang with 23 beach areas. Koh Rong is well known by tourists thanks to its primitive beauty with white sandy beaches, turquoise water and tropical climate. If you travel to Cambodia, you should take your time to relax here on the island.
There are many activities on the island for visitors. Such as: relaxing or sunbathing on the beach, boat trip around the island, diving or snorkeling, kayaking or ziplining in the forest.
5. Bokor Highland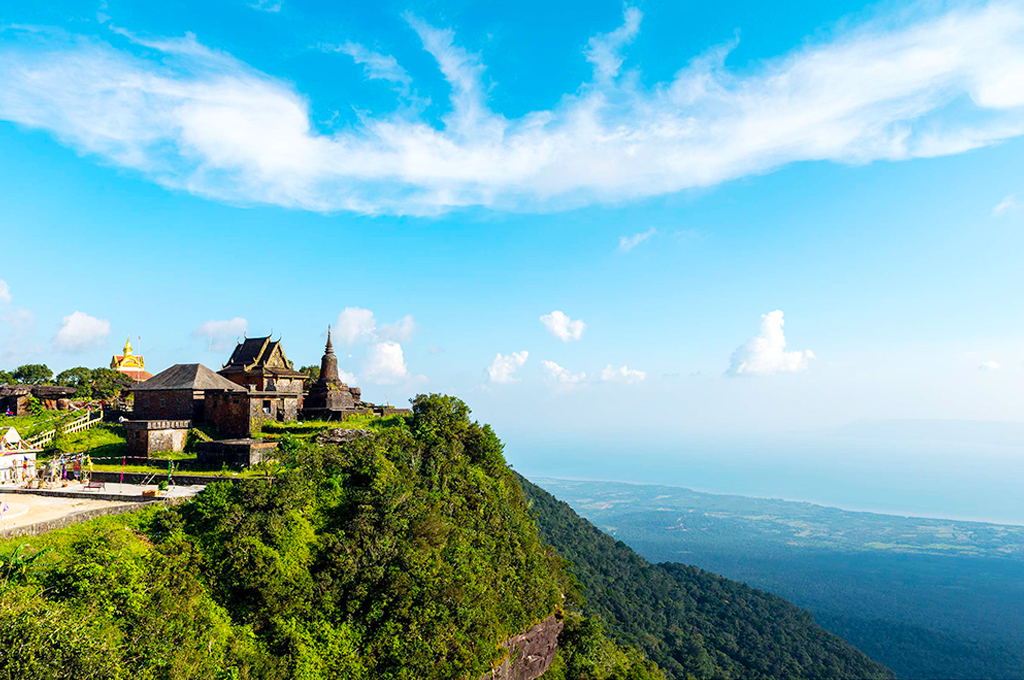 It is a mountain range and national park in Kampot province, only 10 km from Ha Tien border gate with Vietnam. It is well known for the Bokor Hill Station, an abandoned mansion build by the French colonialists in 1921 and one of Top 5 tourist attractions in Cambodia.
Main landmarks here are Lok Yeay Mao Monument, abandoned Bokor Hill Station, Bokor Lake, Popokvil Waterfalls, Wat Sampov Pram Temple. This place is famous for burning chicken, pineapple cake. In addition, the main dishes also include grilled meat, rice, tea, grilled eggs served with garlic bread…
Above are the Top 5 tourist attractions in Cambodia that you should make plan for a visit. It would be perfect if you can combine Vietnam and Cambodia in a trip and discover the mysterious and charming beauty of Southeast Asia.