Looking for memorable cultural experiences coupled with hands-on craft-making workshops? These Traditional Craft Villages near Hanoi would undoubtedly need to be in your traveling list.
Discover one by one and you'll be wowed by the skillful craftsmanship and fine-tuned products Hanoians have nurtured.
Bat Trang Pottery Making Village
Vietnamese Name: Làng gốm Bát Tràng
Location: Bat Trang commune, Gia Lam district, Hanoi – 20km south-east of Hanoi center
Highlights: Located 20km to the southeast of center Hanoi, Bat Trang Pottery Making Village should definitely be your next destination. With a rich history and high reputation of harvesting the pottery creation culture in the north of Vietnam, Bat Trang pottery curators will surely wow any visitors with their skillful craftsmanship.
A vast collection of porcelain and pottery artworks is always available at your fingertips: from kitchenware (vases, bowls, dishes, etc.) to lovely souvenirs and more high-end, sophisticated artwork.
A super plus point to why you should visit Bat Trang Village is that many ceramic workshops are open in a day. With one-on-one instruction from artisans, you can make your own ceramic piece and have it baked and glazed.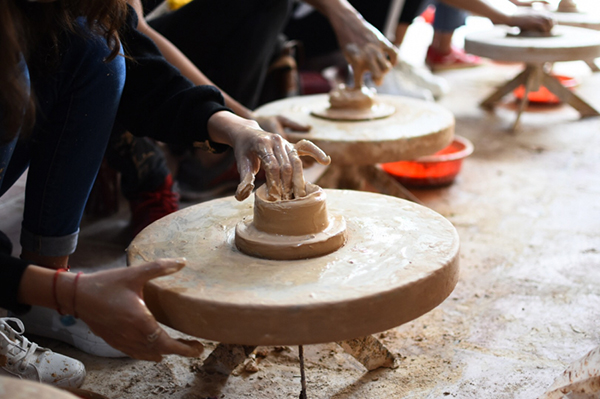 Transports: Since the destination is not so far from the center of Hanoi, you may have three options: bus, motorbike or taxi. The cheapest way to get there is by taking Bus No.47 from the city center, which costs only VND 15,000.
You can rent a motorbike for those who can ride a motorcycle and enjoy figuring out the roadmap yourself. For more convenience, you can choose the taxi, which ranges from 200,000 VND and above.
Notes: If you do purchase a considerable number of porcelain or pottery products, make sure to remind the sales to wrap and secure your product carefully. You wouldn't want them broken by the time you've got home.
Van Phuc Silk Village
Vietnamese Name: Làng lụa Vạn Phúc
Location: Van Phuc ward, Ha Dong district, Hanoi – 8km south-west of Hanoi
Highlights: One of the most exquisite fabrics on Earth is silk. If you agree with me on that, you can not miss Van Phuc Silk Village, which is just 8km south-west of Hanoi.
Established more than 100 years ago, Van Phuc has nurtured fine-tuned silk weaving techniques, creating one of the most sophisticated silk wear. Once your skin touches Van Phuc Silk, can you feel its lightweight and irresistible smooth texture.
Among the traditional silks of the village, the most significant one is Van silk. It is a unique silk, with soft flowers on the silk surface, and sunken flowers that are only visible when exposed to light. If it weren't for the hard work and resilience of master artisans through tough times, Van Silk would have vanished.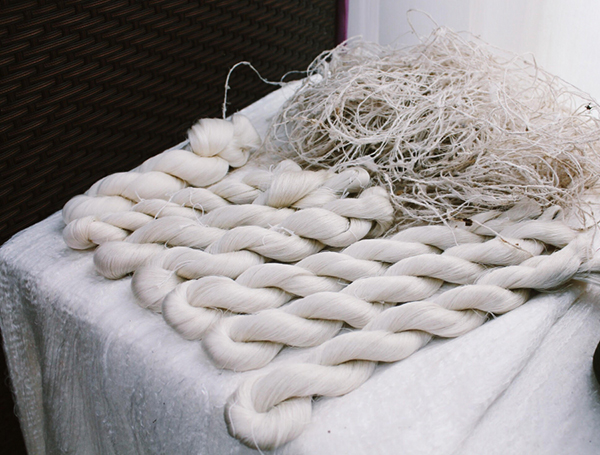 Wandering around the silk village, you get to see homes of hundreds of local artisans alongside massive banyan trees, communal houses, and ancient wells. Just a short trip to the village, you will have a chance to visit back in time and get delicate handicrafts and souvenirs at a reasonable price.
Transports: Like getting to Bat Trang, you can choose among 3 options above, but since it is much closer to Hanoi, the fee for each option will be cheaper.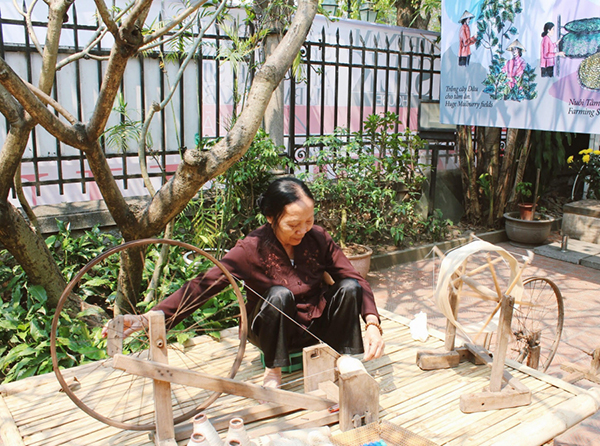 Note: Don't ever worry that the size may not suit your body or the color may not suit your skin tone. Should you wish to have your own silk clothes, just ask and professional tailors in Van Phuc Silk Village will customize to your likes.
Chuong Conical Hat Making Village
Vietnamese Name: Làng nón Chuông
Location: Phuong Trung commune, Thanh Oai district, Hanoi – 30km west of Hanoi center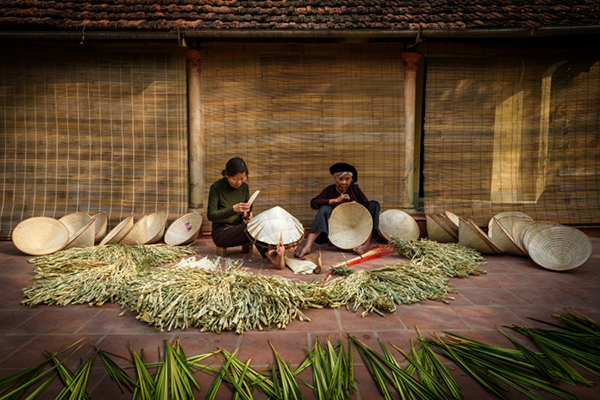 Highlights: Conical Hat – Non La, along with "ao dai", has always been the heart and soul of Vietnam Women, representing the gentle and delicate charm. Simple as Non La looks, it takes time and skill to master the working process behind.
For those who have been longing to learn about this process, Chuong Conical Hat Making Village is waiting around the corner for you to discover.
There is no doubt that you can find and purchase a conical hat at any shop. But after all, the best one is from Chuong Conical Hat Making Village.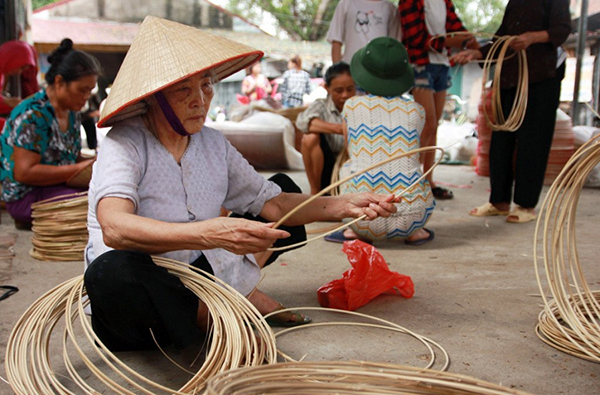 Made from palm leaves from Quang Binh province, silk thread from Trieu Khuc village, and bamboo from Hoa Binh province, these hats check all the boxes: from the gentle texture, secure structure to the intricate workmanship and quality. The conical hat can be used to shelter from the rain and sun, as well as a unique souvenir for friends and family.
Transport: About 30-40km west of Hanoi center, it is easy to get to Chuong Conical Hat village. You can take a bus, order a taxi or ride a motorbike yourself from Hanoi to Chuong Village.
Dao Thuc Puppet Village
Vietnamese Name: Làng rối Đào Thục
Location: Dao Thuc commune, Dong Anh district, Hanoi – 20km from center Hanoi
Highlights: Dao Thuc village, nestled in Dong Anh district, is famous for its 300-year-old water puppetry. Thuy Dinh, a replica temple façade of traditional northern architecture set up on a nice-looking pond surrounded by green banyan trees, is the main stage for water puppet shows in the day.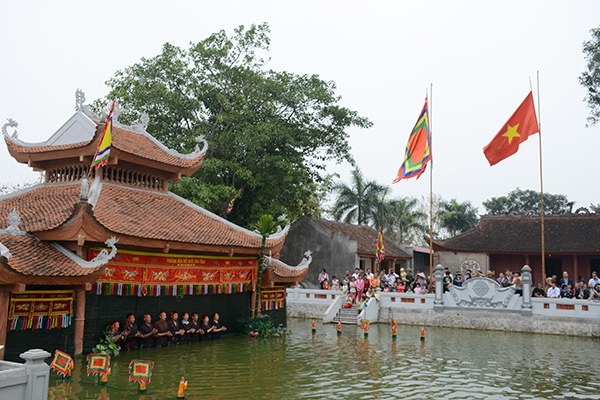 In Dao Thuc water puppet village, the puppets were created by the villagers themselves in the representation of characters in Vietnamese folk tales. Each puppet is usually about 30-40cm high, made of wood and painted outside to waterproof.
If in other puppet wards, puppets can only enter the backstage by going backward or diagonally, in Dao Thuc, the artisans can master the puppet to the left, to the right and enter the backstage by turning around.
As the performance goes on before the curtain, puppeteers stand in the waist-deep water behind Thuy Dinh, separated from the front stage by a split-bamboo screen and handle puppets with bamboo rods, ropes and pulleys hidden underwater.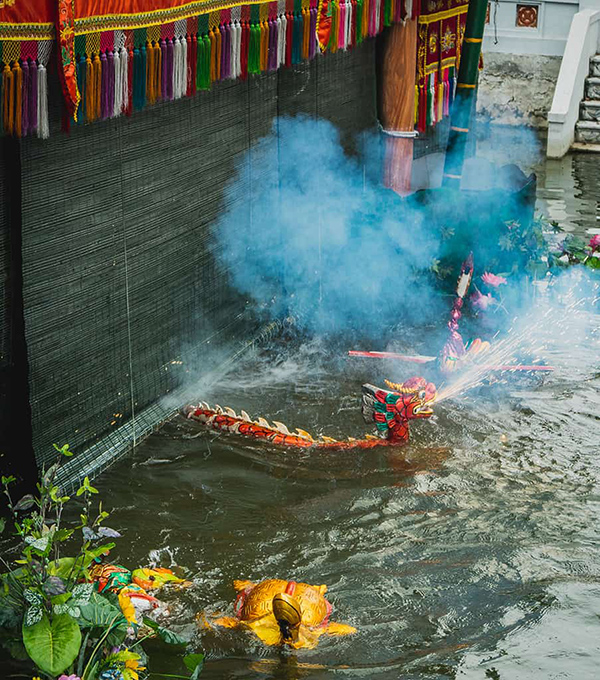 Each maneuver of the puppets is skillfully manipulated to be naturally in sync with the characters' speeches as well as the tunes and beats of background music.
With plots closely related to Vietnamese folklore or daily routines, visitors can learn more about the culture of the Vietnamese countryside.
Cu Da Vermicelli Village
Vietnamese Name: Làng miến Cự Đà
Location: Cu Khe commune, Thanh Oai district, Hanoi – 13km from center Hanoi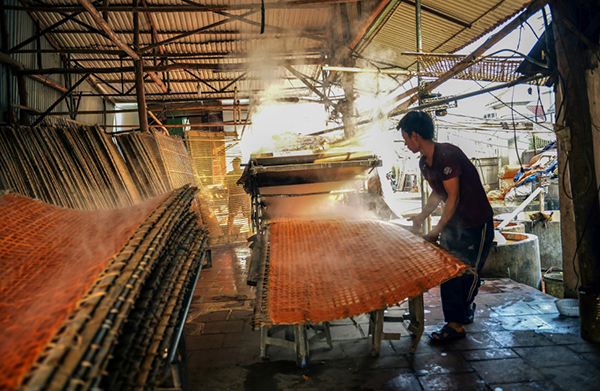 Highlights: Cu Da ancient village is not only famously known as a unique cultural place, which still retains a collection of Vietnamese antique style buildings with impressive architecture, but also a well-known place for its largest vermicelli production in the North Delta.
Vermicelli, glass noodle, or as we call it "miến" in Vietnamese, can be found in many special dishes like pho, spring rolls, noodle soups or can be served with grilled meat but nowhere is it more ever-present than in Cu Da village.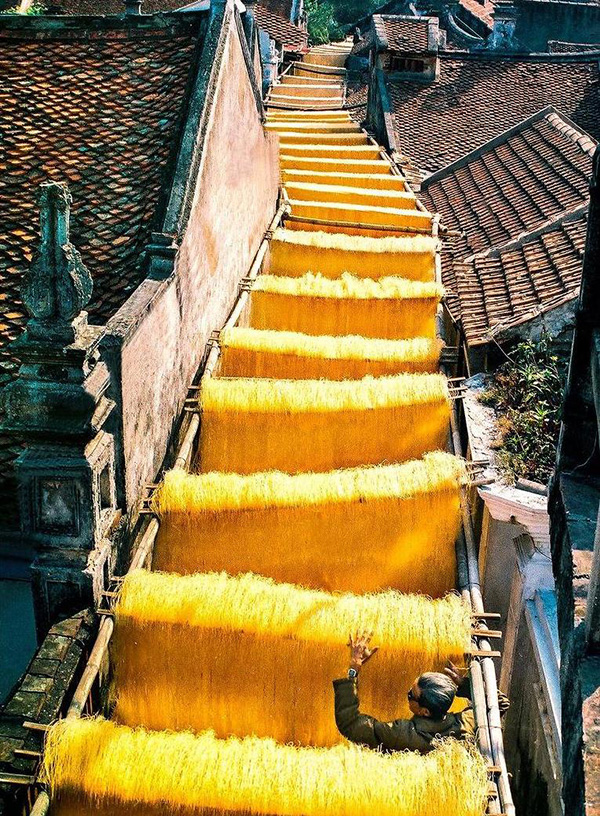 The villagers here make great use of their space that you can find white and yellow glass noodles dangling everywhere, covering rooftops and walls, and pretty much any surface that noodles can be hung from.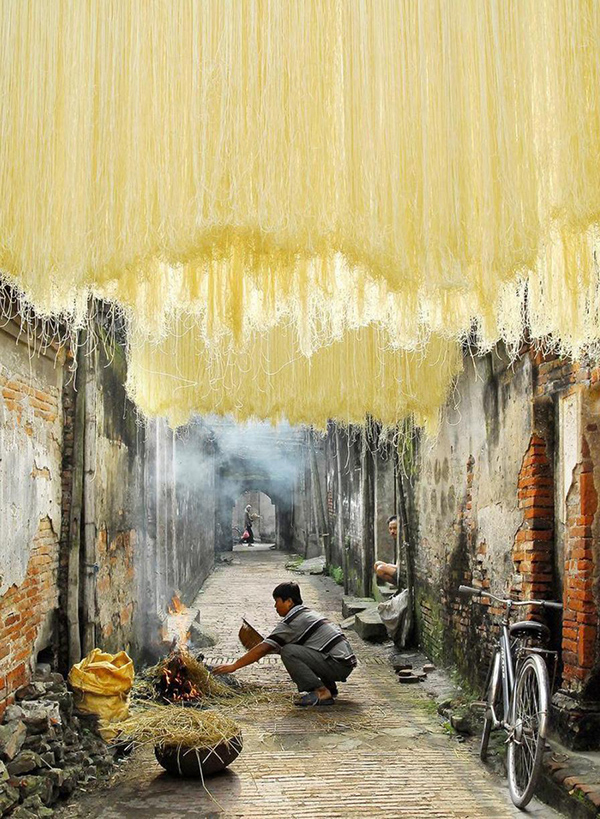 At first, Cu Da villagers only made vermicelli as their own food but with its true quality, it got so popular that it became the main business in the village, with hundreds of tons sold each year.
Quang Phu Cau Incense Making Village
Vietnamese Name: Làng Quảng Phú Cầu
Location: Ung Hoa district, Hanoi – 35km from downtown of Hanoi
Highlights: Quang Phu Cau village in Ung Hoa district, 35 kilometers from the downtown Hanoi, is famous for its century-old craft of making incense.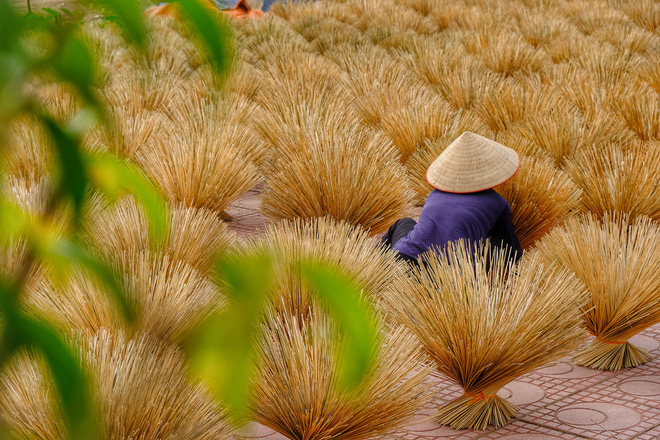 Everywhere in Cau Bau, Phu Luong Thuong, and Dao Tu hamlets in the village, the streets have blazed pink and red of incense sticks. Here dozens of craftsmen are working hard everyday dyeing, drying and cutting bamboo to make the joss sticks ahead of the Lunar New Year.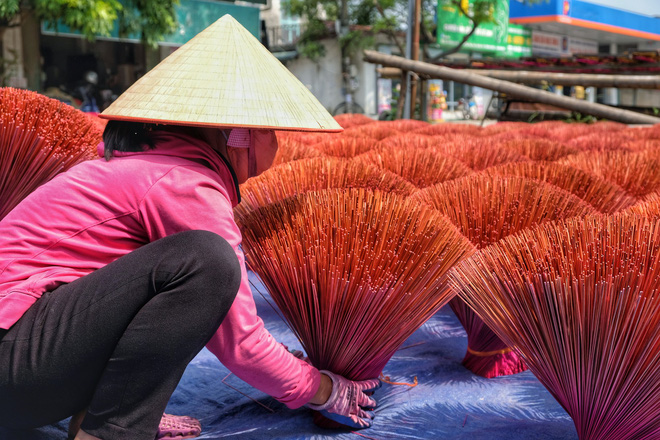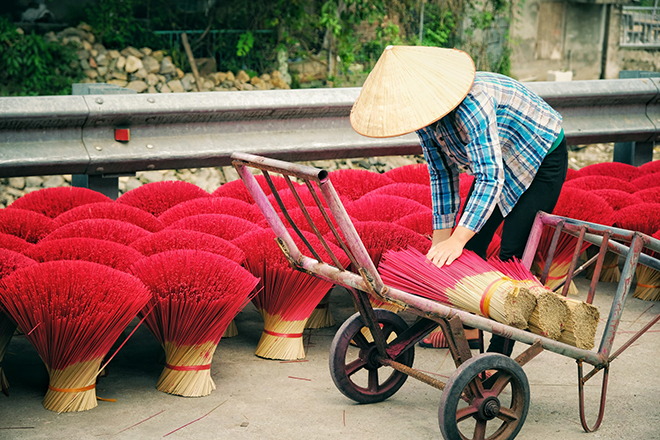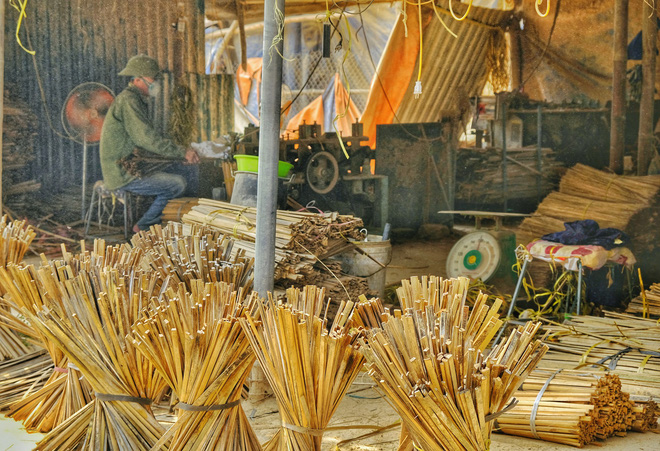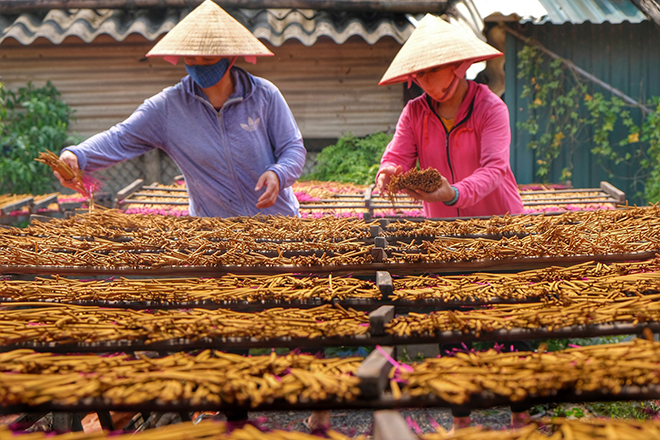 Sales surge every year ahead of and during the New Year between mid-January and mid-February, when people visit temples and light incense or burn the sticks at the ancestral altar at home.
The village's products are purchased not only in Vietnam but also in other Asian countries: India, China, Malaysia, etc. On average, Quang Phu Cau uses around 200 tons of materials a month and produces 50 tons of incense.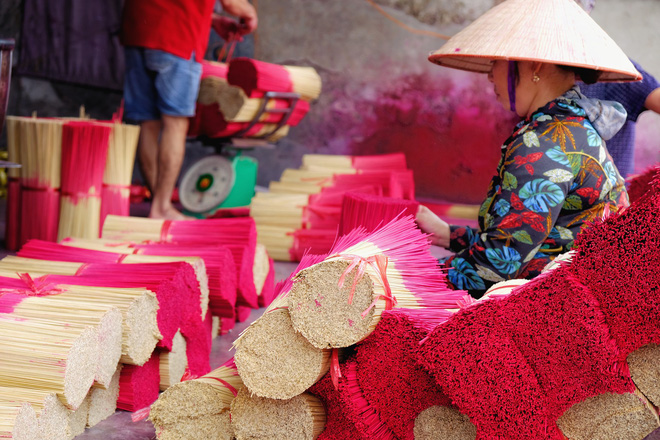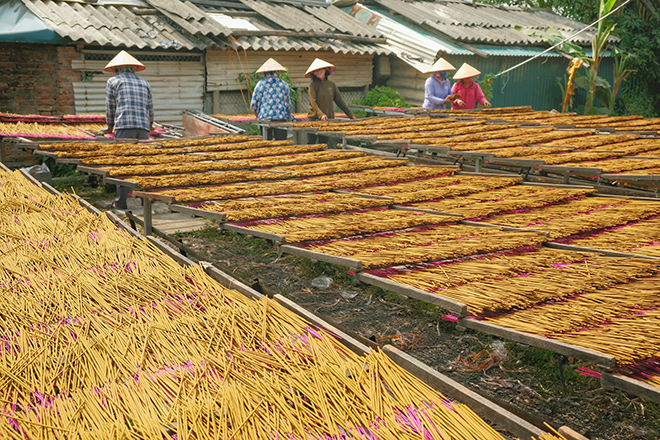 Many pictures taken here by talented photographers have earned high places in international photography competitions.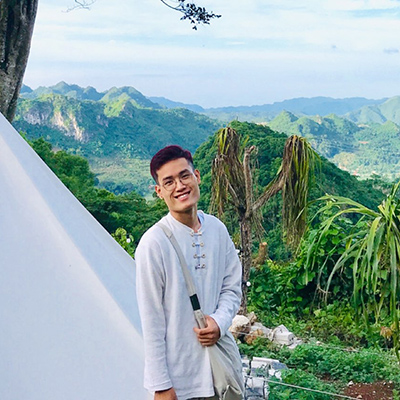 Anthony Icarus
I have always been an adventurous one since I was a little kid. My mom must have had a hard time making me sit still or just stay at home. Every travel to me, no matter long or short, low or high budget, always make me fall in love again and again with the magnificent nature, unique culture and endearing locals.