Tran Quoc Pagoda is one of the oldest ones in Vietnam, located near West Lake, at the end of Thanh Nien Street, Ba Dinh District, Hanoi. The pagoda was built in the Ly Nam De period (541-547) near the Red River. Then, in 1615, it was moved to this place. Tran Quoc Pagoda has secluded and quict tower garden, many valuable statues of Buddha, especially is Thich Ca statue. The pagoda is cultural historical relic.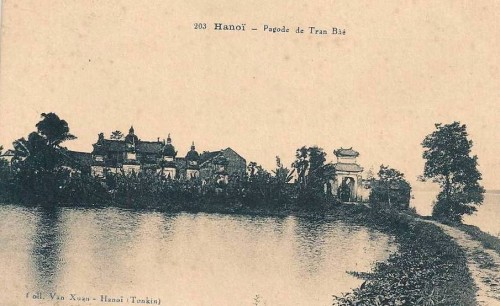 Like most of the other pagodas in the Vietnam, Tran Quoc pagoda has many layers, sanctums, many Buddha statues from low to high, from big to small, glittering votive offerings, incense-smoke all year round,… Especially there has Thich Ca statue made of splendid canary wood.
Besides, Tran Quoc pagoda has also big tower garden and many towers. The pagoda's campus has bo tree with luxuriant branches and leaves, which is a gift of the Indian President when he visited to Hanoi in 1959. This pagoda has quite large architectural scale, beautiful sceneries. This is a famous pagoda combined between the ancient beauty of architectural construction and elegant beauty of a West Lake's scenery which has become a tourism destination attracting visitors.
Make towers of 11storeys with the high of 15m, the area of floor's surface is 10.5 m2. Each storeys consists of 6 dome doorways, statues of A Di Da Buddha made of precious stones. The total number of tower's statues has 66 ones. There has 9 storeys of lotus shaped lamp support also made of precious stones.
The tower consist of 14 floors including steles of Nguyen Xuan Chinh, the first doctoral candidate under the Le Dynasty, Pham Quy Thich, Doctor of Philosophy built in 1639 and 1015 …
Tran Quoc Pagoda is located on the eastern peninsula of West Lake, the land of Yen Phu village, where there has a temple worshiping the saints. In the spring of every year, the villagers organize a procession from the temple to pagoda and then from pagoda to the village by many boats following one another with flags and the lively sound of drums.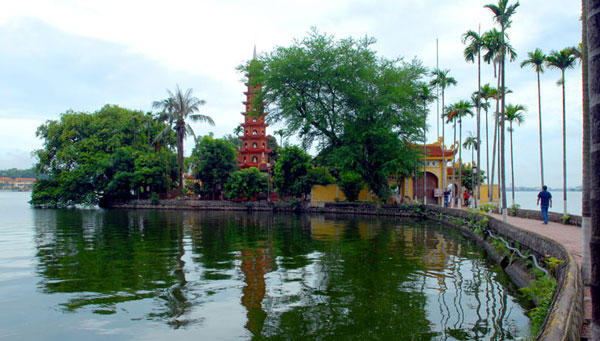 Anyone come to Tran Quoc Pagoda not only making offerings the Buddha but also visiting a peaceful landscapes emerging between noisy and busy streets. Tranquil in the heart of the city, it respects more the pagoda's valuable beauty.
Particularly, Tran Quoc Pagoda has not many moss stone steps, or accumulated mountains, but peaceful with vibrate waves. It can still give our soul drop of water, wash away a part of secular to make gentle and good things with people.
Recommended Tour: Hanoi city tour
Mai Hường