Has your well-planned trip been ruined by a torrential downpour which keeps you at the hotel room for all days?

Have your experience the hard time when all the expectations of exciting outdoor activities are washed away with the raindrop?
These are typical situations that travel enthusiasts need to face as they take a tour during typhoon season in Vietnam. Still, many people want to hit the road during the off-season to take advantage of the low fare and less crowded.
That's why Travel Sense Asia always keeps in mind all the need of tourists and provide our guests with Plan B in case of any emergency arousing in any of our journeys.
So, in this article, we will share with you some experiences to deal with the typhoon season in Vietnam. Keep scrolling down to gain the best tips for your Vietnamese travel:

Similar Post:
– What to Pack for Vietnam in December?
– Some Useful Tips While Hiking in Sapa
An Overview Of The Typhoon Season In Vietnam
In general, Vietnam is a tropical nation affected by the monsoon. During the monsoon season, which often starts from June to November, the precipitation is exceptionally high. Floodings and landslides may occur in the mountainous area. Some cities with poor drainage can also suffer from floods. In the coastal regions, gales and heavy rains block traffic and all beach activities.
Another striking feature of Vietnamese climate is the disparity due to differences in latitude and topography. This means when one region is taken by storm; the others may still enjoy lovely days full of dazzling sunshine. According to statistics accumulated annually, on average, there are about 5-6 storms and 2 – 3 tropical depressions to affect Vietnam every year. Typhoons are most concentrated in August, September, and October.
The moving direction of the storm also varies by season. During the first half of the typhoon months, the trajectory of storms is to the northwest, north or northeast. As a result, Northern Vietnam, including such famous spots as Hanoi, Halong will be affected.
After that, the direction of storms is down to the middle, which makes the coastal line of Danang, Hoi An, Hue, Nha Trang vulnerable. At the end of the stormy season, Southern Vietnam won't be an ideal choice to visit as Ho Chi Minh, Phu Quoc will be under the influence of the monsoon.
So, based on the characteristics of the typhoon season, you can modify your itinerary to make the best out of your Vietnamese journey.
But stuff doesn't always go as you plan it. Therefore, there are a lot of things to note.
How To Deal With Vietnam Typhoon
What If A Storm Comes When Everything Is Said And Done?
There can be some time when you have booked the flight ticket, reserved a hotel room, only waiting for departure then the news of an upcoming storm with days of rain reaches you and drives you up the wall.
Most of the time, you can't change the schedule, let alone cancel everything and losing your deposit?
What should you do now?
 #1: As mentioned above, the great diversity in topography makes the weather among regions vary considerably. Therefore, if your initial destination is going to experience hard rain, you can visit other cities instead. The thing is, sometimes you don't have enough information about the country, you may don't know where and how to have a safe transit to another place.
#2: Or else, experiencing the several stormy days in Vietnam is also of great interest. You'll see how the local residents handle the harsh weather and even enjoy the rainy days. If they can survive and smile, then you can too.
In either situation, once you decide to go, make sure you waterproof pieces of stuff such as raincoat, umbrella, ziplock bags to keep your equipment safe and sound. 
#3: Remember to bring:
– Waterproof bags to prevent incidents that can damage your electronic devices such as cameras, phones, and other items.
– Raincoat and umbrella
– Napkins for easy cleaning when things get wet.
– Do not forget to bring a scarf, as they will help you keep warm, prevent colds and fever due to changes of weather.
– Anti-slip soled shoes or slippers for long-distance moving. If the shoes are wet, get shredded newspaper and place inside to dry the shoes quickly.
You will have to face to face with the risk of getting wet at any time while traveling in typhoon season. So you should choose the compact and simple clothes like a tank top, shorts or skirts instead of jeans or heavy knitted jacket. In addition, you should also bring the costumes that have easy dry material.
What If The Weather Becomes Violent During Your Excursion?
You are having a perfect time, but a storm suddenly lands in your area, It's raining cats and dogs all day long. If you are at the storm center, it's dangerous to moving far and wide as the weather condition is hard to predict. Something terrible may always happen while you are traveling. So, your best advice is to stay within your hotel neighborhood. You can find some fun indoor in the nearby recreational complex, for example, window shopping, going to the theater, and watching movies.
If you are lucky, your areas may be just slightly affected, only rain in the early morning or late at night. Therefore, you still have most of the day to explore the top-rated tourist attractions. Remember to check the weather forecast before you go outside and always bring a raincoat or an umbrella with you.
Handling situations calmly
If unfortunately you have been isolated in the storm, first you need to keep calm, find a safe position and look for the assistance of local people. In case you are stuck on an island, notify your family or agencies, listen to information and instructions from the authorities, do not arbitrarily move and wisely choose appropriate solutions.
If traveling with a tour, you absolutely can follow the instructions of the tour guide. They have a lot of experiences in these cases. And if you're traveling on yourself, do not fear. Please comply with the instructions of local officials, to help you ensure safety when the storm comes.
Be carefull when Moving
When the decision was made or still required to move in the stormy weather, you need to be more careful when picking the means of transport for discovering the site. In the mountainous region, the road can become muddy and slippery, so motorbikes are not a great option while traveling by car is safe only when the drivers are accustomed to the road. 
Make sure your moving vehicle has safety standards, good brake, tires have enough grip, the car lights bright enough, the turn signal is still working and full of gasoline. Do not move when it rains too heavily at night, special attention when driving through the underground to prevent sudden unpredictable incidents.
You also should not move much because stormy weather can cause risks such as lightning, fallen trees, flooding … Ideally, you should return to the hotel or find a safe place and just continue when making sure the storm passed and safety weather.
Useful tools to keep yourself updated with the latest news
In addition to the apps you're using in your smartphones, we would like to recommend you some useful websites to have a look at the weather forecast in our country.
Weather forecast for places in Vietnam
https://weather-forcast.com
https://accuweather.com/en/vn/vietnam-weather
These links are able to help you get the useful information about the weather in Vietnam. However, they do not give us much information about storms or hurricanes that might be about to come. What it does is to provide information about the heat, humidity and the amount of rain in a specific area of Vietnam.
For those of you who want accurate and updated information, there is no better way than asking native people. That's why at Travel Sense Asia, we have a lot of travel experts with many years of experiences and are always willing to answer your questions about travel in Vietnam. So don't hesitate to contact us whenever you need help!
---
Tons of things to consider, isn't it?
We believe the storm itself doesn't do much harm to your expedition, but your worries to prepare for the trip are actually what ruin your travel. A holiday should be all about relaxation instead of stressing for planning in the contingency.
That's why we are here to help you turn a good holiday into a great holiday with no stress and no hassle. With more than ten years of experience in traveling and tourism with 97% of customer satisfaction, we will assist you in any situation and give you the best Plan B you can have.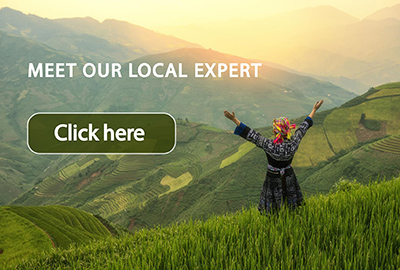 Although typhoon season in Vietnam can make you feel uncomfortable, you can make the typhoon seasonal journey to be a memorable experience, an unforgettable experience when adapting to circumstances, to enjoy and explore the beauty of the journey in the rain, you will have the opportunity to talk more with local people and partners.
So do you wanna travel? Just go and don't worry about whatever can make you falter.
Read more:
– Where Do Indochina Tour Packages Guide You?
– Vietnam travel itinerary for 10 days