Belief in Mother Goddesses is one of the most sacred and long-standing rituals in Vietnam, worshipping female deities, the mother of nature… This is an extremely mysterious spiritual tradition, although many researches have been carried out to study this occult custom, there are still tons of big questions that haven't been answered. If you're interested in this traditional practice, this article will be a good start for you. Be patient, at the end we will bring you some interesting mysteries of this special ritual.
Who are the Mother Goddesses
In some areas, Mother Goddesses are considered to control everything about nature and play an extremely important role in agricultural culture of Vietnam. This custom can be found throughout the country, but it's not the same in each region. In each area, Mother Goddesses can be mother of nature, mythic figures, or real historical figures, they have different names, different stories, and different influence on the life of Vietnamese. Among them, the worship of Mother Goddesses of Three Realms (Tam Phu) was recognized as the Intangible culture heritage of Humanity in 2016.
Mother Goddesses of Three Realms are Mother Saint Lieu Hanh (Goddess of Heaven, Mother Thuong Ngan (forest and mountains), and Mother Thoai (waters). Mother Lieu Hanh is the first Mother Goddess to have the power to manage the firmament and master supernatural forces such as clouds, rain, wind, storm, thunder …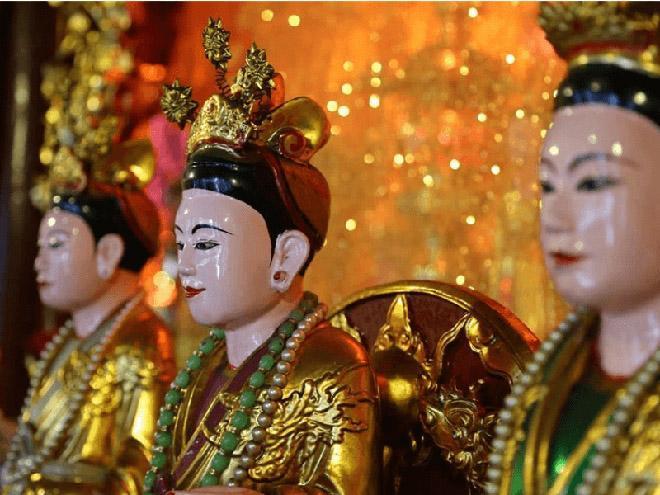 Mother Thoai is in charge of waters (such as lake, river, aquatic creatures…), protect her Vietnamese children when they head out for the sea. And Mother Thuong Ngan manage mountain and forest, give her children sweet fruits and abundant crops. The worship of mother of nature is not a strange thing in an agricultural country like Vietnam.
Hầu đồng – the most occult tradition of Mother Goddesses Worship.
The most popular and sacred ritual of Mother Goddesses worship, is "hầu đồng", trance ceremony or spirit possession ritual. This spiritual ritual involves many mysteries and wonders that science can't explain, but its strong vitality makes us admit that it is not just a superstition.
This ritual has complex methods, numerous rules and strict procedures, but it can be explained in a simple way: a spirit medium invites a Goddess to possess his/her body, so that the human and communicate with that Goddess. Sounds like a creepy ritual of demon, huh? But it isn't, calling for the spirits of the Goddesses is to satisfy people's legitimate aspirations, solve their problems, and bless people with luck, health, happiness, wealth and protection.
When the ritual is carried out, the help seeker will fully prepare the offering and invite a spirit medium to their house or pagoda. The spirit medium wears the outfits and jewelry with forms and colors consistent with the Goddess he/she will call, (for examples, green for the Mother of Forest and Mountain, White for the Mother of Water…).  The spirit medium and the assistants will call upon an incarnation of one of the Mother Goddesses, so that the help seekers will have the chance to express their problems or wishes to the God or Goddess.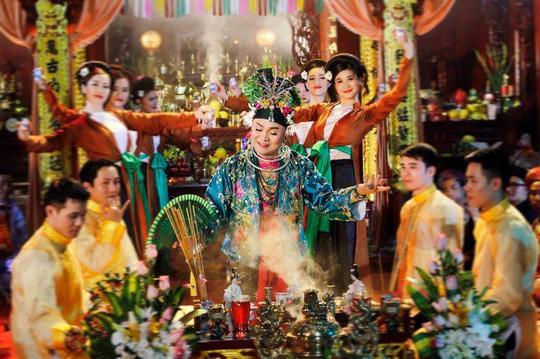 The mysteries of the spirit mediums
Since this ritual is a fusion of different religions, and also influenced by local culture, it is so complex and mysterious that even science can't explain, such as the spirit medium.
"Hau dong" involves a number of artistic elements such as music, singing, dance and the use of costumes, all are strictly regulated and accurately implemented and must be well-prepared. The one who carries out the ritual – the spirit medium is the one selected by the Goddesses, not just a trained one.
The first mystery is the change in the body of the spirit medium: The spirits medium, they are just normal people like us, but some of them has their appearance changed when they are in the trance ceremony: skin is whiter, eyes are bigger, hair is glossier, the voice are clearer. These changes are even visible to the naked eyes. Is that because they have turned into the Goddesses?
Second mystery, the spirit mediums can do things they've never done or learned before: sewing, singing and dancing , even writing and speaking ancient language of Vietnam, or reciting ancient poets. Surprised enough?
Third mystery, the life of a spirit medium is influenced by the Goddess who selected them. For example, a medium chosen by a Goddess who was betrayed by her lover, the medium will be difficult to find his/her true love, too, he/she may not have feeling for anyone, may be betrayed, or even divorced many times. It's pretty sad but that's the price to pay when chosen by the God.
There are still plenty of mysteries of Vietnam's belief in Mother Goddesses, this tradition can't but it's not an art performance, so tourists can not enjoy it with a ticket, but if you're really interested in Vietnam's religious culture and want to explore this occult ritual, come to Phu Day festival in Nam Dinh to grace the biggest "Hau Dong" ritual annually on Lunar March 3rd. If you miss that chance, you can visit other pagodas in Vietnam, and who knows, you may be lucky enough to come across a trance ceremony.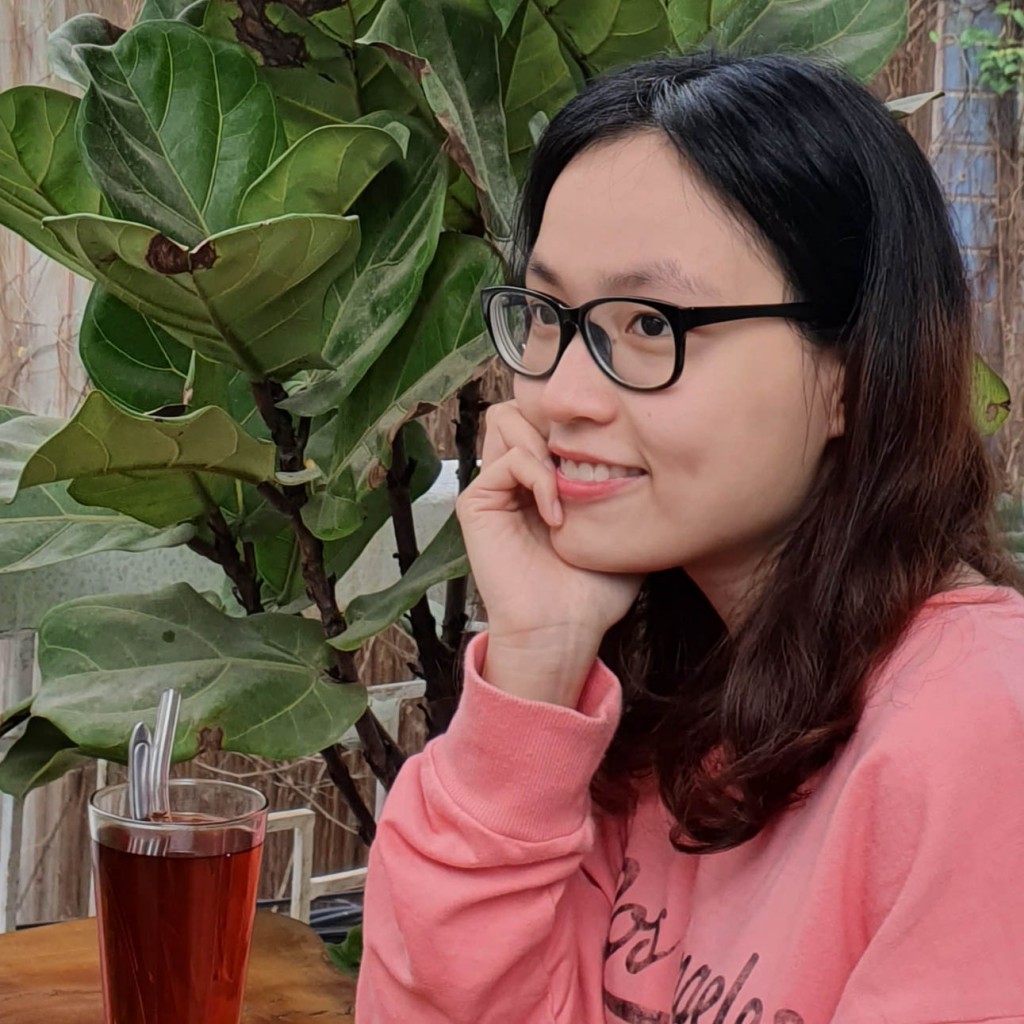 Mia

I was born in the middle of a city where crazy traffic and noise were my childhood's fear. But life is too short to just stay safe in my little home, traveling can not be a dream forever, and so, I stepped outside that door and hit the road...