Thanks to cool weather, primitive nature as well as various tourism activities and flower festival Sapa attract a lot of tourists in summer time.
About 5-6 hours driving from Hanoi, Sapa – a foggy town on Hoang Lien Son mountain range, Sapa is a favorite travel destination all year round. It is not only famous for spectacular landscape with cascading rice terraces but also a beautiful place to discover ethnic culture of local hill tribes.
It is also possible to travel by train to Sapa. Here is the timetable:
1. The period from August 1 to August 30, 2022
– From Hanoi to Lao Cai station: the trains run every Friday
– From Lao Cai station to Hanoi: the trains run every Sunday
2. The period from August 31 to September 04, 2022 <Indipendence Day>
– From Hanoi to Lao Cai station: the trains run on Aug 31, Sep 1, Sep 2
– From Lao Cai station to Hanoi: the trains run Sep 3, Sep 4
3. The period from September 5, 2022
– From Hanoi to Lao Cai station: the trains run every Monday, every Thursday and every Friday
– From Lao Cai station to Hanoi: the trains run every Wednesday and every Sunday
We update the lastest news as soon as possible.
Sapa – land of chilling summer days
Summer is always a perfect time for family holiday or friends trip. Many people choose to have a beach vacation to get away from summer hit. However beach is not the only choice. In recent years more and more travellers plan their trip to mountainous area like Sapa.
At the height of 1.600m above sea level the weather in Sapa is cool and chill in summer. The special feature of this place is that whether it is early morning or evening, it is still covered by romantic and poetic fog.
Owing to primitive mountain landscape and breathtaking rice terraces scenery, which you can find among hill tribe villages such as Ta Van, Ta Phin… Sapa is listed to Top 10 best places to visit in Vietnam. Here visitors can conquer Fansipan Peak, which is known as "the roof of Indochina". From the peak you can enjoy an overview of Hoang Lien Son mountain range and Muong Hoa valley underneath.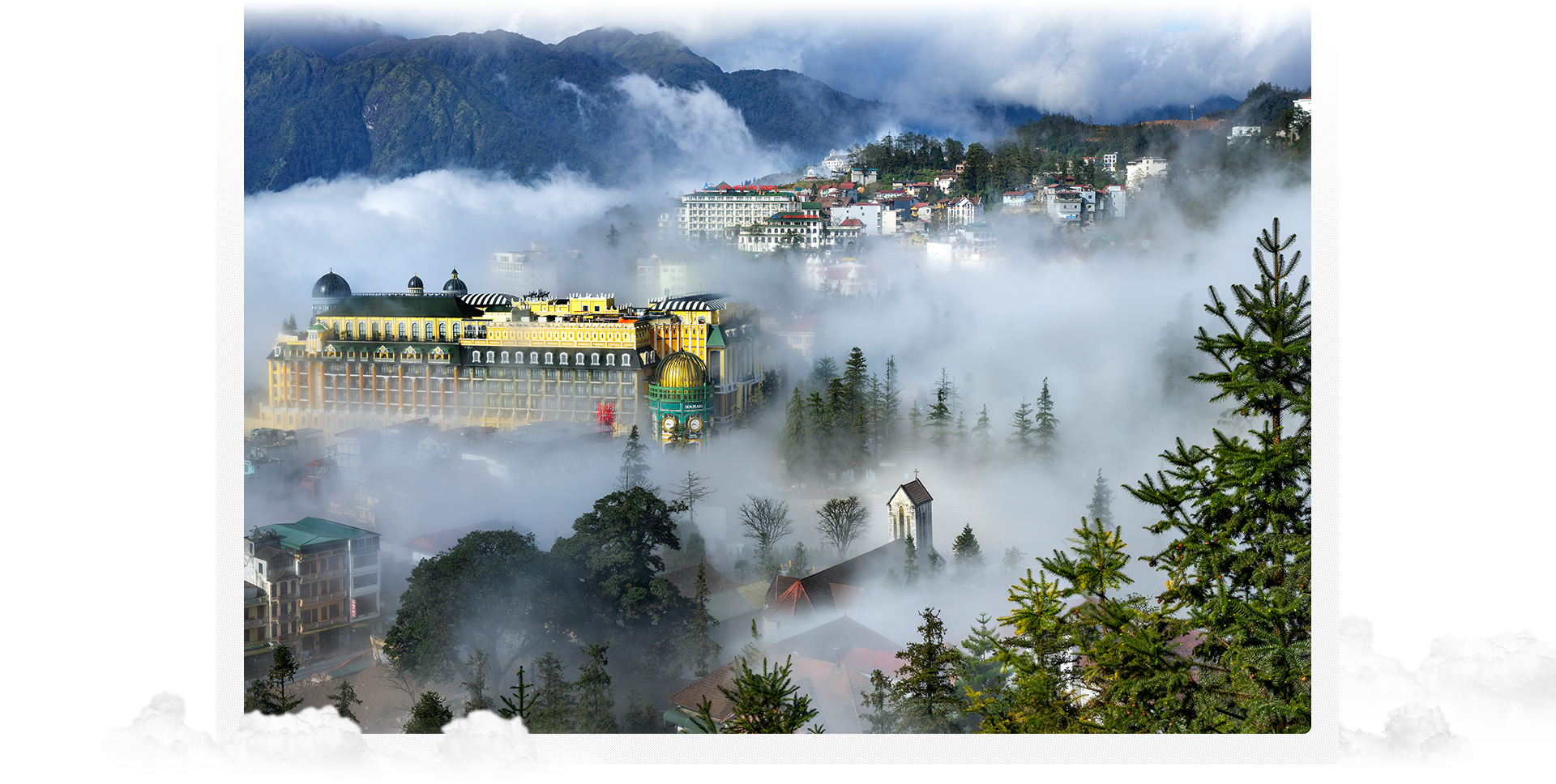 If people usually make a beach vacation in summer because they can swim in cold water, then by visiting Sapa they can also cool down nearby Silver Waterfall, Love Waterfall or Muong Hoa picturesque stream. In addition to wild nature, Sapa also has many resorts or ecolodges with beautiful outdoor pools in the nature and view at Muong Hoa green valley.
For those who has high budget, they can enjoy a stay in Hotel de la Coupole – MGallery Sa Pa, which is describedas a "French palace in the heart of Sapa". It was designed by Bill Bensley, an American architect. The hotel is a masterpiece of Indochina architectural style in combination with local cultural features of North West Vietnams.
Not only provide excellent rooms Hotel de la Coupole – MGallery Sa Pa also offers their guests international buffet with many Asian as well as European dishes. Moreover you can enjoy an afternoon tea outdoor or simply relax in hotel indoor swimming pool.
Your trip in Sapa will not be completed without the journey to conquer Fansipan Peak at 3.143 m above sea level. For anyone who are not sporty they can visit Fansipan by cable car. It is 6.292,5 m long, connect town center to Fansipan Peak. You can reach Fansipan only in 15 minutes.
When you walk out the cable cabin you can see a totally different atmostphere. If the weather is not good everything are hidden in the fog. If the weather is good, you can see a sea of clouds under the sunshine. In summer the temperature at Fansipan mountain will be between 15 and 20 Celcius degree. At Fansipan Peak you can admire lots of spiritual works which simulate architecture of the 15th-16th centuries. Visitors can find the peace and calm down themselves when the giant bell rings.
Sapa – a destination in flowers season
Besides cold climate or amazing rice terraces, Sapa attracts many tourists with colorful flower gardens. This place is known as a destination for all flower seasons. But more flowers and most colorful is in summer time.
One dedicade ago Sapa became very "hot" when a rose garden appears in Muong Hoa valley. In the garden there are not only Sapa's rose but also rose from France, America or even peach trees from Taiwan. But over the time it is no longer make people curious and they are looking for something new, something bigger and more excited.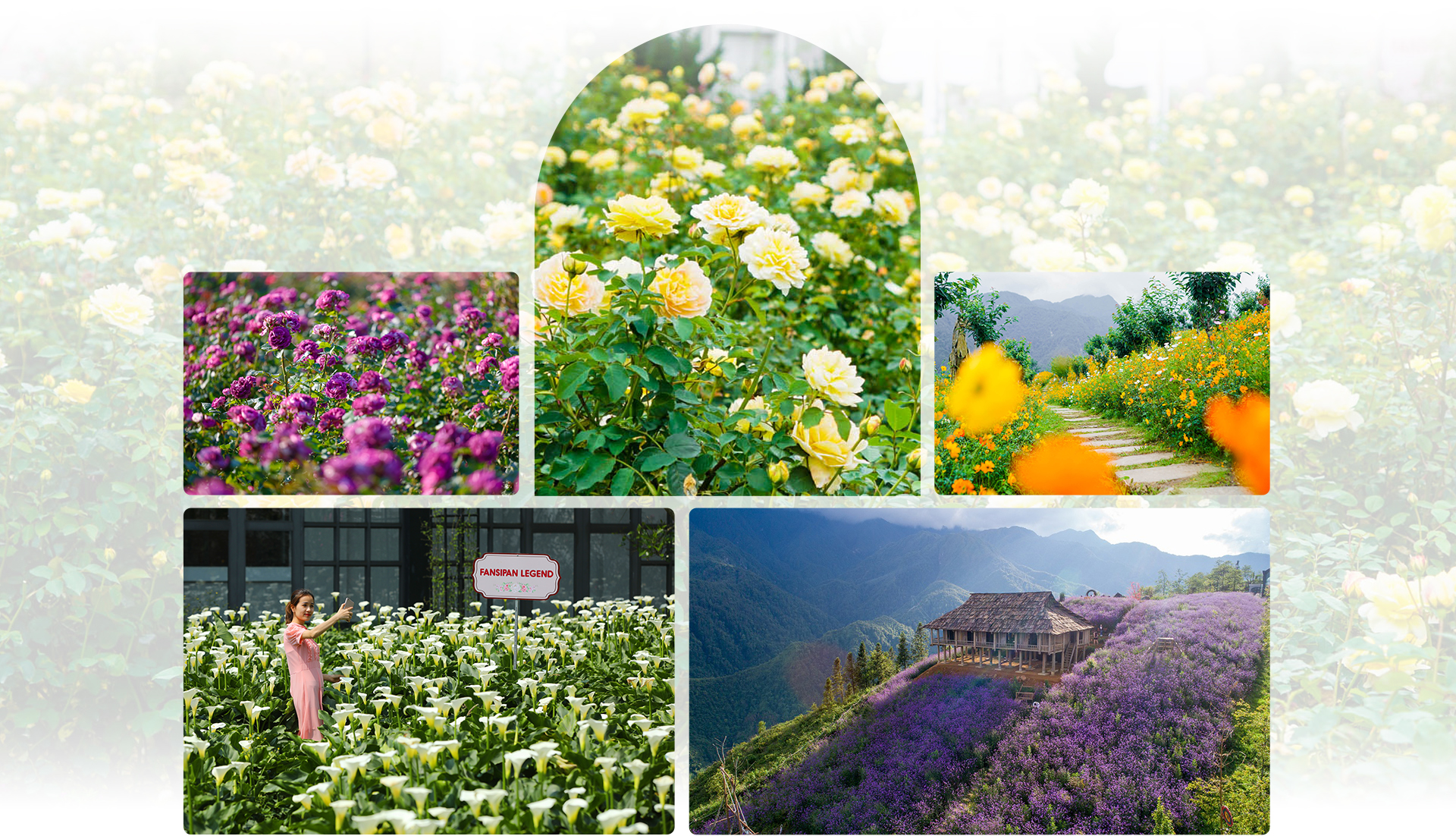 In 2020 once again Sapa wins the brand as "a destination of all flowers", when Fansipan Legend is recognized as the biggest rose valley in Vietnam. The area is 50.000 m2, contains 300.000 flowers in 150 different rose arts for example: Juliet, Aoi, Black Baccara, Catalina, Golden Celebration, Maurice Utrillo, Rouge Royale, Eclair, Spirit of Freedom…
Furthermore to make this area full of flowers all year round, many other flower arts are plant, such as South African chrysanthemums, daisies, apricots etc. Visiting Fansipan Legend you will see different color in different time because each flower blooms in different month. For example, Azalea blooms in spring while May to June is time of rose. In September you can see a flower garden of many colors. It is blooming season of many flower.
If you want to have best pictures of Sapa, let's take the mountain train. The train starts from Sapa station in MGallery hotel's basement, go through valley to cable station. From glass window of the train you can have a look of beautiful sceneries in the mountains.
Sapa – land of ethnic culture
Since many years Sapa tourism has been concerned and developed without losing the local cultural identity. One of the biggest cultural festivals in Sapa is program "Visit Sapa in flower season" which organized by Sapa authority and Fansipan Legend Sun World. During the festival there are many activities and traditional performances of ethnic people.
Another interesting activity is the horse race. The candidates in this race are not professional race horses, but the packhorses. Through the race people can see a lively tradition of north western Vietnam.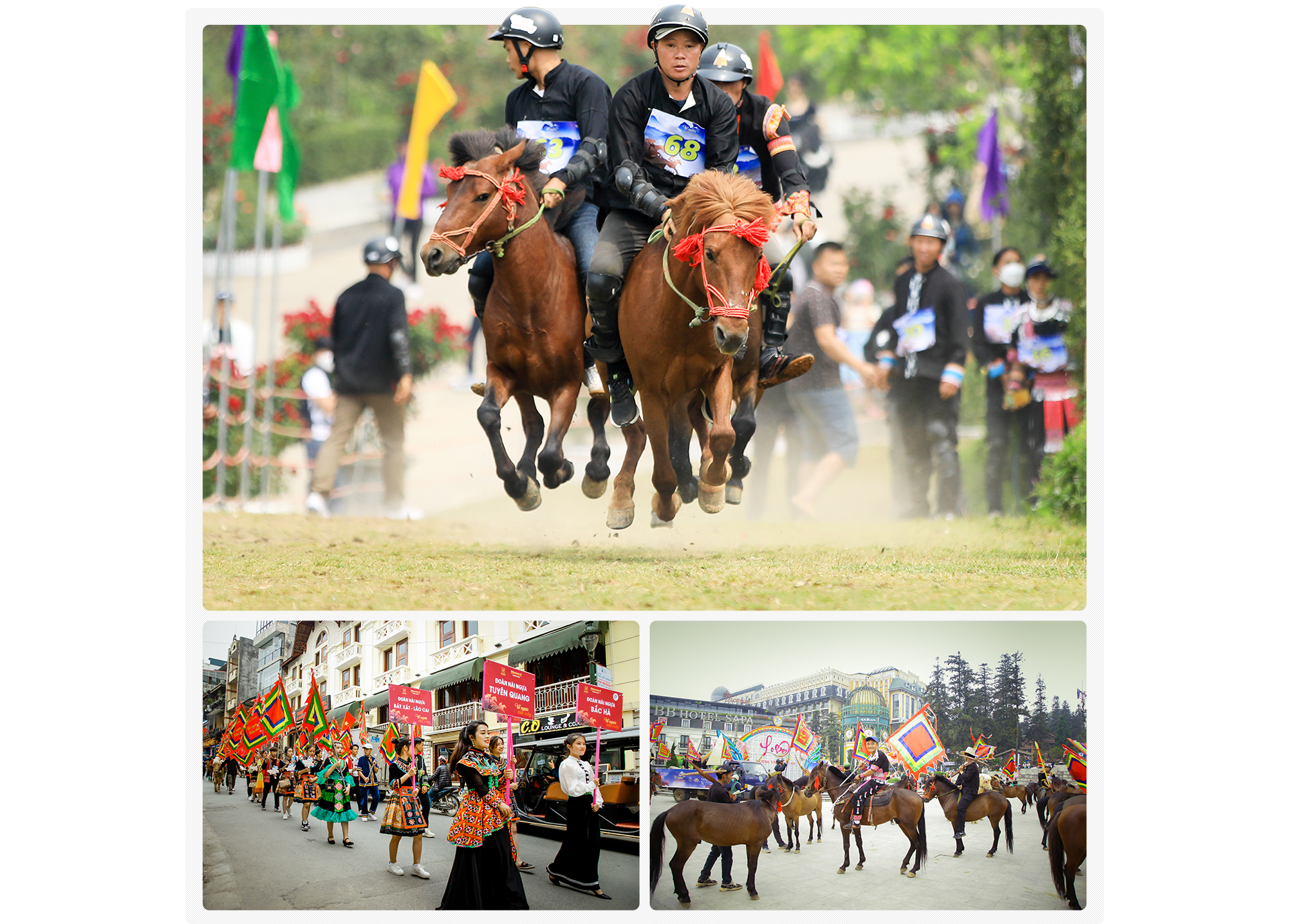 In addition to the cool weather and spectacular natural landscape, people also come to Sapa for beautiful flower season, traditional festivals and high-class resorts. All tourismus forces here expect that, in every sunny season, Sapa will once again revive the title of "resort capital" in the heart of the Northwest since hundred years ago.