Coming to southern Vietnam, you will not be listless with the beauty and the richness of the Mekong Delta – known as the "rice bowl" of Vietnam. This is another world where you can see the rhythms of the Mekong Delta with the boats, houses or local market float upon the rivers, the canals. You will be admired the buffalo wallow in rice paddies, coconut- and fruit-laden boats float slowly along the mud-brown waters as well as the lifestyle in the countryside of Vietnam. For those who want to plan your dream discovering this region, be sure to read the best Mekong Delta Tour 2 Days from Ho Chi Minh City below.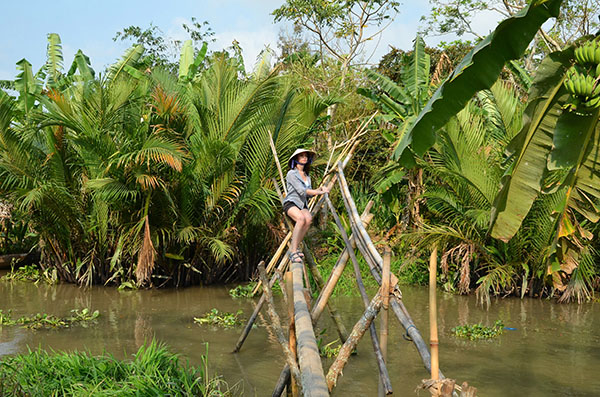 On the first day, visiting My Tho discover the sound of the Mekong Delta
From Ho Chi Minh City, you will travel about 90 km by private car, so you should start in the early morning in order to have enough time to experience the beauty and local life. My Tho is a city of Tien Giang province in South Vietnam and located on the North side of the downstream of Tien River. Moreover, this is also famous for the special food – Hu Tieu, typically a clear pork broth with rice vermicelli and wheat flour noodles combined; freshwater fish, brackish fish, and saltwater fish, and fruit orchard, so you will experience during your trip.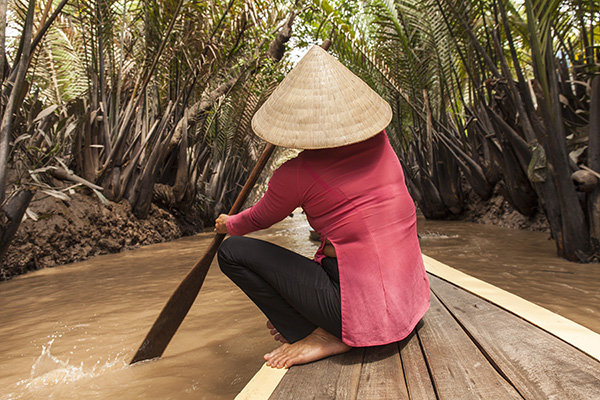 On arrival board a small boat to visit typical workplaces including small brick factories, a local mat-weaving house, and a coconut processing workshop. This place is known as the land of coconuts so that the images of coconuts have been into traditional music and the poems for many years. Coconuts are everywhere, you can experience coconuts leaves are reflected on water while sailing on a small boat through the canal. Especially many kinds of foods are made by coconuts, in your trip, you will discover the coconut processing workshop where you can enjoy and make the coconuts candies by yourself.
Then, you will stop at a quiet village, take a short walk to witness local life and hop on a xe-lôi (a kind of motorized rickshaw), it will take you throughout the green paddy fields. Moreover, thanks to its convenience, you will discover the small roads in the village, the small corners with the daily life of the local in the green lands. In your route, you can have a chance to visit a fruit orchard – also one of the symbols of the beautiful land. After that, Xe-Lôi will transfer to reach a nice riverside restaurant for a local lunch with the unique local foods.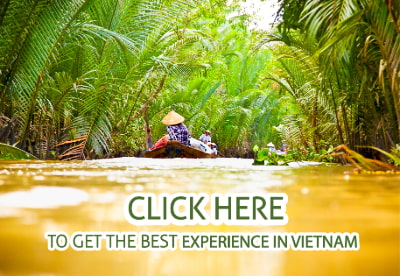 Have a rest before taking a short cycling tour to explore the surrounding fields before boarding a sampan for a tranquil trip along the picturesque canals. After that, you will come back and continue to visit Ben Tre Local Market, before heading back to Saigon and move to Can Tho to check in your hotel.
On the second day, experience the floating market in the best Mekong delta tour 2 days
In the beginning of the second day in your experience tour, you have to get up very early, and you will start from Ninh Kieu boat quay, where you cruise along the small and picturesque canals and stop to see the Cai Rang floating market (the nicest one with heaps of rowing boats).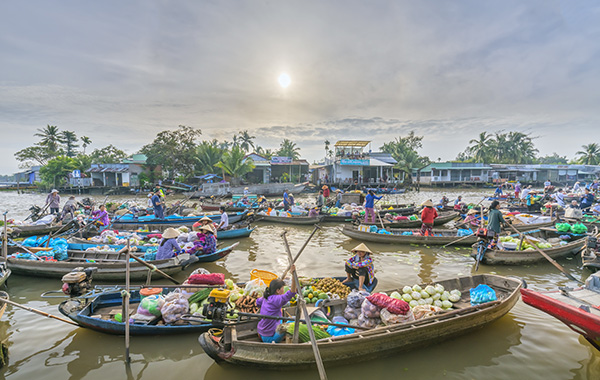 Cai Rang floating market is one symbol of South Vietnam, far from about 6km from the city center and 30 min from Ninh Kieu pier by boat and only opened in the early morning. A countless number of boats and sampans gather here to sell many kinds of good until 8-9 a.m every day, it becomes lively and hustle than ever. While the large boats are full of agriculture products such as vegetable, banana, coconuts, watermelons, pineapples… many small ones sell some kinds of food, noodle, soft drink, coffee for breakfast. If you do not have breakfast at your restaurant, you can try the local food on your boat like Pho or Hu Tieu, With the special and distinguishing recipe, the flavor will leave a strong impression on your mouth. Besides, other boats sell clothes, mending machine, medicine, cosmetics… All of them help you feel like that you visit the traditional market on land.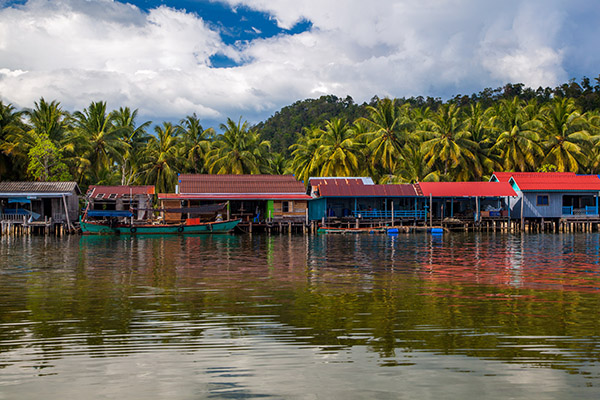 You then make a stop to enjoy the beautiful scenery and the daily activities of the locals who live along the Mekong canals. In each "mobile house" you can see several generations live together on a boat, which contain full of facilities, animals, plants… After that, you continue walking through the village to visit a rice husking mill and a rice noodle shop, where we observe how it is made.
Finally, you will take a short rest or free on your own in the local restaurant before coming back to Ho Chi Minh City and finish your best Mekong delta tour 2 days.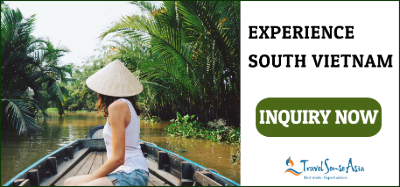 Must-try food when visiting The Best Mekong Delta Tour 2 Days
1. Tai Tuong Fish (Deep-fried Elephant-ear Fish)
Mekong Delta is full of rivers, canals, lakes with a plenty of fish, elephant-ear fish is one of the famous ones that visitors must try when visiting here. Deep-fried elephant-ear fish will be served hot using the special wooden tool which makes the uniqueness of the food. Like some deep-fried dishes, you will enjoy this with rice paper (bánh tráng), vegetable (including cucumber, star fruit slices, green bananas slices, some kinds of herbs and Mam Nem – a sauce made of fish. After rolling the ingredients, you will dip this food with Mam Nem and enjoy it.
2. My Tho Noodle Soup (Hu Tieu My Tho)
Hu Tieu My Tho origins from Chinese noodle soup, but undergone many changes to be able to suit the appetite of the local here. Due to the changing process, Hu Tieu My Tho has become an outstanding culinary delight in Vietnamese food, especially in My Tho and the visitors come here must have it one time. You can enjoy this dish at a restaurant or a small corner at the street and ever wonder if there is anything special in this dish? It is the broth because you can be easy to realize some familiar ingredients, such as dried shrimp, sliced barbecue pork, herbs, bean sprouts, meat and some vegetables. You can enjoy this dish with soya sauce, chili, lemon vegetable…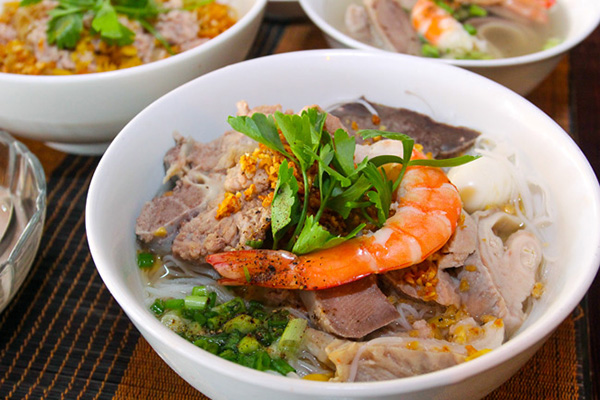 3. Bot Loc Cake
This cake is very popular in My Tho and is sold at many small shops or at the street in the city, and becomes one of the best street food as a light meal. It is made from rice flour, shrimp, port. Bot loc cake is chewy with the delicious taste because of the great combination of the rice flour, pork, and shrimp. You will enjoy this cake with vegetable, some herbs, and sweet fish sauce.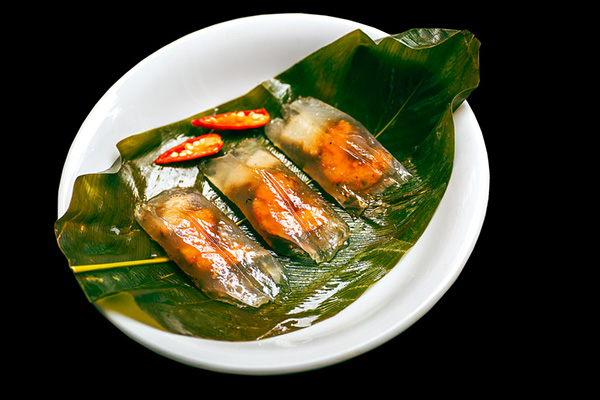 4. Lo Ren star apple
Ben Tre is one of the best places for many kinds of fruits, you can be easy to buy in the streets or local market. And you have introduced the best specialty – Star apple in Lo Ren (Lo Ren Star apple) which you do not miss when visiting My Tho, Ben Tre. Because of the perfect sweetness and wonderful flavor, it conquers both the local and the foreigners in over the world.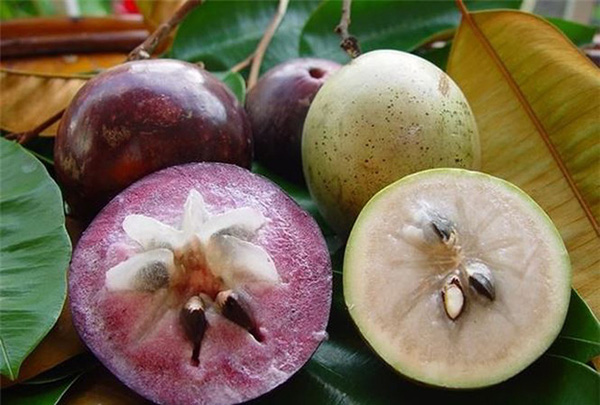 Ending best Mekong Delta tour 2 days, you will have the best sense due to the experience with the local, the cuisines and the customs of the region in South Vietnam. Let's make your dream about Mekong Delta with us now!