When travelling to Vietnam in October the first phrase to be searched is what to wear in Vietnam in October. Because Vietnam is a tropical country, the weather is totally different among three main areas. In general October is hot and wet, so make sure to take notes carefully.
October is the autumn in the North. It is considered as the most appealing season in Vietnam
The weather in Hanoi (one of best spots in Vietnam highlights), Ha Long and Ninh Binh is pretty hot, thus what to wear in the north in October? European styles and Western dress have been popular for the Vietnamese. Tourists can dress as they would in the West but still noticeably conservative.
Our advice is to pack lightweight cotton or linen trousers, quick drying materials. It is not necessary to pack too much because clothes are really cheap here. Especially you can buy diversified clothes from flip flops to hats in the night market in Hanoi Old Quarter.
When you move to the highland areas such as Sa Pa in the Northwest or Ha Giang in the Northeast at night, it usually becomes colder, merino wool which does not retain odors even after prolonged wear is a good choice to keep your body warm. Good walking boots with ankle support or a pair of trekking sandals which can fit socks underneath can be a good option. Flip flops are worn a lot but you should be careful because some are more slippery than others when it is wet. Make sure to bring lightweight raincoat against the wet here instead of an umbrella.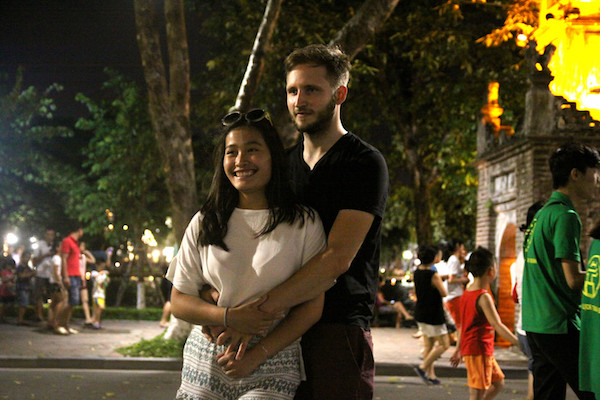 How about the clothing tips in October in the central of Vietnam?
The weather is still hot in Da Nang and Nha Trang so tourists can go swimming on the most beautiful beaches in the world. The Vietnamese here are more opened than that of the North. Bikini, swimwear or shorts are adopted. Good sunglasses are a must, plus a sunhat and wear plenty of sunscreen under the sunshine on the beaches. Leave the energetic atmosphere here, the atmosphere in Hue and Hoi An is more peaceful. What you need to pack and wear is sandals with the rugged bottom for hiking around the town. Because of the stormy season, you need to prepare a light raincoat accompanied.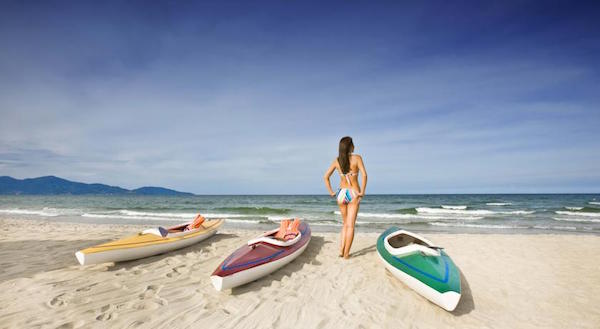 In the South Vietnam, you can have many options when choosing clothes
Move to the South, it is the rainy season, the temperature is quite stable. It means that tourists do not need to be worried too much about what to pack. HCMC is pretty Westernized and is not as conservative as the rest of Vietnam. Tourists can really dress free styles which any Western city will fit in.
However, you can experience diversified seasons during a day in HCMC. In the early morning and late afternoon, it seems colder, you can bring thin jacket. A pair of sandals is more preferable than a pair of shoes because it may suddenly rain even as it is shiny. A lightweight raincoat is also a must here.
The same with HCMC, it is easy for tourists to choose what to wear to visit floating markets on Mekong Delta. Floating markets mean you will sit on ferries and boats to trade above the water. Sleeveless tops and long pants or shorts are basic. Remember to bring plastic bags against water to protect your cameras and mobile phones. Quick drying material is the best.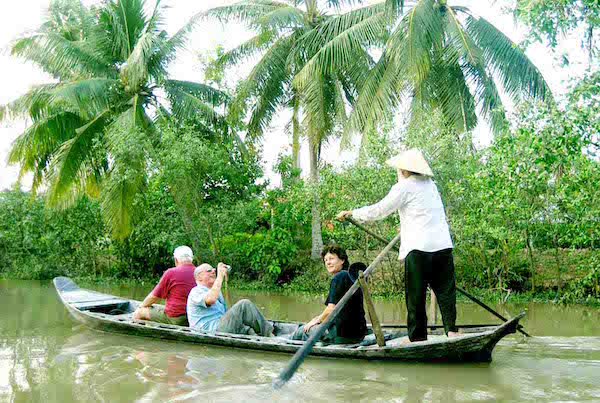 Da Lat and Phu Quoc seem different from HCMC. The weather does not change much all the time during a year. It is cool and looks similar to the weather in England. So you had better bring a long skirt not only protect you from the heat of the sun but keep you warm and against mosquitoes at night. Due to the particular weather, tourists should download a Weather app which can give the accurate forecast for day and night. It will help you so much when travelling.
Other necessary clothing tips
Besides those tips for each area, please consider what to wear in general. Vietnam is famous for many temples and churches. Make sure to wear particularly conservative clothing if you visit temple or pagoda – the less bare skin the better and especially no shorts, no skirts, tops with low neck lines, or bare shoulders. Long pants and long sleeved cotton shirt are the most suitable. Moreover, most Vietnamese consider it is impolite to wear large amount of jewelry in public. A few pieces of simple costume jewelry will dress up any outfit as follows.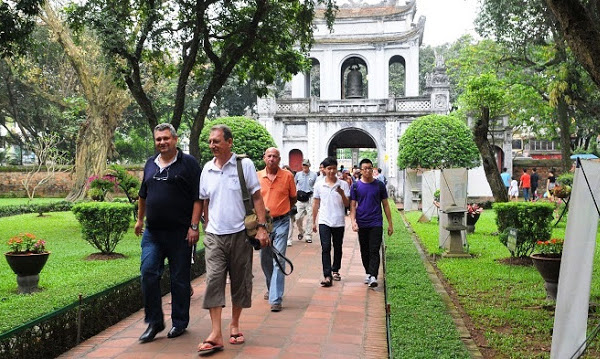 Like so, the basic rule of thumb is to take good insect or mosquito repellent to avoid being bitten because there are many mosquitoes when it is wet in October. Packing your own toiletries including anti – bacterial handwash for your trekking is extremely necessary. You also had better take your own kit of medicine, sewing repair tools, and a good torch with extra batteries; take a sleeping bag liner in case of staying in more basic accommodation; take a soft-sided rucksack instead of hard cases and use packing cubes to keep your belongings tidy whilst compressing the volume. What you do remember to pack is a travel adapter plug and a step down voltage converter to use electrical gadgets because the local voltage here is 220V.
In conclusion, as Vietnam's tropical climate and informal lifestyle, make plan to pack like you were visiting Europe – lightweight cotton clothing is exclusively important for hot and humid days in October. If you are visiting the north and the central highlands like Sa Pa, Ha Giang, Hue, Hoi An or Da Lat in Vietnam during this month (Autumn month), plan to pack a sweater and thin jacket: it can get cool. You should pack formal attire since even the best restaurants do not require dresses, suits, coats or ties. Smart casual is the best you will ever have to dress.