Recently, the "Tripadvisor" website has publicized the list of 25 traveler's choice destinations 2015 in the world. The result is based on votes and reviews of travelers on the website.  And Hanoi is on the top 5 destinations. What factors makes Hanoi be one of the most the tourist attractions?
1. Hanoi is the best destination to exploring historical places.
Well-preserved ancient places with unique architectures will provide you entertainment, beauty and education in different turns. Maybe, museums in Hanoi are the first choices for visitors to gain an in-depth knowledge of history of Vietnam.
While Vietnamese Women's Museum offers various aspects of the life of Vietnamese women, Vietnam Museum of Ethnology presents most outstanding features of 54 ethnic groups in the country. Plus, visiting Ho Chi Minh Museum, you can gain chances to know full well about the life of the Great Father of Vietnam-Ho Chi Minh. If you visit Ho Chi Minh Museum, you definitely do not miss Ho Chi Minh Mausoleum as well.
If you concern Vietnamese ancient architectures, Old Quarters, Imperial Citadel of Thang Long and Temple of Literature and National University are good choices for you.
Old Quarters is considered as the heart of Hanoi. They are characterized by shop-houses which were built about a century ago, or old houses being French –colonial architecture. Coming to Old Quarters, you can see streets with bicycles, scooters, "xich lo" (cyclo ride) swarming around pedestrians, and also a myriad of stands-on –wheels and venders on sidewalks. They all are features making the unique beauty for Old Quarters in particular and for Hanoi in general. Reaching to Old Quarters, no one can miss to visit Turtle Tower, Huc Bridge, Ngoc Son Temple and Hoan Kiem lake.
The next destination for you in your Hanoi tour is Temple of Literature and National University (Van Mieu – Quoc Tu Giam). They are examples of well-preserved traditional Vietnamese architecture with more than 900 years of existence, repairs and renovations and one of the important historical and cultural vestiges of Vietnam. Visiting Van Mieu-Quoc Tu Giam, you will not only discover ancient styles of traditional Vietnamese architectures and relics such as Well of Heavenly Clarity (Thien Quang Tinh) or the pavilion in delication of the Constellation of Literature (Khue Van Cac), especially the collection of 82 stone stelae which rest upon large stone tortoise, but also you are able to get information about Royal and education of dynasties in Vietnam in ancient times.
Another spot is recommended for you is Ancient Citadel of Thang Long. It is considered one of the most important and beautiful historical sites of Hanoi because it includes valued relics representing the Millenary civilization with many artifacts and items from the 6th to the 20th century belonging to the Ly, Nguyen, Tran, Le eras. Thus, visitors don't forget to come to the display room that features interesting excavated items as well as mockups of the citadel itself.
2. Hanoi is the haven of budget eateries and shopping.
It is obvious that each country, each region has its own cuisines, famous and delicious dishes; however, coming to Hanoi, you can get a special occasion to enjoy mouth-watering foods by getting a food-street tour. I am sure that "pho" being the traditional Vietnamese food is familiar to many people in the world, but not many people enjoy "pho" in a small food stall right on sidewalks, not in a restaurant.
Visiting to Hanoi is not completely exciting if you do not come and enjoy foods such as West Lake Shrimp Pancake, "pho cuon" Ngu Xa, "Com" (young rice)  in Vong  village or Cong coffee. In addition, have you ever enjoy ice-scream in Trang Tien in the special way which is standing and eating ice-scream. There are no chairs; people eating ice-cream on Trang Tien Street have to stand and enjoy the cool and sweet flavour melting on their tongue. Queuing, waiting to buy and standing to eat Trang Tien ice-scream is distinctive feature of Hanoi's culinary culture. Moreover, anyone who enjoys "egg coffee" in Hanoi will never forget its flavor.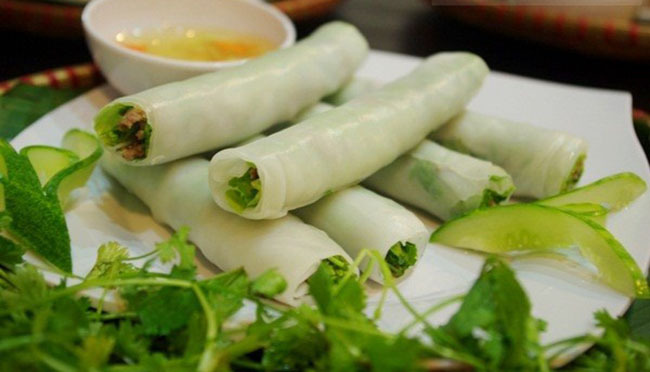 The best thing about shopping in Hanoi is that you can do it all on foot, with many streets dedicated to specific trades with famous commercial streets, especially in Old Quarters including Hang Gai street (providing hand-made silk), Hang Bac street (silver) or the largest market in Hanoi, Dong Xuan market.
3. Hanoi is the spot for you to enjoy arts and other art forms
"Ca tru" is traditional folk song of Vietnam. If you are interested in this traditional folk song, Ca tru Thang Long does not make you disappointed. You can have opportunities to enjoy the unique genre's sweet melodies of Ca tru.
If you are a fan of water puppet of Vietnam, the world-famous Thang Long Water Puppet Theatre in Hanoi is the choice for you. Water puppet is the well-known traditional art of Vietnam whose performances are accompanied by a Vietnamese orchestra playing traditional music using drums, wooden bells, horns, bamboo flutes and cymbals. There are also authentic Vietnamese operatic songs telling the story that is being acted out by the puppets. Most of the shows recount Vietnamese folk tales and legends with topics including the celebration of the rice harvest depicted in a humorous fashion.
These factors make Hanoi become one of the hottest spot in Vietnam and in the world. If you are globetrotters, do not hesitate, come and explore Hanoi right now to enjoy one of the most enjoyable excursions of a lifetime. Definitely, Hanoi and Hanoians do not make you disappointed.