Traveling to another country is absolutely interesting for tourists to explore the new things. However, it maybe becomes a nightmare for you when traveling to the country that has unique language as Cambodia, its official language is Khmer. Experts from Travel Sense Asia will introduce you essential Cambodian phrases that are useful in your trip to Cambodia
Although residents in some tourism cities in Cambodia such as Siem Reap, Phnom Penh, etc can speak a little English, the number of people is quite limited or their English is actually not good enough to communicate well. So it would be easier if you know how to speak few simple words of Khmer language.
Cambodian phrases for greeting and essentials
The greeting is very easy for you to learn in a while, greeting in Khmer shows your respect to Cambodian language and can warm local people's hearts; it can be a start of a better deal when going shopping. However, the right greeting to each kind of communication is not easy and if you mistake, you are said to be impolite.
Hello (formal): Chom Reap Sour (jum-reap-SOUR).
This is the formal way you can say hello with the elders and people in the higher class such as an uncle, aunt and so on. When saying hello, you should lift your hands together and lower your head to show your respect to them.
Hello (informal): Suasdey (Soos-a- DAY)
In contrast, Suasdey is used in nearly every case; the people often it in daily life when meeting friends or people in the same age.
Good morning: Arun suasdey (Arun Soos-a- DAY)
Good afternoon: Tiveah suasdey (Tiveah Soos-a- DAY)
Good evening: Sayoanh suasdey (Sei – ON Soos-a- DAY)
Goodbye (formal): Chom Reap Lear (Jom-reep-LEAR)
Like saying Hello, 'Chom Reap Lear' is used to show respect to the communicators. When you goodbye in an informal way, you should throw a smile together.
Goodbye (commonly used): Soum Lea Heuy (Soum Lee-HI)
When you want to wave goodbye with friends at the same age, you can say 'Soum Lea Heuy' naturally. This will show that you are very friendly and lovely.
Thank you: Arkun (Ar-KOON)
Sorry/Excuse me: Soum Toh (Som-TOE)
Cambodian phrases for direction and popular places
On the trip to Cambodia, you could drop in the case when you are missed or you take a tuk-tuk to go around the city; however, the local resident there just speaks Khmer. Wow, it is a big problem if you did not the common phrases to communicate with them. Therefore, we will give the most common phrases related to directions and the places that you would meet much on your trip.
Turn left: Baht schweng (bart-SHWENG)
Turn right: Baht Saddam (bart-SDAM)
Stop: Baht Chhob (baht – CHOP)
Go straight: towmoukh trang (To – moke – th – RONG)
Hotel: Santhakar (San – tha – KEA)
Embassy: Sthantout (S – than – TO)
In case you are missed or lose the personally identified paper, you can ask the local people about the location of your country's embassy and go there to be helped in the legal part.
Bank: Thneakear ( Th –nea – KEA)
Pharmacy: Aosathasthan (Or soth s'THAN)
When traveling to another country in which weather is unfamiliar to yours, you can have a problem with the respiratory problems or a digestive order can happen with you on your trip, in this case, a little Khmer is very useful for you to address the problems.
Market: Tiphsaear (Thik – SOUR)
Restaurant: Phochniyodthan (Puo ja nee than)
Cambodian phrases for emergency
No one hopes that any emergent case can happen to you but it is totally able to appear on your trip. Knowing a little Khmer is not too difficult for you but it may become a useful aid helping you escape from the emergency case.
Help me!: Chuoy​ khnhom​ phang (Chuoy khnyum PHANG)
Stop!: chhob (Ch'hob)
Fire!: Phleung Chheh (Phleung ch'heh)
Call the police: Chuoy hau bolisa mok
Phrases for eating out
Exploring the cuisine of a strange country is the popular thing tourists frequently choose to experience the culture of a nation; however, in the non-native English speaking nations like Cambodia, you can meet some difficulties when eating out in local restaurant or eat street foods because speaking English is not the strength for some restaurants or local vendors. Some common phrases in the Khmer language can be essential for you.
Delicious: chhngang (Ch – NANG)
Just praise but it can encourage the waiter to serve faster and have a good attitude when they serve you.
Spicy: heur (heu r)
I am a vegetarian: khnhom chea anakbuos (kh – NOM – chea – nag – BOO)
Almost restaurants in Cambodia offer you the menu for dishes including in meat even salad; therefore, you should notice to them that you are a vegetarian and they will introduce your veggie dishes.
Water/Beer, please: Som tuk/beer (Som – TUK/ BEER)
The bill, please: Som ket loy (Som – kit – LOY)
Where's the toilet?: tae bangkon kuchea avei? (Ta – Ban – kon – nouv – aina?)
Phrases for going shopping
Shopping is a vital activity for tourists on each trip; it is not only a chance for you to experience the daily life of local people there but also the ideal place to buy souvenirs for your trip. However, Similar to many Asian markets, Cambodian markets often sell local products that very beautiful but their price can be inflated as compared to the real price so you should know some Khmer phrases as well as sentences to negotiate and make friend with local merchants there which are a tip of getting better price easily.
How much?: Bo man (bow-man)
Too expensive: T'lay (t-lay). The seller will know that you would like better price to buy it.
Sale off!: banhchouh tamlei te (ban – CHOI – thlay – te)
From 1 to 10

: Moi (MOO-ee), bee (bee), bai (Bai), boum (BOO-ern), bram (bram), bram moi (bram MOO-ee), bram bee (bram BEE) , bram bey ((bram BUH-ee), bram boum (bram BOO-ern), dop (dop): May the seller will give you the better price

I'll take one of these: Yoa nih muay (yo nih MOO-ee)

---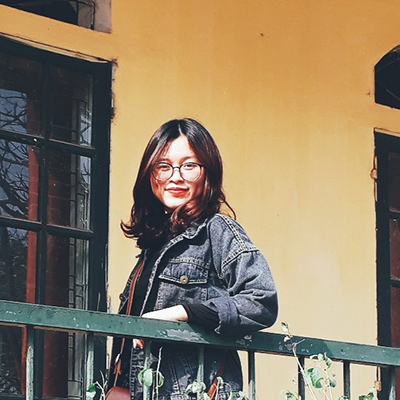 Tracy Luo
After my long trips to the strange lands, I really understand the meaning of the Alfred D'Souza's quote 'Happiness is a journey, not a destination'. My happiness is journeys that let me explore the new lands, new features of the culture there and new colors in your soul and now I want to share this happiness with you through my article about my experience in the trips. Hope that they will give useful things to your next trip…