Any idea for a 2-week vacation? Let's head to Vietnam, a hidden pearl of Southeast Asia. You will have the chance to experience authentic cuisine, enrich knowledge with the country's proud history, and take photos of the spectacular nature.
SWhy don't you have a look at our 14-day itinerary across top attractions in Vietnam to get some ideas and recommendation for your trip?
The schedule is put together by our local experts with more than 10 years of experience, so there'll be a myriad of information for you
Day 1: A warm welcome from Hanoi, Vietnam
Set your foot on the capital of Vietnam, you'll notice the hustle and bustle of a young, developing country right from the airport. Still, Hanoi has a lot to offer, so let's go to the hotel downtown for check-in.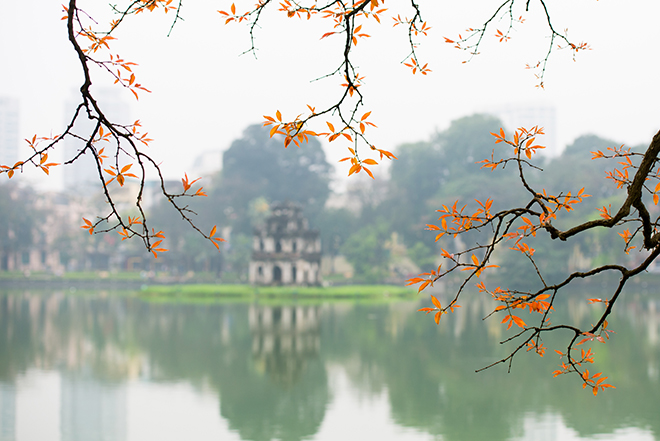 Relax after your flight or wander in the streets to explore colourful shops in the neighbourhood. You don't have to be rush because at night, get ready to savour a warm, welcoming dinner with authentic traditional cuisine.
Day 2: Vietnam Capital In A Nutshell
Start your day in Hanoi with a local speciality, we recommend a delicious bowl of pho. The first destination is the Temple of Literature, where you have a chance to enrich knowledge about prestigious scholars and Confucius.
Next, let's explore Thang Long Imperial Citadel. This is a massive architecture, built by dynasties in many historical periods and become the most important monument in the system of Vietnam's monuments.
Not very far from the Imperial Citadel is One Pillar Pagoda and HCM mausoleum. Here you will be amazed by the incredible stories of the Great Leader who brought independence to Vietnam.
In the afternoon, take a stroll around the calm Hoan Kiem Lake and stop by Ngoc Son Temple, home of the legendary turtle specimen. The nostalgic 36 streets of Hanoi Old Quarter are ideal for a cycling or walking adventure as you can access to narrow lanes of the ancient Hanoi. You will be fascinated by the variety of local goods sold on each street.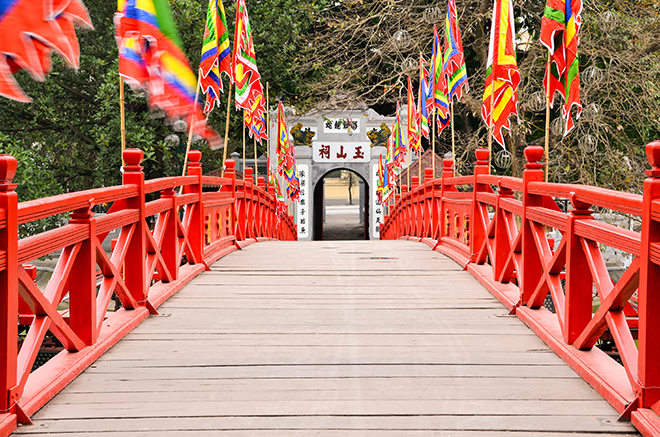 If you'd like to discover the Tokin culture, don't miss a chance to enjoy a Water Puppet show in the evening. The show features spectacular water puppetry accompanied by harmonious traditional live music. I'm sure you're gonna love it!
Day 3: Explore the earliest capital and a unique landscape complex in Ninh Binh
After exploring the capital, let's transfer to a Northern delta province to dive in the local life.
In the morning, you take a drive to Ninh Binh and spending time in Hoa Lu, the ancient capital of Vietnam. It used to be the centre of the country even before Thang Long (the archaic name of Hanoi). Hoa Lu played a crucial role in the development of Dinh and Le dynasty, so you can visit a good array of temples, pagodas to worship the ancient kings here.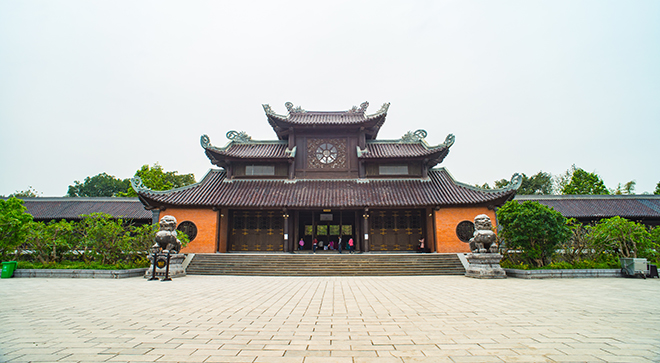 Your afternoon should be spent in Trang An Landscape Complex, which is dubbed as Ha Long Bay on land. The diverse system of limestone mountains and natural caves in Trang An is mind-blowing with an area of approximately 6000 hectares. It's no wonder, Trang An has been recognized as a World UNESCO site.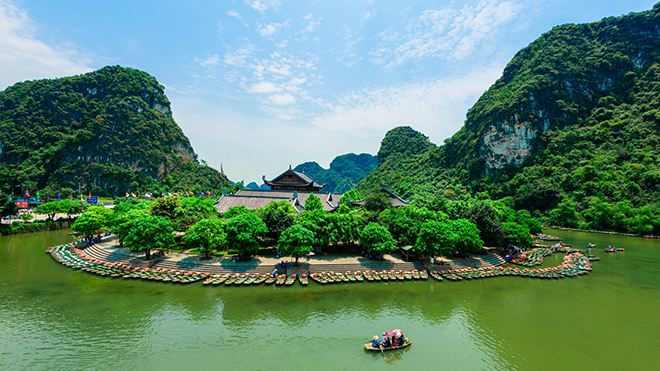 Day 4: Vietnamese villages on the pedal
Your first stop today is another ancient citadel. Located in Thanh Hoa province, Ho Citadel is a unique and large-scale architectural construction in Vietnam, the only remaining in Southeast Asia and one of the few remaining stone citadels in the world.
Then, we come back to Ninh Binh in the afternoon and join a cycling trip in Tam Coc. Not only stop by must-go spots like Bich Dong temple, but you will also pedal pass the idyllic, peaceful villages with multiples houses typical for traditional Vietnamese architecture.
Day 5: A night cruise in the magnificent Halong Bay
Kickstart a new experience in Vietnam by travelling to Halong Bay. Here, you'll get on board a luxurious cruise to spend the evening in the Bay.
Upon arrival at the harbour, the crew welcomes you on board the traditional junk with complimentary drinks. Take your time to have a tasty lunch with local seafood and watch as the boat pass by lush green islands.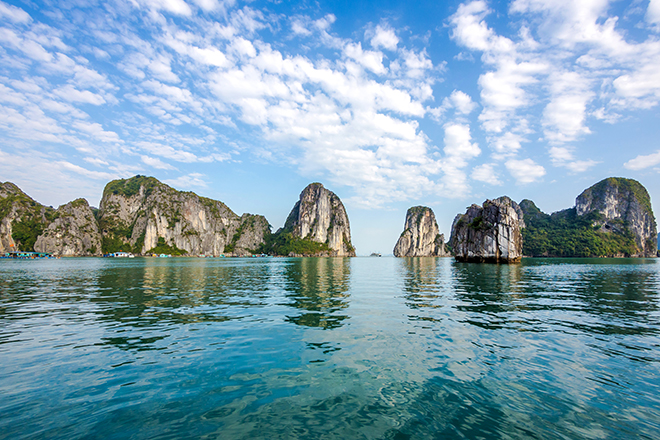 In the afternoon, you can head to the sundeck and take memorable photos with the majestic limestone karsts as the backdrop. Kayaking is also available. Imagine paddling on the emerald water and have a closer look at the fascinating nature.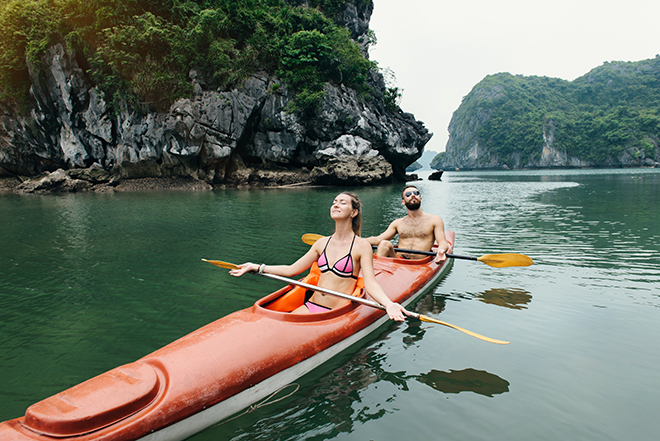 Also, you have the option to visit the Surprising Cave (Hang Sung Sot), home of enigmatic stalactites that comes in unbelievable shapes; or go hiking to the observation deck at Titop Island to have a breathtaking panoramic view of the entire bay.
Before dinner time, you may join a cooking class to make a tasty Vietnam treat for yourself. If the weather is suitable, you can have a fun competition on squid fishing.
Day 6: Morning Tai-chi for a dynamic day to Hoi An
Wake up early because there'll be a Tai Chi course on the sundeck to freshen up your mind. A hearty breakfast buffet will be served on board as a farewell to the crew.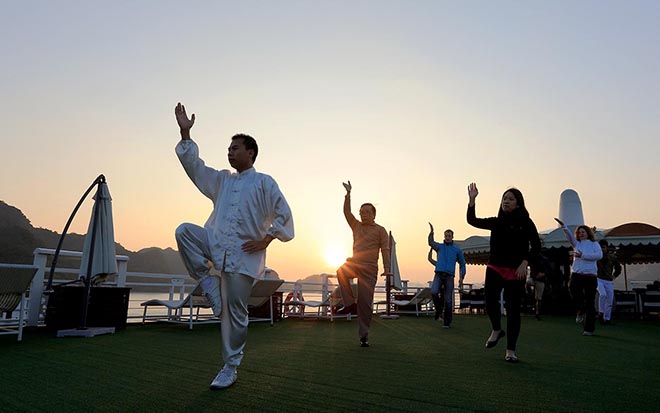 After that, let's get back to Hanoi in time to catch a flight to Danang. But it's not our final destination for today. Pull yourself together for another transfer to Hoi An, the most beautiful city for travel in the world according to Travel+Leisure.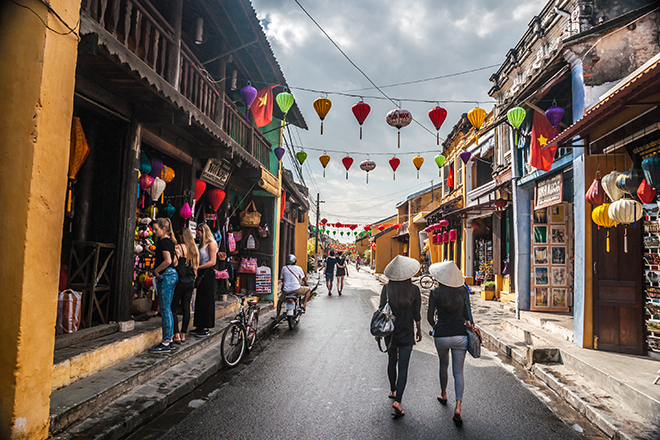 It must be late in the afternoon when you arrive at Hoi An. But don't worry because the town actually looks more brilliant at night as thousands of lanterns are lit up.
After a short break at your hotel, let's get out and wandering on Hoi An streets, where you can feel an ancient, laid-back vibe in the atmosphere and taste a multitude of local delicacies right on the street.
Day 7: Minority culture through ruined temples and archaic houses in Hoi An
Today begins with a visit to My Son Sanctuary. My Son Sanctuary appears to be a unique architectural complex of many abandoned and partially ruined Champa temples. Forgotten for such a long time, it was not discovered in 1885 and in 1999 this place was listed as a world heritage by UNESCO.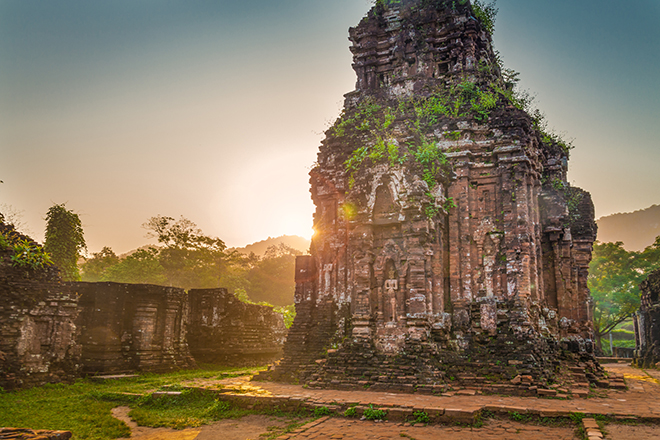 Back to Hoi An in the afternoon, you will get energized on the rustic road to visit the poetic countryside of Hoi An Ancient Town. Remember to check out Japanese Covered Bridge, Tan Ky Old House, Phung Hung Old House. You can find small shops offering diversities of eye-catching arts and crafts.
Day 8: A day as a local farmer in Hoi An countryside
Hoi An is not only famous for the ancient town, but it is also well-known for the peaceful countryside. So, you should visit Tra Que village to experience a day of a farmer.
From seeding to collecting the crop, and even making your own dish in a cooking class, Tra Que farm-to-table is a marvellous experience to add to your 14-day itinerary in Vietnam.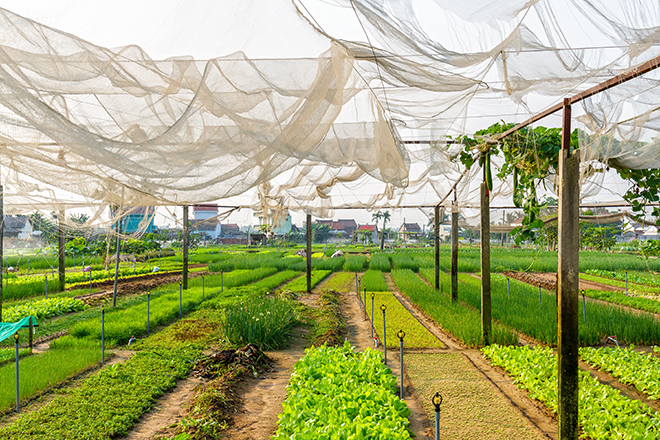 An entire day on a local farm also puts an end to your time in Hoi An. Let's get to another wonder of Vietnam. We suggest you hop on a car and move to Hue via Hai Van mountain pass. Hai Van pass is located on the Bach Ma mountain range and is the natural boundary between Thua Thien – Hue province and Da Nang city. With a length of 21km, the highest peak at nearly 500m, one side of the pass is a poetic turquoise blue sea, the other is a majestic high mountain.
Day 9: Experience the noble life at the Imperial Citadel
Today's itinerary will begin at the charming Imperial Citadel. You will have the chance to get a deep insight into the life of noble emperors back in the 18th century.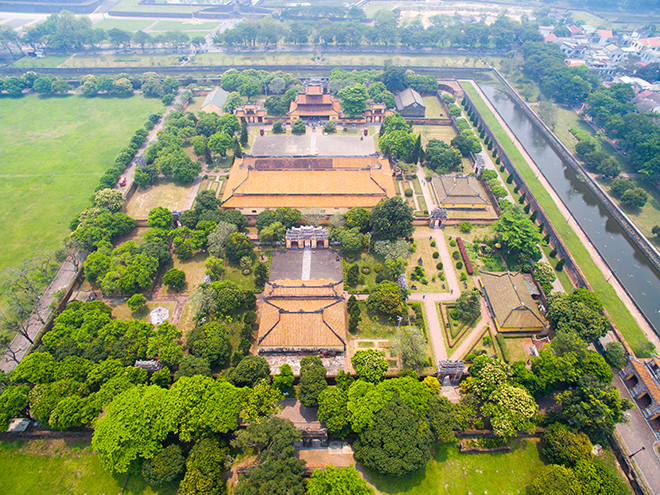 After that, get on the dragon boat to visit Thien Mu Pagoda, Tinh Tam lake. It is the iconic seven-story architecture that has inspired poems for a long time. Get a glimpse of the royal life as you relish lunch with Hue delicacy.
For the afternoon, you'll travel back in time at Minh Mang & Khai Dinh Tomb and uncover the golden era of Hue. Finally, wrap up your day at the lively Dong Ba Market, the oldest market that serves from unique crafted souvenirs to scrumptious street food.
Day 10: Relive Vietnam's glorious history in Dong Hoi
Say goodbye to Hue, you'll travel to another historical town in Vietnamese history, Dong Hoi. Passing by Ben Hai river on Hien Luong Bridge, the witness of the country separation under the US invasion from 1954 to 1975, we reach Doc Mieu military base, Vinh Moc tunnel. All were important centres during the Vietnam War.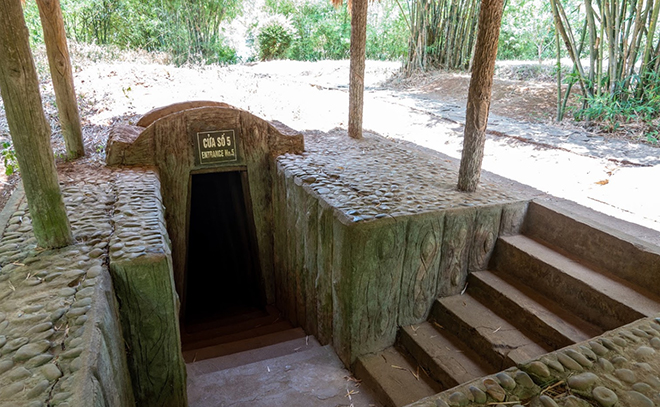 Last but not least, don't forget to stop at Truong Son National Martyrs Cemetery. The place gathers around 10,333 graves of martyrs in a total area of 140,000m² including monuments, tombs and landscapes. This is the most large-scale project to pay tribute and show gratitude to the soldiers who passed away due to the war.
Day 11: An entire day to explore the most spectacular cave in Dong Hoi
Although Dong Hoi suffered a lot from the Vietnam War, its natural scenery is well-preserved. One of the top-visited attraction is Phong Nha cave. Phong Nha cave nestles in the karst area of Phong Nha – Ke Bang national park, an impressive and famous destination for Quang Binh Tourism.
The cave has been in operation for tourists since 1991. Travellers have to get on a boat trip to go up the Son River to visit Phong Nha Cave with magnificent stalactite system.
Day 12: Unveil the French architecture hidden in the bustling Ho Chi Minh City
It's time to get back to the city life, so you will board a flight to Ho Chi Minh city, the Southern economic and politic hub of Vietnam today.
After getting to the hotel for check-in, you can start your excursion at the Notre Dame Cathedral, the remaining elegant French architecture. Your next stop is the Old Saigon Post Office, the grandest post office in Southeast Asia. Then, take photos at the charming Jade Emperor Pagoda, Dong Khoi Street, Ho Chi Minh City Hall.
At the War Remnants Museum and Reunification Palace, you will have an informative time to discover Vietnam's glorious history.
Day 13: An exciting excursion to Cu Chi Tunnels
Dubbed as an underground city, Cu Chi Tunnels not only feature a matric hidden road system but also include a lot of rooms, clinics, kitchens, warehouses, working rooms…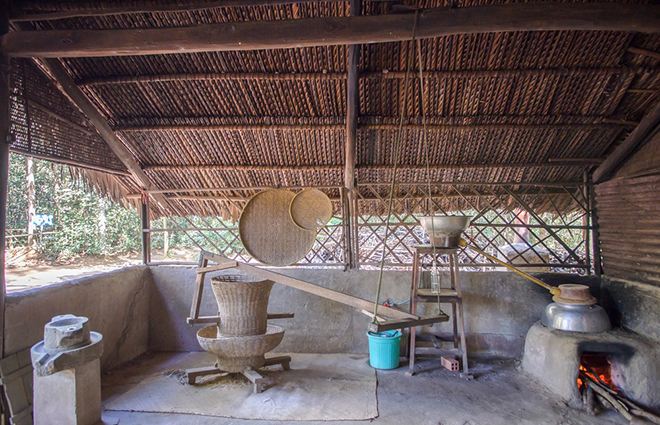 Normally, it will take you about 1 day to explore every corner of this 250 km long tunnel. In addition to the main site of Cu Chi Tunnels, there are many other entertaining activities such as shooting, paintball, swimming, paddling on the lake or cycling.
Day 14: A farewell to Vietnam in Ho Chi Minh city
Time flies, it's the end of your journey through the lands of Vietnam. Relish a cup of Saigon milk coffee before leaving for the airport. The cherished photos of your adventures will always remind you of the charming nature and hospitable people here.
It's not easy to put all the wonders of Vietnam on a 14-day trip, but I'm sure this itinerary is perfect for a summer holiday in Vietnam with no hassle. Let us know if you have any questions about Vietnam travel and subscribe to our newsletter for more suggestions on Southeast Asia adventure!

Ellie
I didn't have many opportunities for travel during my early childhood, so I decide to dedicate my young adult years to exploring the world. "Set off with a pure heart". That's my motto for any adventure in my life. And as sharing is caring, I love writing about my journeys so that the audience can gain an objective view of the destination. That's what I do before travelling, set the right, open mind to welcome both obstacles and blessings. So stay tuned for my new stories.