Vietnam is known as one of the best cuisine in the world. In addition to Pho, Banh mi or Bun cha which are already popular to international tourists, Travel Sense Asia would like to recommend you 9 other delicious vietnamese dishes that's worth a try.
Banh trung thu (mooncake)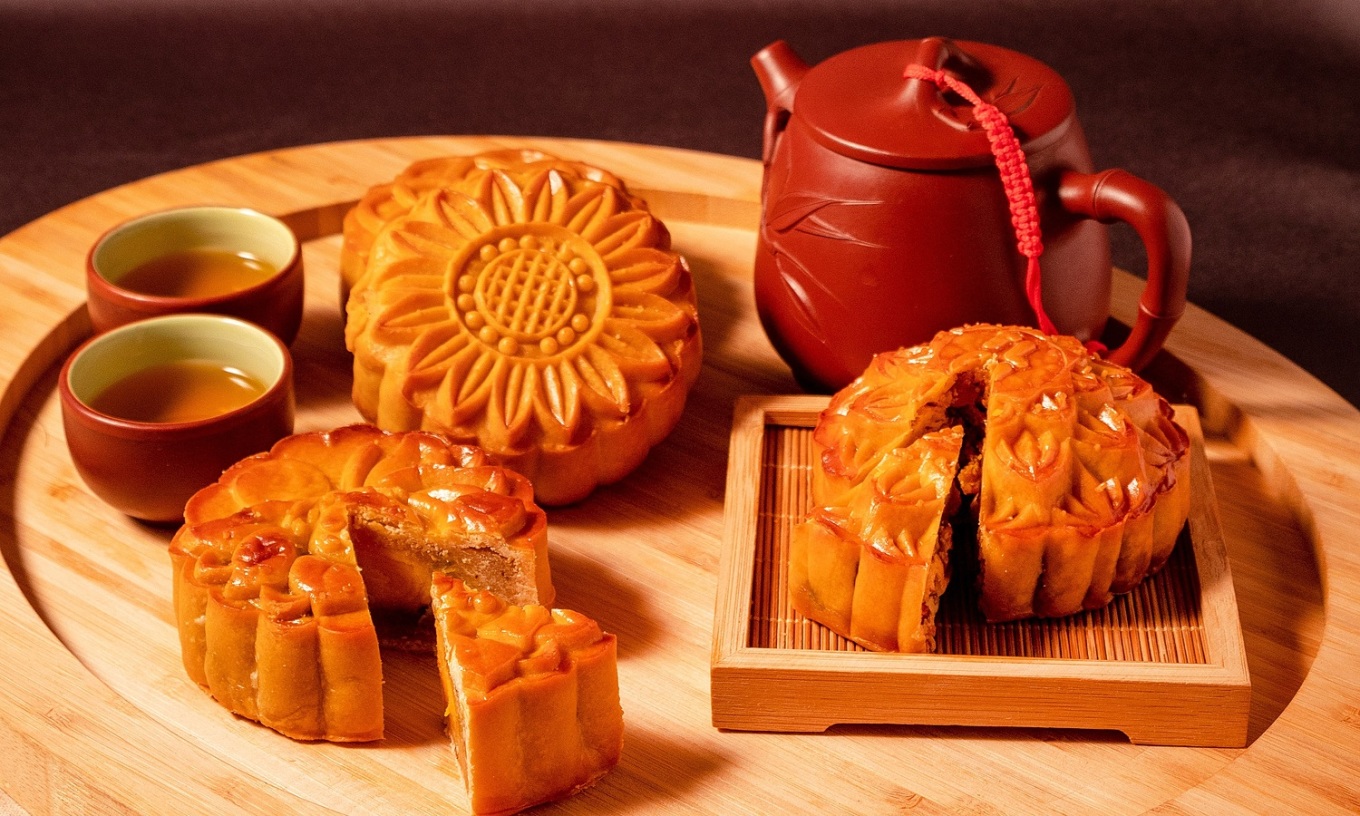 First of these vietnamese dishes is Banh trung thu or Mooncake. This is a special cake that only appears in the Autumn Festival. It has 2 main kinds, namely Banh deo (Sticky rice mooncake) and Banh nuong (Baked moon ake). Filling of moon cake can be made from many different ingredients such as lotus seed paste, red bean paste, green bean paste, salted eggs…
Quay nong (bagel twists)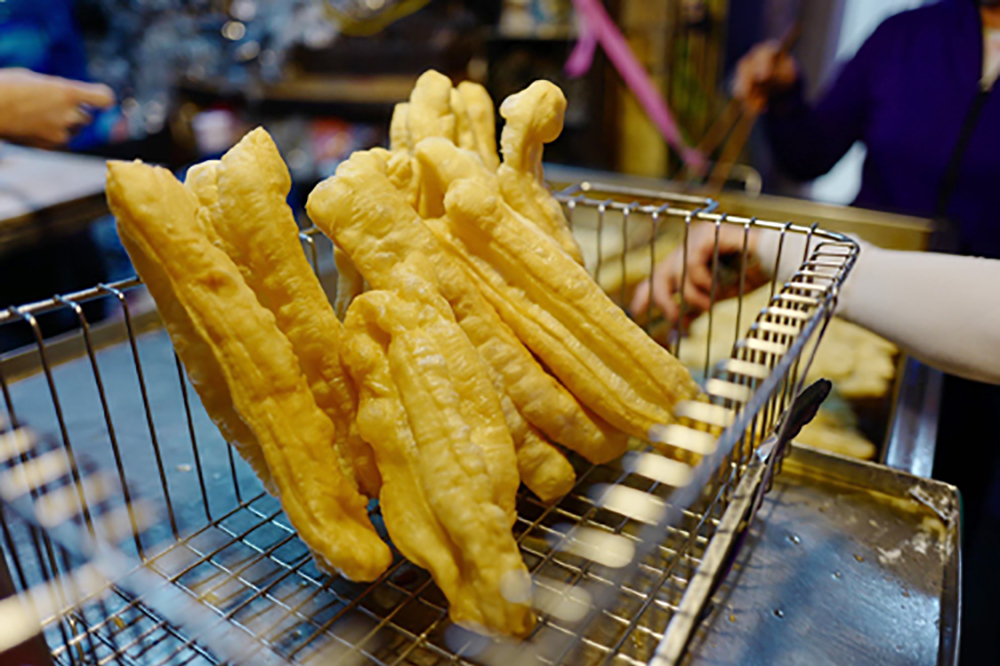 Oone of the most favorite Vietnamese dishes for many locals in winter is Quay nong or bagel twist. The ingredients include wheat flour, yeast, salt, water and sugar, then mix well and brew for many hours. After that, the dough is molded into small pieces, then fried in oil until turns golden, then take it out. Quay is usually served with pho, porridge or eaten directly, dipping it with sour sweet fish sauce and pickles.
Che (sweet soup)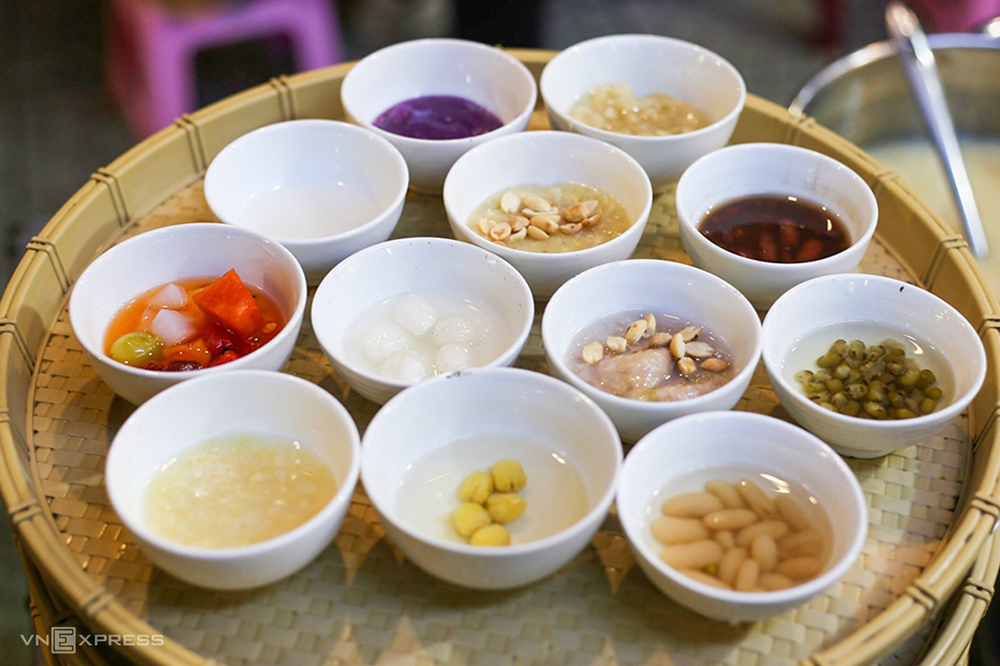 The most popular vietnamese dessert in summer names Che or sweet soup. typically made of several ingredients such as beans, seeds, puddings and seasonal fruits mixed together and served in a large beer glass.
Banh beo (steamed rice cake)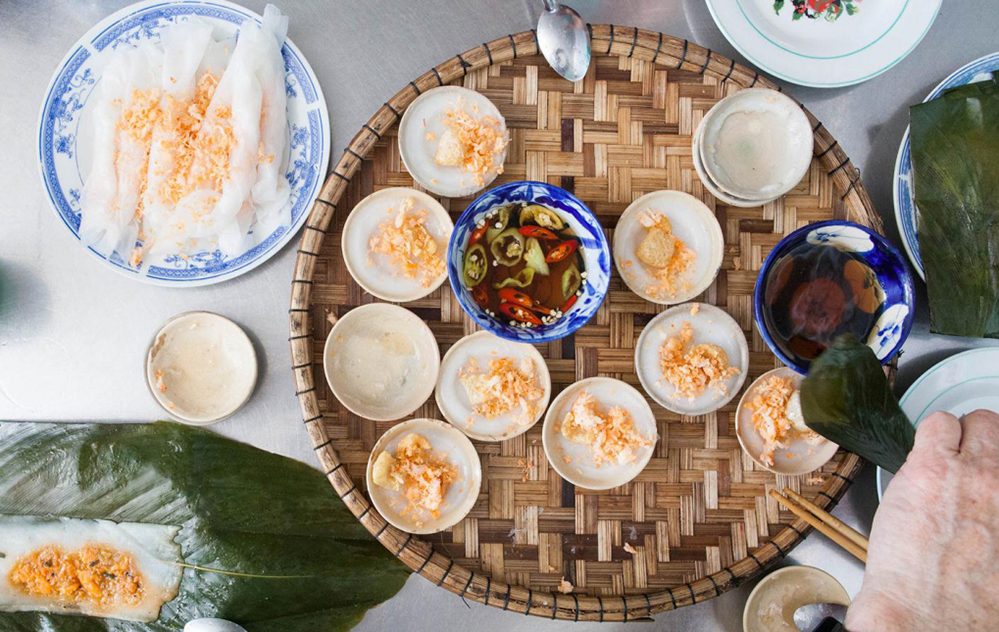 One of the most famous vietnamese dishes in central Vietnam, especially in Hue is Banh beo or steamed rice cake. It is made from basic ingredients such as rice flour, crispy pork skin, scallion oil, fried onions. Banh beo is served in on individual small dishes and accompanied by sweet sour fish sauce.
Xoi (sticky rice)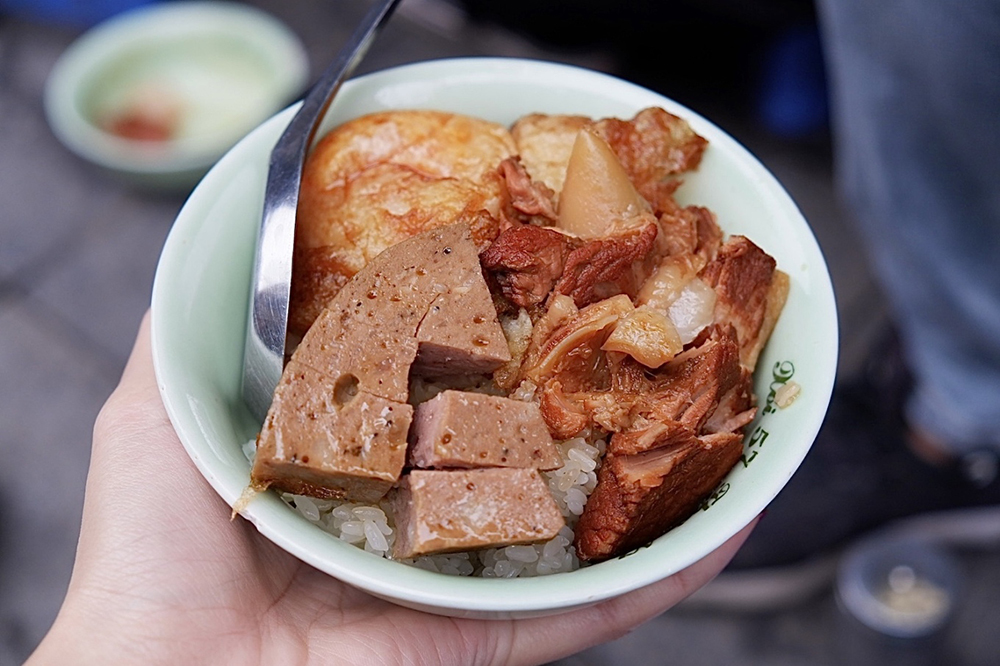 One of the most favored and cheap vietnamese dishes for breakfast is Xoi or Sticky rice. You can find it almost everywhere, from street vendors to small food courts or restaurants. Xoi can be served extra with eggs, braised meat, pork rolls. Traditionally, sticky rice is usually wrapped in banana leaves, and are bought and taken away by local people.
Canh chua (sour soup)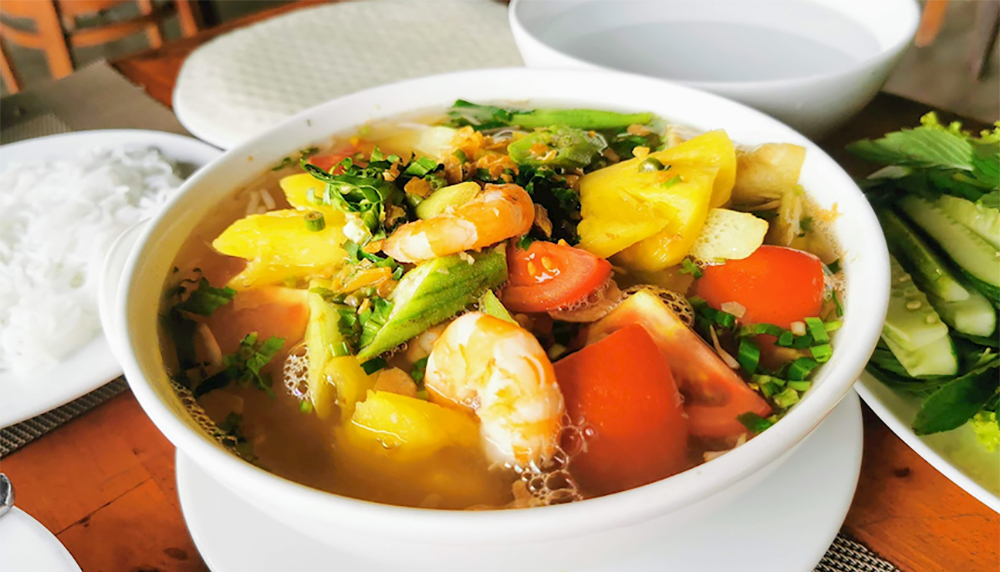 Beside rice, Canh chua is one of the main vietnamese dishes in daily meal of the locals, most famous in the Mekong Delta region. Ingredients such as fish or minced meat is cooked in water, then vegetables like tomatoes, okra, pineapple, tamarind…. are added to make the soup sour.
Banh bao (dumplings)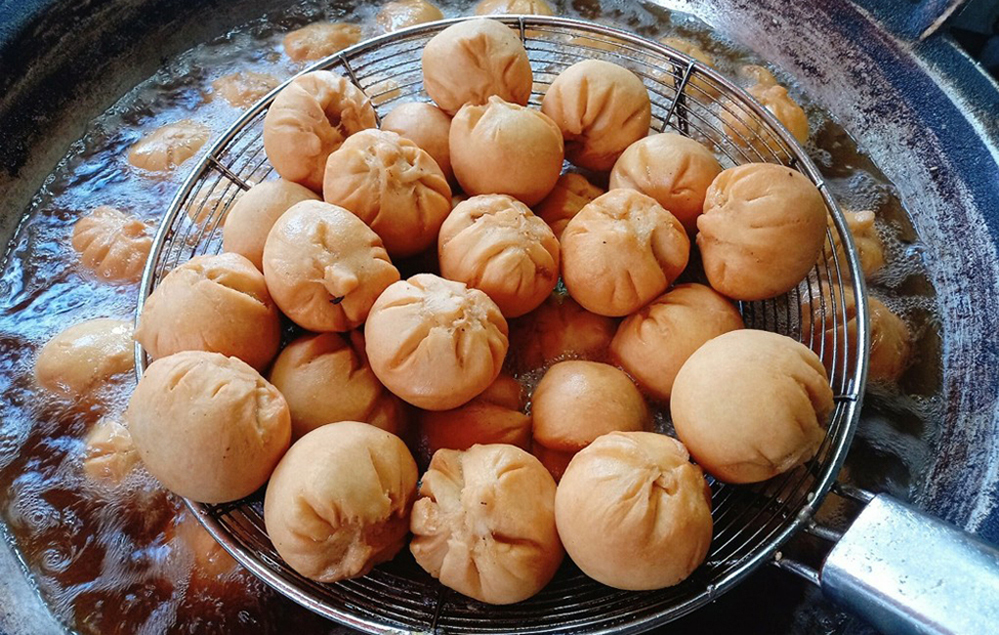 It would be a mistake to forget to mention about Banh bao or dumplings. Banh bao is brought to Vietnam by Cantonese immigrants. It is a ball-shaped bun containing pork meat, sausage, eggs, mushrooms, steamed or fried.
Banh cuon (rice rolls)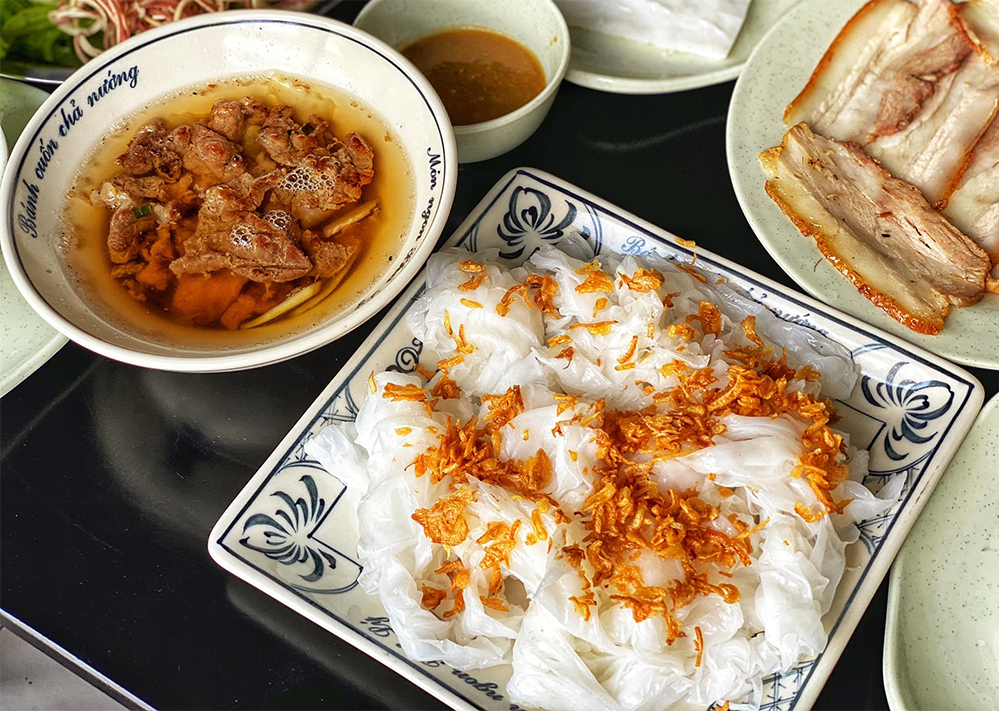 One of the most popular vietnamese dishes in the northern is Banh cuon. It is thin sheets of steamed rice batter filled with ground pork and minced wood ear mushrooms. Then served with sweet chili fish sauce and vegetables for breakfast.
Com chien (fried rice)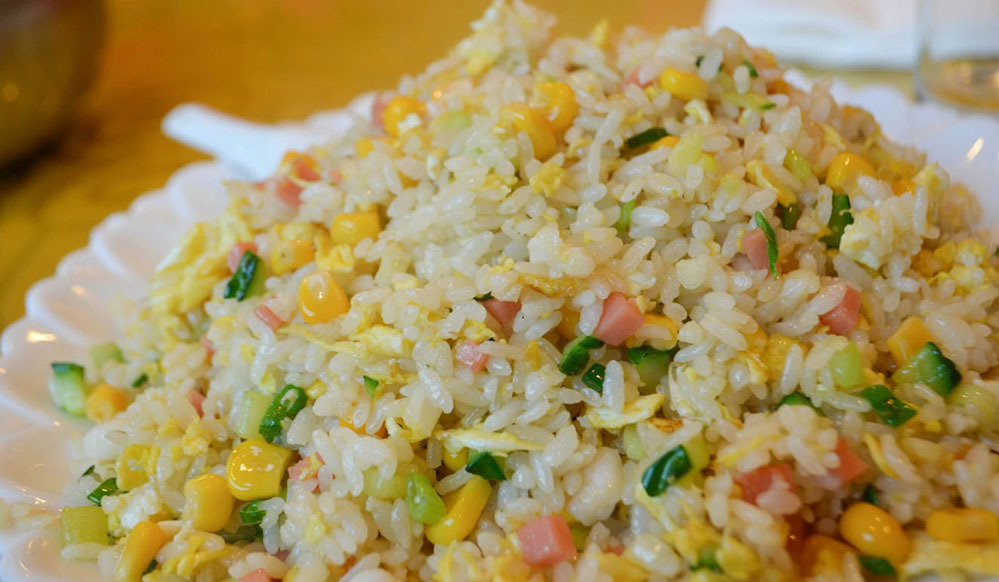 Com chien is a Vietnamese dish that is flexibly cooked with a lot of things that can be added to the pan to fry with rice. The dish consists of white rice cooked into rice, roasted in a pan with eggs, garlic, salt, pepper, sausage, scallions… Fried rice is most delicious while still hot, with pickles. In Vietnam, there are two types of fried rice that people often love: mixed and beef pickles fried rice.