The island paradise in southern Vietnam, Phu Quoc, offers tourists many dreamy beaches to explore. In this post Travel Sense Asia would like to recommend to you 9 best beachs in Phu Quoc for your holiday in Vietnam.
Bai Sao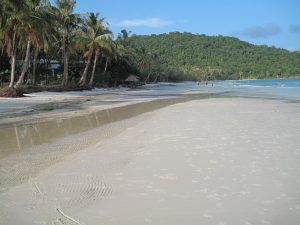 Bai Sao is considered as one of the most beautiful sandy beaches in Phu Quoc. Due to its location, this beach has not many waves. The water is warm and turquoise. The sea here is relatively shallow, so it is safe for children and elderly people. When the tide is low, visitors can admire the beautiful white sand beach.
Bai Khem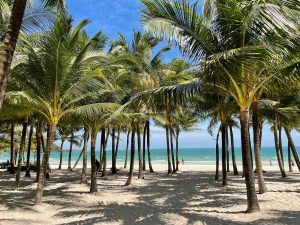 Bai Khem is located in An Thoi town and about 3.5km long. It is one of the most beautiful beaches in Phu Quoc that you should not miss. Stretching a curved shape in the coast of Phu Quoc island, Bai Khiem owns a beautiful smooth sandy shore nestled in the green color of the pristine forest. At the end of the beach, there is an old well called Gieng Tien or Fairy Well. Although the well situates near the sea, its water is totally fresh water and never salty even at high tide.
Bai Truong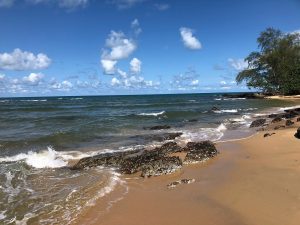 As it's called, with the length of 20km Bai Truong is the longest beach in Phu Quoc island. It is located right on Duong Dong town at the centre of island. Parallel to the beach is the famous Tran Hung Dao street, which is the main road of the island and very crowded. This is where it concentrates more than 70% of restaurants, hotels, resorts, shops, eateries or many other entertainment services on the entire island.
Bai Dai
Bai Dai is situated in the west of Phu Quoc island. It is approximately 15km long, stretching from Ganh Dau Cape to Cua Can village. The beach possesses an endless golden sandbank in combination with crystal blue seawater and choppy layers of continuous waves. It is surrounded by hills, rockbound shores, fishing villages and palm trees range, creating such an ideal beautiful landscape for visitors.
Bai Vung Bau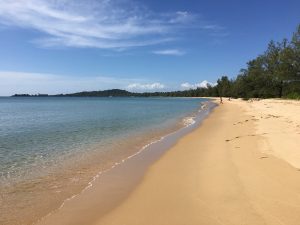 Vung Bau Beach is a pristine untouched beach in Phu Quoc, located in the northwest of the island. The 6km crescent -shaped sandy beach is suitable for swimming, scuba diving and rowing activities.
Bai Ganh Dau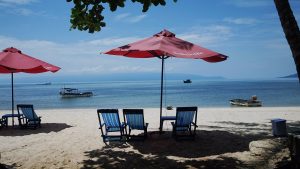 This beach is situated in the northern part of Phu Quoc island where primitive forests, mountains, and sea still remain intact. Ganh Dau beach is framed by the high hills. This is renowned for its revolutionary past since it was the place where the Vietnamese hero Nguyen Trung Truc used to set a base nearby to fight again the French invaders in the 18th century. Different from the busy and crowded Duong Dong town, the life in Bai Ganh Dau is quiet and suitable for anyone who are looking for an escape.
Bai Cua Can
Cua Can Beach is a public beach located at the mouth of Cua Can river, approximately 15km far from Dong Duong town. The beach is 3km in length, formed by the intersection of sea and river on its two sides. Since Cua Can have not been affected by substructure developments, it is known as one of the most untouched beaches in Phu Quoc island favoured by tourists.
Bai Rach Vem
Rach Vem Beach is one of the most remote and least visited of all the beaches and bays on the island of Phu Quoc. It is known as the "kingdom of starfishes" because here visitors can see numerous of gorgeous starfishes. This place is not touristy, so you can enjoy fresh seafood with reasonable prices. The beach is long and narrow, the sea is bright turquoise with calm water and a smooth shallow entrance.
Bai Ong Lang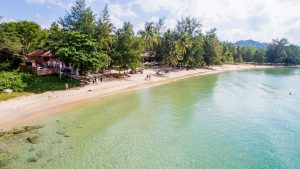 Ong Lang Beach is located on the west coast of Phu Quoc Island, about 7 km from Duong Dong town. The beach is a little bit rocky but still able to swim. Although it is not as famous as Bai Sao or Bai Khem beach, but it has its own beauty, still untouched and primitive. The beach has golden sand, rocks and green trees along the coast. Ong Lang Beach is also one of the most beautiful places to watch the sunset in Phu Quoc, Vietnam.