What would be a perfect mix of sport and sightseeing? Kayaking, it is. There is no better way than kayaking to fully grasp the sublime beauty of majestic scenes in Vietnam and uncover the adventurous feeling of discovering unknown places.
These destinations below are ideal for all of you who can not wait to kayak this summer.
Tu San Abyss Alley/ Nho Que River
Locatioin: Mã Pì Lèng pass, Xín Cái, Mèo Vạc, Hà Giang Province
With a depth of about 800m, a length of 1.7km and a cliff slope of 70-90 degrees, Tu San is undoubtedly the deepest canyon in Vietnam and Southeast Asia.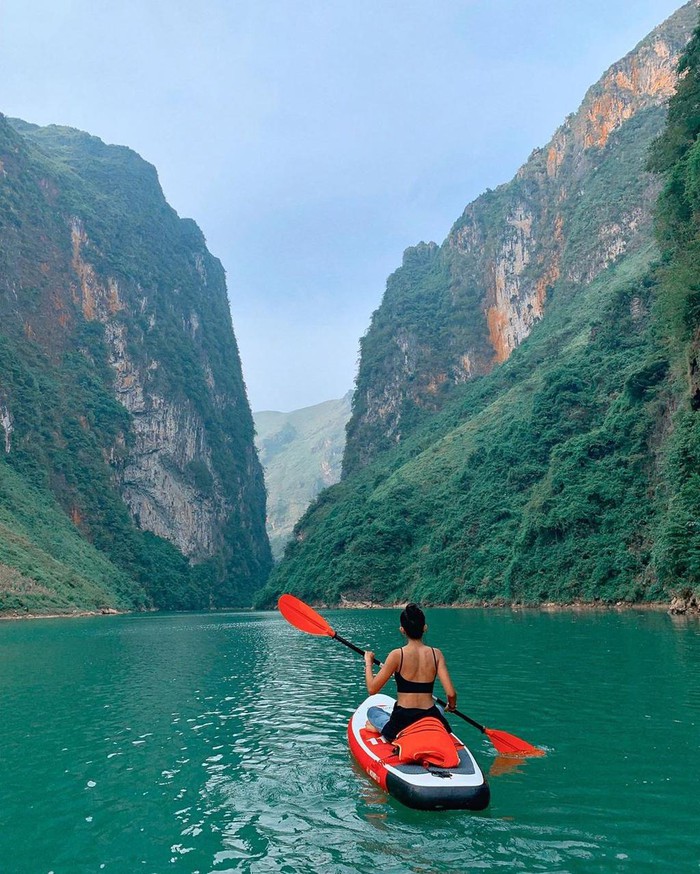 From the view of your kayak, you can look high up and get dazzled by the ever-green grass, the immense corn fields or the poetic mossy stilt houses hidden in clouds and mountains. Surround you would be the jade green water of the Nho Que River so idly flowing that it seems like it would never cease flowing ever.
In February and March, both sides of the river glow with the red of rice flowers and the emerald of the water, offering a breathtaking landscape of the mountains and forests.
Phong Nha – Ke Bang
Location: Bố Trạch District, Quảng Bình Province
Phong Nha – Ke Bang National Park is home to mystic caves and awe-inspiring landscapes. A challenge worth embarking on for adventurous travelers is to join an expedition to explore new caves around the park.
One special and exciting activity you would definitely want to give a try is to go kayaking through the magnifying waterways to Phong Nha Cave.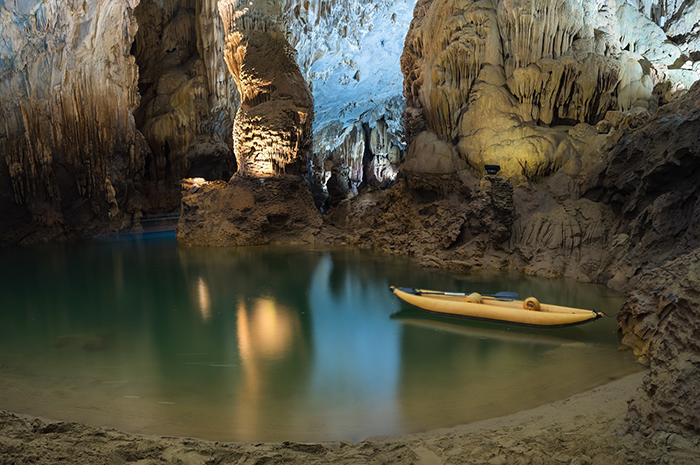 There are two routes for this activity: one rowing through Son River known as a tributary of Gianh River and the other exploring the internationally-known vast wet caves inside Phong Nha Cave. This marvelous cave may wow any first visitors with numerous stalactites of distinctive shapes and a surprising underground-river network.
Ha Long Bay
Location: Hạ Long city, Quảng Ninh province.
Thanks to its magnificent scenic beauty, including unique-shaped rocks emerging from the turquoise water, Ha Long Bay was designated as a World Heritage Site by UNESCO.
With the calm water and romantic landscapes all year round, the bay is considered to be among the best places for kayaking in Vietnam. Surely, nothing there can disappoint you at all.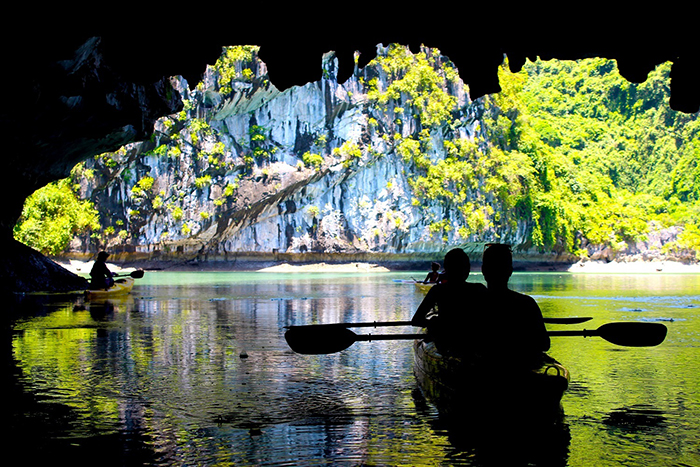 Actually, what makes kayaking here so promising is that you can control the kayak on your own through narrow waterways to stunning caves and stop to explore inside these so-called marvels. The stalactites will make your jaws drop for the incredible shapes they have. 
It is also great to row past fishing villages and learn more about the local culture.
Han River
Location: Da Nang city
If you are planning to take a trip to Da Nang, Han River is a must. And kayaking on Han River would surely be a remarkable experience for any traveler.
What's unique about kayaking on this scenic river is that you can embrace the city's twinkling landscapes with the coming of night. Kayaking is held between 5:00 PM and 7:00 PM, during weekdays from Monday to Friday.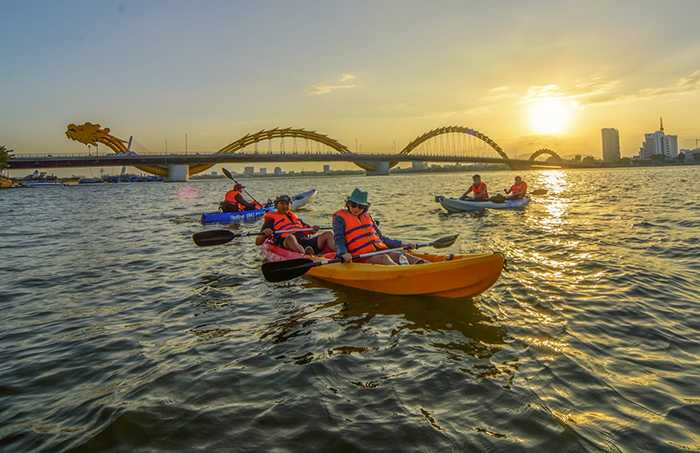 This activity gives visitors a chance to peer down at the magnificence at two sides of Han River. Sitting on the kayak on the river, you will be thrilled to see the city illuminated by dazzling lights when the dark slowly swallows the sky. Han River Bridge also looks more seductive from the middle of the river.
Huong River
Location: Hue City
Hue City, the formal capital of Vietnam, is widely known for its poetic river – Huong River. This river has always been the copious source of motivation for generations of poets and writers. There would be nothing more ideal than being immersed in the poetic atmosphere while idly kayaking on the Huong River.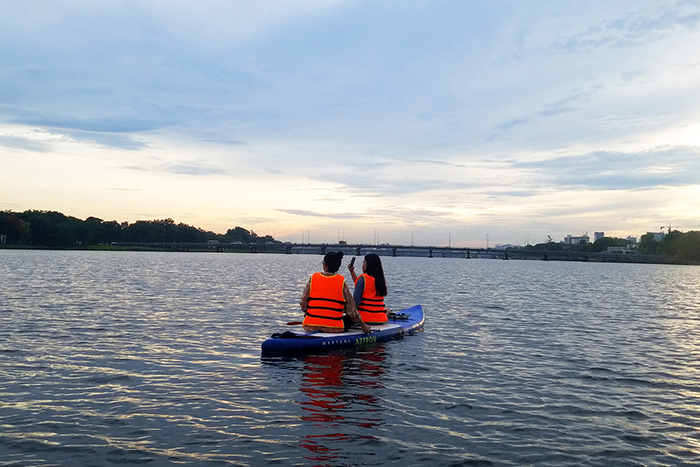 It is your opportunity to observe and breathe the life of locals at two river banks. You will see old towns, traditional markets, stunning islands, floating villages, and Hue's charming scenery at Dong Ba Market, Hen Island, and Ba Vinh Ancient town. Upon your kayaking trip, you can bump into some traditional food stall or small souvenir shops. Every experience would be totally different when you're on a kayak.
Phu Quoc
Location: Phu Quoc Island
With decent weather conditions and calm waters during most times of the year, Phu Quoc is another ideal place for kayaking.
Bai Sao beach in Phu Quoc is a well-known tourism destination and one of the top places for kayaking in Vietnam. You can paddle out into the middle of the blue sea in the sparkling afternoon sun and enjoy the sea's atmosphere while floating on a small boat despite the fluttering waves.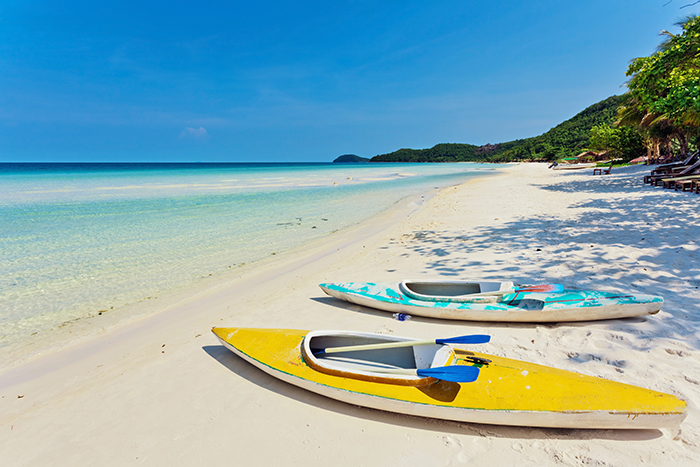 There will be only the vast white sand and sunshine behind you. Surely, there will be nothing as peaceful as this experience on your tour to Southern Vietnam.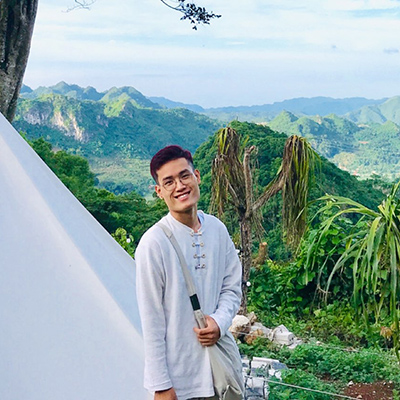 Anthony Icarus
I have always been an adventurous one since I was a little kid. My mom must have had a hard time making me sit still or just stay at home. Every travel to me, no matter long or short, low or high budget, always make me fall in love again and again with the magnificent nature, unique culture and endearing locals.