Phu Quoc is renown as the "pearl island" in Vietnam. Snorkeling and diving is a popular activity for tourists in Phu Quoc, because the island offers the most beautiful coral reefs in Vietnam. Here are the best places for snorkeling in Phu Quoc island.
Bai Khem
Bai Khem or Khem Beach is located on the south of Phu Quoc island, about 25km from Duong Dong town. Bai Khem is famous for its untouched beauty with smooth white sand, clear blue water and a lot of palm trees. The beach has a diverse and colorful ecosystem which is full with coloured coral reefs and hundreds of sea animals. Travelers can immerse themselves in the ocean world of Bai Khem through snorkel or scuba dive activities.
Bai Sao
Bai Sao or Sao Beach, also located at the south of island, is one of the most beautiful beaches in Phu Quoc. An endless white sandy strip with jungle backdrop and swaying palm trees will make any visitors fall in love. The south and the north of the Bai Sao have beautiful coral reefs. This is a ideal place for snorkeling to a depth of 10-12m. In addition, tourists can do many other activities such as scuba diving, sea walking…
Rach Vem
Rach Vem is a remote and less visited beach in Phu Quoc. It is located in the same name fishing village, about 20 km from Duong Dong to the north. Rach Vem is recommended as one of the best places for snorkeling in Phu Quoc, with lots of colorful and pristine coral reefs. A very typical picture of this beach is many starfishes lying on the white sandy shore. That is the reason why it is also renown as Starfish Beach.
Hon Thom
Hon Thom or Pineapple island is the largest and most beautiful island of An Thoi archipelago at the southern Phu Quoc. Here the water is very deep and clear with beautiful rocky rapids in various fancy shapes. On Hon Thom there are many beautiful beaches such as Bai Nom, Bai Nam, Bai Chuong, Bai Trao… Visitors can not only lie lazy on the beach but also join snorkeling tour to see amazing coral reefs.
Hon Dam
Hon Dam is a small uninhabited island in An Thoi archipelago. That is the reason why it owns a diverse ecosystem, included anemones, sea cucumbers and many colorful fishes. Because the island is surrounded by rocks, this place has a rich coral reef. Hon Dam is also known as "Robinson Island" because there are no people living on the island. There is only one eco-homestay on the island, namely Hon Dam Island Hideaway. It is a great place for an escape.
Hon May Rut
Hon May Rut is an island located in the south of Phu Quoc Island. Like Hon Dam this place has no inhabitants. Here the sea is so clear that we can see the bottom clearly. Visitors can enjoy swimming, fishing and snorkeling. May Rut consists of two small islands: May Rut Trong and May Rut Ngoai.
Hon Mong Tay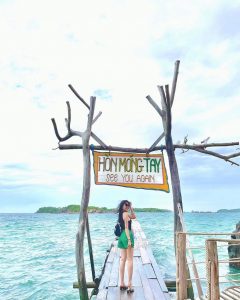 Hon Mong Tay is also an island in An Thoi archipelago to the south of Phu Quoc island. It is named after the special tree on the island: the nail tree, or gardenia. Because the island is newly open to tourists so there are not so much activities or tourism services here. Therefore coming here, visitors will be surprised by the beauty of clear blue sea water, long white sand beache and a wide range of palm trees. Under the sea, there are colorful coral reefs for visitors to admire.