Beer or fresh beer (bia hoi) is a favorite drink in Vietnam. People usually enjoy beer with friends after a long day working or touring when you travel in Vietnam. It is no longer a drink but a way of life, a part of Vietnamese culture. Together with Travel Sense Asia let's discover best places to drink beer in Vietnam.
Hanoi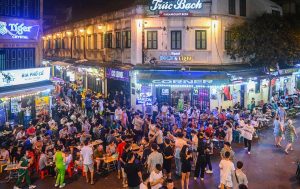 Hanoi is absolutely a must place to visit when travelling to Vietnam. There is a famous place in the old quarter where people come and enjoy beer in Vietnam. That is Ta Hien Street. This street is always crowded with tourists visiting to drink beer and experience the busiest nightlife in Hanoi. There is a large number of food eateries, bars, pubs along this 200m street.
Ho Chi Minh City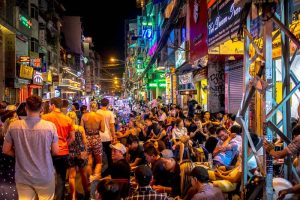 Heading to the south, you should arrive in Ho Chi Minh city or known as Saigon, the great metropole. Some even say it is a "sleepless" city. It is not difficult to find a place in Ho Chi Minh city where you can entertain or have fun with friends, colleagues and drink beer in Vietnam.
The most famous street in Saigon names Bui Vien Street. It is another version of Ta Hien. Sitting on small plastic chair, listen to noisy music sound, feel a great vibe with cool beer and tasty food like a real local.
Hue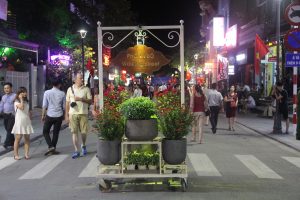 Hue, for many people, is a destination of historical and cultural visits. However you still find a place to enjoy the nightlife in this city. That is Pham Ngu Lao Street or usually called as the backpackers' street.
Together with Chu Van An and Vo Thi Sau, this area becomes a walking zone. Here visitors may enjoy entertainment activities, gastronomy experience in restaurants, bars, street food stalls, etc. Of course you can easily find a place to drink beer in Vietnam here.
Da Nang
Da Nang may be considered as a place to relax and most suitable for family with kid or honeymoon travellers. However if you come to the beach by night you can see a lot of young people sitting on the beach and drink beer, eat snacks. Do as the locals do and you will not regret. Let's buy some beers from convenient store then come to the beach, feel the breeze from the sea and enjoy your cold beer.
Nha Trang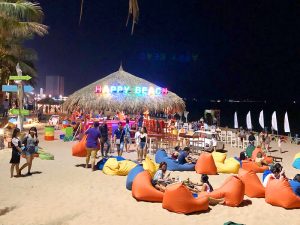 Well, Nha Trang is a famous beach destination in Vietnam. It attracts a numerous international tourists every year. So there are many restaurants, beach clubs, bars and hotel along Tran Phu Street in Nha Trang center. Coming to Nha Trang, don't forget to visit the clubs, enjoy the nightlife, listen to live music and drink beer in Vietnam.