Visiting floating market is a travel experience that visitors should not miss when traveling to Mekong Delta. Among these Cai Rang is the most popular floating market in Mekong region. In 2016, Cai Rang Floating Market was recognized as a national intangible cultural heritage of Vietnam.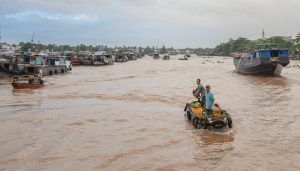 Cai Rang Floating Market is located about 5 km from Can Tho city center. It takes 30 minutes by boat from Ninh Kieu pier. Formed in the early 20th century to serve the needs of trading in the region, Cai Rang is now one of three largest floating markets in Mekong Delta, with more than 300 boats gathering every day.
Cai Rang floating market opens from 5am. The busiest hours start from 6am to 8am. Visitors often come here in the early morning to catch the sunrise and feel the bustling atmosphere of the market. Small local boats often approach tourist boats to sell fruit or and soft drinks. Some even offer breakfast, such as noodle soup, rice noodles… It would be a and exciting experience when you can enjoy the breakfast on water surface.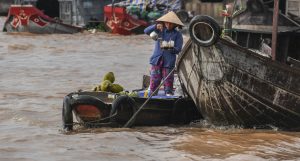 In Cai Rang Floating Market, the locals provide a wide range of products catering to their daily life. Mainly are seasonal fruits and vegetables such as durian, ananas, bananas, coconut, watermelon, cabbage, potatoes, carrots etc. It is a tradition that whatever the boat sells, will be hang on a pole 3 – 5 m high so that buyers can recognize it from a far distance. The locals call it "cay beo". That is a special advertising method of Vietnamese people in Mekong Delta.
Nowadays, Cai Rang Floating Market is not only a place for people to exchange goods, but also a part of Vietnamese culture. Coming here, visitors can learn more about the daily life of local people in Mekong region who stay on the boat year-around. The small boat has become home to them and their family. It looks like a mobile house, with enough equipments, from gas stove to television or even small flower pots for decoration.
To visit Cai Rang Floating market, visitors can take a motorboat for 60,000 to 100,000 per person or rent a whole boat for the group.
Today there are only 10 floating markets left in the Mekong Delta. Gradually local people move on land to have a better life and their children can go to school. Therefore, floating markets keep reduced in scale and the number of boats. Local authorities are working on it to preserve the tradtional floating markets and make it an attraction to international visitors.