Hang Mua or Mua Cave is a new tourist attraction in the core area of Trang An World Heritage complex. Thanks to the spectacular view from the top it becomes a favorite check-in hotspot in Ninh Binh.
Hang Mua is located on limestone mountain in Khe Dau Ha village, Ninh Xuan commune, Hoa Lu district, Ninh Binh province. It is close to the other famous sightseeings in Ninh Binh like Trang An, Thung Nham, Tam Coc – Bich Dong, Van Long nature reserve…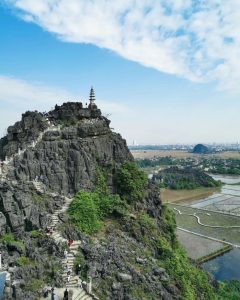 Mua Cave is open to tourists since 2000. The name Mua Cave was originated from an old time story. When the King Tran Thai Tong visited Hoa Lu captital, he often stopped at this place to enjoy dancing performances by the royal dance team. So it is called "Mua Cave" which means dancing.
What makes Hang Mua a famous scenic spot is the road to the top of the mountain which is imitated as a small version of the Great Wall in China. To reach the peak you will have to climb about 500 stone steps. But it is definitely worth.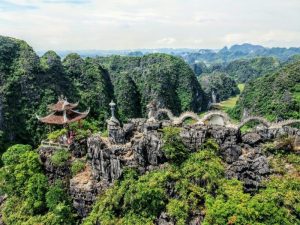 From the mountain top visitors can admire a breathtaking panoramic view over the Tam Coc Valley with rice fields and Ngo Dong river and majestic limestone mountains in surrounding area. Let's check in and take pictures with the tower and iconic stone dragon at the peak of Hang Mua. Located on the right of the entrance you can find a large lotus lake. It is a nice place to take beautiful photos.
Itinerary suggestion:
Hang Mua can be combined with other famous tourist attractions of Ninh Binh in 1 day tour program.
Depart from Hanoi and heading to Ninh Binh. Your first stop is Hoa Lu, the ancient capital of Vietnam. Then visit Bich Dong mountain pagoda. In the afternoon enjoy a pleasure boat trip to explore Tam Coc or Trang An complex. Then visit Hang Mua and enjoy a spectacular view from the peak. Back to Hanoi. End of day tour.