Located about 140km from Hanoi away, Mai Chau is truly an ideal place for a retreat or an excursion from Hanoi. Wide-open paddy fields, karst mountains and small villages of Thai ethnic people, all of that has made this peaceful rural town an well-known tourist destination. Today Travel Sense Asia will give you a travel guide in details and some insider tips for your trip to Mai Chau.
Content
Best time to visit Mai Chau
How to get there?
Where to stay?
Things to do in Mai Chau
1. Best time to visit Mai Chau
It is hard to say which month is the best time to visit Mai Chau because it is beautiful in every season in its own way. From Febuary to April is blooming season, the weather is warm and quite pleasant. Harverst season comes twice times a year: May-June and September-October, so if you want to take picture of golden rice fields you should visit Mai Chau in this time. From November to January, the weather is cold down but you are able to see the whole valley coverd by apricot and plum white blossoms.
2.How to get there?
There are local buses running from Hanoi to Mai Chau. However we will recommend tourists to book a private transfer. It should be more convenient and safer. The trip takes about 3.5-4 hours. On the way you can ask driver to stop at Thung Khe Mountain Pass and enjoy cliff-side panorama view of the valley.
3.Where to stay?
Because it is a small town, we don't have much choices for accommodation. There are few standards hotels in town center.
Homestay is a good choice if you want to stay in village. You will spend the night in traditional stilt house of local Thai people. There is no room but everyone share the same sleeping area. Conditions maybe simple but it would be an exceptional travel experience for tourist.
Other choice is staying in comfortable luxury eco resorts such as Mai Chau Ecolodge, Mai Chau Hideaway or Avana Retreat, Bakhan Village Resort. Here you can enjoy fresh air in the middle of nature and stunning view from your room.
4.Things to do in Mai Chau
Mai Chau is an ideal place for nature lovers. It has many things to offers. Here are some attractions that you should not miss.
Cycling around Thai villages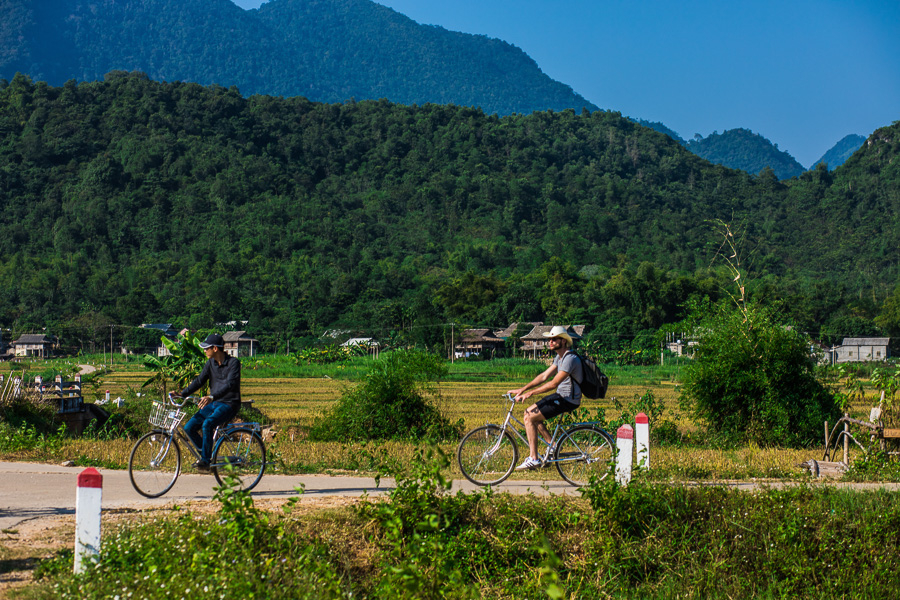 The valley offers visitors amazing rural landscape to explore, with ricefields, small villages paths and mountainous backdrop. Let's hop on your bike and ride past stilt houses and rice paddies. If you are not able to ride a bike, you can hire an electric cart to get around villages.
Do a trekking day or try bamboo rafting
If you are interessted in trekking, let's plan a day to trek in mountain area nearby. Follow the dirty trail into forest and listen to the sound of nature. An alternative is bamboo rafting on small river in Mai Hich village, with tree shade near you.
Explore Mai Chau's caves and waterfalls
Mai Chau is also home of some giant mysterious caves. Two of the biggest caves here are Mo Luong Cave – was used as a basement of Vietnam's army during the war and Chieu Cave.
Alternatively, you can visit Thac Mu, one of the most beautiful waterfalls in Mai Chau. It is located only 15km from the town.
If time allows, let's take a short visit to Hang Kia – Pa Co, home of Hmong people and visit the Sunday Market of ethnic minorities.
Enjoy traditional Thai dance performance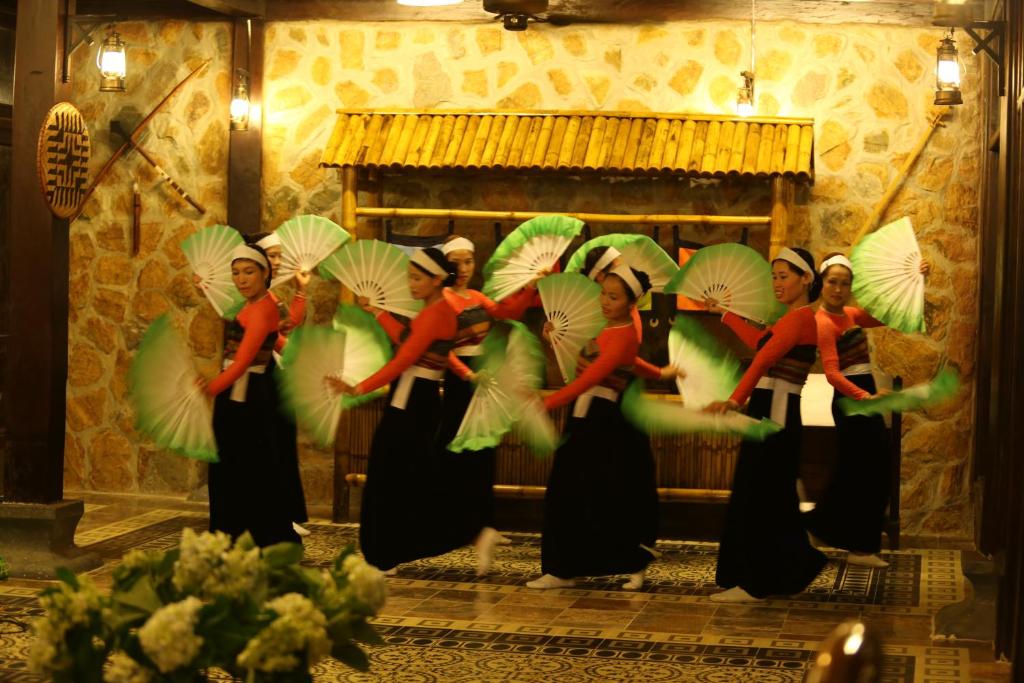 Traditional performance are a special part of every visit to Mai Chau. It helps tourists to know more about local culture. After dinner, relax and settle in to enjoy Thai dance show. Listen to live folk music and see Thai dancers in their traditional costumes.
Shop for local crafts
Mai Chau is famous for its ethnic textiles. Don't miss the chance to bring home some beautiful fabrics woven by the White Thai people such as scarf or carrier bag etc. Local shops will even have looms out front, where you can watch the locals weaving, or give it a try yourself.
Eat with the locals
Instead of restaurant let's enjoy the meal with locals to see how friendly and hospitable they are. The meals you're served at the homestays in Mai Chau might be some of the best on your Vietnam tour.