Keen to get off the beaten track (in every sense of the word!) and see a lesser-known side of Vietnam? Here is our guide to Ha Giang with 3-day itinerary!
With craggy mountains and steep slopes, Ha Giang is not the easiest place to reach. For that reason, it's less busy and gives travelers the chance to explore Vietnam's raw beauty in a way few other places offer. Ha Giang would be a perfect fit for any nature-lovers and adventurers who are searching for unsullied nature and culture diversity.
When to travel?
There are 2 seasons in Ha Giang: the rainy season from April to October and the dry season from November to March.
1.From April to October
The weather in the rain season is normally hot & humid with constant rainfalls. Travelling to Ha Giang during this time, you will feel sticky with humidity, wet with sudden rains. You have to be extremely careful on the mountain roads of winding, slippery & narrow passes – popular with landslides after big rainfalls.
However, once the rain ends, it becomes clearer for beautiful captivation of stunning landscapes: majestic mountains, green valleys & rice terraces on "falling-water time" – between the late of May & the starting of June.
In April, you can catch the Khau Vai Love Market, a special event that occurs only once a year. On this day, vendors from all around the province gather to sell their products in a flurry of color. The date changes according to the lunar calendar so make sure to check when exactly it is this year so that you can make it on the right date.
From May to June, local ethnics get rainwater from mountains down to their rice terraces and start a new rice crop. It is refreshing to see local farming activities on the rice stepped fields with buffalo plowing, harrowing & planting on the slope terrains of high mountains.
From far away, the rice terraces filled with water look like a sparkling mirror reflecting the sunset, the sunrise & the blue sky. How wonderful it is to visit rice terraced fields of "falling-water" & "golden ripen- rice". One note for those who want to visit Ha Giang during this season is to always check the weather forecast
2. From November to March
It is definitely going to be cooler and less rainy in the dry season. If it even rains, it would not be a big shower like summer rains, just a little one. As the weather cools down and may get colder, there is a chance you can witness snows in high mountains in January or February. Regarding the weather condition, the dry season is the best time to travel in Ha Giang.
November comes with the buckwheat blooming season. This is when the small, pink flowers in the fields carve a beautiful contrast to the grey mountains and green forests around. The best place to observe the rice terraced landscapes in Ha Giang is in Hoang Su Phi district. You can link your Sapa trip, Bac Ha market, then Hoang Su Phi rice terraces visit altogether.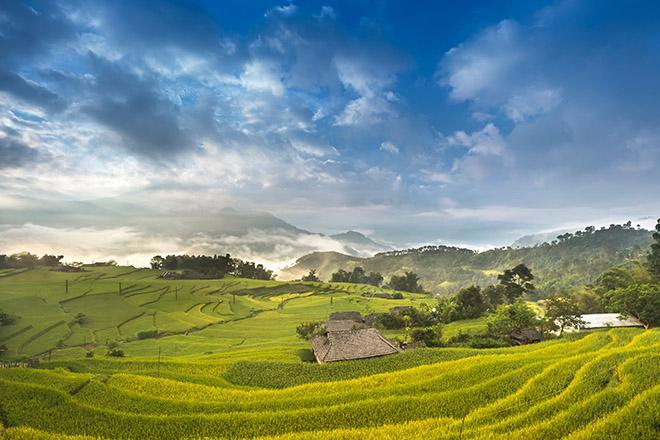 In December, the valleys & foot hills of Ha Giang stand out with yellow carpets of the kale flowers blooming, so scenic for your postcard-worthy pictures.
Then it comes to the time of the spring "between January & April", Ha Giang landscapes are full of life with the spring's flowers blooming and reach its fullest beauty in March. Feel free to embrace the most beautiful time of Ha Giang when peach & plum orchards bloom in its full scale with pink peach flowers & pure white plum flowers, along with its nice fragrance.
How to travel from Hanoi
It is about 280km from Hanoi to Ha Giang, which takes almost 6 hours to travel by car. To help you avoid getting lost from the hefty information, we gather here some ways to travel from Hanoi to Ha Giang. You can make your final decision by considering price, convenience and safety:
By sleeper bus
Pick-up station: Mỹ Đình bus station
Pick-up time: almost every hour from 4:30 am till 1:30 pm
Duration: 7-8 hours
Convenience: there will be individual beds for each guest. The bus usually has 2 floors for you to choose. It is equipped with air-conditioners. The trip is going to be long so there will be small stops, where you can get off the bus and get a bathroom.
Risk: some bus driver can overcrowd his bus to utilize the number guests in a take so it would be cramped inside
By motorbike/ car
Duration: 7-8 hours
Convenience: you can travel at your own pace. You can make stops on your way to take pictures at memorable sights.
Risk: motorbike/ car breaks down in the middle of nowhere; hectic highway; dangerous turns
Experiences in Ha Giang
Let's go through sublime nature scenes you can immerse in when you've got to Ha Giang.
Fairy Bosom/ Twin Mountain (Núi Cô Tiên/ Núi Đôi)
When you reach Quan Ba District, the first thing you need to see is Quan Ba Twin Mountains ( also known as Fairy Mountains) – the special art created to this land by Mother of Nature. Between mountains & rice terraces are two twin mountain with forms likening as two breasts of a fairy narrated by locals in this interesting fairy tale: "Long long ago, there was a handsome H'mong young man who was very excellent at playing flute.
The sound of his flute attracted a fairy coming down from heaven to watch him playing. They later fell in love, got married and had a lovely son. However, the King of Heaven requested the fairy to come back upon realising that his daughter had left the palace. With her motherly love to her newly-born son, the fairy decided to leave her breasts on earth to feed up her son before flying back to heaven."

Quan Ba Heaven's Gate (Cổng trời Quản Bạ)
With an admirable height of more than 1500m and located about 43km from Ha Giang city, this place also marks the beginning of another famous place "The Road of Happiness" (Con đường Hạnh Phúc) and is the first gateway to enter the Dong Van Ky rock plateau.
To visit the Heaven Gate, you have to climb a few dozen more steps to the highest peak. The scenery is worth the wait and effort. This is the most ideal place to have a broad glimpse of the Dong Van plateau. Looking to the front is a large valley with rolling prairies, yellow rice terraces mixed with the brown color of earth. Stand prominently is Quan Ba twin mountain or Fairy Mountain that make visitors feel like they are floating in the sea of clouds.

Dong Van – Đồng Văn
Dong Van is a highland border district of Ha Giang Province, about 150km north of Ha Giang province. Dong Van District attracts visitors thanks to fresh air and many unique tourist attractions:
Lung Cu Flag Tower at Lung Cu Peak (also known as Rong Mountain) at an altitude of about 1,470m. This tower has everyone's gaze with a total height of 34.85m. From Lung Cu Peak, one can admire the spectacular natural scenery of Dong Van Karst Plateau, terraced rice fields blending in harmony with ethnic villages. Looking down at the foot of Rong Mountain are two lakes called Dragon's Eyes which are located symmetrically on the two sides of the mountain.
Vuong Family's Residence – an ancient villa of Vuong Chinh Duc – who used to be recognized as a king governing Dong Van Plateau region in the late of 19th and early of 20th centuries. Built in 1919 and completed in 1928, the residence has a massive area of nearly 3,000m², surrounded by an arc-shaped mountain range. This complex has been well recognized as a National Art Architecture Relic since 1993.
Nested in the Dong Van Karst Plateau, Lung Cam Tren Cultural Village belonging to Sung La Commune is the home to Mong ethnic groups. The village attracts visitors thanks to its unique customs and the beauty of landscape and friendly people. You can enrich your cultural perspective by immerse in the idyllic life of ethnic minorities through hundred-year-old ancient houses, fresh green corn fields, colourful flower gardens; or enjoy specialty dishes of local people.
Ma Pi Leng pass – Đèo Mã Pí Lèng
Ma Pi Leng is the name of the craggy stretch of mountainous road in Ha Giang province, about 20 km long, located on "The Road of Happiness" (Con đường Hạnh Phúc) linking the Ha Giang town, Dong Van and Meo Vac districts. Ma Pi Leng in the language of Hmong people means "Horse Nose" referring to the abrupt mountain slopes. The road winding through the cliffs, passing Ma Pi Leng summits at an altitude of 2,000 meters, below is Nho Que river, light and thin as a thread.
With rugged terrain and spectacular unspoiled scenery, Ma Pi Leng pass deserves the title as one of the "Big Four Passes" of the northern region of Vietnam (with the Pha Din, O Quy Ho and Khau Pha Passes). One cannot miss Ma Pi Leng pass when visiting Ha Giang.

Meo Vac – Mèo Vạc
Meo Vac market is found in a valley surrounded by mountains for hundreds of years. The markets open every Sunday. It is the convergence of cultural quintessence of the ethnic minorities in the stone plateau of Ha Giang province. The Meo Vac market contains unique features different from any market in Vietnam, which explains why it attracts hundreds of domestic and foreign visitors. This is a unique attraction that can't be missed when traveling to Ha Giang.
Suggested Itinerary
Day 1: Hanoi – Ha Giang Town – Quan Ba – Yen Minh – Dong Van
Day 2: Dong Van – Lung Cu Flag Tower – Ma Pi Leng – Meo Vac – Mau Due – Du Gia
Day 3: Du Gia – Lung Tam – Ha Giang Town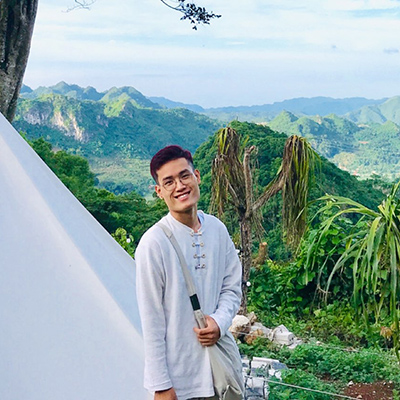 Anthony Icarus
I have always been an adventurous one since I was a little kid. My mom must have had a hard time making me sit still or just stay at home. Every travel to me, no matter long or short, low or high budget, always make me fall in love again and again with the magnificent nature, unique culture and endearing locals.