Summer is coming to town and there is no better way to beat the heat than an escape in one of the most stunning beaches. With more than 3000 km coastline, Vietnam has a lot to offer for your beach vacation. To make it easy for you to pick the right destinations among hundred beaches in Vietnam, we have compiled Top 10 Most Alluring. Keep reading to find the most suitable for you!
Halong Bay
Halong Bay situates in the Northern beach of Vietnam, about 3 hours by car from the center of Hanoi, the capital city of Vietnam. It is named after a legend about thousands of dragons, descending into the deep blue sea and creating strangely sculpted karsts, which hide caves, lagoons, and beaches. Thanks to the magnificent beauty, UNESCO has recognized Halong Bay as a World Heritage Site since 1994.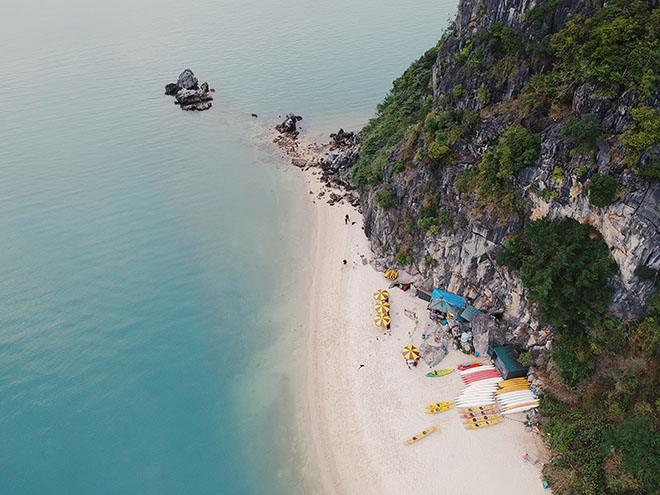 The best thing here is an overnight cruise, which gives you the chance to have dinner on board when the sun sets behind sea mountains, to enjoy the ocean breeze in the most exotic voyage and to experience morning Tai-chi – a great exercise to heal your body and soul. We wrote a detailed guide to Halong if you need more reasons to convince you to go.
Lang Co, Hue
Stretching down to the Middle of Vietnam, Lang Co beach in the ancient citadel of Hue is a must-visit for any beach lovers. It has a unique location with the back leaning on Bach Ma National Park, so you will not only feel the salty taste of the ocean but there will be some fresh air from the old jungles nearby.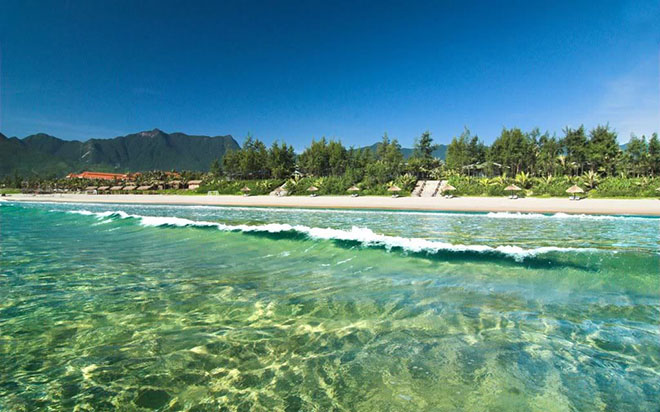 Unlike other destinations, Lang Co is pretty untouched. You hardly find any resorts or entertainment centers in the proximity of the beach. Instead, warm-hearted locals will be there to tell you about magical tales of the sea and the boat, about fascinating delicacies of royal cuisine in Hue.
In this article, we have detailed in formation that can help you in combining a perfect Lang Co beach and Hue trip. Or you can look through some Hue package tours here.
Danang Beaches
Danang is an emerging destination in Vietnam with the world-famous Golden Bridge, but it's not all. Beaches here are definitely worth your visit because of the gorgeousness.
Located not very far from the city center, My Khe beach is a convenient place to stay thanks to a mass selection of hotels, resorts, and restaurants. This beach is voted as "Top 6 most beautifull beaches in the world" by Forbes magazine. Crowded as it may seem, the beach still well preserves the dazzling white sand along with the turquoise sea. There are plenty of adventure activities such as scuba diving, boat surfing… for you to try on My Khe beach.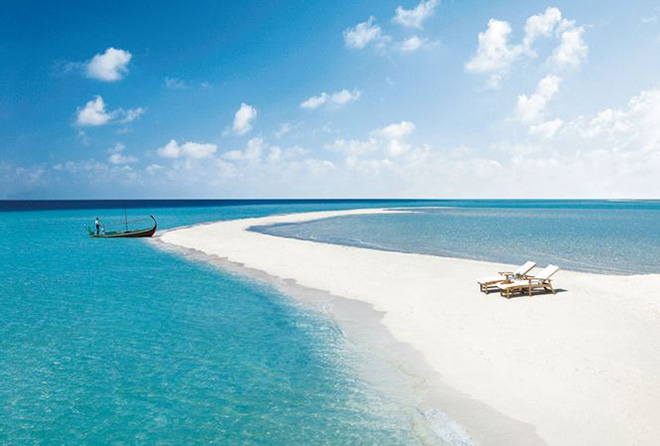 If you want to have a more secluded experience, head to Non Nuoc Beach perched above Son Tra peninsula. Only 20 minutes driving from central Danang, you can catch the peaceful vibe of stone carving villages of several hundred years old. If you are planning a visit, make sure to read about our experiences in Danang. 
An Bang, Hoi An
If Hoi An ancient town is distinctive with the bright yellow structures, An Bang Beach, which locates just 5 kilometers away, will bring about a new spectrum of blue of both the ocean and the sky. Therefore, this is an ideal beach retreat amidst your exploration of Hoi An.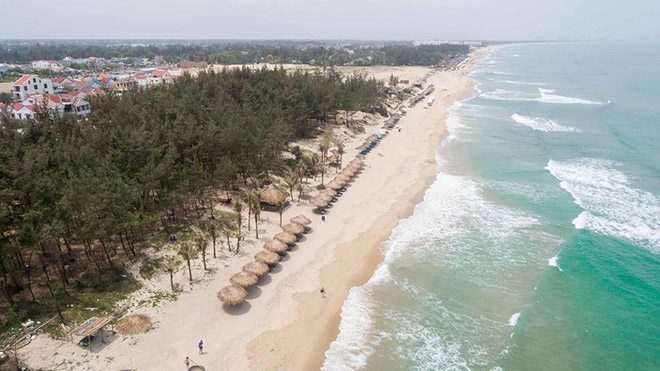 More than just an awe-inspiring destination, local dishes in Hoi An is an excellent fusion between Vietnamese and French cuisine. You can find the most delicious "banh my", Vietnamese styled baguette. Also, don't forget to try "My Quang", special noodles of the Middle. Read our guide & review here.
Ky Co, Quy Nhon
Less popular with foreigners, Ky Co is such a hidden gem of Vietnam and Southeast Asia. The beach never fails to allure visitors with the translucent sea colors, encompassing various rock formations.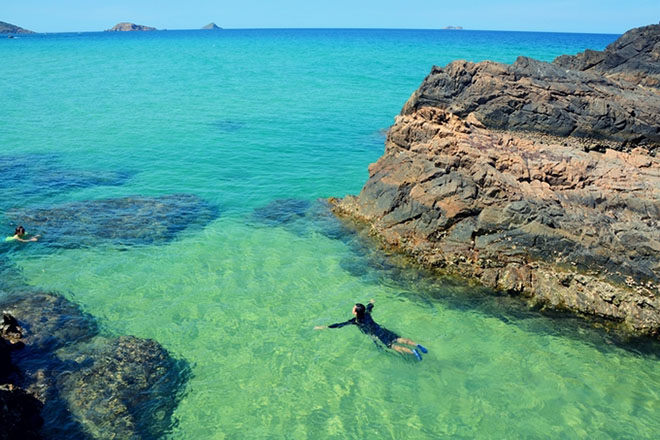 The best time to uncover the charm of Ky Co beach is around April and September when the stormy season hasn't come and the sea is calm and pristine. Here you can taste a wide range of seafood such as shellfish, clams, snails, scallops, king crabs and lobsters. It's also common for tourists to learn the traditional way of fish catching on basket boat, a fantastic way to get to know the local life.
Nha Trang Beaches
Nha Trang is known as a stunning beach city in Vietnam, so no wonder it has some of the best beach stops in the country.
When it comes to top-rated coral reefs in Vietnam, it would be a great mistake not to mention Hon Mun beach. Acclaimed by the World Wildlife Fund, the marine culture in Hon Mun island will not let you down with numerous options for underwater exploration. If you are enthusiastic about sea creatures, diving in Hon Mun will be one of the most memorable moments of your life.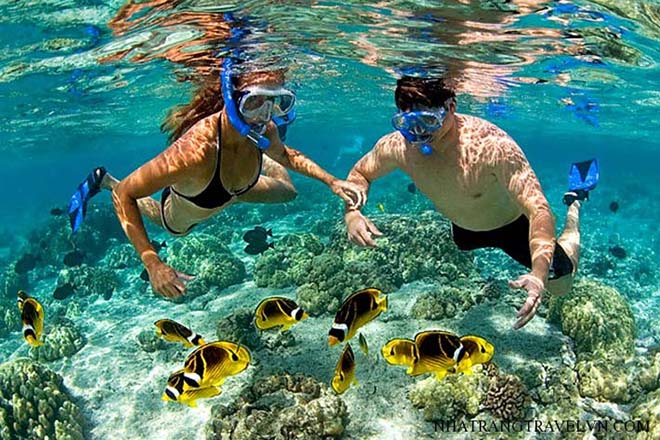 Tu Binh – Four Islands
Another recommendation for a wonderful getaway in Vietnamese beaches is Tu Binh, which includes four exquisite islands, namely Binh Tien, Binh Lap, Binh Ba, Binh Hung.
The first destination is in the midway between Ninh Thuan and Nha Trang. Travelers often stop by Binh Tien beach for camping and listening to the sound of the ocean waves hugging the breathtaking sea cliffs.
Binh Lap is called Little Maldives of Vietnam with the crystal color of the water which makes you feel like you can see the underneath of the ocean. Elegant wooden bridges on the seashore together with rustic boats anchored randomly create the most romantic setting for any photoshoot.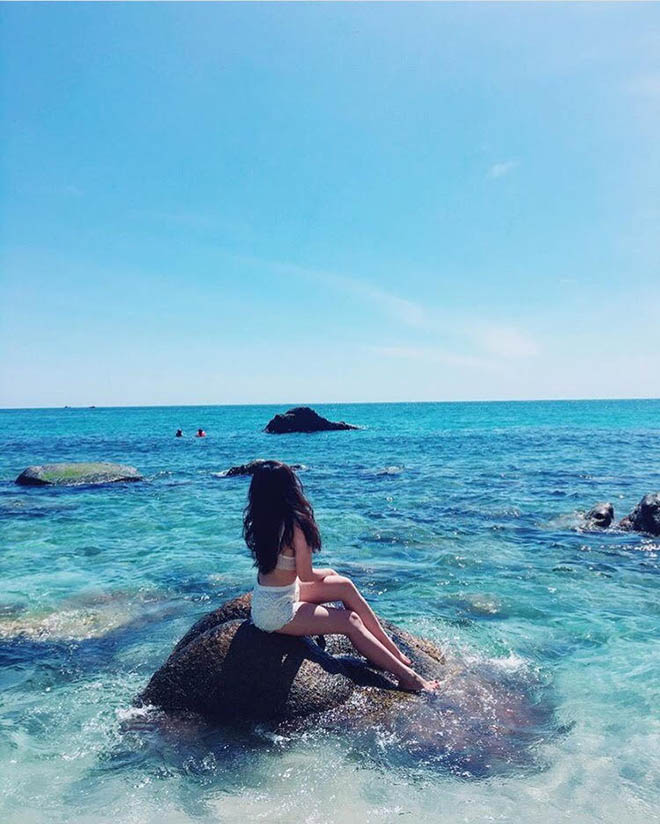 If you love seafood, Binh Ba will warmly welcome. It is known as the islet of lobsters because of the signature quality of lobsters raised in Binh Ba. What can be more enjoyable than watching the yellow purple sunset on the transparent sea and having the best dishes from the marine creatures?
Last but not least on the island hopping tour in Central Vietnam, you will be overwhelmed by the picturesque Binh Hung. The deep blue sea resting by the soft white sand with the brilliant sunshine from March to August is the best scape for you to check in.
Mui Ne, Phan Thiet
If the above mentioned are more suitable for a leisurely holiday, Mui Ne beach is certainly the top pick for adventurous souls. Approximately 2-hour drive from Ho Chi Minh City, the transport hub in Northern Vietnam will lead you to Mui Ne beach.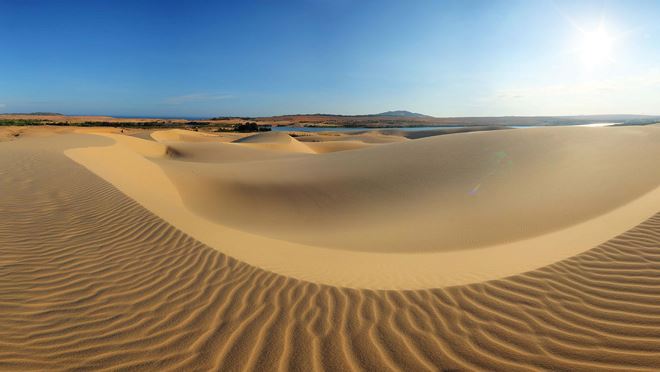 Mui Ne features great Red Sand Dunes, where you can give sandboarding, a unique activity in Phan Thiet, a try, then taking some photo on a giant jeep. You will look more like traveling in a desert rather than on a beach.
Con Dao
Con Dao is actually well known as a memorial of Vietnamese-French war with the infamous Con Dao prison. However, coming here, you not only pay tribute to the historic heroes, but you are also granted the opportunity to admire the significant nature of evergreen rain forests. If you are lucky enough, you can be on time for the turtle breeding season, normally from June to September.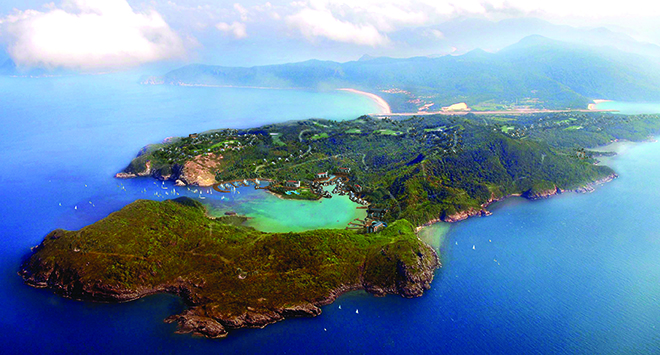 Star Beach, Phu Quoc
As a big island in the Gulf of Thailand, Phu Quoc is surrounded by a vast number of spectacular beaches, among which, Star Beach is the most outstanding.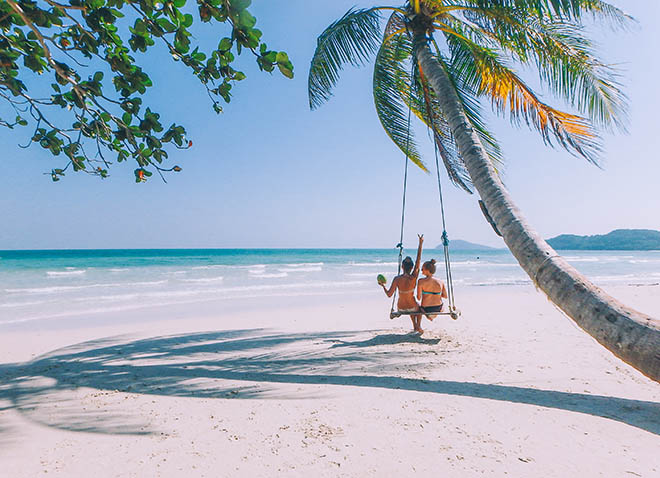 Stood in the southeast side of the island, Star Beach or Bai Sao in Vietnamese leaves a permanent impression on visitors with long groves of palm trees alongside the coastline. As the name implies, you can easily spot starfish on the seashore, making the beach look like a gateway to the sea castle of the mermaids.
P/S: Beside beaches, Vietnam summer offers tourist so many more activities. We have written a detailed article about "How to enjoy the most of Vietnam summer", hope you find it helpful.
Also, there are some things that tourist must pay attention if choosing Vietnam for the summer. Read "How to survive during Vietnam summer".