Want to explore the villages of Vietnam in a different way? Hop on a bike tour in one of these five destinations. It will lead you to the deepest corner and get you to the ultimate soul of the Vietnamese villages.
Cycling is becoming a new trend of travel as it helps visitors uncover the site as well as do a little workout. While pedalling in busy cities can be somewhat dangerous, the countryside is perfect for a bike trip. Especially in Vietnam, where the infrastructure in traditional villages is nowhere near modern and convenient, biking is really suitable to appreciate the slow pace of life and the splendid village landscape.
If you don't know where to start your cycling circuit, we have here 5 destinations to recommend.
Hanoi
It would be the biggest mistake of your travelling to know only the Old Quarter in Hanoi. On the city outskirt, there are so much more to discover.
Along the Red River, passing a few bridges symbolizing the thousand-year-old history of the capital, Co Loa becomes clearer and clearer when tiled houses replace skyscrapers, narrow streets replace highway. Co Loa used to be the capital under the Au Lac Kingdom during the 3rd century BC.
That's why it preserves various relics of the Bronze Age Phung Nguyen culture and Dong Son culture. A pedalling tour exposes to the wild beauty and ancient ruins of Co Loa fortified settlement dated back 2000 years ago. It also stops by Dong Ngac village, outstanding with yellow walls and with mossy alleys.
About 15 km from Hanoi, Song Phuong village is a harmonious ecological area with gardens, green vegetables, fish ponds … All are created by human hands, from the wasteland of more than 20,000 m2. Perhaps the most favourite destination for tourists when coming to Song Phuong organic vegetable village is to see how the villagers do their farming.
It is dubbed as a clean vegetable village because all vegetables, fruits here are grown and preserved extremely carefully, following a strict process to ensure safety for consumers. Trying to growing vegetables, collecting crops is an interesting and extremely attractive activity for visitors to Hanoi. Not very far from Song Phuong, Chua Thay pagoda is a perfect destination to add to your bike tour. The pagoda has long been a spiritual tourist attraction thanks to its charming scenery and harmony with nature.
If you are looking for a peaceful countryside to rest after the chaos of life, there's no better choice than Duong Lam ancient village. This place preserves many houses of old architecture with brick roads, laterite walls and cultural features typical of the Northern villages. Cycling in Duong Lam leads you through the basic characteristics of a village in the North of Vietnam with village gates, banyan trees, water wharves, communal yards, and up to 956 traditional houses.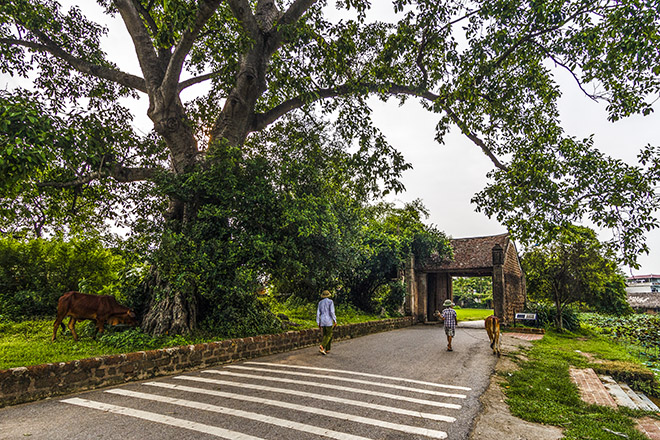 So amazing, isn't it?
If you can spend the whole day for biking, include Bat Trang ceramic village and Chuong conical hat village as well. Bat Trang was formed roughly from the 15th century and Chuong village has more than 300 hundred years of history. Travelling by bike makes it easier to reach every corner of the village. And whenever you want, you can stop in front of a village house and try to make the traditional handcrafts.
Ninh Binh
Nestled by Tam Coc, a flooded cave karst system, Northern-styled villages in Ninh Binh seem to delight tourists with the peaceful natural landscape, tremendous rice paddy fields and hundreds of ancient tiled roofs.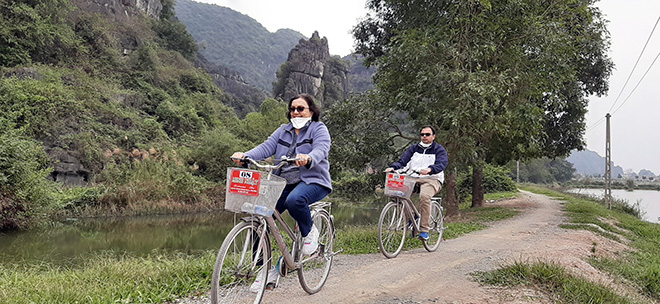 Stepping into Ninh Binh villages is to step away from the hustle and bustle of city life. You come back to the simple lifestyle where the road is narrow and a little bumpy. The houses have one floor only but the yard is so big that children in the villages can get together and play.
Located in the centre of Tam Coc – Bich Dong Tourist Area, Co Vien Lau immediately fascinates you with 20 ancient houses built in 20 different architectural styles. This area is preserving more than 20 ancient houses dating from the 18-20 century and thousands of cultural relics associated with the development history of the nation.
Slowly pedalling around Ninh Binh villages, you are also able to admire the marvellous landscape of Tam Coc. You can easily transfer to a boat and explore the beauty of Ngo Dong river with two sides covered by rice fields.
Hue
Another laid back city, home to many traditional villages is Hue.
The first village you may include in your cycling circuit is Thanh Tien village. Located in Phu Mau commune, Phu Vang district, following the downstream of Huong River, Thanh Tien village is famous for making paper flowers, especially lotus.
Using available materials like bamboo sticks, natural colouring, the artisans can make a wide range of flowers. All of them look meticulous, not less beautiful than the real ones. Biking to Thanh Tien village, you can try to make the confetti yourself under the instruction of the craftsman.
In addition to Thanh Tien, visitors in Hue can enjoy a wonderful cycling tour in Thuy Bieu.
This is an old village about 5km from Hue city. It stays in between the corridor of natural and cultural attractions. The North, South and West are the Perfume River and the East is a beautiful backdrop of Vong Canh hill. You will experience the serenity here when wandering on bicycles through the green fields. Remember to stop at the historical sites of Hue ancient capital like Ho Quyen and Voi Re temple. What's more, you can join a lot of local activities like making silk paintings, making incense, and making Hue cakes or experience the dragon boat ride at Toa Kham Sound exciting, right?
Also a village in Phu Mau commune, Sinh village is well-known for traditional paintings. At the time when Hue was the capital of Vietnam, Sinh village is a cultural village of the ancient capital. At present, it still preserves an enormous number of traditional paintings. The technique of Sinh's paintings is distinctive with the use of bright colours like red, pink, yellow. Most of the ancient paintings were for worshipping, but now the artists also take inspiration from daily life. Pedalling to Sinh village gives you the opportunity to appreciate the glory of the past and experiencing painting yourself. It is a convenient stop to combine with Thanh Tien or Thuy Bieu village.
Hoi An
Who said Hoi An is all about yellow coloured houses in an ancient busy port?
Surprisingly, there are pretty lots of interesting villages nearby Hoi An that you may not know.
About 5km to the East from the centre of Hoi An ancient town, welcome you to Cam Thanh ecotourism village. The first thing that catches your eyes is a huge area of coconut trees. It covers hundreds of hectares. Hiding behind those tall "guys" are small village houses famous for traditional coconut painting. In Cam Thanh, you have the chance to become farmers, doing things like picking up vegetables, catching fish, and even riding buffalos.
Don't forget Tra Que village, which is even closer to Hoi An centre than Cam Thanh.
If the latter is the land of coconut, the former grows many kinds of vegetables and herbs. Cycling in Tra Que village, you are surrounded by the fragrance of Thai basil, perilla, cilantro, coriander… If you ask, the villagers will be very happy to lead you to their farm. Here you can see how organic the vegetables are planted, how hard the farming is and how much the villagers love their job. The gentle breeze fused with the earthy scent of herbs in Tra Que on a cycling tour is a great way to ease your mind and calm your soul.
If you don't mind travelling a bit further, check out Go Noi. Used to be a historical spot in the Vietnam War, the village now is making a turning point to impress tourists. A project with a university helps to raise a 0.6-hectare field of sunflowers, which is a hot attraction in Go Noi. With the advanced method of farming, the sunflowers are believed to have 4 to 5 blooming seasons annually. However, you had better double-check the timing to be able to witness the amazing beauty of Go Noi sunflower fields.
Western Wetland
Featuring the network of rivers and canals, Mekong delta river area should be explored on pedals.
Connecting between the village is tiny concrete roads, just enough for one or two two-wheel vehicles. The narrow streets open the way from large paddy fields to villagers' houses and many small factories.
What strikes you most is the process of making handmade products from local stuff such as traditional Hu tiu noodles, traditional handicrafts from bamboo and rattan, various candies from coconuts. Due to the size and the old way of making things by hands, the "factories" in these villages release no smoke, only the sound of chatting and laughing.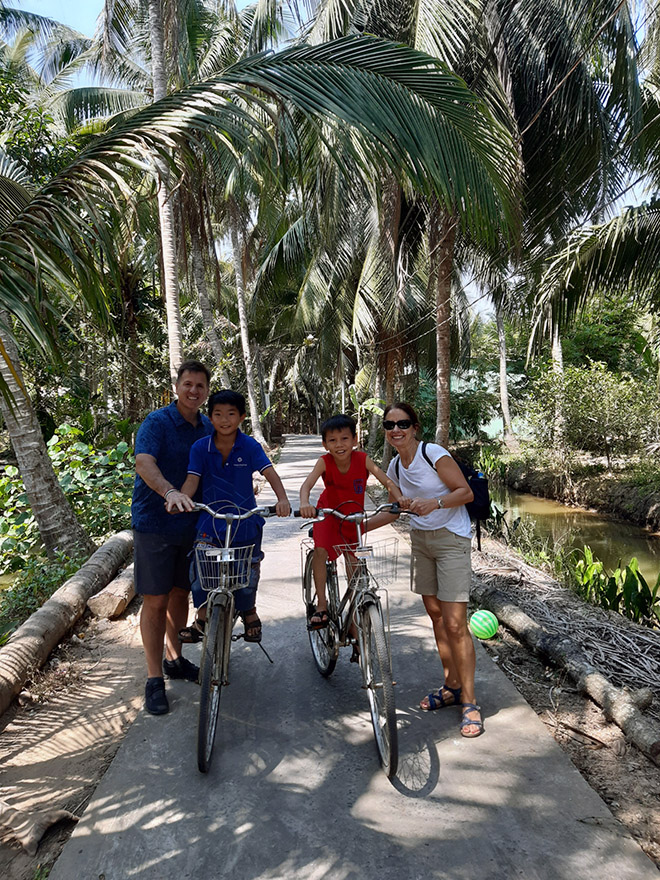 Cycling on quiet village roads in Western wetland, visitors can visit temples, communal houses and shrines to learn more about the spiritual culture and beliefs of the people. Don't be shy to stay for lunch at the temple and try pure vegetarian dishes. The monks and the locals would love to share a lot about their life on the table
Associated with the Mekong delta is a complex system of waterways. So, the ferry is indeed a popular means of transport here. It shortens the distance and saves plenty of time. A bike tour and connected with a ferry trip is an exotic experience for visitors to experience life in a land of many rivers and canals. On the way, you can visit many floating markets like Cai Rang, Cai Be, Long Xuyen

Ellie
I didn't have many opportunities for travel during my early childhood, so I decide to dedicate my young adult years to exploring the world. "Set off with a pure heart". That's my motto for any adventure in my life. And as sharing is caring, I love writing about my journeys so that the audience can gain an objective view of the destination. That's what I do before travelling, set the right, open mind to welcome both obstacles and blessings. So stay tuned for my new stories.