Owning a rich culinary background, Hue is considered as the capital of Vietnamese gastronomy. Since the 19th century, top chefs from all over the country moved there to serve the royal family under the Nguyen dynasty, with thousands dishes not only good tasted but also nice and formal presented. By visiting Hue travellers will definitely have chance to discover the local food here. Travel Sense Asia would like to introduce to you Top 5 famous cakes of Hue.
In addition to bún bò Huế (Hue beef noodles soup) or cơm hến (spicy baby clams with rice) which are already iconic Hue foods, we need to mention Hue cakes, very delicious and recommended when you travel to Hue.
Bánh bột lọc (tapioca dumplings)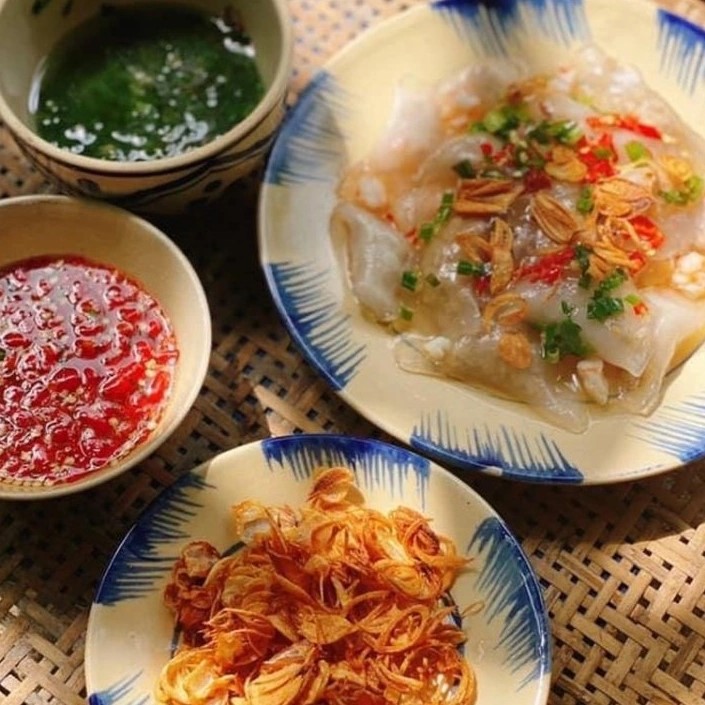 "Bánh bột lọc" is one of the most popular cakes of Hue. In Hue there are two types of tapioca dumplings.
One is in the fresh banana leaf or "dong" leaf. The cake will be steamed, after well cooked remove the leaf to eat. The dough is so transparent that you can see the shrimp filling inside. The other don't have a leaf cover but simply dumped, then put on a plate, enhance the flavor with fried onions. This cake must be served with a sweet sour fish sauce. That makes the taste good.
Bánh bèo (steamed rice cakes)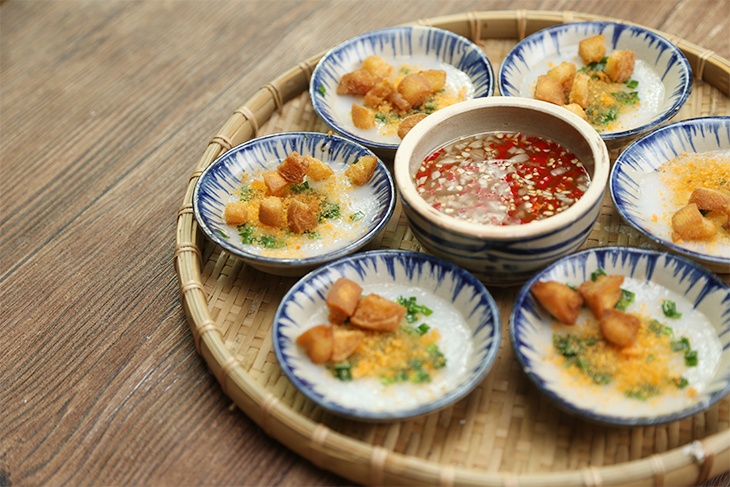 The name "bánh bèo" and its recipe from basic ingredients such as rice flour, crispy pork skin, scallion oil, fried onions, both sound simple… Different from "bánh bột lọc", "bánh bèo" is made from rice flour not tapioca. The tapioca after steamed will turn transparent while the rice flour isn't.
Like other cakes of Hue "bánh bèo" is also accompanied by sweet sour fish sauce. However it would be served in on individual small dishes, not in a big plate. This make it different in compared with other cakes of Hue cuisine.
Bánh nậm (flat rice dumplings)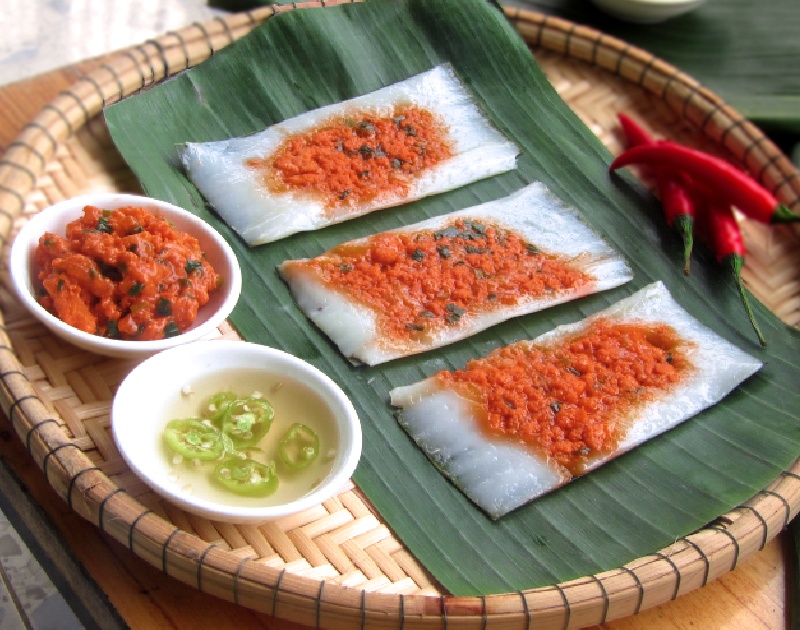 "Bánh nậm" is usually wrapped in "dong" leaf. The cake is rectangular, flat. Inside is a layer of white flour, quite similar to "bánh bèo". It is topped with shrimp and pork fillings and served with fish sauce.
Bánh ép (thin scallion pancakes)
"Bánh ép" was a favorite snack of children in Hue since 1990s. It is a thin pancake made with tapioca flour, eggs, minced meat or dried beef, and scallions. The word "ép" means to flatten or make "thin" and the origin for the name.
The cooking of "bánh ép" is quite surprising. A small amount of dough is pressed between two pieces of cast iron mold and cooked over charcoal. The filling is placed on top of the dough and then pressed shut and cooked again. It is usually served with vegetables and herbs like pickled papaya, cucumber, etc.
Bánh cuốn tôm chua (pickled shrimps rolls)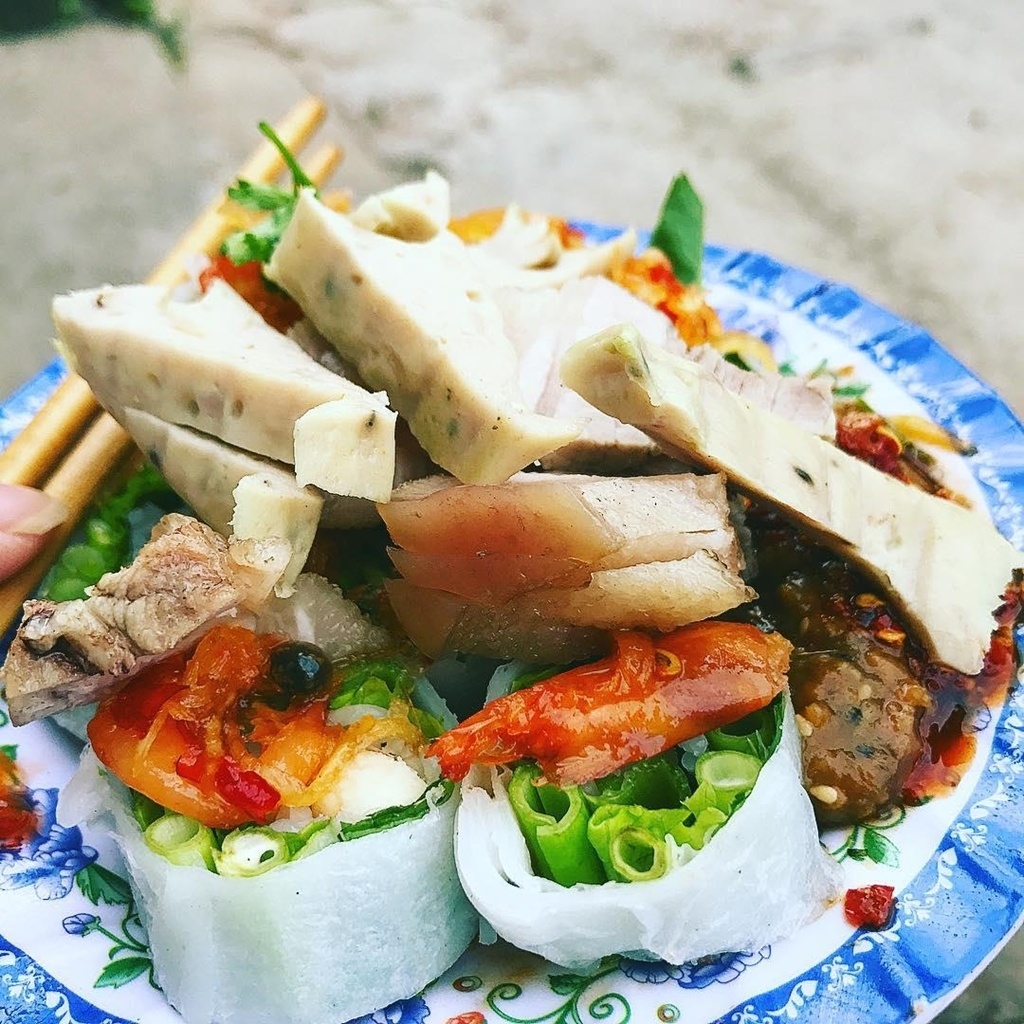 This is a simple dish but in the past favoured by and usually served to royal family under Nguyen dynasty. It is steamed rice rolls, stuffed with vegetables, boiled sliced pork, rice noodles and pickled shrimps. What makes this so special is the sauce. It is a mixture of boiled sweet potatoes, peeled, smoothed, mixed with stir-fry on the stove and crushed garlic.
Here are the Top 5 Top 5 famous cakes of Hue. These foods can be founded anywhere in Hue. When you travel to Vietnam, let's take chance to experience and know more amazing Hue culinary art.