Halong is one of the most popular travel destination in Vietnam. Coming to Vietnam most of visitors will join a 2 days 1 night cruise through Halong Bay and overnight on the board. However some also choose to do the day trip only and stay overnight on land. Travel Sense Asia will recommend you Top 5 luxurious hotels in Halong city.
1. Citadines Marina Halong
Citadines is a brand of Ascott Limited Group, which specializes in operating the world's leading serviced apartment business based in Singapore. Citadines Marina Halong is not only one of the best 5-star hotels in Halong with high-class service quality, but its prime location also makes the hotel favoured by tourists.
Citadines Marina Halong has 580 luxury rooms with excellent sea views. The room interior is fully equipped in a comfort and luxury style. In addition, the hotel also provides various entertainment services such as indoor & outdoor swimming pools, gym & yoga, entertainment centre, etc. to serve guests as best as possible.
You can also choose to have meal at the in-house restaurants and bars. Each restaurant serves a different style of cuisine, bringing you the most diverse and rich experiences.
2. Wyndham Legend Halong
One of the best hotels in Halong city – Wyndham Legend Halong belongs to Wyndham hotel group of the United States. The hotel is located on Bai Chay beach road, with beautiful views to the bay and closed to famous places and centre of Halong city.
The hotel has 217 spacious rooms, with a private balcony and panoramic view of Halong Bay. The room interior is inspired by classical European architecture, fully equipped with amenities to bring satisfaction and comfort for guests to enjoy their stay here.
At Wyndham Legend Halong, you can enjoy many services such as health spa, gym, children's play area, or relax in the swimming pool on 4th floor of the building with a spacious view of Halong Bay. There are also restaurants inside the hotel that serve a variety of dishes from local dishes to Asian and European cuisines.
3. Best Western Premier Sapphire Halong
Like its name, Best Western Premier Sapphire Halong looks like a gem with pure and delicate beauty, located on the shores of Halong Bay, bringing inspiring experiences to you during the vacation. It is one of the bigges hotels in Halong city.
This 5-star hotel is where you can enjoy high-class services such as swimming in the outdoor pool or relax in the comfortable hot-water jacuzzi. You also don't need to skip your daily healthy exercises becausse the hotel do have a spacious Gym and Yoga room. The hotel's prime location will also help you reach famous touristy places in Halong easily.
4. Phat Linh Halong Hotel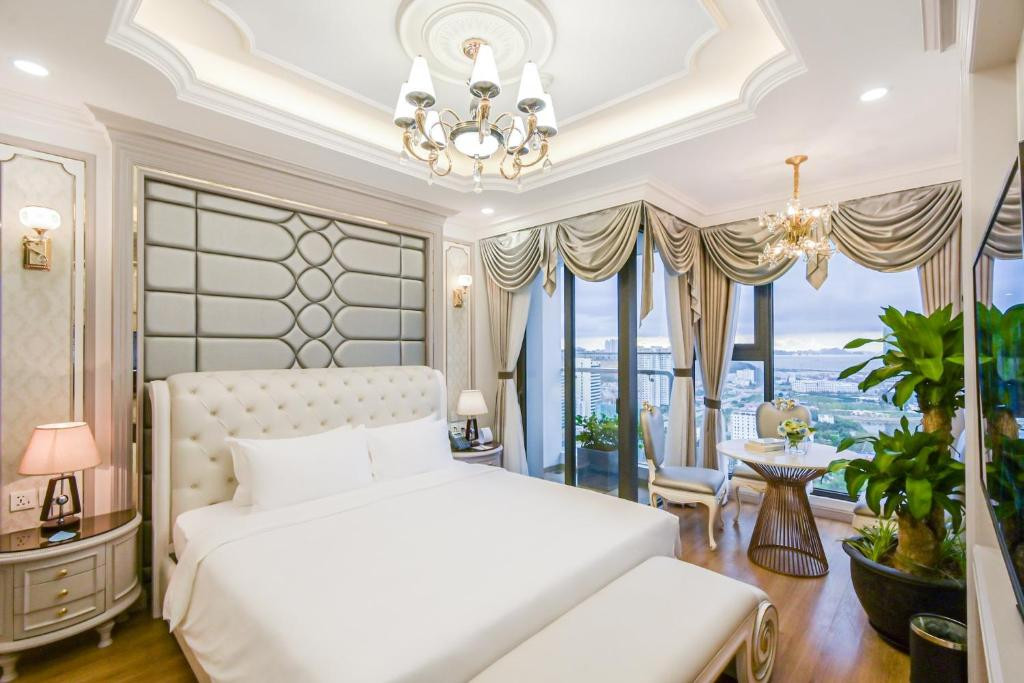 Located on Ha Long Marine Boulevard, Phat Linh Halong Hotel offers 325 luxurious rooms with stunning views overlooking the vibrant Halong city and the bay. It is one of the newest hotels in Halong.
The hotel building design is modern and luxurious with 25 floors. There is high-class restaurants and lounges that bring great culinary experiences. At 3rd floor is a four-season swimming pool with clear blue water overlooking the city.
5. Muong Thanh Luxury Halong Residence
The hotel is one property of Muong Thanh hotel group, located in Bai Chay, a busy area of Halong city. It is next to Muong Thanh Luxury Halong Center Hotel, built in luxurious, modern style and offers a diverse and professional hotel services.
All rooms have a view of Halong Bay and Bai Chay bridge, the space in harmony with nature creates a feeling of relaxation and brings you wonderful and unforgettable experiences. Among the most luxurious hotels in Halong, it has the most reasonable price.